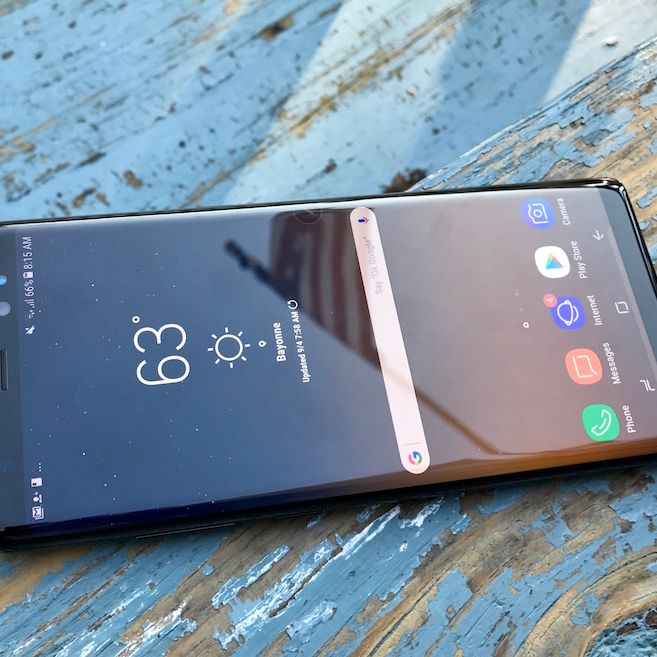 The Samsung Galaxy Note 8.
Photo: Jake Swearingen
If you want the absolute best smartphone money can buy right now, you should get a Samsung Galaxy Note 8 (and no, this one won't explode).
Its camera (well, cameras — there are two rear-facing lenses) allows for easy yet extremely polished shots. Its included stylus (the S Pen) is ingeniously fitted into the body of the phone, and legitimately makes small tasks — whether that's jotting down a note, idly sketching away on that beautiful screen, or marking up a document — fun. And, for what it's worth, I really, truly believe that Samsung has fixed its battery-supply-chain issues that led to the fiery recall. Mine, at least, has remained non-combusted.
But there are two things to consider before shelling out nearly $1,000 for the Note 8, which is available for preorder now, and ships September 15. (Prices vary by carrier, but expect to pay around $950 before taxes.)
First, on September 12, Apple will unveil its own new lineup of phones, and all these nice words I wrote could be worthless, depending on what Cupertino rolls out. Even worse? Samsung's own Galaxy S8 Plus phones offer up compelling competition to the Note 8, at a fraction of the price.
The Screen
The Note 8's 6.3-inch diagonal screen is, without question, beautiful. There isn't a better-looking screen on the market. It continues the "Infinity View" — where side bezels disappear into curving glass, and top and bottom bezels shrink down to the size of a couple of matchsticks — seen in the Samsung Galaxy S8 Plus, while slightly flattening out the edges. Put on Planet Earth II and prepare to be amazed.
The Stylus
Despite what Steve Jobs may have said about styli, I find the S Pen useful — and it likely remains one of the main selling points for dedicated Note 8 fans. There are times when I want to jot down notes quickly, and I simply write (sloppy) shorthand faster than I can thumb type. The fact that you can use it to do other things, like edit images, capture bits of your screen, or simply use it as an ultraprecise pointer, are added bonuses. I found myself surreptitiously sketching people on the bus, something I hadn't done since college. And the S Pen slips right back into the bottom of the phone — I had to show people where the S Pen was hidden. Compared to what Apple and Microsoft have done with their own styli, there's an ever-so-slight lag between the pen and the screen, but it's the type of thing only someone with a Wacom tablet would notice.
The Cameras
There are two of them on the back, and they're beauties. One is a telephoto lens that allows for optical zoom, the other is a fish-eyes lens that allows for wide shots. Combined, they shine in low-light situations: Observe these three photos taken at early dawn by, from left to right, the iPhone 7 Plus, the Pixel XL, and the Samsung Galaxy Note 8. I took all three pretty much as you'd snap a photo in your day-to-day life — I tapped the phone's screen on the pepper to allow the cameras' sensors to adjust, and then snapped away.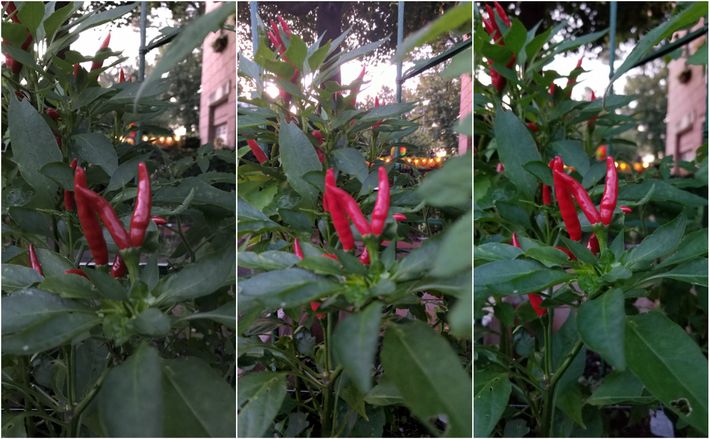 The Samsung Galaxy Note 8 is, to my eye, the clear winner. Multiple photos taken with the iPhone 7 Plus, on the left, came out looking dim and desaturated, with an overly blown-out background. The Pixel XL, in the middle, picked up the red of the peppers better, but the green of the leaves was more faded. The Note 8 did a better job at balancing out the multiple tones in the photo (and was significantly faster in taking and processing the photos as well). I found the same to be true for photos taken in regular daylight as well — while the Pixel sometimes looked slightly better, the Note 8 simply handled a wide gamut of colors more ably, without me needing to fiddle excessively with the settings.
More impressive is its own version of Apple's "Portrait" mode, called "Live Focus." In my testing of the phone versus the iPhone 7, I found it consistently took better photos and seemed less finicky about foreground photographic subjects. Here's a photo taken by the iPhone 7 Plus's Portrait mode, on the left, compared to a Samsung Galaxy Note 8 picture on the right.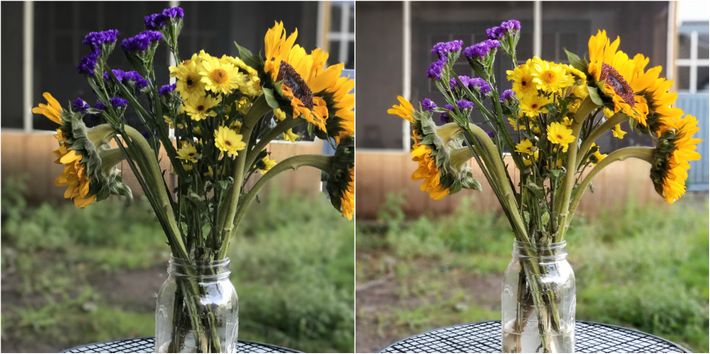 You can see, if you look closely, that the software-enabled blur of the iPhone is catching the furthest left edge of a sunflower, warping the background images of our sitting porch. More importantly, the Note 8 was able to use its ersatz depth-of-field mode from further back, and the colors of the flowers and background were brighter as well. Finally, the ability to adjust how much background blur is applied after the fact, meaning a picture can either recede into blur or be completely in focus, allows for more fine-tuning. In practice, it meant Note 8 Live Focus photos that had a bit more feeling of place than Apple Portrait photos, which can have an unfortunate Mr. Magoo effect. These are small things — nobody on your Instagram feed will notice — but they do make the Note 8 more pleasant to shoot with, and its pictures more pleasant to look it.
The Phone Itself
There's no way of getting around it: The Note 8 is large. The Samsung S8 Plus was already a large phone, and while the Note 8 isn't much larger, I found it difficult to fit into the pockets of some pants. Samsung kindly provided a case while I was testing it, and the phone itself is slightly flatter. With less rounded side edges, it doesn't feel quite as slippery to the touch as the S8, but my hands aren't small, and I still felt a little nervous handling it too much (and found that reaching all the way to the top of the screen while holding the bottom was a tendon-stretching exercise). It also bites that the fingerprint reader is still near the dual cameras — nearly every other phone manufacturer has figured this out, why can't Samsung? And I found its other biometric solutions — iris scanning and facial recognition — to be spotty at best, particularly since I wear glasses.
It also sports Bluetooth 5.0, which is fun but largely useless — even high-end wireless-headphones manufacturers haven't moved over to that standard yet. And, as Samsung was happy to point out, the Note 8 comes with a 3.5 mm audio jack — no wireless listening required.
As for making and receiving calls, it can do that. Virtually any phone you can buy on the market, including the Jitterbug, can make and receive phone calls just fine. But I usually get one or two emails after reviewing a phone, from people with AOL email addresses, reminding me that people still use phones as phones. So: These work as phones.
Bixby (or Samsung's Siri)
It, uh, continues to exist. I understand the business reasons for pouring resources into developing your own voice assistant, rather than just doing what nearly every other Android manufacturer does and using Google Assistant. But that doesn't mean I enjoy using it, or don't resent having a dedicated physical button on the phone that just brings up Bixby, instead of, say, that beautiful camera. And despite finally bringing voice functionality, nearly four months after Samsung said it would, to the phone, it remains largely useless for doing much more than dimming the screen, trying to sell me Samsung wallpapers for $0.99, or voice-searching through photos (which it still had real trouble doing — sometimes, it seemed able to recognize a guitar, other times, it didn't at all). Bixby is almost cute in its eagerness to help — you even earn "Bixby XP" for helping it learn — but it's cute in the way puppies are cute when they try to run and keep falling over. Charming, but not something that makes a phone worth nearly $1,000.
The S8 Plus Problem
Speaking of paying nearly $1,000 for the Note 8? Everything the Note 8 does, except for having a stylus and dual-rear cameras, the Samsung S8 Plus does — even its screen is 6.2 inches to the Note's 6.3-inch screen, though there are some slight variations in the curving of the glass. It's internal specs are nearly identical, down to the processor and battery life. The Note 8 does sport 6 GB of RAM, compared to the S8 Plus's 4 GB, but that shouldn't make much of a difference in modern smartphones. And remember all those shots of peppers I took in the dim early light? On a whim, I shot one with a Samsung 8 Plus as well. It came out just as good — if not slightly better — as the Note 8's.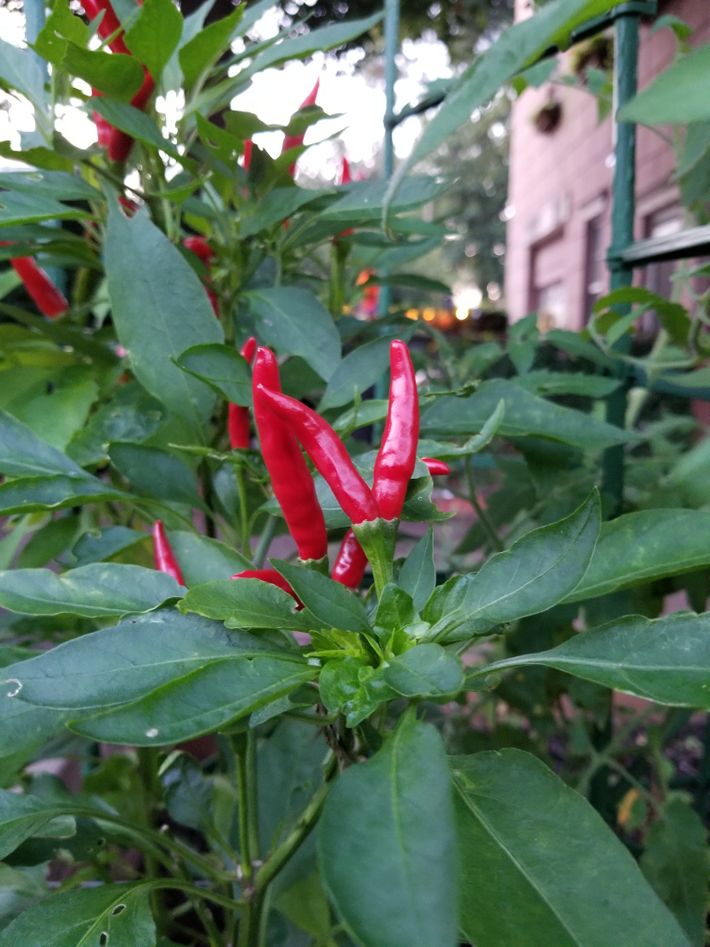 So, you have a choice to make: Can you live without a stylus and dual-rear cameras? Or, put another way, are they worth nearly $500? Samsung, intentionally or not, is offering up a phone that is nearly as good for half the price.
The Shadow of Apple
Even ignoring whether you'd be willing to pay $500 more for a phone with a better camera and a stylus, there's the problem of Apple. The main phone I'm testing against came out a year ago. People who love Samsung's Note series truly love these phones, and there's a lot to be said for the relative freedom of the Android OS, compared to Apple's iOS. And nobody knows exactly what the iPhone 8 (or iPhone X or iPhone Pro or whatever they end up calling it) will be. But it will mark a new direction for Apple, the company aggressively staking out the high end of the smartphone market.
The Samsung S8 Plus is already seeing deep discounts just six months after its debut. The same could easily happen to the Note 8. Apple products, meanwhile, almost never go on discount until they roll out next year's lineup of phones. You may see Apple's newest phone and decide it's not for you — but it still may be worth it to limp along on what you have, and pick up a discounted Note 8 in February.
The Bottom Line
The Note 8 is an incredible phone, and the exact follow-up Samsung needed after the disaster of the Note 7. But will it be the phone for you? The camera is superb — to my nonprofessional eye, it's the best I've used on a phone yet, even better than the exceptional camera on the Google Pixel. Its screen is beautiful. The stylus is pragmatic and, frankly, fun. But unless you are a dedicated Note fan — one of those people who already preordered and knows exactly what color they're getting — I can't in good conscience recommend buying the Note 8 right now. The Samsung S8 and S8 Plus both offer largely the same functionality and aesthetics at nearly half the price. And Apple seems poised to release something that could make the Note 8's reign as the best phone on the market a short one. Talk to me in six months.