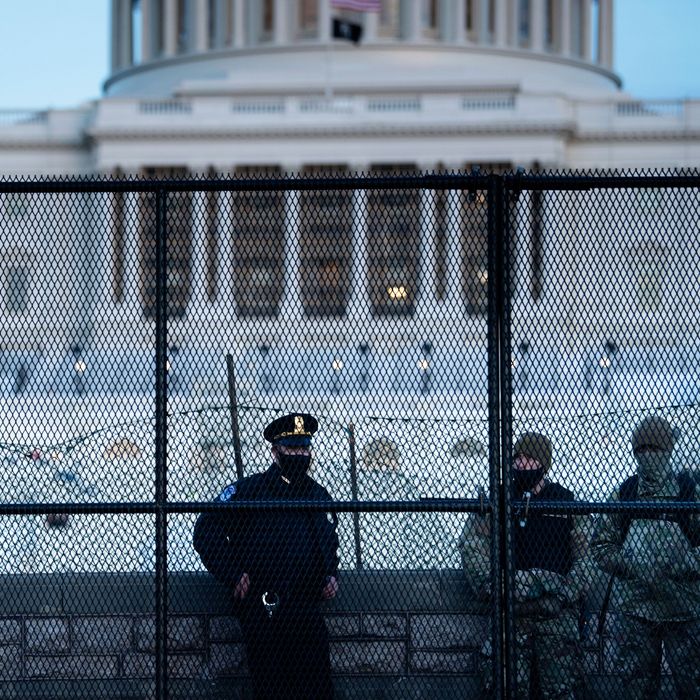 Photo: Brendan Smialowski/AFP via Getty Images
This week, the Senate is holding a series of investigative hearings on the January 6th attack on the U.S. Capitol. Tuesday's joint hearing between the Rules and Homeland Security Committees focused on the security failures that allowed countless rioters to breach the Capitol complex, temporarily interrupting the certification of the 2020 Electoral College votes, and endangering lawmakers, Capitol staff, and law enforcement.
Several security officials who were in charge on January 6 offered testimony, including Michael Stenger, the former Senate sergeant-at-arms, Paul Irving, the former House sergeant-at-arms and former Capitol Police Chief Steven Sund. All three men tendered their resignations after the Capitol riot. Acting Metropolitan Police Chief Robert Contee also testified. Below, in reverse chronological order, are the key revelations from Tuesday's hearing.
More hearings to come on the Capitol riot
As they faced questions from lawmakers for the first time since the Capitol riot, security officials frequently cited insufficient intelligence on the potential threat as a significant factor in the events on January 6th.
They spoke about how well-organized and heavily armed the group of rioters were, unlike what they were expecting. There were also inconsistencies between the accounts of former Police Chief Steven Sund and former House sergeant-at-arms Paul Irving, raising questions as to the sequence of events surrounding the deployment of the National Guard to the Capitol complex.
As today's hearing wrapped up, Senator Amy Klobuchar, the chairwoman of the Rules Committee, said there will be additional hearings, including a panel next week featuring officials from the Department of Defense, the Department of Homeland Security, and the FBI.
Hawley Dives into Irving-Sund discrepancies, criticizes Honoré
Senator Josh Hawley also sought to clear up the discrepancies between Sund and Irving.
Irving maintained that he "did not recall" receiving a phone call at 1:09 p.m. and that he didn't remember saying anything about waiting to "run it up the chain of command," as stated by Sund.
Hawley also brought up a quote from retired Lt. General Russel Honoré, who was recently brought on by House Speaker Nancy Pelosi to lead a review of Capitol security.
During an appearance on MSNBC not long after the Capitol riot, Honoré questioned the actions of those in charge during the attack, including the Capitol Police chief and the congressional sergeants-of-arms.
He pointed towards early reports that the Capitol Police turned down outside help during the siege and questions about whether insurrectionists received inside assistance, saying it "gives appearance of complicity" and was worth investigating.
Hawley then asked Sund, Irving, and Stenger if they were complicit in the attacks on January 6th and they all answered no.
"Absolutely not, sir. I've heard those comments as well and I think it's disrespectful to myself and the members of the Capitol Police Department," Sund replied.
Hawley then asserted that Honoré "has no business leading any security review related to the events of January 6th."
Honoré previously criticized Hawley in a now-deleted tweet, saying the senator should be "run out of DC and Disbarred ASAP" following the attack. Many said Hawley deserved at least partial blame for the Capitol riot, as he led the effort to oppose the certification of electoral votes.
Ron Johnson floats conspiracy theory about "fake Trump protesters"
Senator Ron Johnson – who recently said the events of January 6 "didn't seem like an armed insurrection to me" – opened by saying that he found the violence that occurred at the Capitol last month "reprehensible."
He then proceeded to read excerpts from a first-person essay by J. Michael Waller of the Center for Security Policy, which Southern Poverty Law Center describes as a "conspiracy-oriented mouthpiece for the growing anti-Muslim movement." The account, which was published in The Federalist, claims the mood among the demonstrators on January 6 was largely "positive," but there were "agents provocateurs" and "fake Trump protesters" in the crowd.
Sund and Irving have conflicting timelines on National Guard deployment
In their submitted written statements, Sund and former House sergeant-at-arms Paul Irving presented differing timelines on the request for National Guard deployment.
Sund's testimony:
Given these factors, it was clear to me at 12:50 p.m. that the situation was deteriorating rapidly. I called MPD and requested assistance and they responded immediately. I also requested assistance from the U.S. Secret Service Uniformed Division and other law enforcement agencies.




I notified the two Sergeant at Arms by 1:09 p.m. that I urgently needed support and asked them to declare a State of Emergency and authorize the National Guard.




I was advised by Mr. Irving that he needed to run it up the chain of command. I continued to follow up with Mr. Irving, who was with Mr. Stenger at the time, and he advised that he was waiting to hear back from congressional leadership, but expected authorization at any moment.
Irving's testimony:
It has been reported that Chief Sund contacted me to request National Guard support shortly after that at 1:09 p.m. I was in the House Chamber working protocol for the Electoral College Joint Session at that point. I have no memory of a call at 1:09 p.m. and I have reviewed my phone records: there is no call from Chief Sund (or any other person) at that time; the first call from Chief Sund in the one o'clock hour is at 1:28 p.m. My records also do not show any text messages from Chief Sund at that time.




Shortly after I left the House Chamber, I recall speaking with Chief Sund more than once in the period between 1:28 p.m. and 2:00 p.m. regarding the conditions outside. At one point, Chief Sund informed me that conditions were deteriorating outside and that he might need to make a request for the National Guard. I told Chief Sund that I would soon be with the Senate Sergeant at Arms and that I would also alert House Leadership, which I did.




I believe that I arrived in the Senate Sergeant at Arms office around 2:00 p.m. I remember a call after that in which Chief Sund requested National Guard support, and the request was approved on that call."
During the segment for questions, Senator Roy Blunt, ranking member of the Rules Committee, asked both Irving and Sund for clarification.
Former U.S. Capitol police chief: "These criminals came prepared for war"
In his opening testimony, former U.S. Capitol Police Chief Steven Sund described the preparedness of the insurrectionists and what law enforcement faced on January 6th.
I have been in policing for almost thirty years. The events I witnessed on January 6th was the worst attack on law enforcement and our democracy that I have seen in my entire career. I witnessed insurgents beating police officers with fists, pipes, sticks, bats, metal barricades and flag poles. These criminals came prepared for war. They came with their own radio system to coordinate the attack and climbing gear and other equipment to defeat the Capitol's security features. I am sickened by what I witnessed that day.




No civilian law enforcement agency, to include the United States Capitol Police, is trained or equipped to repel an insurrection of thousands of individuals focused on breaching a building at all costs.
Senator Cruz seems distracted
CSPAN cut to Ted Cruz typing on his phone during Sund's opening testimony.
Captain Mendoza: "It's sad to see us attacked by our fellow citizens"
Mendoza, a veteran, continued:
We could've had ten times the amount of people working with us and I still believe the battle would've been just as devastating. As an American and as an army veteran, it's sad to see us attacked by our fellow citizens. I'm sad to see the unnecessary loss of life. I'm sad to see the impact this has had on Capitol Police officers. And I'm sad to see the impact this has had on our agency and on our country.
U.S. Capitol Police captain describes injuries from 1/6
U.S. Capitol Police Captain Carneysha Mendoza was on the ground on the day of the riot at the Capitol. Mendoza described the chaos of the day including nearly getting her arm broken:
I made my way through the crowd by yelling and pushing people out of my way until I saw Capitol Police Civil Disturbance Units in riot gear in the hallway. They were holding the hallway to keep rioters from penetrating deeper into the building. I immediately jumped in line with them to assist with holding the crowd of rioters. At some point, my right arm got wedged between rioters and the railing among the wall. A CDU sergeant pulled my right arm free and had he not, I'm certain it would've been broken.




… I proceeded to the Rotunda where I noticed a heavy smoke-like residue and smelled what I believe to be military-grade CS gas, a familiar smell. It was mixed with fire extinguisher spray deployed by rioters. The rioters continued to deploy CS into the Rotunda. Officers received a lot of gas exposure which is worse inside the building than outside because there's nowhere for it to go. I received chemical burns to my face that have still not healed to this day.
The scene just before the hearing began