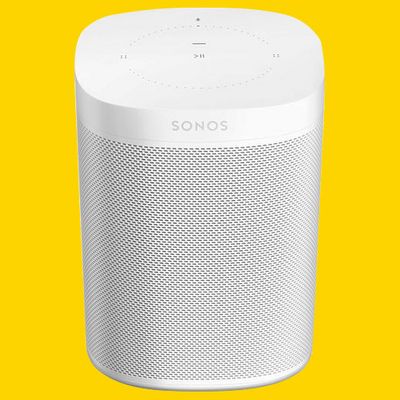 The Sonos One Speaker
Photo: Courtesy of Sonos
The Sonos One sports the best sound for the best price of any smart speaker I've tried out. It's also, as it exists right now, perhaps the most aggravating one to set up and use. But if you were to ask me which smart speaker you should spend your money on, I'd point you toward the Sonos One — even if you (like me) don't have any other Sonos audio stuff in your home. Let me explain.
The Setup
I've set up about a half-dozen different smart speakers in my home over the past year, and the Sonos was by far the most complicated and demanding. Usually, you plug in a speaker, download an app, hit a few buttons to find your Wi-Fi network on your phone, and you're done. The Sonos app, by contrast, requires installing the Sonos skill in the Alexa app; then, because I don't have any other Sonos equipment installed, I needed to plug the Sonos One into an Ethernet hardline. After that, I ping-ponged back and forth between the Sonos and Alexa app for a while, reaffirming to both Alexa and Sonos that, yes, I really did want to use Alexa with the Sonos One speaker. For a while, I was able to get the Sonos to respond to voice commands, but it would just agree to play a song or podcast and then follow that up with silence. After reinstalling the Sonos skill in the Alexa app, things started working, but then I needed to map out the acoustics of the room. To do this, I held my phone and waved it around while walking through the room as the Sonos One played what sounded like sci-fi movie laser zaps for about 45 seconds. I did this once, and then the app asked me whether I had a case on my phone, which I did. It asked me to remove the case, and repeat the process. (Apologies to all my neighbors.)
Even after all that, I still can't do the thing I mainly use a smart speaker for: tell it to play some music from Spotify. For whatever reason, Sonos can't use Spotify yet (it promises the functionality soon). So to listen to music, I go through the Spotify app and select the Sonos One speaker as the output device. It is a process.
The Sound
Oh, but that sound. The Sonos One is the best-sounding smart speaker I've used, bar none. It sounds better than the Harman Kardon Invoke. It sounds better than the Sony and JBL smart speakers I listened to (though I haven't had a chance to do extensive home testing of either). It sounds far better than the smart speakers sold by Amazon or Google, thanks mainly to its well-developed bass response, adding an extra layer of richness to nearly every song. In extremely dense pieces of music, like Aphex Twin's "Windowlicker" (again, apologies to my neighbors), both the lows and the highs are present and accounted for, and well-balanced. More spare recordings, like Roxy Music's "Avalon," feel more spacious, with more separation than you should be getting from a $200 speaker.
My feeling with both the Amazon Echo and the Google Home was that their sound quality was okay for the convenience of being able to get some music playing while doing dishes, without drying off my hands and pulling out my phone. It was like eating Chipotle. Is it good? Not exactly. But it was fine. It was good enough.
But I think the Sonos One has probably ruined me on that. I keep switching back and forth between Yo La Tengo's "Let's Save Tony Orlando's House" on an Amazon Show, a Google Home, and the Sonos One, and it's just a different song on the Sonos One; it's the difference between a song overheard on grocery-store speakers and listening to the CD, on headphones, in your bedroom. I want to like the cheaper, more convenient thing — but I know what I ultimately prefer. And what I prefer is the sound of the Sonos One, even with the current extra hassle.
The Potential
According to Sonos, this hassle will, at some point, go away. The Sonos One will soon allow me not just to say "Alexa, play some Yo La Tengo," and play it from Spotify, but will also support Google Home, my preferred voice OS, and eventually even AirPlay 2, meaning Apple's well-developed ecosystem will be in the mix. It's a lot to pay $200 for just the promise of a better experience, and if you don't have that in your budget, I'd recommend waiting a bit to see how it all develops — the Sonos One will sound just as good in a few months as it does now.
The Bottom Line
It's the flexibility (and Sonos's generally good track record) that has me willing to make a bet on the Sonos One. The biggest current problems in smart speakers — and smart homes in general — are competing standards and a general messiness in the marketplace. Right now, buying a smart speaker feels a bit like buying a TV that will only play certain channels; it'd be like if I needed to buy a Samsung to get HBO but if I wanted to watch something on Showtime I'd need a Sony. Sonos One itself has come out of the gate a little messy, but its superior sound and its ambition to support any smart-speaker and smart-home standards that come down the pike are what I'm really buying.