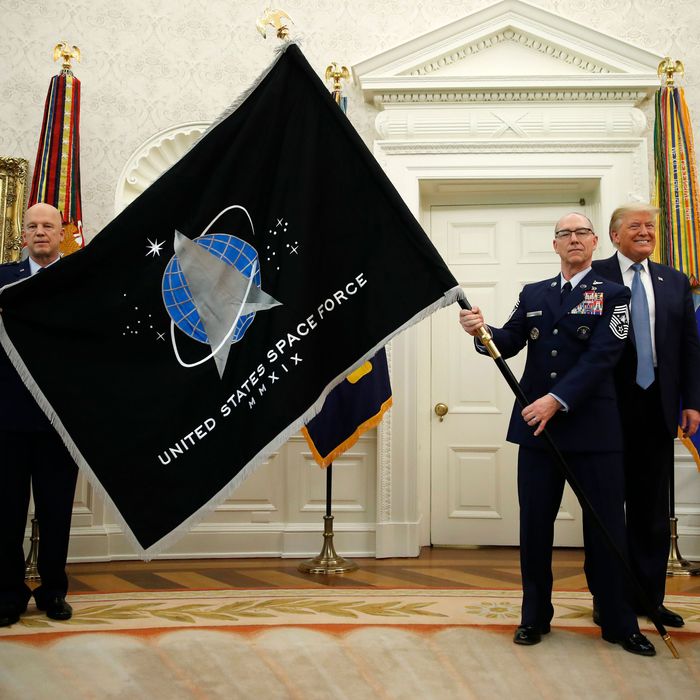 President Donald Trump stands in the Oval Office during the presentation of the United States Space Force flag on May 15, 2020.
Photo: Alex Brandon/AP/Shutterstock
Nearly three years ago, the U.S. Space Force was established as the first new U.S. military branch in 73 years. If you know anything about the service, it's probably that its logo looks like it was stolen from Star Trek, its name for members sounds like it was adapted from Guardians of the Galaxy, and its uniforms appear to have been ripped off from Battlestar Galactica.
Perhaps there was no way for the U.S. military to create a service focused on space without eliciting giggles and incredulity, as Americans have been fed a steady diet of militaristic science fiction for decades. But it didn't help that Space Force was established by President Donald Trump, who is known for his childish whims. When he proclaimed in 2018 that "space is a war-fighting domain," it felt like there was a nonzero chance he was picturing U.S. troops blasting their way across the surface of Mars. To make matters worse, some of Space Force's own messaging has been legitimately funny. For example, you won't find a tweet from @USArmy asking you to stop and think about what desert power means to you.
While Washington has accepted that the new military branch is here to stay and moved on to debating whether we should establish a Space National Guard, confusion lingers among the public. Is Space Force just some thing Trump made up? Does it have a serious mission? And if so, is it still okay to laugh when U.S. officials make it sound like they're LARPing Starfleet? Read on for answers to all these questions and more.
What exactly is Space Force?
U.S. Space Force is the sixth independent branch of the U.S. military. It is organized under the Department of the Air Force, similar to how the Marine Corps is organized under the Department of the Navy.
Space Force's mission is basically to protect U.S. interests in space from potential adversaries. That may sound like it could entail defending the International Space Station from Cylon infiltration, but the reality is more boring and practical; think preventing China from blowing up U.S. satellites and stopping Russia from jamming GPS signals. As Space Force explains on its website, its focus is defending space-based systems we're already using here on Earth, not seeking out new life and new civilizations (which is still NASA's job):
Unfettered access to space is vital to national defense. Space systems are woven into the fabric of our way of life. Space affects almost every part of our daily lives and is fundamental to our economic system. For example, satellites not only power the GPS technology that we use daily, but allow us to surf the web and call our friends, enable first responders to communicate with each other in times of crisis, time-stamp transactions in the world financial market, and even allow us to use credit cards at gas pumps.
For years, the Air Force has been tasked with "supporting and maintaining satellites for GPS, missile warning and nuclear command and control, as well as paying United Launch Alliance and SpaceX to launch national security satellites," as the L.A. Times noted. Army and Navy have their own smaller space operations. While President Trump promoted Space Force as a visionary idea that would spread his America First ethos throughout the cosmos, it is essentially a rebrand and a reorganization, with some existing military space operations being consolidated under the new branch.
Did Trump come up with Space Force himself?
No, but the former president likes to pretend that he did. Trump publicly proposed the creation of a new branch of the military in an apparent ad-lib while addressing marines in San Diego in 2018.
"I was saying it the other day — 'cause we're doing a tremendous amount of work in space — I said, 'Maybe we need a new force. We'll call it the Space Force,'" he told the crowd, sparking some laughter. "And I was not really serious. And then I said, 'What a great idea. Maybe we'll have to do that.'"
But the idea of a space-focused military service had actually been kicking around in Washington for decades, as The Atlantic explained earlier this year:
The concept emerged in the 1990s as the United States began relying on satellites during ground combat, and in 2001, a commission chaired by former Defense Secretary Donald Rumsfeld considered the suggestion. A pair of lawmakers in the House resurrected the idea of a space corps a few years ago, but it didn't take off until Trump glommed on, and then it was all hands on deck.
So it is true that without Trump's enthusiasm for the project, Space Force wouldn't exist in its current form. In June 2018, he directed the Pentagon to start planning for the new branch, declaring, "We must have American dominance in space." Months later, Vice-President Mike Pence joked to staffers working on the project, "He only asks me about the Space Force every week." The branch was officially established by the 2020 National Defense Authorization Act, which Trump signed into law on December 20, 2019.
Is the Space Force logo really from Star Trek?
The Space Force logo is a prime example of how Trump undermined the legitimacy of the service before it even really got started. In August 2018, when the Pentagon was still working on proposals for how the new branch might function, the Trump reelection campaign invited supporters to vote on its logo.
As The Atlantic noted at the time, these designs were a Trumpian exercise in misleading branding, particularly "Mars Awaits," as space exploration is still NASA's domain. Plus, once people voted in the poll, they were invited to give to Trump's campaign, possibly leaving donors with the false impression that they were paying for the opportunity to help select the new logo.
Sure enough, when Space Force unveiled its official seal in January 2020, it was not one of the options presented to Trump supporters. But the seal generated a new controversy, as it looked suspiciously like the Star Trek insignia. "Ahem. We are expecting some royalties from this …" original series cast member George Takei joked on Twitter.
Space Force stuck with the design but seemed a little defensive when it rolled out the official logo several months later, noting that the delta shape has been used in space-organization logos as far back as 1961 … five years before Star Trek debuted.
What are Space Force members called?
You might guess that after the Star Trek debacle, Space Force officials would think a bit more carefully about whether its branding overlapped with any massively popular sci-fi franchises. But the folks behind this famously incomprehensible tweet are nothing if not bold.
So after an exhaustive quest to find the perfect name for members of Space Force, they settled on "Guardians."
"Can we sue this dork?" tweeted James Gunn, director of the film Guardians of the Galaxy, in response to Vice-President Pence's announcement of the new name — though clearly, it had nothing to do with the 2014 Marvel blockbuster. Space Force officials said they drew inspiration from the motto of the service's predecessor, Air Force Space Command: "Guardians of the High Frontier." And it says right there in the announcement, not at all self-consciously, that "guardians" is "a name chosen by space professionals for space professionals."
What do the Space Force uniforms look like?
Most people seem to think they look like the uniforms from Battlestar Galactica, but there were some who found the ensemble more reminiscent of Starship Troopers.
The uniforms may be unoriginal, but they could be far worse. Time magazine reported that Trump once told top military officials that First Lady Melania Trump "should help design Space Force uniforms because of her impeccable fashion sense." We're lucky they don't have "I really don't care about space, do u?" scrawled across the back.
What is the Space Force theme song?
"Semper Supra" was unveiled on September 20, 2022. Unsurprisingly, the internet was not into it, though the song could have been worse.
Why didn't Biden put a stop to Space Force?
Even when Space Force was in its embryonic stage, there was significant opposition to the idea among some members of Congress and top military officials, who argued that consolidation could disrupt existing space operations. Then Trump politicized the new branch by touting it as one of his signature achievements at rallies and making it part of his personal brand by selling unofficial Space Force merch on his website.
But while the service was seen largely as a silly Trump vanity project in some corners of the internet, President Joe Biden could not easily heed pleas to abolish the Space Force. As Brian Weeden, director of program planning for the Secure World Foundation and a former space operations officer for the Air Force, told Defense News, one does not simply dismantle a whole military branch. It would require action by Congress and massive reorganization within the military.
"It's just not worth it," Weeden said. "At this point, we have spent thousands and thousands of hours and years of effort to create this new bureaucracy in the hope that it will address these challenges. At this point, we have no choice but to see that through. To now go back and spend even more time undoing all this stuff would be even worse."
Two weeks after Biden took office, his administration made it clear that Space Force isn't going anywhere … after yet another controversy. When then-White House press secretary Jen Psaki was asked if a decision had been made on "keeping, or keeping the scope of, Space Force," she was dismissive, saying, "Wow, Space Force. It's the plane of today," referencing earlier questions about Air Force One's paint job.
Following a round of outrage from conservative lawmakers and pundits who accused Psaki of disrespecting the troops, Psaki tweeted, "We look forward to the continuing work of Space Force and invite the members of the team to come visit us in the briefing room anytime to share an update on their important work."
House Armed Services Committee ranking member Mike Rogers told Defense News that he knew the service's future was never in doubt, but he was upset that Psaki hadn't apologized.
"It's a very serious branch taking on a very serious national security threat, so her ignorance on the topic disturbed me, and then her flippant attitude disturbed me. But what more disturbed me was, today, after she had been informed that it was a serious branch of the military dealing with a serious threat, she couldn't bring herself to say: 'I made a mistake,'" Rogers said. "I was glad to see her acknowledge what I already knew, and the administration has said before — that is, they're fully supportive of the Space Force and [know] its worth."
Can I join Space Force?
Space Force initially consisted of former Air Force Space Command personnel, then over the next year, units from other parts of the Air Force transferred in. As of September 2021, there were 6,490 active-duty Guardians, including 86 Air Force Academy graduates who commissioned directly into Space Force. (The Air Force has more than 325,000 active-duty personnel, but Space Force is intentionally small.) Demand for jobs is high; chief of Space Force operations General John W. "Jay" Raymond said that the 400 positions open for transfers from other services drew 3,700 applications. In a recent poll of first-year Air Force Academy cadets about what they'd like to do as officers, Space Force came in second to pilot, Politico reported.
Though competition for Space Force jobs is already tough, the service is still trying to attract talented recruits. Unsurprisingly, these efforts have been a hokey and misleading at times: Space Force's first recruiting video concluded, "Maybe your purpose on this planet isn't on this planet."
To be clear, if you join Space Force, you will almost certainly remain on this planet; rather than blasting off in one of the multiple space shuttles featured in the video, you'll probably be sitting in front of a computer on Earth, maintaining the satellite shown at the end. But that's still an important and pretty cool job.
This piece was updated to include the official song of Space Force.