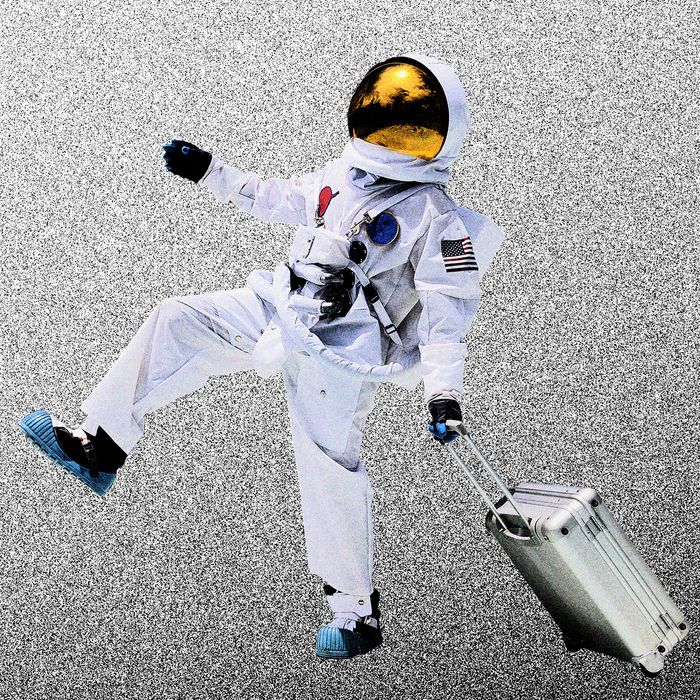 Photo-Illustration: by Intelligencer; Photo Getty Images
We're at the dawn of a new era for space exploration, with thrill-seeking civilians boldly going where no tourist has gone before. Over 60 years after Soviet cosmonaut Yuri Gagarin became the first person in space, a handful of companies are planning to take non-astronauts with sufficiently massive bank accounts on a galactic tour: Tesla Founder Elon Musk's SpaceX, Amazon CEO Jeff Bezos's Blue Origin, and Richard Branson's Virgin Galactic.
Here's everything you need to know about the rise of space tourism, from which billionaires are leaving Earth imminently to when the rest of us might be able to join them.
What's the history of civilian space travel?
The initial effort to send a civilian into space ended in disaster: In 1986, Christa McAuliffe was set to be the first civilian and teacher in space, but she and six crewmates were tragically killed during the explosion of Space Shuttle Challenger.
After that, NASA largely forbade the practice. But Russia's then-struggling space program stepped up to the plate. On April 28, 2001, Dennis Tito paid a whopping $20 million for a seat on a Russian Soyuz rocket, becoming the first civilian to visit the International Space Station – humanity's home away from home. According to Space.com, just seven space tourists have followed in his footsteps in the last 20 years, via Russia's Space Agency. But the year ahead should be a busy one for the nascent industry, with more and more civilians reaching for the stars.
Who's heading to space next?
The competition between the major players in the billionaire space race heated up when Bezos announced that he would jet off to the brink of space and back on July 20, the anniversary of the Apollo 11 moon landing. On July 1 – just hours after Bezos announced that in addition to his brother, he'd be joined on the flight by aviation pioneer Wally Funk – Richard Branson revealed that he would beat the Amazon founder into space by nine days. Branson will blast off on Virgin Galactic's VSS Unity rocketplane on July 11.
Elon Musk's SpaceX is planning what it's billing as "the world's first all-civilian space flight" in late 2021. The multiday flight into low Earth orbit, dubbed "Inspiration4" and funded by billionaire entrepreneur Jared Isaacman, aims to raise awareness for St. Jude Children's Research Hospital and begin "a new era for human spaceflight and exploration." The crew includes Isaacman, childhood cancer survivor Hayley Arceneaux, plus two others. It's currently scheduled to launch "no earlier than September 15, 2021," per the mission's website.
SpaceX aims to keep the momentum going by partnering with Houston-based Axiom Space to send more everyday people into space using its Crew Dragon spacecraft, this time going to the International Space Station. Axiom's first private ISS mission is set to launch "no earlier than January 2022." Its second mission is the focus of the Discovery Channel reality-TV show Who Wants to Be an Astronaut?, in which contestants take on extreme challenges for a chance at a ticket to the ISS. Axiom Space plans to eventually host civilian space station jaunts every six months.
What does this cost?
Unsurprisingly, going to space comes with a hefty price tag. Axiom passengers will pay the low, low price of $55 million for the flight and a stay on the ISS. Meanwhile, Virgin Galactic's suborbital trips — where passengers can experience weightlessness for several minutes before falling back to Earth — are far more reasonable in cost, at $250,000. Six hundred people have already made reservations for 90-minute flights on Branson's SpaceShipTwo, Reuters reports. And while Bezos's Blue Origin hasn't announced official prices, an auction for a seat to join him and his brother on his brief sojourn to space in July went for a cool $28 million.
How safe is it?
Hollywood isn't exaggerating: Going to space is inherently dangerous. Congress agreed in 2004 to largely let the space-tourism industry self-regulate, so there are few laws and restrictions on taking civilians into space.
"One way that the government could have gone was to say, 'Hey, we're going to certify the spacecraft, make sure that they're safe and give them the stamp of approval,'" Mark Sundahl, an expert at space law at Cleveland State University, told Discover magazine. "But they didn't go that way. Instead, they said 'We're going to prove we're protecting space tourists by just requiring the companies to tell them that they may die, and then it's up to them to make a decision if they want to take that risk or not.' That's the approach that the government took, and it is somewhat controversial."
What other types of space tourism are in the works?
Strapping in on a rocket and blasting off into space isn't the only type of travel available for those eager to leave this planet. Human space flight company Space Perspective is planning to fly passengers to the edge of space in a high-tech version of a hot-air balloon, "the size of a football stadium," lifted by hydrogen. Flights are planned for early 2024, with tickets priced firmly at $125,000 per person.
For another out-of-this-world vacation, check out the company Orbital Assembly Corporation, which plans to open a luxury space hotel in 2027. The hotel, named Voyager Station, looks almost like a Ferris wheel floating in orbit and features a restaurant, gym, and Earth-viewing lounges and bars. A three-and-a-half-day stay is expected to cost up to $5 million, the Washington Post reports.
Are other celebrities planning to explore space?
A slew of stars have already bought their tickets to space with Virgin Galactic, among them Justin Bieber, Ashton Kusher, and Leonardo DiCaprio, according to the New York Daily News. Last year, Actor Tom Cruise and NASA announced their own collaboration to make a movie on the International Space Station.
When can the average person do this?
Once again, the biggest barrier to space is the price tag. But air travel was also once prohibitively expensive, with a one-way ticket across the country costing more than half the price of a new car; one can expect similar price reductions in space travel. For now, partaking in a sweepstakes or reality show might be the best bet for those with tiny bank accounts and big dreams of taking to the stars.
This post was updated after Branson announced he would head to space on July 11.