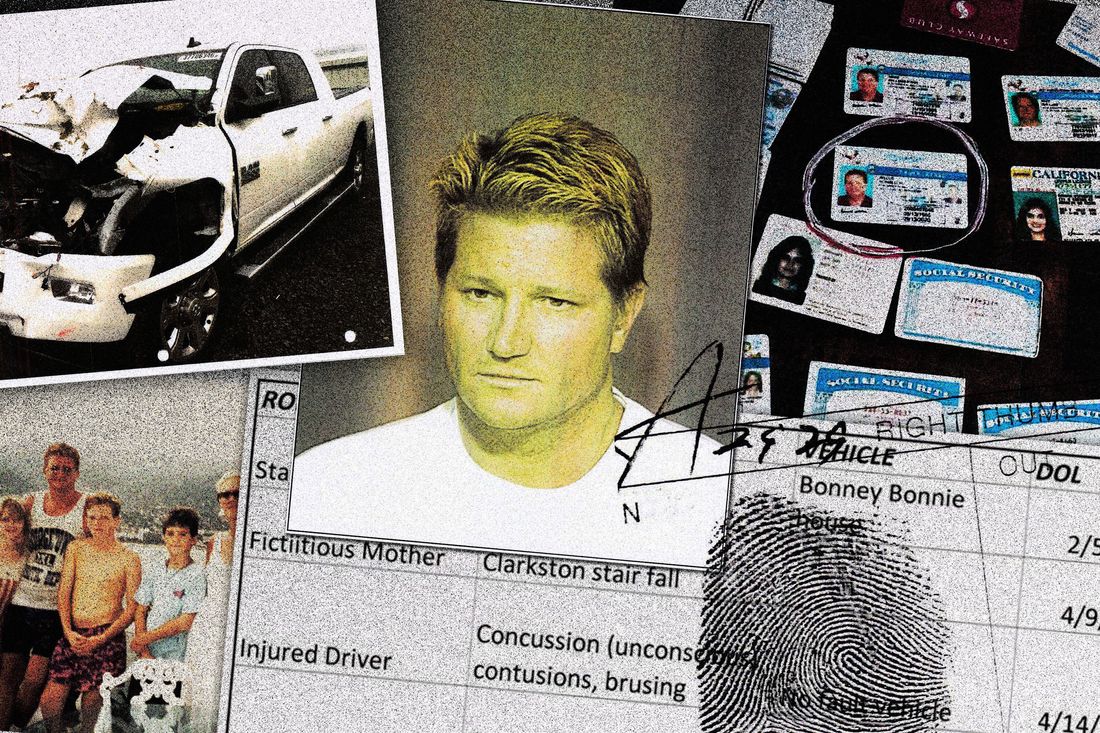 Photo-Illustration: Courtesy of family members, court documents, and Maricopa County Sheriff's Office
In partnership with Epic magazine.
Mize hurt you one at a time, pulling tools from a briefcase, cold and businesslike. He'd gash your brow with a razor or box cutter. Scuff up the wound with sandpaper, gripe if you didn't bleed enough. For concussions or a busted knee, he'd smack you with a liquor bottle, a brick, a frying pan. You'd chug a Red Bull to spike your blood pressure. Pop aspirin so your blood would stream faster. Spill a bottle of your urine on your pants like you'd blacked out.
Inside the "victim" car, women could clamp on a neck brace, a helmet. Men typically wouldn't get any protection: too wimpy, in Mize's view. He'd get into the "at fault" car, headlights glaring through the darkness down the road. Your dread would be coursing now — fear about what's to come, whether you'd pull this off.
All clear. 
Mize would hit the accelerator, speeding toward you at 40, even 50 mph — you packed in with the others, your girlfriend or cousin or best man, like bowling pins. Your wounds already throbbed, and you feared that the crash would go off-script to do further damage: steel warping unexpectedly, glass slicing something vital, a seatbelt rupturing a spleen.
After the impact, after the cars had spun and screeched to a stop, after you realized you were rattled but alive, Mize or another person would rush to the window to collect helmets and braces and pee bottles and burner phones. Mize would hop in a third car with a getaway driver and vanish. The at-fault actor would climb into the driver's seat of the car Mize had left crumpled behind, ready to take the blame.
Then you'd sit in the eerie silence, listening to the drip of oil. You'd ask quietly if everyone was okay, tap your scrapes to conjure fresh blood as sirens started their tiny, far-off scream.
The first responders would see a totaled car of crash victims bruised, bloodied, whimpering, seemingly in shock or barely conscious. You'd feel like such scum as you were strapped to the stretcher, the responders comforting you as you wasted their time. Cops — sometimes at the scene, sometimes at the hospital — would pull out their collision reports.
Showtime.
Mize had made you rehearse your lines. You were driving a Sebring convertible down an industrial stretch in Las Vegas when you dropped a CD on the floorboard and, reaching down, sideswiped a Mercedes. You dropped your water bottle. Your vape. Your Pepsi. You were lighting a cigarette. Reaching for a phone. You swerved to miss an animal. You were swigging from a glass bottle that chipped your tooth. You slammed your head. You blacked out. Could you blame the responders for believing?
At some point, you might reflect on the craziest part. You had agreed to this. You'd hoped that your injury would go like Mize wanted — registering on a CT scan, or justifying stitches, or nabbing a referral for a procedure — reaping a mammoth insurance payout. You had joined the ranks of a scheme that a federal prosecutor would one day say operated like a criminal organization and that a judge would call a "tragedy," sucking in dozens of accomplices and millions in profits before it all went sideways, though some part of you had expected that, too.
At the head of it all: His legal name was William Mize IV. You knew him as Uncle Bill, your friend, your husband, or Dad.
Bill Mize loved to host parties, and Christmas get-togethers took pride of place on the social calendar. In those final years — when most but not all of the clan were still speaking — family and close friends would gather at his big white house atop a cliff in Spokane, Washington, driving through wrought-iron gates adorned with gold-leaf M's. Inside, there'd be Sinatra or jazz playing on the speakers. Mize and his partner, Sandi, would bustle around the kitchen, preparing roast beef, Brie hors d'oeuvre, Grasshopper cocktails, everything rich.
Garlands would festoon the grand Victorian saloon bar that ran along the great room. Mize's live-wire mom would crack jokes in her southern drawl, and someone on a snowmobile might tow a sled full of grandchildren. Mize's nephew Ryan Park would set the long dining table with fine cutlery and plates placed at precise angles. Once dinner began, Mize would raise a toast under the watchful eyes of a marble Roman bust that was either Julius Caesar or Caligula.
In the mixed company of friends and assorted relatives, nobody would mention the family business. Some could gloss over what it had taken to get here — the faint scars, the fake teeth in their smile. They could ignore the stacks of ID cards in Mize's office and the graveyard of crutches in the shed.
Mize was in his 50s then — a heavy six-foot-two, ruddy complexion, tattooed-on eyebrows, dental veneers. His background soundtrack was The O'Reilly Factor and Rush Limbaugh. He stockpiled freeze-dried food for society's collapse and kept loaded guns in his glove box and briefcase and leaning on the wall by the door. His idols were Humphrey Bogart in Casablanca, the Rat Pack, and, above all, Marlon Brando in The Godfather — fantasies of a bygone era of criminal swagger and family dons. He liked women with big jugs and few opinions and didn't care if you didn't want to hear it. He believed that nine-to-five working chumps were the only ones paying taxes and were getting screwed.
In perhaps the most self-aware thing he had ever said, Mize compared himself to Donald Trump, one relative recalls. Trump's ascendancy to the Oval Office seemed an energizing affirmation of his worldview. (Mize is pronounced like "miser" or "demise.") Mize hated Obama, hated government assistance — "Someone is paying for it," he'd say, a masterpiece of irony.
Mize wasn't anywhere near truly rich — but he could role-play wealthy in eastern Washington State and Las Vegas. He was a young boomer's fantasy of a rich guy with tastes at the intersection of English gentry and Liberace. And someone had to pay for his Spokane compound, for a dressing room stacked with cuff links and Breitlings, for the Bentley parked in the garage under chandeliers. Something had to bankroll the speedboats on Idaho's Lake Coeur d'Alene. His beloved Chihuahua, Chica, needed spangly ballgowns and, one day, to be interred in the doggy mausoleum custom-built in the backyard.
There's a narrow path to such ostentation for the non-famous and non-college-interested who mock the idea of an actual job. Mize found his muse in the con and his ability to rope others into it. Here's how they say it happened: He struck when you wanted cash. When totems of the middle class were slipping from reach. When you needed a down payment. To pay off credit cards. To start a business. When asking your parents for money made you feel like a failure. When you were suffocated by medical bills, neither earning enough to pay nor poor enough for government help.
Yet money alone doesn't completely explain why the people closest to Mize entered the ring. Mize had a way of making himself your center of gravity, the one from whom you wanted approval, mentorship, love. Mize could be fun, even thrilling. But getting all that meant pleasing him. And pleasing him meant fraud.
Mize started life as a secret. He was born William Mize Waters in 1961 in El Paso, Texas, out of wedlock to his mother, Eve — a big deal in the '60s for a southern belle who had grown up on a farm outside Gainesville, Florida, gracing society pages and a Department of Agriculture handbook, posing glamorously amid the cabbage rows. With three kids from a prior marriage, Eve briefly left the infant in the care of another woman. (Mize called it an orphanage.) It was an ignominious beginning that he never seemed to get over, toasting to himself at one of his birthdays, "To the illegitimate child!"
Eve eventually picked her baby back up and moved to the suburbs south of San Francisco. Bill dropped out of high school and, while still a lanky teen, moved out and started bartending. While visiting his sister in western Idaho, he met her teenage babysitter, Teresa Mastin. Mastin remembers watching Bill walk in, "drunk and obnoxious with long, stringy hair. A hippie from California is all I knew."
His chutzpah and sense of romance made up for his looks, and they married when Mastin was 15, pregnant with their first son. At some point, Mize's biological father, William Mize II, showed up. He turned out to be a Kentuckian from a reputable clan who had trained in the Army Air Corps in World War II and become a successful Florida restaurateur. Bill agreed to be adopted and took the Mize surname, skipping a generation to call himself Mize IV and insisting on naming his newborn William Mize V.
The family moved to Sacramento, where Mize worked at steakhouses and a tiki bar and TGI Friday's. They had a daughter, Angela, in 1984 and moved into a no-frills house. In the late '80s, Mize's father and adoptive mother died, leaving him some $700,000 and a ranch home in Arizona. The inheritance "just changed his whole DNA," Mastin says. "Almost like within 24 hours, he was completely evil." Mize bought a Corvette and a motorboat and sunk much of the rest into opening a white-tablecloth restaurant in a Sacramento shopping center. Mastin recalls cleaning its toilets and grating cheese all day, while Mize showed up before dinner dressed in a sports jacket and jewelry, ready to impress.
Their marriage devolved into a sniping divorce and custody fight. In a court declaration, Mize levied a revealing criticism at Mastin's then-boyfriend: "He seems to represent a social class I had worked so hard to raise my family above." A psychologist hired for a custody evaluation noted Mize's authority problems and wrote, "The father is controlling, extremely narcissistic, arrogant and at times insists on 'his way.'" At the end of 1993, Mize walked out on the business and took — Mastin puts it more as "abducted" — the kids to Acapulco.
Mize rented a villa overlooking the Pacific and set up a small marijuana-smuggling enterprise, the family says. It wasn't like he hid it. "I was never treated like a kid," Angela, 10 at the time, says now. One day in Mexico, Ryan, her shy 11-year-old cousin, walked in the door. "My brother and I were like dirty-faced barefoot barbarian children," Angela says, "and Ryan was like, 'Are you guys playing in dirt?'"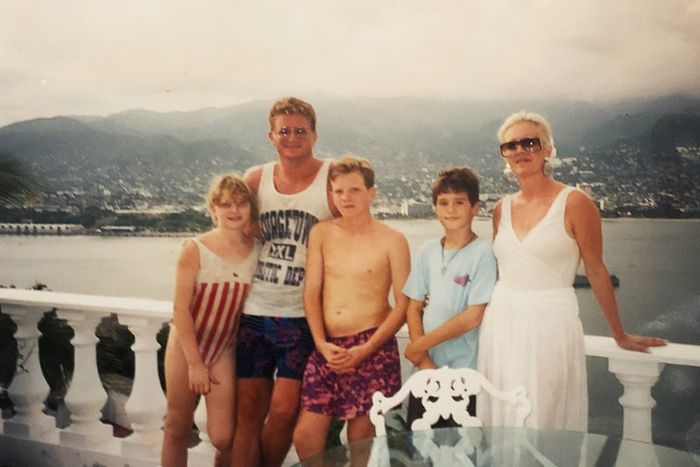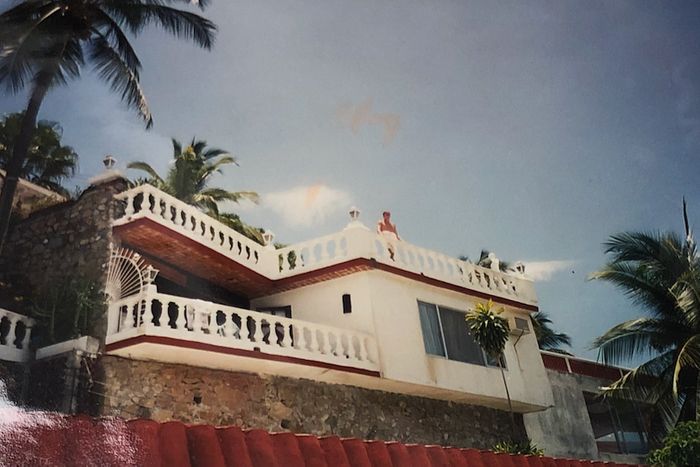 Ryan had grown up in tonier climes around San Francisco, at least until his father dropped out of his life. He and his mother were scraping along in a rented room when Mize — Uncle Bill to Ryan, a cousin to Ryan's mom — stepped in and suggested they move to Acapulco. He would pay their way. "That was why Bill has always been our savior," Ryan says. "We had no reason not to trust him."
When they all returned to the States months later, Mize continued smuggling in pot — the "shitty brick kind," Angela says — sometimes on cruise ships. On one voyage, in the mid-'90s, a brunette beauty from Orange County named Sandi Talento and her mother invited Mize to join them for a drink. He was wearing a purple tuxedo jacket and claimed to have a waterskiing business in Mexico. Sandi had a criminal-justice degree and training as a reserve cop, and she eventually figured out what Mize was really up to. Even so, they got together. Angela remembers traveling with Sandi to visit her dad in a Mexican jail in the mid-'90s, after he'd been arrested in the Guadalajara airport with drugs. Mize didn't come home for months.
Mize told Angela he was netting $100,000 a year from his pot trade. He renovated his appearance — a project that grew to include corrective eye surgery, a nose job, and the tattooed eyebrows — transforming from a bespectacled guy insecure about his looks to a kind of Miami Vice beefcake. Ryan recalls riding with Mize in his Jaguar, regarding his uncle as an Adonis: shirtless, tan, blond, in shape, posh watch on his wrist. "I thought I was, like, the coolest kid in school."
By the early aughts, Mize told folks he had left drug running for a new hustle: flipping properties in Las Vegas with Sandi acting as the licensed real-estate agent. In 2005, he decided to buy a cliffside retreat near the Washington and Idaho border. He liked how certain details — the neighborhood of manses behind gates and shrouded with trees; the house's circular drive and imposing view — gave the ordinary McMansion an estate feel. He eventually dotted the lawn with gargoyles and Renaissance-style statues.
Mize's son — William Mize V, who goes by Will — was working restaurant jobs by then, and Mize advised him to run a few schemes on the side, like voiding sales and pocketing the cash. Will went along, because "cheating, lying, stealing, shaming, and breaking the rules is how you impress Bill Mize," he would later say in court documents, and he had "spent his formative years trying to win his father's approval." (Will declined to be interviewed for this article.) One day, Will hurt himself playing basketball. Mize coached him to claim he'd fallen into a manhole at a country club, and insurance financed his surgery and pain pills.
The following year, 2006, an incident shows up in Spokane county records. Mize was driving his Jaguar convertible, nearing his own driveway. Sandi rode shotgun. Behind him, in a Ford F150 pickup, was a friend. The friend rear-ended Mize. He told the cops he hadn't seen the Jaguar slowing down to turn. He'd been reaching for his phone.
Through practice, Mize honed his con — a scheme described by federal prosecutors, detailed in court documents, and further explained by several of the conspirators who no longer want to stay quiet.
At the hospital, actors from the victim car would say they were covered by insurance but didn't have their member cards handy. Weeks later, they'd return to ask for an itemized bill and pay for any medical treatment they received at a cash-discount rate, or perhaps never pay at all. Next, Mize, working under an alias, would act as the victims' representative. He would negotiate a settlement with the at-fault insurance company, playing the good guy, saving them from a lawsuit. He sometimes doctored the itemized bills to show even higher costs — with scissors and copy machines in the early days, digitally later on — and added claims of lost income and property damage.
"I think it was the hustle, the power, the control," says Ryan. "I think maybe he got off on the fact that here's these multibillion-dollar corporations that he is just twirling around by their nose." Mize called himself Robin Hood, stealing from insurers and splitting profits with "the poor," a self-regard that let him play benevolent patriarch. "It's his drug," Ryan says. "He likes it when people depend on him."
To keep it going, Mize needed people he could trust, people who owed him. That's how Ryan says it started: Mize gave him a down payment for a condo. Ryan was just 21, making about $40,000 a year at an architecture firm, plotting out floor plans for the overleveraged homes sprouting around Vegas. Ryan thought that was pretty good for a kid with a vocational degree, but Mize called him a Boy Scout, disdainful of both his Christianity and his workaday life: Ryan, you're working 40 hours a week, and this is all you make? 
He offered Ryan $15,000 toward the purchase of a home in Henderson. Ryan agreed, but when the subprime mortgage market began to tank, Mize demanded his money back. "As a man," he told Ryan, "your word is your bond." Coming from the one man who had been in his life consistently, the scolding seared. After a few days, Mize pitched a plan: They would stage an accident in which a ceiling fan would fall on Sandi at Ryan's place. Mize would pocket the insurance payout. "How he pitched it," Ryan says, "it didn't seem bad."
The day of the scam, in 2007, Sandi and Mize walked into Ryan's guest bedroom. Sitting outside, Ryan heard a crash and ran in. Mize had ripped the fan out of the ceiling; flecks of drywall were on top of his head. Sandi was splayed on the ground, blood draining from her scalp onto the floor. Mize had cut her and smacked the wound with a metal pan.
Ryan shook as he dialed 911 for the first time in his life. Mize told him to stay calm, then hid as the EMTs showed up and hauled Sandi out on a spine board in a neck brace. "Before you know it, it's over," Ryan says, "and then somehow you kind of justify what you just saw."
Months later, Mize said the check for Sandi's injuries had arrived, and he shook Ryan's hand, saying he had honored his debt. "It felt good," Ryan says, "to have him show me that love and that attention." He started acting in more faux accidents with a growing cast of conspirators. Tall and handsome, with a strong jaw, Ryan credibly played a professional stumbling out of luxury vehicles in button-downs, slacks, and dress shoes — he was a landscape architect, a printer technician, an automotive electrician.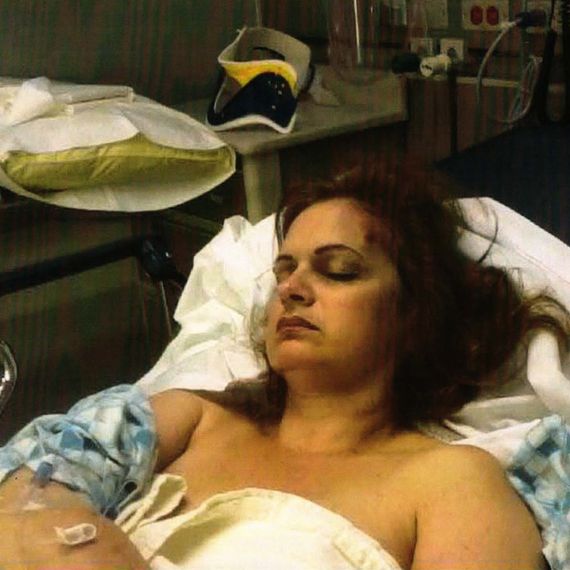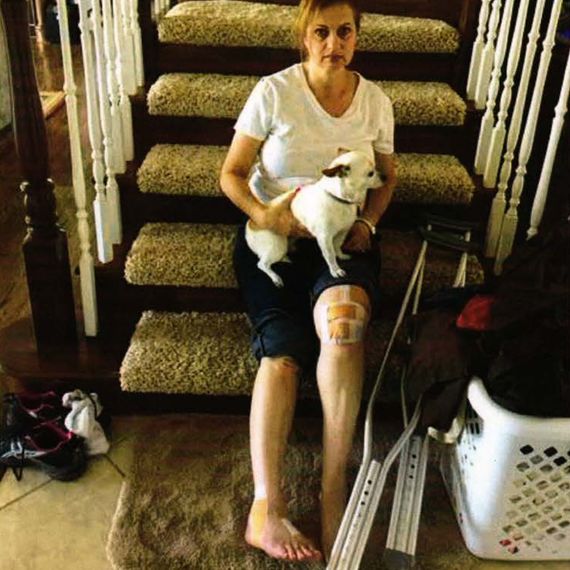 Eventually, Ryan moved to Washington, where he got deeper and deeper into debt with Mize. The two went in on another house together. And when Ryan broke up with a girlfriend in 2013, he says, Mize financed a quasi-alimony. (It was a big sum. Mize framed it as the honorable thing to do — plus, she knew  about the fake accidents.) "That's the turning point in my story — that debt," Ryan says.
After the split, Ryan started dating a Spokane bartender named Kimberly Boito, a former cheerleader and competitive equestrian who'd grown up on a horse ranch. Kimmy was in her 20s, with one daughter, and they moved into Ryan's house. Mize saw an opportunity to get Ryan on an even bigger hook: He paid off the mortgage in full and put his name next to Kimmy's on the deed. Expecting to be repaid, he had become the couple's bank.
Ryan and Kimmy agreed to pay Mize $225,000 in three years, plus 6 percent interest. "You gotta keep in mind this is not just a businessperson talking to me. This is like almost my dad," Ryan says. "I just never thought he would screw over someone he loved."
To pay off the principal, Mize told Kimmy that she ought to join the family business. He didn't bring up the injuries at first; he focused on how the insurance payouts would solve their debt problem, eliding the fact that he had played a major part in creating the problem. It was a victimless crime, Mize said. He spoke fast, greasing her and Ryan down his line of reasoning so slickly that they ended up agreeing the fraud he was suggesting made some sort of sense.
Ryan and Kimmy found their lives increasingly constricted by Mize's whims. "If that phone rang, if I didn't answer it, I'd be in trouble," Ryan says. "I was basically his minion." Mize forbade them from posting on social media. For some stretches, he paid them to remodel and clean his house, cars, and boats three days a week and be on call a fourth. He always wanted to know where Ryan was. Once, when the couple failed to tell him about a trip they took to Disneyland, Ryan says, Mize grew so drunkenly enraged he shot a bullet into an ottoman in front of them.
Mize also seemed to know when to throw a carrot. He'd send Ryan on a boating getaway or give him a new suit with a handwritten note: "You are a truly good person with a great heart. I am proud to call you my nephew." The gaslighting always worked.
All along, Ryan took comfort in something his uncle often said: If things went awry with the crimes, Mize would take the fall for the family and say he was the mastermind. "He just keeps repeating it over and over and over and over again," Ryan says. "It's like a cult." The family needn't worry about a thing.
Mize's daughter, Angela, tended to ruefully laugh his posse off: They'll be going to prison one day. Yet it also sometimes felt like a party was going on without her.
For years, Angela's relationship with her dad was push and pull. In 2001, at 17, fed up with the family's constant moves and Mize's shenanigans, she told her father she wanted to move in with her boyfriend's family. He gave her $5,000 and dropped her off. To support herself, Angela worked a check-cashing job in Las Vegas and eventually became a cage cashier at the Cosmopolitan casino. From a distance, she watched as Mize favored her brother, Will, and her cousin Ryan. Angela thought Mize seemed to enjoy stoking her envy. "They acted like they were better than me," she says, "treating me like some little peasant while they were upper class."
She heard about the unglamorous bits. Will would ring her from hospitals after some Mize-inflicted wound, she recalls, wanting to talk. Once, he had to be sewn up with serious stitching after Mize cut a major vessel in his temple. Angela's own life wasn't very exciting; she felt like she was stagnating, smoking too much pot, ploddingly working class. Maybe she was a chump, just like her dad seemed to think. Angela — sharp, funny, redheaded, a self-admitted "diva" back then — teetered. "I just wanted to be part of his group," she says.
In 2013, Angela downed a fistful of Advil in what she calls a "weak sauce" cry for help. Mize picked her up from the hospital and moved her into a nicer apartment. Angela felt that she'd flunked out of making it on her own, and she accepted that in return for Mize's help, she would enter his insurance scheme. She recalls reasoning, "This is the family that I'm part of, so I might as well just be part of it. This has been going on for so long, and nobody's gotten in trouble. Like a Viking: This is my fate."
Mize told Angela that she would pay her dues as the at-fault driver first, a $10,000 payout, before she could graduate to victim, which meant injuries but more money. One night in March 2014, they drove her Sebring convertible out to a lonely stretch of desert scruff near the Henderson airport. Angela wore yoga pants to lend credence to her story — that, exhausted from trekking in the desert sun all day, she had lost concentration and veered after dropping a CD.
Angela watched from a distance as Mize accelerated her Sebring toward a waiting Mercedes E500, feeling she'd crossed some criminal Rubicon. It was over in a blur. The Mercedes spun to a stop. Angela switched places with her father in the Sebring as smoke and an acrid chemical stink rose from the engine, desert dust pirouetting in the air. Mize sped off in another car. When the cops arrived, she sputtered, "How could I have done this?" and asked about the victims, two of whom were feigning partial consciousness. Angela was surprised the responders so readily believed the ploy.
Later, Mize told Angela that she'd done well. It had been so long since he'd paid her a compliment.
Mize had a favorite story he'd repeat on demand: the fable of the greedy puppy. After stealing a bone, a dog crosses a bridge and looks into the water below. Confusing his reflection for another dog with a second bone, and wanting that treat, too, he barks. His own bone falls into the water, leaving him with nothing. Mize always ended with a singsong "Greedy greedy makes a hungry puppy!" The tale came in handy whenever someone questioned their cut of the fraud payout.
Mize averaged six staged accidents a year, and they nearly always happened at night. He had people scout out-of-the-way crash sites with no cameras. He preferred Las Vegas to Spokane: fewer Good Samaritans who might stop at the scene of a crash. Months in advance, he'd arrange for one of the co-conspirators to buy a used luxury car and get insurance with high limits — $100,000 payout per person, $300,000 per accident.
Mize would call a meeting, often in someone's home or a hotel room, to explain the outline of the scheme to the conspirators, like a motley Ocean's Eleven. He'd pace with nervous energy, pour himself cocktails. If someone offered to look up their policy limits online, he'd tell them not to — no digital trail.
On the night of the con, it all got more real. Mize would meet everyone at a staging ground away from the crash site, sometimes out in some parking lot, where no one would know to look for surveillance footage. The actors playing the drivers were prepared to use their legal names, given that they would need to show their licenses to the cops. Mize would ask the others to recite the details of their fake identities back to him.
Mize insisted on doing the wounding, fancying himself a sort of artist of injury. He'd typically place the actors in their vehicles, then bring around his briefcase of implements, reaching in through windows so that blood would spatter in believable places. "That was his biggest thing," Ryan says. "Blood. Blood. Blood." Gouges had to work on the first try because excess cuts would raise suspicion. Whacking the gash with a brick wrapped in sandpaper made it look more authentic.
To make a different kind of bruise, he'd skip straight to a heavy object — a Seagram's bottle, a section of a two-by-four. Ryan thought he tended to go lighter on the women, slicing up in their hairline, but if men ever tried to complain, Mize would drop his arms to his side in exasperation: "You just want to call the whole thing off?" Man up, he'd say. No wincing.
Mize liked concussions, acting like you'd blacked out, injuries that would show up in a CT scan — they led to bigger payouts. Surgery was even better. After one of the conspirators was medevaced to a hospital in a helicopter, Mize bragged to Ryan about the $27,000 bill.
Mize's control extended to the crash itself. He was adamant that the collisions be an inside job: Involving strangers invited a dangerous layer of uncertainty. Mize insisted he knew best how to wreck a car. "Safety first," he liked to say, before angling his fender into the area in front of the driver's door, twisting the frame and setting it spinning without hurting the people inside. Usually, victims had to be inside at impact because the exploded airbags and busted car might make it difficult to open doors afterward — and too many people switching places post-crash raised the risk of being seen.
The ring diversified into other scams. At a Lake Coeur d'Alene marina, Ryan claimed he'd fallen from the boat's nose onto the dock. Stair falls happened in homes. In a Trader Joe's parking lot, a Yukon reversed into a person loading groceries.
According to Ryan, Mize at one point described the operation as a corporation: Mize was president; Sandi was the chief financial officer; Will was vice-president; and further down were Ryan and another regular, Misael Reyes-Tajimaroa, who went by Brian. The ring was a complex study in people management, and Mize excelled at playing members against each other. Criminality intensified the typical familial swirl — love and resentment, solidarity and rivalry. In the early years, Ryan could see that Mize favored Will, his "protégé," who passed down Mize's and his own name once more, to his own son. But at times the two young men got along, sharing a warped brotherhood, repeating Mize's catchphrase to each other darkly as he sped toward them: "Safety first, right?"
Mize kept the enterprise low-tech to evade detection. Every couple of months, Ryan heard a gunshot in his uncle's front yard: Mize blasting a hole in the hard drive of his latest laptop, which he'd later drop in San Francisco Bay. The ring kept a web of P.O. boxes and bank accounts. No cell phones were allowed at the crash sites; all calls at the scene were made on burner phones.
And in part because his drivers had to use their real names, Mize needed a steady stream of recruits.
Ron Wells was not a typical mark. A large man in his late 60s with caterpillar eyebrows, he was one of Spokane's most illustrious citizens — a millionaire preservationist and developer who had spent the previous three decades rehabbing historic buildings into tastefully restored homes and commercial space. He'd turned a power station with 225-foot smokestacks into the Steam Plant, an industrial-chic brewery touted in Men's Journal. He sat on hospital boards and civic committees and, for decades, had lived with his wife in an upscale Spokane neighborhood.
One day in 2015, he entered Spokane's Davenport Hotel for a meeting with Bill Mize. Incongruously, a mutual business partner had set them up: In addition to his insurance schemes, Mize was still interested in flipping properties. It didn't take long for Wells to realize that he and Mize weren't into the same sort of real-estate project, but the two got to talking. They both liked luxury cars, and Mize regaled Wells with colorful tales of his bygone days smuggling pot from Mexico.
Wells was in the mood for revelry. Having recently come out as gay, and in the middle of what would become a drawn-out divorce, he was looking for new judgment-free pals. He accepted Mize's invitation for a dinner party at the cliff house. Wells took in the "intimidatingly elegant" spread of china and cutlery, the gun collection, the velvet-swathed movie theater in the basement. Mize offered Crown Royal Black and top-grade marijuana. "You can kind of begin to see what lures you into the Mize trap," Wells says. "If you like nice things and having a good time, you're vulnerable." He joined Mize's entourage on trips to New Orleans, San Francisco, and Las Vegas.
Wells had a swank house on a ridge above Lake Coeur d'Alene, and Mize persuaded him to let him dock two boats at the base. Mize would inject $700 worth of fuel into his gas-guzzling Baja speedboat to take Wells to a happy-hour special across the lake — both a profligate and cheapskate — rocketing home under the stars at full-throttle 90 mph. Eventually, Mize asked if he could have mail sent to Wells's house, and Wells agreed to that, too.
Wells says Mize would claim that he was an insurance consultant, helping crash victims optimize their payouts. Wells says he plugged each odd new detail into that story: constant calls about this or that wreck, towers of cash glimpsed in an office safe, the half-dozen flip phones in his briefcase, each labeled with a name.
In April 2016, Mize said he needed to deposit a $225,000 check made out to one of his clients into Wells's bank account. "I'm just too naïve," Wells says. He stood by as Mize sweet-talked the Spokane branch manager, who agreed to the deposit. Once it cleared, Wells transferred the money to Mize's account.
Wells didn't care to dwell on many facets of Mize — like his fawning love of Trump when Wells was Team Bernie. Or how Mize constantly berated Sandi about messing up the food, or driving the boat wrong, sending her into tears. Or that time when Wells mentioned he was having money trouble with someone, and Mize asked if he should arrange to have the guy's leg broken, convincingly enough that Wells felt the need to say no.
Another warning: the time Ryan gave Wells his résumé and asked for a job, saying that he didn't want to be beholden to Mize, pleading, "Can you do anything to get me out of this?"
"I should have drilled him on that and asked for more details," Wells says now. "But, you know, I don't know that I really wanted to hear any more details. At that point, I pretty much knew it was nefarious."
Wells had seen how Mize relied on Ryan, whom Wells assumed helped with insurance claims and to prep Mize's over-the-top parties. "Clearly, Ryan was his servant," Wells says, to the point of seeming stressed around Mize. "I think he was trying his dead-level best to please him."
Wells thought Ryan had potential. Yet the more he thought about it, the less he wanted to risk angering Mize by hiring his gopher away. "I've always felt sorry for him," Wells says. "I thought Ryan was sort of trapped."
Certainly, Ryan's life looked good in those years; he was the only dad showing up to the father-daughter school dance in a Jaguar, borrowed from Mize. He wore monogrammed French-cuff shirts and returned each day to his impressive ranch house. In 2016, Ryan and Kimmy married at Mize's cliff compound in a Great Gatsby–themed wedding.
While each of his fake crashes might bring in $25,000 to $100,000, Ryan says, Mize first subtracted the cost of travel, meals, celebrations, payments to other conspirators, and even office supplies like toner. Of the remaining sum, Mize pocketed half. Ryan often forked over much of his own share to Mize to pay down his debt. He says he and Kimmy made $80,000 in their best year but in another lived off just $10,000 with Kimmy clipping coupons for groceries.
Angela says she earned $10,000 from the Sebring crash, and Mize bought her a fancier-looking Cadillac CTS. The bigger benefit was acceptance. Mize finally invited her to his parties, paying her way to New Orleans, where she reveled with his crew on a hotel suite's porch above Bourbon Street. She lifted weights and dieted to drop 70 pounds, pleasing Mize, who had always seemed embarrassed when she'd flaunted her larger frame. "He wanted me to play a part, basically," she says. "It was all about making him look good." Still, his approval felt nice, and her worker-bee life gained glamour. She once boarded a helicopter, compliments of Mize, for a late-night ride around Las Vegas. "Like, I was one of the pretty girls," she says. "I was one of the cool girls."
She started dating a construction worker in the fall of 2015 and, early on, broke the truth: "I'm probably going to Martha Stewart prison someday." She figured they'd have to break up. Instead, "He said he didn't care, and that was that."
Angela became pregnant, and the couple wed at the Excalibur casino's chapel. The same year, she let Mize use her Las Vegas house to stage a fall, netting her another $10,000. She says Mize gashed Reyes-Tajimaroa with a razor to get the blood running, then pushed him down a flight of stairs. The 911 dispatcher told Angela to stanch the blood with towels, but Mize said to hold off. He wanted Reyes-Tajimaroa to look wretched when the paramedics arrived. "That really, really, really bothered me," Angela says. "This guy's gonna freaking bleed to death on the bottom of my stairs." Later, she says, she sobbed while wiping up the blood.
Crime was wearing down a lot of the crew. Will, flush with prescriptions from the car wrecks, became addicted to opioids and went to rehab. Later, he would be arrested after running naked down a Las Vegas freeway. He parted ways with Mize, who derided addiction as weakness. Yet members of the family suspect that the boss was actually a high-functioning addict himself: After crashes, Mize would direct victims to request certain antidepressants and painkillers and hand them over to him. "He would pop a Valium with a glass of red wine like it was nothing," Angela says. "He would never want it to be framed like that: Addiction was beneath him. But everybody knew."
One day in July 2015, Ryan gulped shots of Jack Daniel's and headed into Mize's bathroom with a pair of pliers. His task: chip his own tooth so that he could later say he'd smashed it on a bottle in a pileup. "I put the pliers in my mouth and I'm like, Come on, come on, come on, and then nothing," he says. Mize asked from outside, "Is it done yet?"
To go against every instinct of bodily self-preservation, Ryan says, you have to understand some things. First, this was the lesser evil. Mize had originally pressured Ryan to let him take a brick to his knee, in hopes that he would require surgery. Ryan refused. No way was he taking on lifelong pain. Second, this particular scam had special importance: It could finally drop his debt below $100,000. If he and Kimmy hit that milestone, Mize said, he'd take his name off their house deed and they could get a normal mortgage.
The tooth had to go. Ryan had put on weight and was drinking more since his body became Mize's voodoo doll. He dreaded each incident, chugging Pepto Bismol, Googling the safety ratings and crash-test results of the cars he'd be inside. He worried about all the radiation he'd taken on from CT scans. He recalls Mize standing behind him with a box cutter, counting "One, two" — and slicing some three inches across the back of Ryan's scalp, appraising the blood pooling on his shoulders once Ryan laid on the ground, saying, "Looks good." Once, Ryan threw a 25-pound dumbbell at the ground with his left arm, trying to tweak his shoulder enough to justify a rotator-cuff procedure that would make Mize happy but stop short of inflicting lifelong injury.
Still, nothing compared to the tooth. In the bathroom, after 30 minutes of false starts with the pliers, summoning thoughts of financial freedom, Ryan finally cracked off a chip. Examining it, he prayed that it was enough, that Mize wouldn't require him to produce a bigger chunk. After the crash, Ryan slit his lip with a shard of glass and, with paramedics watching, spit the bloody tooth chip into his hand for maximum theatrics.
Weeks later, Mize said the claim had failed. The insurance company was asking for depositions. Ryan would have to walk away with nothing. Mize would stay on the deed.
Ryan loved Mize and the good times — holidays at the cliff house and the lake, gliding under the Golden Gate Bridge in Mize's boat, smoking cigars and listening to "I Left My Heart in San Francisco." They were quasi father-and-son moments he knew he never was going to get from his own dad. At the same time, he feared Mize. Once, he says, Mize wanted to know — hypothetically — if he would shoot someone if he asked him to. Ryan said "no." He recalls that Mize calmly replied, "That's what I thought."
Ryan knew if he left the ring, he'd lose access to Mize and everything that came with it. "Business, I hated. Family, I loved," he says. "I couldn't say good-bye to one side of it without saying good-bye to the other."
One night in fall 2016, Mize told Ryan to head to the cliff house. They were going to do a scam that night — this time with Mize's biggest fish yet: Ron Wells.
One of Spokane's most illustrious citizens ended up crashing a car with Bill Mize because he needed money. He owed his divorce lawyer a hefty sum, but his credit cards were maxed out and his millions in real-estate assets were tied up. Wells did the worst thing he could: ask Mize for a $20,000 loan. When months passed and Wells couldn't pay him back, Mize visited him at home. According to Wells, Mize told him that in his day, unpaid debt had "meant a broken arm or a broken leg." Wells says he took the threat seriously.
A couple of weeks later, Mize returned, friendlier. If Wells would allow his Dodge Ram 3500 to be totaled while creaming Mize's Baja speedboat, Mize would take the insurance payout and they'd be square. "If you and I don't ever say anything about it," Wells recalls Mize saying, "nobody will ever know."
"What choice did I have?" Wells says now. "What could I do? It was an easy solution. All I had to do was go along with the script."
One night in October 2016, Wells sat next to Sandi in a Jaguar on the side of a country road east of Spokane. A groomsman from Ryan's wedding, driving an F-250 truck, towed the boat a couple hundred feet away and stopped in the middle of the lane. Everything was quiet. Then Mize gunned his Ram to 50 mph and slammed head-on into the boat, which bucked into the air and smashed down on the bed of the F-250. Metal shrapnel fired across the road, and smoke billowed into the air.
Wells remembers Mize hopping out from behind the inflated airbag of the Ram and ushering everyone into position. Wells replaced Mize in the Ram's driver's seat. Sandi sat in the passenger seat. Ryan's groomsman remained at the wheel of the Ford, and Mize hopped in beside him, making it one of the few frauds in which he would be a named party. As the owner of the boat, he would be due an insurance payment.
As he rode home in the Jaguar, Wells marveled silently at how the scene had played out exactly as Mize said it would. Wells went on to tell the story Mize fed him to insurance reps, and the resulting claim paid off his totaled truck and his $20,000 debt to Mize. Later, Mize flashed pictures of the epic, gnarled wreckage "like he was proud of it," Angela says. "He felt like this was his Mona Lisa."
The glow did not last. The next month, in November 2016, two men who'd staged crashes — Reyes-Tajimaroa and Richard Kayian — were arrested in an unrelated drug-trafficking bust called Operation Leaving Las Vegas. It meant an investigator might look at their bank accounts. It meant one or both of them might snitch.
Partly out of loyalty, some members of the family think, and maybe partly to make Reyes-Tajimaroa less likely to talk, Mize spoke at his bail hearing in federal court. Claiming he employed Reyes-Tajimaroa in construction, he convinced the judge to appoint him as custodian, in charge of making sure he showed up for court.
While he had performed well in court, Mize started to show some cracks. He fortified his Spokane compound, commissioning a stone wall around the house and stockpiling guns, freeze-dried food, a generator, and barbed wire, all apparently to keep marauders at bay. He had Sandi burn a CD of his favorite songs (including Sinatra's "My Way" and The Godfather theme) and passed copies to family with instructions to play it to remember him after he died. He wallowed, complaining about how many people depended on him. One day, on his boat, Mize told Angela that if the world ended, he wouldn't mind just sailing away. Other days, he hardly left his bed.
Most of the family wanted to lie low. Early in 2017, Angela's husband hurt his knee at medieval-sword-fighting practice; they declined Mize's suggestion that they stage an accident to get the maximum payout. But by the end of the year, facing medical bills, Angela agreed to play the victim in a fake crash. "I just kind of gave up," she says. Mize took her into his Escalade, she recalls, measured where her head would theoretically hit the car's wall, and womped that spot with a pint glass wrapped in sandpaper. She splashed a bottle of her urine on herself. A CT scan picked up a concussion. Mize paid her $40,000, nearly a year's wages at the casino.
Meanwhile, there were signs that the authorities might be closing in: a rumor that investigators had visited Mize's Vegas notary; cashier's checks from a couple of Mize's banks saying they were closing his accounts.
In March 2018, Mize and Sandi hauled their entourage in a limo to a roadside Vegas chapel. Every so often, the two divorced so that they could individually declare bankruptcy. (Mize was forgiven $210,000 in 2008, and Sandi dodged debts of $396,000 in 2016.) Now they were getting married again. As the officiant delivered heartfelt lines about loving each other, Sandi wore a blue ball gown and held their Chihuahua in a tutu while Mize nodded impatiently, interjecting vows to "have each other's backs" and "never testify against each other."
Two months later, the FBI showed up with search warrants at Mize's Spokane compound and Ryan's house.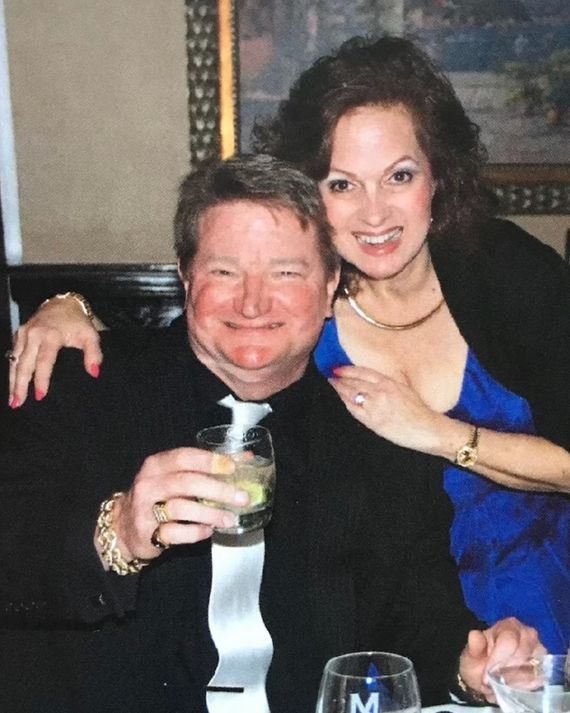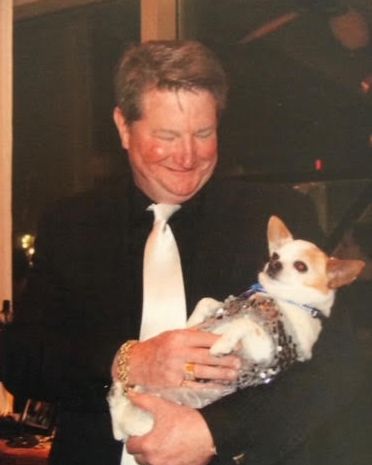 After the raid, boxes of documents and cash hauled out, Ryan and Kimmy rendezvoused with Mize and Sandi at the Davenport Hotel, the same place where Mize had first met Wells. Ryan thought Mize looked pale and scared. "There's no sugarcoating it," Ryan recalls him saying. "This is bad. Real bad." No one had much to say. The two men drove to three of Mize's banks and confirmed that his accounts had been frozen.
The indictment finally dropped the week before Christmas 2018. It named 22 co-conspirators, including all of Mize's nuclear family and Ryan, Kimmy, and Wells. (Nine more participated but went unindicted.) Because of a five-year statute of limitations, the government only charged scams since 2013. The ring members were accused of pocketing more than $6 million from 33 staged accidents for a total of 101 counts of money laundering and mail, wire, and health-care fraud. Mize was later separately indicted on a charge of evading taxes for three years.
In January, the ring members showed up at the federal courthouse in Spokane. Mize pleaded not guilty to 87 counts. The court released Mize on an unsecured bond without location monitoring. He was allowed to travel in Washington, Idaho, California, and Nevada. He promised to pay $750,000 if he skipped court.
The family says, to their knowledge, almost everyone in the ring talked to the investigators — including Mize. "The little godfather that he pretended to be?" Ryan says. "He was no godfather. He snitched on everyone." Revelations trickled out. Mize had lied to Ryan when he said the chipped-tooth crash had resulted in no insurance payout. In fact, the claim produced more than $282,000.
Through the first half of 2019, Ryan, Kimmy, Angela, Sandi, and Wells took plea agreements and awaited their sentencing. Mize told Angela that he planned to plead guilty; he'd joked about Club Fed for years, but now he said soberly that he didn't want his grandkids to see him in prison.
In late June, ahead of a hearing, Mize visited Angela in Las Vegas. They had a melancholy dinner at the Venetian, and the following day, at her house, he hugged her and his toddler granddaughter — a somber, uneventful good-bye. A couple days later, a typed letter from Mize arrived in Angela's mailbox, postmarked in San Diego.
Please understand my options are all very bad, I know I do not want to die in jail and it will serve no purpose for me to be there. I will not be able to help anyone and would just be a burden to the few people in the world that even really care about me.
Mize was running.
The sentences came down: Wells got a year of home detention, and so did Will, whom the judge credited for having distanced from the scheme years earlier. Angela got six months of prison. Kimmy was sentenced to ten months, and Ryan got 19 months. He thanked the court for yanking him out of Mize's control: "This has truly saved my life, and I will forever be grateful." Sandi got the harshest term, nearly six years.
When Ryan walked out of an Oregon prison in May 2021, he moved into Kimmy's childhood ranch outside Spokane, their old house long since sold to help pay off $450,000 in restitution. (Mize had taken his name off the deed shortly before the FBI raid.) Ryan got a job at a mechanic's shop, relieved to earn an actual paycheck for actual work. He and Kimmy launched a prison-consulting business, fashioning themselves TheOriginalPrisonCouple on TikTok.
After getting out, Angela moved her family to the rural West. "Maybe I'm kind of a redneck," she says, "and maybe that's kind of okay." On her therapist's advice, she tore through The Sociopath Next Door. She also started self-policing, stopping herself whenever she hears a whiff of Mize's grandiosity ​​in her own speech. Angela wonders if she might get a call someday that her dad is dead, or, just as stressfully, if he will show up on her doorstep alive: "Until he's incarcerated or deceased, the story's not over."
In Mize's absence, the clan has cleaved into factions. Mize's nuclear family and Ryan's wing are estranged, resentful of the other's sentences, disagreeing on who was miserable all those years and who was gung ho, alternating moments of tenderness about each other with bitterness and an acknowledgment that they probably won't speak again. That toxic mess is Mize's real legacy. He always hurt people one at a time, cold and businesslike. Now they're healing alone, unable to see their strikingly mutual pain: the long-term damage of what they've been through, the betrayal they feel knowing Mize abandoned them while they paid the price, the doubt that he ever cared about them at all.
Mize surfaced — just once. In early 2020, he rolled a cart into a Henderson liquor store, wearing sunglasses and a Nike polo. Spotted by a family member, he hustled out, surveillance footage taping his worried frown. Going on the lam could add 20 years to Mize's sentence. Now 61 years old, he'd be locked up well into old age.
The family thinks he may be congratulating himself on his most cunning con yet, this one on the U.S. justice system, which wagered that the middle-aged boss of a sprawling white-collar fraud empire was somehow not a flight risk, despite his network of bank accounts and fake identities.
But what is left of his life now? Mize loves an audience. The point of a legacy is to be remembered. All that ostentation was meant to be seen. Maybe he's found new people to try to impress; maybe he gets fleeting pleasure from rewatching the TV-news spot with a deputy U.S. marshal calling him "one of the smartest people I've come across." On other days, in other moments, with his family ruptured and moving on, Mize may realize that his favorite fable has become his own: the greedy puppy, staring at himself in a hall of mirrors, having long ago lost the bone.
Photos: Courtesy of family members, court documents, Maricopa County Sheriff's Office, Young Kwak for the Inlander, and the United States Marshals Service.