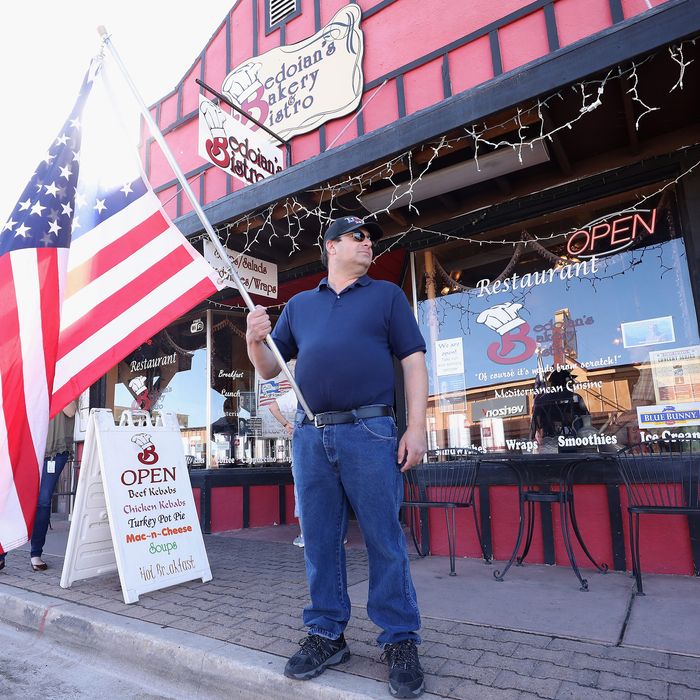 Experts blame a surge in cases in Arizona on a return to "pre-pandemic behavior."
Photo: Christian Petersen/Getty Images
It's been two months since the United States reported as many new coronavirus cases as it did Tuesday, when more than 35,000 were added to the New York Times database. The last time that many people tested positive in one day was late April, when the virus was ravaging New York City and the rest of the country was struggling to build testing capacity.
Both of those dynamics have changed with one week left in June. New York City is no longer the epicenter of the outbreak and testing has markedly increased throughout the country. That partially explains why 27 states are seeing an increase in cases. But it's not the complete picture.
The rise in new cases is also tied to the easing of lockdown measures over the last six weeks. Some states that were among the first to loosen restrictions, including Arizona, Florida, and Texas, are among those to set records in the past week for the number of new cases. But it's not the rise in cases that best reflects the danger of the current moment. It's the surging number of hospitalizations, which show how many people are seriously ill from the virus. Seven states are currently at an all-time high for number of hospitalizations.
"The next couple of weeks are going to be critical," Dr. Anthony Fauci told Congress on Tuesday, citing the "disturbing surge" that is "not going to disappear."
More than 150 days after the first coronavirus case was diagnosed in the U.S., here are the states where things are still getting worse.
Alabama
While the raw numbers coming out of Alabama are not as striking as those in others states — Tuesday saw 693 cases and 23 deaths — the state is second per capita in the number of new cases over the past two weeks. According to local health officials, problems with fighting the virus in Alabama include high rates of diabetes, kidney disease, heart disease, and high blood pressure. COVID-19 has taken an especially harsh toll on Black people, who make up 24 percent of the state's population and 44 percent of the virus deaths.
Arizona
The past week has been brutal for Arizona, which has seen its total case count from the entirety of the pandemic rise from roughly 38,000 to 58,000 in the matter of seven days. Its positive test rate, as of Tuesday, was 22.5 percent, up from 6.7 percent on May 22. So even though Arizona is increasing the number of tests administered, a much higher proportion of those tests are coming back positive than they were a month ago.
On May 15, Governor Doug Ducey made Arizona one of the first states to lift restrictions, a decision that some experts cite when explaining the state's growing number of cases. He also barred local officials from passing mask ordinances until last week.
The most worrying stats coming out of Arizona may be those related to hospital-bed capacity. On Monday, the use of hospital beds, ICU beds, and ventilators by COVID-19 patients were all at an all-time high. And as AZCentral.com reported, 83 percent of inpatient beds and 84 percent of ICU beds are filled with patients who have COVID-19.
California
On Monday, California added 5,813 new cases to its positive test tally, shattering the previous daily record of 4,250 cases. On Tuesday, the record was broken again as the state topped 6,000 new cases for the first time. And on Wednesday, it shot up over 7,000. Los Angeles, which is adding 2,000 new cases a day, is the epicenter of the state's outbreak. While the statewide positive test rate is 4.8 percent, L.A.'s is 8.8 percent. With more than 88,500 people testing positive for the virus, L.A. has had more cases than any county in the U.S.
Florida
The 5,506 new coronavirus cases added to Florida's tally Wednesday set a new record. The state also reported 44 new deaths, for a total of 3,281.
Hospitalizations for COVID-19 are also on the rise, especially in South Florida. The Miami Herald on Tuesday reported a "silver lining in the growing number of new cases and hospitalizations" in the area: Patients are younger and less sick than those who were being treated in April. Health experts say this suggests that the virus is spreading in public, as young people gather in reopened stores and restaurants.
North Carolina
North Carolina is among the seven states that are currently at an all-time high number of COVID-19 hospitalizations. The state reported 915 hospitalized patients Tuesday.
Dr. David Wohl, an infectious-disease expert at UNC, told the News & Observer this month that hospitalizations are the most telling way to measure the movement of the outbreak. "I think that's really the truest canary in the coal mine for us," he said. "If we're seeing people get sick enough to be admitted to the hospital, that's telling you we have not flattened the curve."
The state, meanwhile, is attempting to push forward: On Tuesday, Republicans in the House passed a bill to allow more businesses to reopen despite Democratic governor Roy Cooper's orders.
South Carolina
Another state with a record number of hospitalized COVID-19 patients, South Carolina has been adding roughly 900 positive cases a day to its tally. Health officials are warning that the virus has hit some young people particularly hard. "The increases that we're seeing serve as a warning that young adults and youth are not immune to COVID-19," Dr. Brannon Traxler, a physician with the Department of Health and Environmental Control, said in a statement Monday. "They also tell us that younger South Carolinians are not taking social distancing seriously." Official statistics show that since April 4, there has been a 414 percent increase in infections in those 21 to 30 years of age.
Texas
Texas reported a record 5,489 new cases Tuesday and, for the 12th consecutive day, set a new record for the number of hospitalized COVID-19 patients with 4,092.
Republican governor Greg Abbott, who last week said there's "no reason" to be alarmed about the situation in the state, told Texans Tuesday that they should stay at home if they can. He also warned that, if things don't turn around, restrictions could be reimposed on businesses. "That's the last thing that either I or those businesses want to do," he said. "So the best thing that we can all do is work on continuing to open up businesses but do so in ways that use safe practices that include wearing a mask."
Utah
In a Friday memo to local health officials, Utah's state epidemiologist warned that a "complete shutdown" may be the only way to stem the current COIVD-19 outbreak that has the state averaging around 470 daily cases. On Tuesday, leaders from four hospital chains in the state said they are launching a public campaign encouraging people to wear masks and warned about the growing number of hospital resources taken up by COVID-19 patients. "If we do not abate the crisis that is going on now, we will reach capacity in the coming weeks and we will no longer be able to care appropriately for patients with COVID-19, and also those that seek care for other reasons," one doctor said.