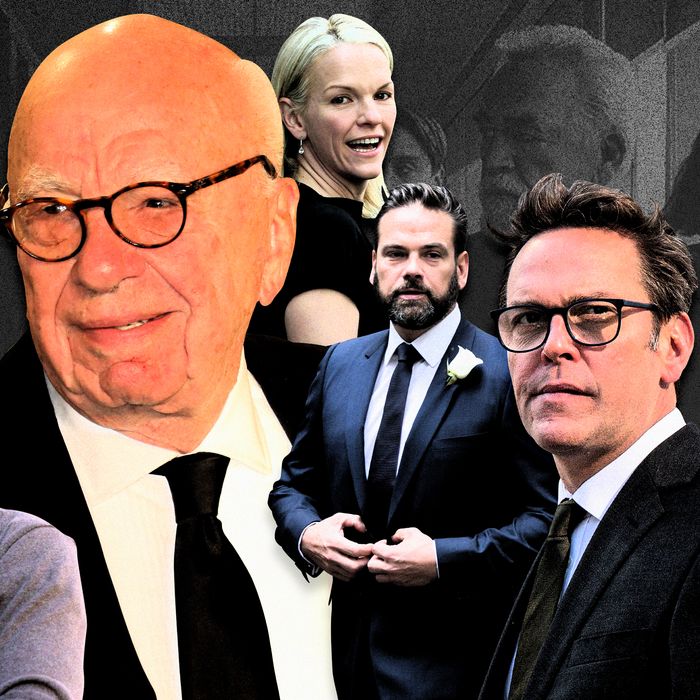 Photo-Illustration: Intelligencer; Photos: Getty, HBO
Say what you will about Waystar Royco's ATN — "Human furniture. Verbal assaults. Physical humiliation. Nazi stuff. Shooters. I just don't love it." — but they have yet to promote false election-fraud claims only to dramatically settle the ensuing lawsuit at the last minute, then fire their biggest star with no explanation. These latest plot twists came from Fox News, though it certainly felt like something you could see on Succession.
That's partly because the Succession writers are experts at satirizing our supremely weird media and political climate, and partly because the HBO show heavily draws on all the business and family drama surrounding Rupert Murdoch (along with a variety of other media titans).
Series creator Jesse Armstrong always emphasizes that the Roys are fictional and that no one family "unlocks" the show. This is clearly true. But we're still rabidly curious about the actual people behind TV's most lovable awful billionaires — especially after learning that Murdoch's ex-wife Jerry Hall was banned from giving the Succession writers ideas in her divorce settlement. Here's a guide to all of the show's references to real-world dysfunctional dynasties.
Logan Roy versus Rupert Murdoch
• No succession planning: Logan Roy and Rupert Murdoch are both aging conservative media titans who encourage their children to compete to be their successor, though they seemingly have no intention of ever dying, let alone retiring. (This plan did not work out so well for Logan.)
• Foreign roots: Murdoch was born in Australia and became a U.S. citizen in 1985 in order to buy a network of American TV stations. Roy was born in Scotland and became an American citizen later in life. (Brian Cox revealed that his character was originally an American born in Quebec, but the writers changed his birthplace to Scotland in episode nine.)
• Old newsmen: Both men got their starts in newspapers and grew their businesses into colossal media conglomerates (Waystar Royco is the fifth-largest pre-GoJo acquisition; post-Disney deal, Fox Corporation is the tenth largest). Roy is the more self-made of the two; he grew up in poverty and was "raised in Quebec by an uncle with a print shop and a few advertising billboards," according to Frank Vernon's birthday toast. Murdoch went to Oxford and inherited a chain of Australian newspapers from his father at 22.
• Health scares: Roy, 84, and Murdoch, 92, have both faced multiple health challenges. Logan suffered a brain hemorrhage, became delirious due to a UTI, and finally (spoiler alert) collapsed in an airplane bathroom and died. Gabriel Sherman summarized Murdoch's recent health struggles in Vanity Fair's May 2023 cover story:
[A summer 2022 bout of] COVID was only the most recent medical emergency that sent Murdoch to the hospital. In recent years, Murdoch has suffered a broken back, seizures, two bouts of pneumonia, atrial fibrillation, and a torn Achilles tendon, a source close to the mogul told me. Many of these episodes went unreported in the press, which was just how Murdoch liked it.
• Complicated family trees: Roy has been married three times and has four children: Connor, Kendall, Roman, and Siobhan. Murdoch has been married four times and has six children: Prudence, Elisabeth, Lachlan, James, Grace, and Chloe.
• He's always watching: In Vanity Fair, Sherman reports that when Murdoch's ex-wife Jerry Hall "settled into the Oxfordshire home she received in the divorce, she discovered surveillance cameras were still sending footage back to Fox headquarters." Her other ex, Mick Jagger, "sent his security consultant to disconnect them." On Succession, after Greg confesses to having a sexual encounter in a guest room at Logan's apartment Tom tells him that his great-uncle has security cameras place throughout his home. "You've accidentally made him a sex tape," says Tom.
• Lavish old-man birthdays: Logan's 80th birthday party in the pilot was strikingly similar to Murdoch's 78th birthday party — in Jesse Armstrong's imagination, at least. Here's how Forbes described Armstrong's unproduced screenplay Murdoch, which landed on the Hollywood Black List in 2010:
A work of imagined history in the manner of "The Queen" or "W," "Murdoch" takes place over the course of a single day, the Australian-born mogul's 78th birthday. His third wife, Wendi, has organized a surprise party. Murdoch uses the occasion to make a request of his four adult children: that they agree to alter the terms of the family trust to give his two young daughters from his third marriage voting rights. The children – James, Elisabeth, Lachlan and Prudence – discuss and argue over the request, scheme against each other, form alliances and repeatedly get manipulated by their father. Ultimately, they reject his appeal, each for his or her own reasons.
• Fake family therapy: Rupert subjected his family to faux counseling sessions, just like Logan. The New York Times Magazine reported in 2019:
… Murdoch tried to manage the [family] tensions, arranging for group therapy with his children and their spouses with a counselor in London who specialized in working with dynastic families. There was even a therapeutic retreat to the Murdoch ranch in Australia. But these sessions provided just another forum for power games and manipulation.
Sounds like the Murdochs needed a fun "family therapy" chant.
• Paper podiums: The Waystar CEO's speech from a makeshift printer-paper podium in season four is a clear nod to Murdoch's December 2007 address to the Wall Street Journal newsroom shortly after he purchased the paper. The only differences are that Logan stood on blue Hammermill paper boxes while Rupert used green Boise paper boxes, and his speech was far less rousing.
• Big business moves: Roy's two major maneuvers in his later years are basically a copy of Murdoch's — except Rupert survived to see his deals go through. Roy's long pursuit of Pierce Global Media mirrors Murdoch's 2007 purchase of Dow Jones & Company from the Bancroft family. When he died, Logan was on the verge of selling most of his business empire to the tech company GoJo, keeping ATN for himself. In 2017, Murdoch sold most of his entertainment assets off in a $71.3 billion deal with Disney. He kept Fox Corp and made his oldest son, Lachlan, CEO.
• Father-son testimony: Several scenes from Kendall and Logan's testimony before Congress on the cruise division scandal are almost word-for-word recreations of moments from Rupert and James Murdoch's 2011 testimony before a committee of the British Parliament on the News Corp. phone-hacking scandal.
For example, Murdoch said in his testimony, "I would just like to say one sentence. This is the most humble day of my life."
Roy told the Senate, "When I read of the abuses of power alleged in my cruise division, well, that was the worst day of my life."
Connor Roy versus Prudence Murdoch
• The excluded eldest: Like Connor, Prudence is Murdoch's only child from his first marriage. In his 2008 biography The Man Who Owns the News, Michael Wolff described her as the "only one of his children not directly competing for his business affections," and the "Murdoch-family wing nut." Better a wing nut than the "first fucking pancake."
• The forgotten sibling: The Roys constantly overlooking Connor feels like a made-for-TV gag. But it may have been inspired by Murdoch publicly snubbing Prudence, referring to "my three children" in a 1997 press conference. Prudence said in an interview that this sparked "the biggest row I've ever had with my father."
Kendall Roy versus James Murdoch
• Number-one boy: Though Kendall is Logan's second eldest child, it seems he is modeled after Murdoch's youngest son. James Murdoch was his father's heir apparent for many years and was known as "the smart one," though Michael Wolff said, "It may not be so much his father that he's emulating as some generic idea of the advanced business figure." Similarly, Kendall's corporate-bro vibes may be stronger than his actual business acumen.
Despite serving in various top roles within News Corp. for two decades (and even doing a stint in Hong Kong, like Kendall's exile in Shanghai), he ultimately was not chosen as his father's successor. When Rupert sold off much of his company to Disney, Lachlan was selected to lead the remaining bits and there was no role for James, though he still made billions from the deal.
• Political protests: James has aligned himself with liberal causes in recent years. In 2017, he wrote a letter emphasizing that "there are no good Nazis" in response to Donald Trump's Charlottesville remarks. In 2020, he donated to several Democratic presidential candidates including Joe Biden, then resigned from the board of News Corp., citing "disagreements over certain editorial content published by the Company's news outlets and certain other strategic decisions."
Kendall has also let it be known, a bit less eloquently, that he does not share his father's political views.
• Personal grudges: As with Kendall and Logan, it seems the strife between James and Rupert goes much deeper than a business disagreement. The New Yorker reported in 2019:
James did not want to comment on his relationship with his father, but said that they'd seen each other recently at a corporate board meeting. Asked whether the two talk, he said, "There are periods of time when we do not."
• Hip-hop fandom: James dropped out of Harvard in 1995 to found the hip-hop record label Rawkus Records with his college friends. He later sold the company to News Corp. and Rupert never got his "L to the OG"–style tribute.
• Corporate speak: While it's hard to imagine any real-life business executive uttering Kendallisms like, "I think Vaulter is the shiz," one of James's business acquaintances told the Times, "He expresses himself. He swears if he needs to; he gets aggro."
• New-media meltdowns: Speaking of Vaulter, it is clearly modeled after Vice Media. "From the unhinged headlines it publishes, to the Cool Open-Floor Office Space it occupies, to the brash founder who runs it, there's a lot about Vaulter that hits disturbingly close to home," Vice noted in 2019. (Vaulter also features some elements of Gawker and BuzzFeed, and its exterior was filmed at New York Magazine's old office). James Murdoch joined Vice's board in 2013 after Fox acquired a 5 percent stake in the scrappy digital-media company.
• If the shoe fits: Jeremy Strong told The New Yorker that he used some details about James from Wolff's Murdoch biography to prepare to play Kendall. Strong tied his shoes extremely tight during his audition because he read that's what James does, which told Strong something about the Murdoch son's "inner tensile strength."
Roman Roy versus Lachlan Murdoch
• Bro code: The competitive relationship between Kendall and Roman seems modeled after Lachlan and James. Here's how the Times described their dynamic:
Over the years, Lachlan and James had traded roles, more than once, as heir apparent and jilted son. It was no secret to those close to the family that Murdoch had always favored Lachlan. ("But I love all of my children," Murdoch would say when people close to him pointed out his clear preference for Lachlan.)
• Ulterior motives: While Lachlan is not an immature court jester like Roman, the Times reported that James felt "his brother was mainly interested in the unique fringe benefits and trappings of power that came with the job." Meanwhile, Lachlan "chafed at James's fixation on corporate governance, which he felt was inconsistent with the company's swashbuckling spirit."
• "Little Lord Fuckleroy": Rupert made Lachlan general manager of one of his Australian newspaper chains when he was just 22, but the Times reported his "rise was cut short after he clashed repeatedly with seasoned executives who viewed him as an entitled princeling." Similarly, Roman sparred with other executives at Waystar Studios because his tastes are too refined for the likes of The World's Biggest Turkey.
• Two brothers, one job: Lachlan spent many years running his own businesses in Australia as James worked to position his father's company for the digital future, much like Kendall. When Lachlan returned to the company in 2015, Rupert gave his sons dueling titles; Lachlan became executive co-chairman and James was promoted to CEO. Kendall and Roman also have an uncomfortable power-sharing arrangement, with Kendall serving as interim CEO and Roman taking COO.
• Corporate vision: The awkwardness of the Murdoch sons having overlapping roles was exacerbated by their differing visions for their father's company, as the Times explained:
James and Lachlan were very different people, with very different politics, and they were pushing the company toward very different futures: James toward a globalized, multiplatform news-and-entertainment brand that would seem sensible to any attendee of Davos or reader of The Economist; Lachlan toward something that was at once out of the past and increasingly of the moment — an unabashedly nationalist, far-right and hugely profitable political propaganda machine.
This mirrors Kendall's more conventional "strategy of a thousand lifeboats," which entails having a hand in multiple media businesses, and Roman's openness to promoting fascist Republican presidential candidate Jeryd Mencken.
Shiv Roy versus Elisabeth Murdoch
• Daddy's girl: Like Shiv, Elisabeth originally pursued a career that was independent from her father's empire (or independent for a nepo baby). In 1994, when she was just 26, Elisabeth persuaded her father to "help her do something on her own" and he suggested "that television stations are a good bet," Michael Wolff wrote in Vanity Fair. Elisabeth and her first husband bought two California NBC affiliates for $35 million with a bank loan facilitated by her father.
• Management-training program: Elisabeth later took the number-two position at BSkyB, a London-based satellite-TV provider controlled by News Corp. Just as Waystar executives did not take Shiv seriously, Elisabeth clashed with BSkyB CEO Sam Chisholm, who referred to her as a "management trainee." When Chisholm resigned in 1997, Murdoch decided not to give the top job to his daughter.
• Making her own pile: In March 2001, Elisabeth founded her own production company, Shine Limited (BSkyB owned 5 percent and agreed to buy a certain amount of Shine programming for two years). The company helped create successful shows like MasterChef and Chernobyl. Elisabeth sold Shine to her father's company in 2011 for $674 million and was set to join her brothers on News Corp.'s board (she later withdrew). A group of News Corp. shareholders sued over the deal, accusing Murdoch of "paying for nepotism."
• Unwieldy empires: When laying out her vision for Waystar Royco's future, Shiv muses, "We make video-game consoles. Why? We make indie fucking movies? Why?"
The answer is probably that the company is partly based on the late Sumner Redstone's sprawling media empire. Redstone started out with a theater chain, National Amusements, that he inherited from his father, and the company eventually acquired ViacomCBS, which owned everything from Simon & Schuster to Blockbuster Video to an amusement-park chain. Redstone even made a costly bet on a video-game company, Midway Games.
• Debt problems: Jesse Armstrong said the $3 billion debt crisis Kendall is faced with in season one was inspired by Redstone being forced to sell more than $200 million in nonvoting Viacom and CBS shares in 2008 to meet the terms of a big bank loan.
• Brother's buyout: While Sumner Redstone was "rough on everyone around him," he "was particularly brutal on his offspring," according to Fortune. His son Brent and daughter Shari both worked for him and assumed they'd take over his business someday, but their relationship fractured over succession issues. Per Fortune:
With a divorce settlement under discussion with [his first wife] Phyllis, Sumner began pressuring his children to give him voting control over their stakes in National Amusements. After Shari agreed but Brent refused, their father began treating Shari "with extreme favoritism," while freezing him out of the business and ousting him from the Viacom board, Brent would later claim.
Sumner struck a deal with his wife and daughter in 2002 that allowed him to maintain control of his company, and set up Shari as his successor. Brent filed a lawsuit that was settled when Sumner bought out his shares for a reported $240 million, and the two stopped speaking. That's cold, but at least Sumner didn't send him the offer in a birthday card that said "CASH OUT AND FUCK OFF."
• Dad's dithering: The family drama didn't end there. Sumner and Shari began publicly feuding in 2007, following reports that Sumner was reconsidering the plan to make Shari his successor. Fortune notes he "seemed constitutionally incapable of sticking with any plan that envisioned his departure (much less his demise)," which certainly sounds like Logan.
Redstone publicly "blasted" Shari in a "harshly worded letter" to Forbes that sounds downright cordial if you're used to hearing the Roys tell each other to "fuck off." (Sample line: "While my daughter talks of good governance, she apparently ignores the cardinal rule of good governance that the boards of the two public companies, Viacom and CBS, should select my successor.")
While Shiv and Logan were still estranged at the time of his death (despite what she tells the Waystar suits) Shari and Sumner reconciled well before his death in April 2020. She is currently non-executive chairwoman of Paramount Global and president of National Amusements.
• Competency questions: Ongoing questions about whether Logan was healthy enough to continue leading Waystar, particularly in season one, mirror the final years of Sumner's life. His 90s were dominated by legal battles over his capabilities, and he stepped down from his chairmanship of CBS and Viacom in 2016 under pressure from shareholders. Fortune's assessment of the situation in 2016 could serve as an epitaph for Logan, too:
In the end, Redstone's corporate affairs fell into disarray because he stubbornly refused to put his house in order — scoffing at succession plans, appointing pliant boards, and running his $40 billion enterprise like a family grocery store.
• Foul-mouthed moguls: One detail from a 2018 Wall Street Journal piece on Redstone's final years feels very Logan Roy:
To help him communicate, some people who recently have met with him say that he has an iPad loaded with snippets of his voice, connected to buttons for words or phrases including "yes," "no" and "f—you."
• Final phone calls: As with Roman and Logan, British media mogul Robert Maxwell's last interaction with his son was a heated phone call. On November 4, 1991 Robert and Kevin argued on a call over an impending meeting with a bank about the mogul defaulting on £50,000,000 in loans. He skipped the meeting and went yachting near the Canary Islands, and the next day he was found dead in the Atlantic Ocean under mysterious circumstances.
• Making a statement: On HBO's Succession podcast, Jesse Armstrong cited Ghislaine Maxwell's statement to the press following the death of her father as the inspiration for Shiv's remarks following Logan's death.
At the time, Ghislaine was just known as Maxwell's "favored daughter," as Armstrong noted. Today she is serving 20 years in federal prison after being found guilty of five counts of trafficking and abusing young girls on behalf of sex offender Jeffrey Epstein.
• Old money: Michael Wolff's description of the Bancroft family in his 2008 book sounds an awful lot like the Pierces; he calls them an "old-line Wasp family" and "an unwieldy lot of cousins who hardly knew one another and who had too much money and not enough ambition — and certainly not enough interest in the business that had been left them."
• Tragic twists: As we all know, Connor, not Kendall, was interested in politics from a very young age. But one of the defining moments of the younger Roy's life closely resembles the "Chappaquiddick incident," one of the biggest scandals to ever hit an American political dynasty.
In 1969, Senator Ted Kennedy drove his car off a bridge, killing passenger Mary Jo Kopechne. Kennedy claimed he dove back into the water and attempted to rescue Kopechne, but he did not report the incident to the authorities until the next morning, after her body was recovered. In Succession, Kendall does drugs with a waiter Logan just fired, then drives off with him in pursuit of more drugs. The waiter swerves to avoid a deer and the car lands in water. Kendall, unable to save the waiter, says nothing and returns to his sister's wedding.
Just as Logan Roy shielded Kendall from any legal consequences for the crash, Kennedy avoided jail time — though he did plead guilty to leaving the scene of an accident and the ensuing scandal arguably cost him the presidency.