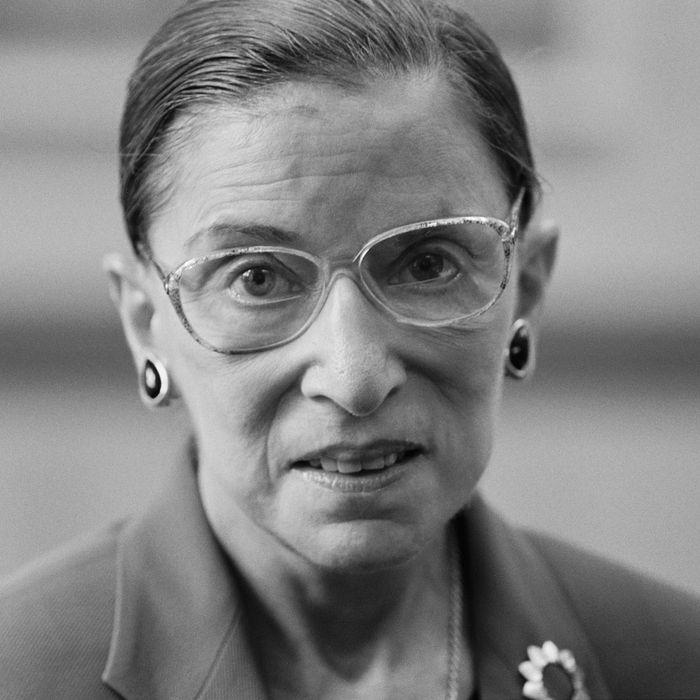 Justice Ruth Bader Ginsburg.
Photo: David Hume Kennerly/Getty Images
Supreme Court Justice Ruth Bader Ginsburg died of complications from metastatic pancreas cancer on Friday. The longtime justice, liberal stalwart, and feminist icon was 87 years old. She reportedly died surrounded by her family at her home in Washington, D.C., and will be interred at Arlington National Cemetery.
You can read Irin Carmon's personal, stirring tribute to Ginsburg and her legacy here, and view our photo editors' look back at RBG's life in images here. Below, you can find the latest updates, reactions, and curated analysis and commentary on the ongoing political aftermath of Ginsburg's death, the resulting Supreme Court vacancy fight which is already underway, and the possible consequences for the 2020 election. (The updates will appear in reverse chronological order.)
A complete rundown on where Senate Republicans stand on the vacancy (and who hasn't taken one yet)
So far, only two Republican senators have come out in opposition to confirming a new justice before Election Day, Senators Collins and Murkowski. Many others have released statements saying the opposite, while some have held off making their views known. Intelligencer's Matt Stieb has rounded up what every GOP senator has said about the SCOTUS vacancy following RBG's death. Among those who've yet to take a stand over the weekend are Chuck Grassley, Mitt Romney, and Joni Ernst, who is facing a tough reelection fight in Iowa:
Though Ernst sent out fundraising emails based on maintaining Republican control of the Supreme Court minutes after Ginsburg's death was announced, she has not commented on the prospect of a pre-election vote. In July, however, she said that "it is a lame-duck session, I would support going ahead with any hearings that we might have. And if it comes to an appointment prior to the end of the year, I would be supportive of that."
Read through the rest of GOP senators' known and unknown views here.
Pelosi won't leverage shutdown — or rule out lame-duck stalling options
During an appearance on ABC's This Week, Pelosi said she would not consider leveraging a possible government shutdown to slow down Trump's SCOTUS nomination process, but would consider options for blocking it if Trump and the Senate GOP tried to seat a new justice after Trump lost the election — if that happens. Asked if she would use impeachment to do that, Pelosi indicated that no options have been ruled out:
[W]e have our options. We have arrows in our quiver that I'm not about to discuss right now, but the fact is we have a big challenge in our country. This president has threatened to not even accept the results of the election with statements that he and his henchmen have made. … We have a responsibility. We've taken an oath to protect and defend the Constitution of the United States. We have a responsibility to meet the needs of the American people.That is when we weigh the equities of protecting our democracy requires us to use every arrow in our quiver.
Some cold water on the impeachment idea:
Scenes of grief from the RBG vigil in D.C.
At the Cut, Hanna Rosin passes along what she observed and thought while visiting the impromptu memorial and vigil to Ginsburg outside the Supreme Court on Saturday night:
The ground was covered with hundreds of bouquets and handwritten pictures and notes. ("Thank you for holding on as long as you could! AVENGE HER.") The night before the impromptu memorial covered the stairs but overnight it had been contained on the sidewalk. Here and there among the flowers was Notorious RBG imagery, on T-shirts and hand-drawn pictures. But the meme was transformed.




In some cases, literally, with the crown replaced by something that looked more like a halo. But when five women stand in front of a shrine of RBG candles and weep, the scene no longer seems kitschy. It seems terrifying.
You can read the rest of Rosin's account here.
Lamar Alexander: "No one should be surprised" GOP will take advantage of its power
Meanwhile Senator David Purdue — the Georgia Republican who in 2016 said that "the confirmation of a lifetime appointee to our nation's highest court is far too important to become entangled in the partisan wrangling during a presidential election year" and "no Supreme Court nominee should be considered by the Senate before the next president is sworn into office" or "taken up in lame duck" — said on Sunday that, "I am confident that President Trump will nominate another highly-qualified candidate who will strictly uphold the Constitution. Once the President announces a nomination, the United States Senate should begin the process that moves this to a full Senate vote."
In speech addressing SCOTUS vacancy, Biden asks senators to "follow your conscience"
Politico's recap:
In his first extended remarks following the death Friday of Justice Ruth Bader Ginsburg, Biden accused Republicans who would "jam this nomination through" of hypocrisy, while seeking to reason with other GOP senators to heed her final wishes — "not as a personal service to her, but as a service to the country at a crossroads."




"Please follow your conscience," Biden said from the National Constitution Center in Philadelphia. "Don't vote to confirm anyone nominated under the circumstances President Trump and Senator McConnell have created. Don't go there. Uphold your constitutional duty, your conscience, let the people speak. Cool the flames that have been engulfing our country. We can't ignore the cherished system of checks and balances."




Biden's speech, measured in tone and scope, encapsulated the foundation for his campaign. He did not hint at any plans to break from his traditionalist mold to back progressive-favored proposals like packing the high court. He also resisted calls from Republicans and some Democrats to release a list of potential Supreme Court nominees, arguing it could influence their decision-making and needlessly subject them to months of unfair scrutiny. …




"If Donald Trump wins the election, then the Senate should move on his selection and weigh the nominee he chooses fairly," Biden said. "But if I win this election, President Trump's nominee should be withdrawn and I should be the one who nominates Justice Ginsburg's successor."
A majority of Americans want the election winner to fill the vacancy:
That's according to the results of a new Reuters poll released on Sunday:
The national opinion poll, conducted Sept. 19-20 after Ginsburg's death was announced, suggests that many Americans object to President Donald Trump's plan, backed by many Senate Republicans, to push through another lifetime appointee and cement a 6-3 conservative majority on the court.




The poll found that 62% of American adults agreed the vacancy should be filled by the winner of the Nov. 3 matchup between Trump and Democratic former Vice President Joe Biden, while 23% disagreed and the rest said they were not sure. Eight out of 10 Democrats - and five in 10 Republicans - agreed that the appointment should wait until after the election. …




The poll found that 30% of American adults said that Ginsburg's death will make them more likely to vote for Biden while 25% said they were now more likely to support Trump. Another 38% said that it had no impact on their interest in voting, and the rest said they were not sure.
Biden team wants to frame vacancy around healthcare and COVID-19, at least for now
Per the New York Times, "Campaign aides said Saturday they would seek to link the court vacancy to the health emergency gripping the country and the future of health care in America" — i.e. the likelihood that a Supreme Court that tilts even farther to the left could doom Obamacare. The Times also reports that "campaign officials said on Saturday that they did not see even a Supreme Court vacancy and the passions it will inevitably inflame as reason to fundamentally reorient the campaign's approach[.]"
Biden campaign officials said on Saturday that they did not see even a Supreme Court vacancy and the passions it will inevitably inflame as reason to fundamentally reorient the campaign's approach. Mr. Biden has consistently led the president nationally and in polls of battleground states throughout the summer.
"It's tough to have space to mourn."
The Cut's Anna Silman spoke with mourners at a candlelight vigil for RBG in Manhattan last night. Here is what 44-year-old investor and entrepreneur Nathalie Molina Niño had to say:
The chances of us getting out of this without seeing RBG's legacy reversed and decades of basic rights being eroded — there's a slight, slim path to win, but man it's just getting narrower and narrower. It's tough to have space to mourn. I haven't cried yet. I'm sure I'll be in the shower someday and just break down and have my moment, but I think we all have to be strong for each other and we all have to be strong for the next generations, some of whom have never seen anything but politics like this. We all have to model a different reality.
Read what four other women told Silman here.
The blue wave of money continues
What is McConnell's real endgame?
At the New Yorker, Jane Mayer wonders if confirming a new justice before the election is what Mitch McConnell really thinks is best — for Mitch McConnell:
"McConnell will do anything that serves his interests. We know that," [political scientist] Norman Ornstein told me, shortly after learning of Ginsburg's death. …




McConnell is also what Ornstein calls "a ruthless pragmatist," whose No. 1 goal has always been to remain Majority Leader of the Senate. He's made the conservative makeover of the federal court system his pet project, but if he faces a choice between another right-wing Justice or keeping his control of the Senate, no one who knows him well thinks he'd hesitate for a moment to do whatever is necessary to stay in power. In fact, back in the summer of 2016, when it looked like Trump would lose to Hillary Clinton, far from being distressed at his party's dim prospects, McConnell was savoring the probability of being the single most powerful Republican in the country, according to a confidant who spoke with him then.




The problem for McConnell now is that it may be impossible for him to both confirm a new Justice and hold onto his personal power as Majority Leader. A power grab for the Court that is too brutish may provoke so much outrage among Democrats and independents that it could undermine Republican Senate candidates in November. As he knows better than anyone, polls show that Republican hopes of holding the Senate are very much in doubt. If Joe Biden is elected, enabling a Democratic Vice-President to cast the deciding vote in the Senate, Democrats need only to pick up three seats to win a majority. And, at the moment, according to recent polls, Democratic challengers stand good chances against Republican incumbents in Maine, Arizona, and Colorado. Democrats also have shots at capturing seats in South Carolina and Iowa. …




Given those complications, Ornstein predicts, McConnell may "use some elements of delay." McConnell conspicuously laid out no timetable when promising a Senate vote for Trump's nominee. Ornstein speculates that he may hold off on a vote until after the election to provide cover for his members but, meanwhile, obtain private pledges of support from them. It would mean he'd have the votes to ram a confirmation through the Senate during the lame-duck period after the election, regardless of who has won the White House.
The case for optimism, made by RBG
Intelligencer contributor and former U.S. attorney Barbara McQuade writes that Ginsburg's life story should inspire hope about addressing America's ailing democracy:
If Mitch McConnell is successful in confirming a justice nominated by Trump, the makeup of the Court swings farther right, jeopardizing precedents like Roe v. Wade. But even more significantly, McConnell's political opportunism threatens the legitimacy of the Court itself. If courts come to be seen as just one more instrument of a political machine, the law will lose its moral authority. When respect for the rule of law is eroded, it is difficult to expect compliance.




But just as Ginsburg patiently played the long game, optimistic that her words would one day resonate, those who are determined to defend American values have reason to believe that their work will be rewarded one day as well. What words can be found to persuade just four Senate Republicans that the hypocrisy of confirming a Supreme Court justice just weeks before a presidential election is not worth the result McConnell seeks? Let us channel Ginsburg to find them. For those senators who follow McConnell's lead, what arguments can persuade the electorate that their gamesmanship must be defeated at the ballot box in November? Let's replicate Ginsburg's tireless energy to find them. And what words can we muster to persuade our fellow Americans that President Trump is not an ordinary Republican advancing conservative policies, but a threat to the continued existence of our democratic values? Ginsburg would keep working, arguing with collegiality and respect, even when others do not.
You can read the rest of McQuade's tribute and call for optimism here.
Not a good sign
Saturday night at his campaign rally in North Carolina, President Trump indicated that he expected federal courts to help him claim victory on Election Day, per Politico:
President Donald Trump signaled Saturday night that he expects federal judges to play a key role in achieving a definitive result within hours of the polls closing on Election Day.




"We're going to have a victory on November 3rd the likes of which you've never seen," Trump told a rally in Fayetteville, N.C. "Now, we're counting on the federal court system to make it so that we can actually have an evening where we know who wins. Not where the votes are going to be counted a week later or two weeks later."




It wasn't entirely clear whether Trump was urging or anticipating a more prominent role for the courts in election issues in the wake of Ginsburg's death. He has been immersed in discussions about the judiciary recently as he released a list of possible Supreme Court nominees last week and after the liberal icon passed away Friday evening.
The comment maps on with the predominant spin from some Republicans that the reason they need to fill RBG's seat now is to make sure the Supreme Court is fully staffed come Election Day to supposedly stave off a constitutional crisis.
Murkoswki reiterates that she does not support pre-election confirmation
Her full statement:
For weeks, I have stated that I would not support taking up a potential Supreme Court vacancy this close to the election. Sadly, what was then a hypothetical is now our reality, but my position has not changed. I did not support taking up a nomination eight months before the 2016 election to fill the vacancy created by the passing of Justice Scalia. We are now even closer to the 2020 election — less than two months out — and I believe the same standard must apply.
However:
Biden isn't floating his own potential SCOTUS nominees
But the Biden Team is reiterating his pledge to follow a few key principles in how he chooses them:
Biden's running mate, Kamala Harris, said the same on Friday night:
Meanwhile in Colorado
Republican Senator Cory Gardner — who is currently behind in the polls to his Democratic challenger, Governor John Hickenlooper — has been deflecting his chances to explain how he will approach the SCOTUS vacancy after having supported the GOP's election-year block of Merrick Garland in 2016, notes the Colorado Sun:
Gardner on Friday released a statement on Ginsburg's death, calling her a "trailblazing leader." But he didn't address how he thinks Senate Republicans should handle replacing her. His spokespeople, both in his Senate office and for his reelection campaign, did not return multiple messages from The Colorado Sun seeking comment.




Then on Saturday afternoon, while speaking at Club 20 in Grand Junction, he declined to say whether he could vote to confirm a new justice before the November election. Now is a time to mourn, he said. "There is time for debate. There is time for politics," he said. "But the time, for now, is to pray for the (Ginsburg) family and to make sure that we keep their family in our hearts and prayers as we mourn as a nation."
Trump says he will nominate a woman to replace RBG next week
Trump made the announcement at his Saturday night campaign rally in North Carolina:
Trump suggested the same while speaking with reporters earlier in the day:
And he also had this to say:
Trump deployed the same I-get-to-pick-because-I-won logic when dismissing Senator Susan Collins's opposition to confirming a SCOTUS nominee before the election:
Base-minded Senator Thom Tillis vows to vote for whomever Trump nominates
When there was an election-year SCOTUS vacancy in 2016, North Carolina Senator Thom Tillis joined with his GOP colleagues and said, "We've advised [President Obama] that we're not going to consent to one of his nominees — we're going to let the American people speak."
This year he's facing tough reelection battle, but that hasn't stopped him from doing an 180 — it has apparently encouraged him to. On Saturday morning, Tillis released a statement vowing that he would support Trump's SCOTUS nominee because he couldn't possibly support Biden's — attempting to leverage the vacancy by making it central to his reelection campaign:
He later made the same vow at a Trump rally:
The reinvented Republican rationale
This spin from Senator Ted Cruz could fast become GOP dogma:
The Washington Post's Margaret Sullivan adds:
In coming days, you can be sure to hear and read about such things as the "Thurmond rule," the "McConnell Rule," the "Biden rule" — none of which exist in law, and sometimes not even in writing. At most, they are conventions, not rules.




(According to the Brookings Institution, Strom Thurmond, the longtime senator from South Carolina who chaired the Senate Judiciary Committee, is credited with an "unwritten admonition" that "in presidential election years, the Senate should stop processing judicial nominations around the time of its summer recess, perhaps with limited exceptions for clearly non-controversial nominees.")




There's no reason to think that the pro-Trump media and right-wing politicians will have a monopoly on self-serving justification in coming days. It's likely to be a dysfunctional circus.
Lindsey Graham is once again spiting his own supposed principles to get behind Trump
It's safe to say that no one honestly believed that Senator Lindsey Graham was going to hold himself to his previous statements insisting that election-year SCOTUS vacancies only be addressed following the election. The born-again Trump ally nonetheless cited some tortured logic for his about-face on Saturday. Commenting on Twitter, Graham effectively blamed Democrats for forcing him to abandon his principles, yet again, in service of the president he once openly detested:
The two biggest changes regarding the Senate and judicial confirmations that have occurred in the last decade have come from Democrats.




• Harry Reid changed the rules to allow a simple majority vote for Circuit Court nominees dealing out the minority.

• Chuck Schumer and his friends in the liberal media conspired to destroy the life of Brett Kavanaugh and hold that Supreme Court seat open.




In light of these two events, I will support President [Trump] in any effort to move forward regarding the recent vacancy created by the passing of Justice Ginsburg.
Many liberals are mourning and worrying with their wallets — at a record pace
Bloomberg reports that ActBlue has raised about $67 million since RBG's death was announced. (For some of Friday night, Democratic fundraising came in a pace of more than $100,000 a minute, according to the New York Times.) Also, per Bloomberg:
While the Biden campaign refrained from including a fundraising link in an email sent to supporters on Friday night, one was included in a Saturday morning message signed by vice presidential nominee Kamala Harris. …




Get Mitch or Die Trying, a web page that raises money for Democrats running against incumbent Republican senators, raised almost $11.6 million through ActBlue in less than 24 hours. Tommy Vietor, a co-founder of the progressive group Crooked Media, tweeted that the goal was now to raise $20 million.
An abortion activist's reaction and analysis
At the Cut, Bridget Read talks with Handbook for a Post-Roe America author Robin Marty about what comes next, including what would happen if a conservative justice replaces RBG:
[Chief Justice] John Roberts wants to overturn Roe, but he wants it to be legitimate. And we already have a bunch of cases on our way. We have the D&E bans [which would outlaw the most safe and common method of second-trimester abortion]. Alabama has a total abortion ban that could make its way up to the Supreme Court if they wanted to actually allow it and say that they want to hear it. And, most pressing, I think, is if the FDA fights over medication abortion right now going to the Supreme Court. If the GOP can get another conservative onto the bench, then they don't even need Roberts anymore. They can overturn Roe over anything. They don't have to wait for the right case.
Read the rest of the interview, and what Marty recommends in response, here.
Senator Susan Collins: Supreme Court nominee should be selected by whomever wins the election
This seems to confirm that Collins is a hard "no" on voting to confirm a Trump nominee before the voters have their say:
However:
The electoral effect
The Cook Political Report's Dave Wasserman weighs in with a Twitter thread on what the Supreme Court vacancy does and doesn't mean for the election, including how Roe v. Wade could influence voters:
I've heard some analysts argue a SCOTUS fight will help Trump by shifting "what 2020 will be about" from his mismanagement of COVID to a more straightforward partisan cage match. That could happen, but I've always seen some big risks for Trump in a pre-election SCOTUS fight. Namely, the potential for the Roe v. Wade/abortion issue to tear Trump's coalition apart. Much of his 2016 support came from voters who disliked Hillary Clinton, liked his rhetoric on immigration/trade, but are *pro-choice* — especially secular, blue-collar women.




This morning, I dove into 2016 CCES data (50,000+ person national survey). Only 15% of Clinton's voters at least leaned pro-life and 11% held mixed views (74% at least leaned pro-choice). But 22% of Trump's voters at least leaned pro-choice and another 13% held mixed views. Although Trump downplayed abortion in 2016, voters w/ mostly pro-choice attitudes made up more than a fifth of his support in plenty of battleground states:




25% in Iowa

24% in Florida

24% in Pennsylvania

24% in Michigan

21% in Arizona

20% in Wisconsin

20% in Ohio




For decades, many of these blue-collar, pro-choice Trump voters had voted for Democrats because they saw Republicans as the party of "Bible thumpers" who moralized against abortion & gay marriage. Then Trump came along, and they didn't mind him as much. Now, there may actually be an opportunity for Dems to win back many of these voters by tying Trump to the "DC swamp:" Mitch McConnell and Republicans who want to "end Roe v. Wade, cut more taxes for billionaires" etc. In fact, Biden is *already* winning many of these blue-collar voters.




The under-utilized Dem message Republicans should be most scared of probably goes something like this: "In 2016, Trump promised to drain the swamp. Instead, he became the swamp: he let Mitch McConnell and stock-dumping, ultra-far right GOP senators write his entire domestic agenda."




After all, the Obama-Trump voters Biden needs to win back may have been yearning for a political "outsider" in '16 but are still: 1) extremely against tax cuts for wealthy Americans; 2) decidedly against repealing the ACA; and 3) substantially pro-choice
Meanwhile, CNN pollster Harry Enten points out that "polling initially shows that former Vice President Joe Biden's voters have been more likely to be fired up about Supreme Court selections and that voters overall trust Biden more on a Supreme Court selection":
A new Marquette University Law School poll paints the landscape well. Nationally, it finds that 59% of Biden voters say that appointing the next Supreme Court justice is very important to their vote. Compare that with only 51% of Trump voters.




This finding matches what we saw in a CNN/SSRS poll last month. In that poll, 78% of Biden backers told pollsters that nominating the next justice was extremely or very important to their vote. That compared with 64% of Trump supporters. (It was 47% Biden supporters and 32% Trump supporters who said it was extremely important.)




Compare these numbers to what we saw heading into the 2016 election. The final CNN/ORC poll in that cycle showed that 58% of Trump supporters said that nominating the next Supreme Court justice was extremely important to their vote, while only 46% of Hillary Clinton voters said the same. In the 2016 exit poll, Trump beat Clinton by a 15 point margin among those who put Supreme Court appointments as the most important factor to their vote.
America's dysfunctional democracy at work
Noted the Atlantic's Ronald Brownstein last night on Twitter:
If confirmed in 2020, a RBG successor would be third Trump nominee selected by a president who lost the popular vote and confirmed by a GOP Senate majority that represents less than half of the public. George W. Bush initially lost the popular vote and named two justices. The senators who confirmed Clarence Thomas had less than half of the popular vote too. Majority rule frays.
An RBG statue in Brooklyn
Governor Andrew Cuomo announced on Sunday that New York State would erect a statue to honor RBG in her hometown of Brooklyn, with a commission determining the artist and location.
"It should never have come down to her"
The Cut's Rebecca Traister argues that anyone blaming RBG for not stepping down while Obama was president is "missing the point":
I understand why people will be furious at Ruth Bader Ginsburg and why they will say so loudly, in raised tones that convey their own assurance that they would have made the right choice, had they been her. Though those who are mad will not want to hear it, their reaction is made of precisely the same stuff that led people to lionize her as an outsize savior: because in the absence of structural security it is far easier to home in on individuals — as both our heroes and our villains — than it is to reckon with the enormity of what's wrong and what needs to be righted. …




[O]ne of the reasons her death will be as explosive and consequential as it is sure to be is that so many of our institutions are failing us, and have been purposefully perverted or used to serve regressive purpose: a senate that broke the nation's rules by refusing to confirm the Supreme Court pick of a sitting Democratic president; an electoral college that served its original purpose of overturning the will of an American majority to deliver the White House to a leader committed to white supremacy; a political system that doesn't inspire its populace to vote in critical midterm elections; a Republican Party willing to spend decades doing whatever it took to reverse legal and legislative victories that redistributed a little bit of power out of the hands of white patriarchal capitalist-fueled corporations; and a Democratic Party that did not have the will or foresight to fight as fiercely or as cannily on behalf of rights, protections, and dignity as their obstructionist opposition fought against.
Read the rest of Traister's piece here.
As expected, Trump aims to replace Ginsburg right away
President Trump will rush to nominate someone to take RBG's seat, and expects Republicans to get in line:
The question of timing
FiveThirtyEight's Perry Bacon Jr. considers the timing of the vacancy, from both a historical and process angle:
Supreme Court vacancies in presidential election years, by how many days before the election they occurred and whether a replacement was confirmed before the election:
And the confirmation will take some set amount of time:
It would be unusually fast to finish the entire confirmation process in less than 46 days, the time left before the Nov. 3 election. (The average confirmation process since the Harry Truman administration has lasted 50 days.) That doesn't mean there isn't enough time for Trump to confirm a new justice, but it would be on the fast side.




Nevertheless, it's possible that sometime in October, a judge has been nominated and perhaps confirmation hearings are taking place, right on the eve of the election. This creates the possibility that Trump loses the election and perhaps Republicans lose control of the Senate, but the lame duck president and some senators who have lost reelection put a justice on the Supreme Court — a move that will enrage Democrats. Alternatively, Trump could win the election and see a new justice appointed before he even begins his second term.
But Politico's Kyle Cheney says that McConnell has enough time to replace RBG before the election — if he has the votes:
Since 1975, the Congressional Research Service estimates that it's taken an average of 40 days for a Supreme Court nominee simply to get a hearing, let alone win the support of the Judiciary Committee and full Senate. But that timetable isn't etched in marble; it's up to GOP leadership.




The nominee has to be approved by the Judiciary Committee before reaching the floor, and Judiciary Committee Chair Lindsey Graham, working closely with McConnell, can tailor a schedule to their liking. There's also nothing to stop Republicans from voting on a Supreme Court nomination after the election in a lame duck session. The real deadline may be when the next Senate convenes on Jan. 3, 2021.
Yes, Trump was probably lying last night when he said he hadn't heard about RBG's death
It's a near certainty that arguably the biggest news story of the campaign would have come up during this conversation:
Is Obamacare now doomed?
At HuffPost, Jonathan Cohn examines the possible ramifications for the Affordable Care Act now that Ginsburg won't be there to defend it at the Supreme Court — highlighting the lawsuit against the act due to be heard by the Court on November 10:
Figuring out how Ginsburg's death will affect its prospects is not easy, and legal experts that HuffPost contacted Friday night cautioned that it may take a day or two to think through the scenarios.




One is that the Affordable Care Act survives without much fuss, the program goes on as it is, and nobody loses coverage. This lawsuit is so weak that even conservative legal experts who supported previous challenges think it has no basis. Several or all conservative justices might join liberals in rejecting it. But the lawsuit has already prevailed in two lower court cases, both times because Republican-appointed judges agreed with its rationale. And without Ginsburg, who was sure to uphold the law, the odds of the Affordable Care Act surviving go down. 




That is true even if Republicans don't manage to fill her seat before the hearing. One possibility now in play is a four-four tie. If that happens, two legal experts told HuffPost, then the Affordable Care Act could become something like a zombie statute ― one that is unconstitutional but that continues to operate while litigation continues before lower court judges. "This should make people think again before (once again) saying that an absolutely ludicrous argument had no chance of destroying the ACA in SCOTUS," Leah Litman, a University of Michigan law professor and former Supreme Court clerk, told HuffPost.
Another thought:
Why Mitch will push ahead
Intelligencer's Jonathan Chait chatted with our own Ben Hart last night about the political aftermath of RBG's death and explained why he believes it's likely McConnell will be successful in his efforts to confirm whoever Trump nominates to replace Ginsburg:
I think the odds clearly favor McConnell filling this seat. The reasons are obvious: they control 53 seats, they only need 50, and previous statements of principle will obviously not bind them. However, there are several factors pushing in the other direction.




It's not in the interest of Republicans facing election in 2020 to resolve this. Vulnerable Republicans are much better off having the court seat hinge on the outcome of the election. Trump himself might also be better off this way, though I doubt he will be cunning enough to see this. (Social conservatives will push him to fill the seat and he will go along, picking the course of maximal partisan aggression, as he always does.) Roberts himself also stands to lose power. He would no longer be the decisive vote. His only power would be to say something against filling the seat, and I doubt he says anything like that, but it is conceivable.
Read the rest of their chat here.
"Getting to it"
Slate's Dahlia Lithwick pays tribute to RBG by channeling her:
[W]hile the loss of Justice Ginsburg is gutting and lacerating and brutally sad, her entire life and work has been in service to the idea that the rest of us are in fact capable of being allies and helpers and boosters and supporters, and also that the generations that are disconsolate tonight, for the lack of a hero, are themselves capable of stepping into her teeny-tiny, mighty, 3-inch-heeled, terrifyingly fabulous shoes and taking up the work she didn't begin but merely inherited from those who came before.




America has lost a warrior, and it's OK to be crushed. I am flattened. And I will mourn, because she deserves to be mourned. But we are also facing an almighty battle that will rage in the coming weeks, with attempts to fill her seat in an unseemly and grotesque manner. It will be hard and painful, but if you find yourself feeling hopeless and powerless, then you are emphatically doing it wrong. Because if anyone had a right to say "nah," it was the woman who couldn't get a job or a clerkship after graduating at the top of her class. But she pushed on, and then she pushed forward. She stepped into the fight of the phenomenal women who paved the path before, and now, well, it's time to step into her fight and get it finished. I think the Notorious RBG would have peered owlishly out at all of us tonight and asked what the heck we are waiting for. And I think we can probably honor her best by getting to it.
The steps of the Supreme Court have become a memorial
President Obama celebrates Ginsburg — and weighs in on what needs to come next
President Obama offered his thoughts on RBG's legacy in a late-night post on Medium:
Justice Ginsburg inspired the generations who followed her, from the tiniest trick-or-treaters to law students burning the midnight oil to the most powerful leaders in the land. Michelle and I admired her greatly, we're profoundly thankful for the legacy she left this country, and we offer our gratitude and our condolences to her children and grandchildren tonight.
He also didn't mince words when it came to the process of filling her seat on the Court:
Four and a half years ago, when Republicans refused to hold a hearing or an up-or-down vote on Merrick Garland, they invented the principle that the Senate shouldn't fill an open seat on the Supreme Court before a new president was sworn in.




A basic principle of the law — and of everyday fairness — is that we apply rules with consistency, and not based on what's convenient or advantageous in the moment. The rule of law, the legitimacy of our courts, the fundamental workings of our democracy all depend on that basic principle. As votes are already being cast in this election, Republican Senators are now called to apply that standard. The questions before the Court now and in the coming years — with decisions that will determine whether or not our economy is fair, our society is just, women are treated equally, our planet survives, and our democracy endures — are too consequential to future generations for courts to be filled through anything less than an unimpeachable process.
In her own words: "My most fervent wish is that I will not be replaced until a new president is installed"
Yes, of course Ginsburg had something to say before she died about the process to replace her, per Politico:
Ginsburg foresaw the political battle her death would produce. She reportedly weighed in strongly on behalf of holding her seat open and a Democratic victory in November.




"My most fervent wish is that I will not be replaced until a new president is installed," Ginsburg said before her death, according to a statement released by one of her granddaughters, Clara Spera.
McConnell to Senate GOP colleagues: Don't "lock yourselves into a position you may later regret"
Here's what Senate Majority Leader Mitch McConnell, who has already announced that Trump's nominee will get a vote on the floor of the Senate, said in a message to his colleagues on Friday night:
Over the coming days, we are all going to come under tremendous pressure from the press to announce how we will handle the coming nomination … For those of you who are unsure how to answer, or for those inclined to oppose giving a nominee a vote, I urge you all to keep your powder dry. This is not the time to prematurely lock yourselves into a position you may later regret."
2020 just got even crazier
Some of the responses the Washington Post captured in its report on the political aftermath:
"The polarization in the country was already a 12 on a one-to-10 scale. It was already off the charts. This is going to push it up to 15," said Neil Newhouse, a longtime Republican pollster. "This energizes both liberals and conservatives, it ratchets up the intensity, and it puts a focus on what's at stake in this election."




David Axelrod, who served as the top political strategist to Obama, concurred. "This is another log in an already roaring fire," Axelrod said. "This is going to further intensify feelings on both sides. For Trump, there has been some softening among evangelicals in some of the polling. He may see this as a way to fire them up again" …




One former White House official, reflecting an emerging consensus in Trump world, said, "This is certainly a catalyzing event that needed to happen in this moment." This official, who spoke on the condition of anonymity to candidly discuss the politics of the moment so soon after Ginsburg's passing, added, "This is an animating issue for the entire right. It unifies everybody from Mitt Romney to the most hardcore MAGA Trump person out there at a time when Trump needed that. It will give something to fight for over the next 45 days or so that could potentially remind people, 'Okay, this is why I voted for Trump, and this is why even if he makes me crazy sometimes I've got to stick with him.'"
The impact on voters
Intelligencer's Ed Kilgore thinks through the potential political consequences of Trump pushing hard and fast to replace Ginsburg:
Will [Trump] gamble his presidential prospects on his base's determination to flip the Supreme Court right away? It's unclear. RBG's death could help make Democrats care about the Supreme Court, too. But there is no question Trump and congressional Republicans will be under intense pressure to confirm lifetime appointments of jurists who want to reverse federal judicial president favoring rights for women and other progressive constitutional tenets. And as it happens, Trump has very recently released a new and more radically conservative list of Supreme Court prospects.




It's obvious that Republicans will view RBG's sad demise as a windfall. But the odds remain high that her replacement on the Court will be made by the next president and the next Congress. And if Trump tries to push a replacement through, it could become a rare and powerful litmus test for voters.
Read the rest of Kilgore's take here.
Who might Trump nominate?
It's a matter of when, not if, President Trump will nominate someone to replace Ginsburg, and here is Intelligencer's Sarah Jones's look at five of the people the president has had on his shortlist over the years, including the most likely candidate, federal appeals judge Amy Coney Barrett:
Barrett may be Trump's likeliest pick to replace Ginsburg. A federal appeals court judge, Barrett has appeared on Trump's short list in the past. She is a conservative Catholic who has said that she believes that life begins at conception and has suggested that Roe v. Wade was wrongly decided. Barrett, the Washington Post reported, "said the framework of Roe had 'essentially permitted abortion on demand' and 'recognizes no state interest in the life of a fetus,' according to news accounts including an article in Notre Dame Magazine in 2013." Though she's Catholic, her nomination would appeal to Trump's Evangelical base: giving her Ginsburg's seat would be the ultimate thumb-in-the-eye to the women's movement championed by the late justice.
Jones also considers possible picks Paul Clement, Tom Cotton, Noel Francisco, and Sarah Pitlyk — read about those potential nominees here.
How the vacancy could provoke a constitutional crisis
Intelligencer's Ben Jacobs explores the very real possibility:
With Vice-President Pence casting a tie-breaking vote in the Senate, McConnell can afford to lose three members of his caucus. Already Republicans Susan Collins of Maine and Lisa Murkowski of Alaska have indicated that they would not vote to confirm a nominee before the election, and there also is Mitt Romney of Utah, the lone Republican to vote to convict Trump during impeachment, who has yet to weigh in. (The calculus does change in the lame duck Senate if Arizona Republican Martha McSally loses in November — she was appointed to her seat, and the race is a special election. If he wins, Democrat Mark Kelly would promptly replace her and not wait until January to take his seat.)




Assuming McConnell holds the remainder of his caucus together to jam through a nominee under those circumstances, it would cause a constitutional crisis. The appointment of a Supreme Court justice under these circumstances would transform ending the filibuster and expanding the size of the Supreme Court from a niche issue on the left to a fundamental litmus test.
Read the rest of Jacobs's response here.
One way the GOP may try to spin the need to fill the vacancy ahead of the election
The political ramifications
The ramifications of Ginsburg's death in the middle of the 2020 campaign are obviously enormous. The vacancy is sure to become a critical issue for the remainder of the campaign, not just in the presidential race but for all the Senate candidates in tight races as well. Furthermore, the empty seat creates an even larger ideological imbalance on the Supreme Court — which could become a major issue should the presidential-election result be contested in a way that necessitates the Court's intervention, as well as in any other cases that head the Court's way between now and whenever the vacancy is filled.
Biden: Let the voters decide on vacancy
Here is how Democratic presidential candidate Joe Biden responded to Ginsburg's death:
President Trump's response
There are already reports that President Trump will be naming a replacement soon:
Trump himself claimed he only found out about Ginsburg's death from reporters after his Friday-night campaign rally, remarking that he was "sad" to hear the news and that she had led "an amazing life":
The president also referenced the Supreme Court during his rally:
The responses from Senators McConnell and Schumer
Senate Majority Leader Mitch McConnell has already seemed to abandon the cynical stance he took on President Obama's Supreme Court nominee, Merrick Garland, in 2016. He announced on Friday that Trump's nominee will receive a full vote in the Senate:
However, it's not yet clear when that vote will occur — so it could be that McConnell is once again playing games:
Senate Minority Leader Chuck Schumer, meanwhile, has already made it clear that the vacancy should not be filled until next year:
The overall dynamics in the Senate
The Atlantic's Edward-Isaac Dovere offered some context on the Senate complexities in a Twitter thread:
The question of whether President Trump will get to replace Ruth Bader Ginsburg on the Supreme Court before the election essentially comes down to four GOP votes in the Senate, deciding whether they want to give that to him, and to break the principle McConnell invented in 2016 [for Merrick Garland].




Among the senators who will be under intense pressure on this question will be Susan Collins, up for election herself and has struggled with how much to attach herself to Trump, and who said after impeachment she thought Trump had learned his lesson about changing behavior. Murkowski has said she is against an appointment before the inauguration. But that was theoretical. Now it's real. She's not up for election this year. Neither is Romney … But it's not just senators with races this year. There are more GOP senators than say so publicly who have major problems with Trump and worry about what he means for the future of the party and the country. So: do they back him here when he needs it and could help his victory?




If there are Judiciary Committee hearings on a nominee (if McConnell doesn't take Trump's inevitable nominee right to the floor), it will also give a major platform for committee member Kamala Harris right at the height of the campaign.
How key GOP senators have responded, or commented about a potential vacancy in the past
A near-complete list of the key GOP senators now under pressure:
Senator Lisa Murkowski reportedly said in an interview before the news of Ginsburg's death broke that she will not vote to fill a SCOTUS vacancy until after Election Day, per Alaska Public Media:
Shortly before the announcement that Supreme Court Justice Ruth Bader Ginsburg had died Friday, Sen. Lisa Murkowski said in an interview that if she was presented with a vacancy on the court, she would not vote to confirm a nominee before the election …




"I would not vote to confirm a Supreme Court nominee. We are 50 some days away from an election," she said. Murkowski said her reasoning is based on the same reasoning that held up the confirmation of former President Barack Obama's final nominee to the Supreme Court.
Senator Mitt Romney, another key Republican moderate, released a statement on Friday night in which he simply celebrated Ginsburg's legacy:
With regards to Senator Susan Collins:
She's already in a tight spot on SCOTUS picks:
Senator Lindsey Graham, a staunch Trump ally, had said in 2018 that the Senate should wait for the election to fill the vacancy:
But he's said a lot of things, including this in May:
Another take:
But longtime Intelligencer contributor David Freelander adds that the vacancy may also be a glass-more-than-half-full situation for many GOP candidates looking to get out the base:
The possible ramifications in the event of a contested election
The Atlantic's Edward-Isaac Dovere also noted the electoral ramifications, should November's election result be contested:
[If the election] gets kicked to the Supreme Court somehow, there would be only eight justices, no tiebreaker if needed — though this leaves a 5-3 conservative majority. Could potentially put Roberts, the institutionalist, under intense pressure.
Others have been commenting on the same issue:
The tributes
President Bill Clinton, who nominated Ginsburg to the Court in 1993, called her "one of the most extraordinary justices ever to serve on the Supreme Court" as well as "a magnificent person" with "boundless courage in the face of her own adversity":
Senator Elizabeth Warren's response:
Read the Supreme Court's announcement of Ruth Bader Ginsburg's death in full
This is what the Court said in its statement regarding Ginsburg's death on Friday night:
Associate Justice Ruth Bader Ginsburg died this evening surrounded by her family at her home in Washington, D.C., due to complications of metastatic pancreas cancer. She was 87 years old. Justice Ginsburg was appointed to the Supreme Court by President Clinton in 1993. She was the second woman appointed to the Court and served more than 27 years. She is survived by her two children: Jane Carol Ginsburg (George Spera) and James Steven Ginsburg (Patrice Michaels), four grandchildren: Paul Spera (Francesca Toich), Clara Spera (Rory Boyd), Miranda Ginsburg, Abigail Ginsburg, two step-grandchildren: Harjinder Bedi, Satinder Bedi, and one great- grandchild: Lucrezia Spera. Her husband, Martin David Ginsburg, died in 2010.




Chief Justice John G. Roberts, Jr. said of Justice Ginsburg: "Our Nation has lost a jurist of historic stature. We at the Supreme Court have lost a cherished colleague. Today we mourn, but with confidence that future generations will remember Ruth Bader Ginsburg as we knew her – a tireless and resolute champion of justice."




Justice Ginsburg was born in Brooklyn, New York, March 15, 1933. She married Martin D. Ginsburg in 1954. She received her B.A. from Cornell University, attended Harvard Law School, and received her LL.B. from Columbia Law School. She served as a law clerk to the Honorable Edmund L. Palmieri, Judge of the United States District Court for the Southern District of New York, from 1959–1961. From 1961–1963, she was a research associate and then associate director of the Columbia Law School Project on International Procedure. She was a Professor of Law at Rutgers University School of Law from 1963–1972, and Columbia Law School from 1972–1980, and a fellow at the Center for Advanced Study in the Behavioral Sciences in Stanford, California from 1977–1978. In 1971, she was instrumental in launching the Women's Rights Project of the American Civil Liberties Union, and served as the ACLU's General Counsel from 1973–1980, and on the National Board of Directors from 1974–1980. She was appointed a Judge of the United States Court of Appeals for the District of Columbia Circuit in 1980. During her more than 40 years as a Judge and a Justice, she was served by 159 law clerks.




While on the Court, the Justice authored My Own Words (2016), a compilation of her speeches and writings.




A private interment service will be held at Arlington National Cemetery.
This is a developing story, and this post will be updated throughout with additional reporting, analysis, and commentary.