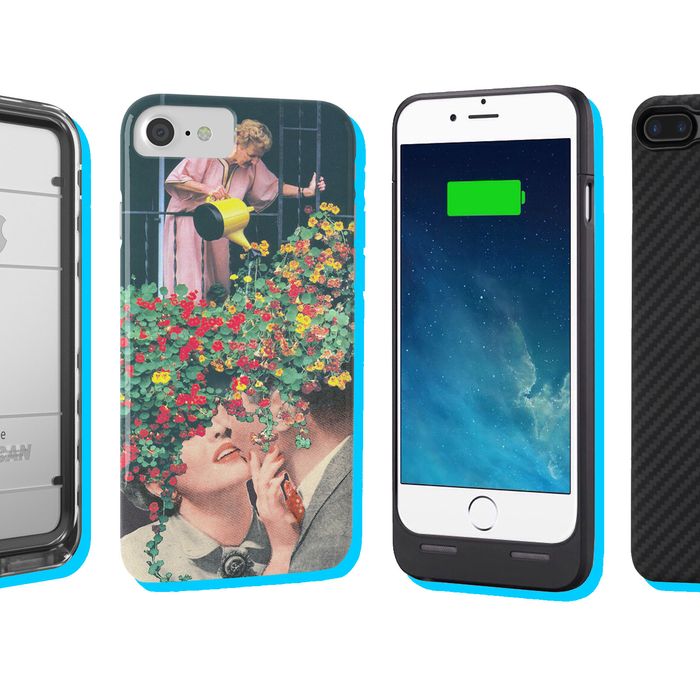 True minimalists and Jony Ive devotees might want to leave their iPhones bare, but for most people, a case is a good idea. Even with AppleCare, a cracked phone will still cost you — and may hurt your resale value if and when you decide to ditch your older phone for something newer. We tried out 20 different cases to find something for everyone who wants to keep their iPhone as pristine as can be.
The Best Phone Case for Someone Who Drops Everything
If your hand-eye coordination is lacking, and fumbling your iPhone is a fact of life, get a case that protects it. And even if your iPhone 7 is water-resistant, Apple doesn't cover damage from liquids — so you'll want something that can take a dip without shorting out. We tried out waterproof cases from Incipio, Ounne, and Pelican, and the Pelican Marine case was the clear winner. Its slim profile and easy assembly made it quick to slip on. The case is IP68-certified, giving it waterproof protection up to 6.5 feet underwater for up to 30 minutes. And its military-grade MIL-STD-810G drop protection means that short of running it over with a tank, your iPhone should remain safe.
The Best Phone Case for Someone Who Wants to Stay Out All Night
Your phone may be able to make it through the working day without a recharge, but if you plan to head out for the evening afterward, you'll need more juice. Portable chargers are great if you have one (and remember to keep it charged), but a battery case is an even better answer. We tried cases from Anker, Incipio, and Apple itself, and our favorite was the Anker Ultra Slim battery case. It packs an extra 2,850 mAh of power — 150 percent more than your iPhone 6 or 6s is packing. Unlike Apple's own case, it doesn't have that odd bulge in the back, meaning it can still slip easily into pockets. And it's low-key enough that you can leave it on full time and charge up both the case and your phone with an included micro-USB cable.
The Best Phone Case for the Person Who Hates Phone Cases
We get it. Phone cases suck. They're bulky, look awful, and they hide that rose-gold-colored iPhone you secretly love. But some protection is better than none. We searched for the slimmest-profile cases out there — our considered brands included Incipio, Peel, Pitaka, and Ringke — and found something truly magical: Pitaka's Aramid case. Only 0.65-mm thick, the $48 Aramid case provides a surprising amount of protection (including a screen protector), while still giving you that glorious naked-iPhone feeling. You won't be able to throw your iPhone against a brick wall and have it come out unscathed, but most drops and falls won't be a problem. While testing out the case, an iPhone 6s took a tumble onto some hard concrete floors, and the front glass developed a single hairline crack — but we've seen far worse from smaller drops on uncased phones.
The Best Phone Case for the Fashionable
If you're gonna slap some plastic and foam on your phone, it sure as hell should look good. But finding a nice-looking case that doesn't fall into the territory of "basic AF" is surprisingly difficult: Most look like they were taken straight from the mood board of a 2015-era Instagram influencer. We tried out cases from a number of brands — including Incipio, Society6, Ringke, GMYLE, and Uniqfind — and Society6 was the standout winner. Its lineup features an ever-changing array of bold designs from independent artists around the world. With hundreds of options available, you're gonna find something that will speak to you. (We particularly liked "Growing Love" and "Fun at Parties.") A nice bonus: Every purchase puts money back into the hands of the original artist.
Heads up: If you click links and buy things, New York may make a little money off the purchase. That said, we don't recommend stuff we wouldn't buy (or haven't bought) for ourselves.