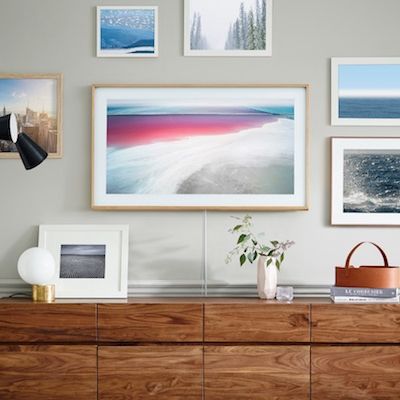 The Samsung Frame. (It's the bigger framed picture in the center, the one with the pink colors and the waves and such.)
The highest compliment I can give Samsung's new Frame television — its latest "lifestyle" TV meant for the design-conscious crowd — was that I walked by it without even noticing it was there.

I was at Samsung 837, the brand's flagship space nestled in the shadow of the High Line, chatting with some reps from Samsung. When I asked to see the Frame, they grinned. "You already did."
Along a brick wall, the Frame was surrounded by framed prints. The TV itself, showing a black-and-white surfing photograph by the late, great John Severson, was unnoticeable until you saw the slight glow the photograph gave off, separating it from its analog neighbors.
 
Built by Swiss designer Yves Béhar, the Frame — available for order starting June 18 — is the latest attempt by Samsung to create TVs that look better than the rectangles of injection-molded black plastic that have dominated the look of TV sets since the advent of HDTV. Its 2015 Serif TV, built in collaboration with MoMA and the Bouroullec Brothers, was a bold piece of mid-century-modern design that made your television into a statement piece.
Where the Serif was bold, the Frame is subtle. It's meant to be hung on your wall, coming with a mounting system that allows it to lie flush against whatever it's mounted on — the same as any framed picture. If you want the full effect, you'll also want to get snap-on wooden bezels (sold separately), which come in three shades: white, beige, and walnut.

When it's not being used as a TV, it displays 1 of 100 different prints from 37 different artists, from the precise symmetry of photographer Todd Eberle to the bold, colorful still lifes of Holly Coulis. If you don't like anything that's available, or just want something new, you can buy new individual pieces of art for $19.99 from Samsung's online store, subscribe to the full collection for $4.99 per month, or load in your own art via a USB stick.

It's 4K UHD screen, built for low reflectivity, is more than crisp enough to display even fine-grain details — I had to lean in to about an inch away before I began to be able to distinguish pixels — and has some clever touches, like creating subtle shadows in the corners of the ersatz matting surrounding the print to give the illusion of depth.

Instead of a tangle of HDMI and coaxial cables attached to the back, the Frame uses an extremely thin, nearly translucent fiber cord — what it dubs the "Invisible Connection" cable — to connect to a Samsung One Connect box, which you can tuck away somewhere not quite so gauche as your typical home-entertainment setup and connect your cable box, streaming devices, or gaming consoles.

When you're ready to watch TV, the screen quality is very solid. It's comparable to the LCD panel you'd get with Samsung's MU8000 line, which means you get premium features like a 4K UHD screen and support for HDR, or high dynamic range, which allows for darker blacks and brighter whites. When you're done watching TV, you switch the Frame back to the creatively named "Art Mode," and the Frame goes back to just being a pretty picture on your wall.

All this elegance comes at a price. A 55-inch Frame comes in at $1,999, and a 65-inch comes in at an eye-watering $2,799. Those snap-on bezels that really make the Frame shine are $200 for the 55-inch model, and $250 for the 65-inch version. At these prices, you could realistically pick up a high-end OLED screen or one of Samsung's top-of-the-line QLED panels.

The current generation of high-end TV sets, like LG's "wallpaper" OLED screen — about as thin as three credit cards stacked on top of each other — are wonders of industrial engineering. But they're not exactly beautiful. And unless your home is a testament to stark minimalism, it's not something meant to complement your interior design.

Let's be honest. If you're eyeing the Frame, it's not because you dream of a TV capable of displaying 1,000 nits of brightness or using the DCI-P3 color range. You want it because it means you can switch from watching an episode of Veep on your couch to just showing off an Oskar Enander print while entertaining. You want it because it's a TV that doesn't look like a TV.