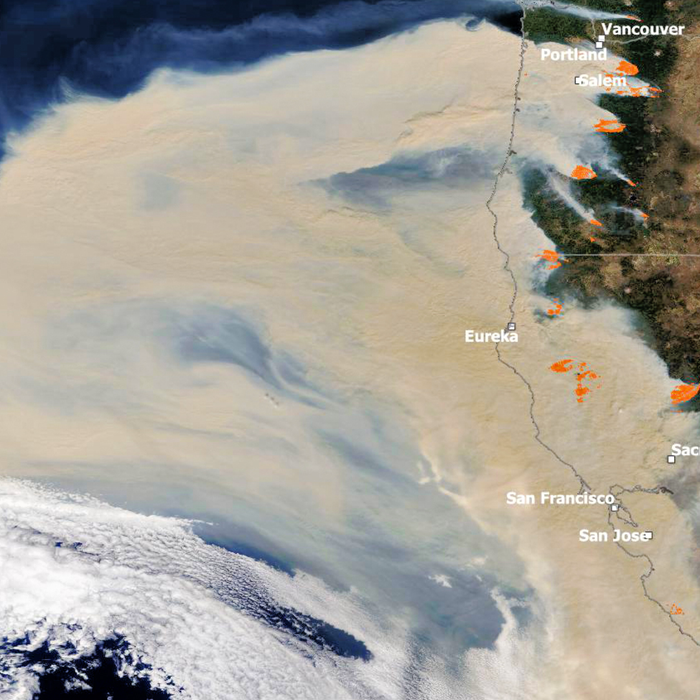 Composite satellite image of the wildfires in the Pacific Northwest and California on Wednesday.
Photo: Screencap/Antonio Vecoli
What was already a historic, horrifying start to the 2020 fire season out West is continuing to get worse. Amid unprecedented weather conditions linked to climate change, numerous fast-moving heat and wind-fueled wildfires in multiple western states — including California, Oregon, and Washington — have broken records, stunned experts, burned millions of acres, besieged countless communities, and blanketed the region with hazardous smoke. And all amid the COVID-19 pandemic. As of Sunday, according to the National Interagency Fire Center:
Large fire activity continues across several western states where 94 large fires have burned 4.6 million acres. More than 30,000 firefighters and support personnel are assigned to incidents across the country. Evacuation orders remain in effect for communities near 36 large fires in the West.
Below are the latest updates on the ongoing wildfire crisis, in reverse chronological order.
At least 35 people have been killed, new red flag warnings issued
This year's ongoing wildfires in California, Oregon, and Washington have now killed at least 35 people, after fast-moving fires laid siege to numerous communities over the past week. But there was welcome news in southern Oregon over the weekend, according to the Associated Press:
[Local authorities] last week reported as many as 50 people could be missing after a wildfire in the Ashland area. But the Jackson County sheriff's office said late Saturday that four people had died in the blaze and that the number of missing was down to one.




At least 10 people have been killed in the past week throughout Oregon. Officials have said more people are missing from other fires, and the number of fatalities is likely to rise, though they have not said how high the toll could go as they search. In California, 24 people have died, and one in Washington state. Thousands of homes and other buildings have burned.
Red flag warnings have been issued through Monday evening for Northern California and Southern Oregon, however, with low moisture and strong winds forecast for the region — which could fuel the flames.
Smoke continues to literally choke the West
As a consequence of the ongoing wildfires, it remains dangerous to breathe across much of the West:
In Spokane, Washington, where a shelter has been set up for people needing to escape the smoke, air quality reached record lows over the weekend, per the Spokesman-Review:
As of Sunday afternoon, the hourly Air Quality Index reading had reached 499, which is just below the upper extreme of the 500-point scale air agencies use to monitor quality. That followed a 24-hour period Saturday that saw the worst air quality since regulators began measuring particulates in 1999. …




The 24-hour average Air Quality Index reading on Saturday was 368, according to Lisa Woodard from the Spokane Regional Clean Air Agency. That smashed a 24-hour record set on Aug. 19, 2018, when the reading was 257, also caused by wildfire smoke. Any reading over 100 is considered unhealthy for high risk groups. 
The air quality has been so bad in some parts of Washington State that computer systems monitoring the smoke levels have dismissed the alerts as impossible:
Per NBC News, the smoke stretches for thousands of miles:
Air quality in Seattle; Portland, Oregon; San Francisco; and Los Angeles is some of the worst in the world. In the San Francisco Bay Area, stores have sold out of air purifiers as residents seek refuge from the blazes, which have burned since August. The fires have charred over 3.2 million acres and destroyed about 4,000 structures in California, killing at least [25] people. Gov. Gavin Newsom said the air quality in wildfire zones "is equivalent to smoking 20 packs of cigarettes."
The good news? The smoke has blocked so much sunlight that it has produced cooler weather, benefiting firefighting efforts. The air quality conditions may also at least temporarily improve, if the current weather forecast holds, on Monday:
The bad news:
Is Biden shirking from the climate change fight?
Environmentalists are expressing disappointment that Biden isn't making the wildfires and their direct link to climate change more central to his campaign, notes the San Francisco Chronicle's Joe Garofoli:
Stevie O'Hanlon, a spokesman for the Sunrise Movement, a youth-run environmental organization with 460 chapters nationwide, called it "a missed opportunity for the Biden campaign. Young people are fed up with politics as usual and fed up with a lack of action on climate. They're looking for the Democratic Party and Joe Biden to take the lead on this."




While climate change is a huge issue to Californians who are experiencing its effects with every breath, it isn't a top issue to most Americans. It was No. 11 when Pew Research asked Americans in August which topics would be "very important" when they cast their ballots. At the top was the economy, followed by health care, Supreme Court appointments and the coronavirus pandemic.
Biden spoke out about the fires and climate change on Saturday, but some critics want him to do more to leverage the attention on the disaster to raise awareness and generate political momentum for change:
Environmentalists and policy leaders say much of the climate plan, which Biden embraced and incorporated into his own proposals, could draw wide support if he pushed it harder — even in battleground states. … "You can frame a lot of environmental policy as health policy," said [Sean Hecht, co-executive director of the Emmett Institute on Climate Change and the Environment at UCLA.] "If you frame it that way, you can attract more voters."
"They're still able to be in school even though the school burned to the ground"
The COVID-19 consequences in the areas affected by the widespread fires probably won't be clear for a while. The risks that hazardous air quality and chaotic evacuations pose amid the pandemic are clear, but while tens of thousands of people have been forced to evacuate in California, Oregon, and Washington, most of the big fires have struck in remote areas. And as the New York Times reported Sunday, for the school districts impacted by the fires, the pandemic may have provided at least one benefit:
[A]mid the twin disasters, the remote learning preparations that schools made for the coronavirus are providing a strange modicum of stability for teachers and students, letting many stay connected and take comfort in an unexpected form of virtual community.




"The pandemic has actually helped," said Patsy Oxford, the principal of Berry Creek Elementary [which was destroyed by the North Complex Fire in Northern California last week.]




Schools in other towns most damaged by the fires appear to have survived the flames, but as in Berry Creek, their students have been scarred and scattered. The fires prompted some West Coast schools to delay or cancel classes, and educators across parts of California, Washington and Oregon have spent recent days tracking down students to check on their safety. Some schools have continued teaching remotely or are preparing to do so this week, even as families find themselves huddling in hotels, shelters and relatives' homes.
The report also notes that remote learning has also made it easier for some California schools that would have had to close down due to air quality concerns — though the stress and chaos hardly makes at-home learning easier for children or their parents.
The historic 877,000-acre monster in Northern California
The August Complex Fire, in which 30 separate fires merged into one continuous fire north of Sacramento, has already smashed the record for the largest wildfire in the state's history, is still only 28 percent contained, and has already consumed at least half of the Mendocino National Forest.
Wildfires have burned more than 3.2 million acres in California so far this year. As of Sunday, the August Complex has accounted for more than 877,000 acres of that, across multiple counties, as the Mendocino Voice reports:
Stretching from Trinity County (near the Humboldt Line but not over it), through Tehama, then Glenn and Mendocino counties and finally into the Lake County, the western edge of the fire remains a roughly 100 mile long line of uncontained fire, with most of the 25% containment along the eastern and southern edge of the fire in Glenn and Lake counties.
That's also the longest continuous fire front in state history. But though there is officially 0 percent containment on the western edge of the blaze, CalFire has made progress which could limit the fire's range on that side:
A significant improvement in the weather over the past several days has allowed firefighters to do important back-burning work — setting controlled blazes that burn towards the main body of the fire, such that as it moves west it'll run into areas of "black," where there are no combustible materials. 
Because of its remote location, the August Complex has mostly affected unpopulated areas. So far, only one death has linked to the fire.
The Sierra Nevada tinderbox
On Sunday, the Los Angeles Times linked a stark recent warning about beetle-ravaged California forests to the massive Creek Fire:
[The Creek Fire] is burning in the Sierra National Forest, an epicenter of the bark beetle attacks that killed nearly 150 million drought-stressed trees during the last decade. The U.S. Forest Service estimates that dead stands in the Creek fire contain 2,000 tons of fuel per acre.




As of Saturday, the fire had charred more than 196,000 acres, destroyed 365 structures and was threatening 14,000 more in the vicinity of Big Creek, Huntington Lake and Shaver Lake. Firefighters don't expect to contain it until mid-October.




For those who have studied the potential fire effects of the vast beetle kill, the Creek fire is a harbinger. "I don't want to be alarmist. But I think the conditions are there," said Scott Stephens, a UC Berkeley professor of fire science and lead author of a 2018 paper that raised the specter of future mass forest fires as intense as the Dresden, Germany, and Tokyo firebombings.
And while major goals have been set to address the problem using prescribed fires and fuel management, fire ecologists told the Times that the efforts are coming decades too late, let alone in face of the compounding problem of climate change, which has only made droughts worse and temperatures more extreme.
Three governors, one message
The governors of California, Oregon, and Washington State are making it loud and clear that climate change is largely responsible for the historic fires ravaging their states, while President Trump reiterated to supporters at a Las Vegas rally on Saturday that "forest management" was primarily to blame.
"The data is self-evident, the experience that we have in the state of California just underscoring the reality of the ravages of climate change," Governor Gavin Newsom said Friday. "Mother Nature is physics, biology and chemistry. She bats last and she bats one thousand. That's the reality we're facing, the smash mouth reality — this perfect storm. The debate is over around climate change." Newsom also took aim at climate change skeptics, warning that the country would run out of time "unless we get our act together" and "disabuse ourselves of all the BS that's being spewed by a very small group of people."
On Friday, one of those people was Fox News host Tucker Carlson:
On Sunday, Washington Governor Jay Inslee echoed Newsom's comments, explaining on ABC's This Week that, "The only moisture in eastern Washington was the tears of people who have lost their homes and mingling with the ashes. And now we have a blowtorch over our states in the west which is climate change, and we know that climate change is making fires start easier, spread faster and intensify."
"Vote — vote on climate," he continued, "Get out there and vote against any politician like Donald Trump who has downplayed climate change, just like he's downplayed COVID." Inslee also acknowledged that forest management was an important part of reducing wildfire risk, but not the only part.
Oregon Governor Kate Brown said the same during a Sunday appearance on CBS' Face the Nation, but also emphasized that the ongoing crisis "is truly the bellwether for climate change on the west coast and this is a wakeup call for all of us that we have to do everything in our power to tackle climate change."
President Trump will visit California on Monday
Politico reports:
President Donald Trump will visit California Monday for a briefing with emergency response officials on local wildfires, a White House official said Saturday. Trump will meet with local and federal personnel during a trip to McClellan Park, a former air base just outside the city of Sacramento, White House spokesman Judd Deere said in an email. The park is also the site the state fire agency has used to launch big firefighting planes. …




Trump's visit comes amid criticism that he'd failed to mention the Western wildfires for more than three weeks, until Friday night, when he made a reference to the disasters publicly [on Twitter.]
On Saturday night at an airplane hanger rally in rural Northern Nevada, President Trump briefly referenced the wildfires again, though he focused his comments on downplaying the role climate change has played in causing them, suggesting once again that the states more had themselves to blame, per Capital Public Radio:
"I'm going to be going to California," he said of his scheduled trip on Monday. "Spoke to the folks in Oregon, Washington. They're really having, they've never had anything like this."




But he suggested climate change was not a cause of the fires, despite a chorus of scientists, firefighters and public officials recognizing otherwise. "But it is about forest management. Please remember the words, very simple: forest management. Please remember."
Fire tornadoes and 55,000-foot smoke plumes: the extreme fires have been producing their own extreme weather
Washington Post meteorologist Matthew Cappucci dug into the unprecedented extreme fire weather on display amid the West Coast wildfires:
Fire tornadoes have spun up by the handful in at least three big wildfires in the past three weeks, based on radar data. Giant clouds of ash and smoke have generated lightning. Multiple fires have gone from a few acres to more than 100,000 acres in size in a day, while advancing as many as 25 miles in a single night. And wildfire plumes have soared up to 10 miles high, above the cruising altitude of commercial jets. …




Before 2020, only a few fires had ever produced documented fire tornadoes in the United States; now we're seeing them every week or two. [Neil Lareau, a professor of atmospheric sciences in the department of physics at the University of Nevada at Reno,] says the tremendous heights of the wildfires' clouds, combined with more concerted and astute observation, are factors in the numerous fire tornadoes that have been reported this year. He thinks there may be some also truth to the apparent increase. …




The extreme fire behavior is so foreign and jarring that Lareau has found it a challenge to place it in context. "These are still real outlier events," said Lareau. "The way I've been trying to think about it, if it's a 1 in 100 event, now we have, what, 7,000 fires on the landscape? The opportunity to experience these extremes of fire weather are off the charts right now."
A harrowing, heart-shattering account of one family's tragedy in Oregon
Late last week, news emerged of the tragic deaths of 13-year-old Wyatt Tofte and his 71-year-old grandmother, Peggy Mosso, after they were unable to escape the from the path of the Beachie Creek Fire as it raged through Oregon's Santiam Canyon, where the family lived. The Statesman Journal later reported that the boy's father, Chris Tofte, who was away from their home when the fire struck, had tried to drive past barricades and through the fire around 4 a.m. Tuesday morning to rescue them and his wife, who had been preparing to evacuate at their home:
Back in the Jeep, struggling to navigate a road once so familiar but now shrouded by smoke-filled darkness, Chris almost ran over what looked like a bikini-clad woman on the road. Once he was closer, he realized she was wearing underwear. Her hair was singed, her mouth looked almost black, and her bare feet were severely burned.




He impatiently tried to help her into his car, explaining how he needed to find his wife and son, feeling like she was resisting.




Finally, she spoke. "I am your wife."




He felt like he was going to pass out. He thought he would start crying. Instead, he said something turned off in him. He didn't feel anything.
He rushed his wife, Angela Mosso, back out to paramedics before again trying, but failing, to reach their home to look for their son and Angela's mother. Ms. Mosso remained hospitalized in critical condition as of the weekend, and reportedly survived by walking almost 3 miles on an asphalt road so hot it melted off her shoes. She had apparently told their son to run from the fire after she had realized they could not use their car to escape — and was herself then forced to leave her mother, who was recovering from a broken leg, behind.
On Wednesday, first responders discovered that Wyatt had returned to the family's home, where he was found dead along with his grandmother and the family's dog inside a vehicle on the property.
Preparing for a future on fire
Intelligencer's David Wallace-Wells writes that this year's horrific fires are only a taste of the burning to come in California over the coming decades, that even full-fledged climate action won't work fast enough to prevent it, and that the state needs to immediately adapt to that now inevitable future:
[B]beyond the immediate threat of their flames and the eerie contagion of their smoke, the new California fires offer a threefold prophecy about our climate future. First, however much we do to stabilize the world's climate, it will not stop the burning any time soon. Second, it isn't that the land itself, or the ecology of the region, can't survive climate change, but that the conditions of habitability on which we have erected whole sprawling, demanding, often unjust civilizations are being shaken — in some places, already quite profoundly, with comparatively little warming. And third, we not only have the hard work of stabilizing our climate future through rapid decarbonization ahead of us, but also the work of adapting and responding to the new world already made inevitable by warming, particularly for the communities, disadvantaged and marginalized, who always stand most clearly in the path of climate impacts like wildfire.
Read the rest of his warning here.
More than a million acres have burned in Oregon
At least seven people have been killed by wildfires in Oregon, and the death toll is expected to rise as dozens remained missing on Friday, according to state and local officials. The fires, which have already devastated several communities, consumed more than one million acres in less than a week and have forced more than 40,000 people to evacuate their homes, while hundreds of thousands have been asked to be ready to evacuate while fire crews work to contain the fires.
The wind-fueled Almeda Fire, which spread quickly between Ashland and Medford in southwest Oregon on September 8, forced the evacuations of thousands of people from several communities and devastated the towns of Talent and Phoenix, where as many as 1,600 homes may have been destroyed. At least two people have been confirmed to have been killed by the fire, and many more remained missing on Friday.
The fire, which may have been at least partially the result of arson, was reportedly 50 percent contained as of Friday.
Three fires burning east of Salem have each consumed more than 100,000 acres as of Friday — the Beachie Creek, Riverside, and Lionshead Fires. The Beachie Creek Fire has reportedly killed at least two people, and State officials remain fearful that the fires will continue to grow, and potentially merge — though weather conditions have recently improved, offering firefighters a better chance at battling the blazes.
The still uncontained Holiday Farm Fire, burning east of Eugene, has already consumed more than 150,000 acres, devastating the town of Blue River, and it continues to threaten other nearby communities.
Oregon officials botched their 500,000 evacuee estimate
On Thursday, Oregon government officials launched a national news cycle — including coverage at Intelligencer — when they announced that wildfires in the state had prompted the evacuations of some 500,000 people — amounting to more than 10 percent of the state's population. In fact, it subsequently emerged on Friday, that number included everyone who has received an evacuation alert in the state, not just those who had been forced to evacuate. Oregon governor Kate Brown clarified on Friday that "more than 40,000" residents have been evacuated under Level 3 mandatory evacuation orders. The 500,000 Oregonians affected by the wildfires are those who "are currently in evacuation zones — that means 500,000 people are either at a Level 1, 2 or 3 evacuation alert."
Level 1 alerts ask residents to "BE READY" to evacuate, while Level 2 alerts notify them to "BE SET" to evacuate at a moment's notice, and a Level 3 alert means "GO" now.
The Oregonian reported Friday that a newsroom analysis couldn't square the state's numbers, and when it pushed state officials for an explanation, they initially defended and tried to backtrack on the estimates before eventually clarifying the numbers in a press conference.
None of this negates the fact that Oregon is facing a historic wildfire crisis which is prompting evacuations on an unprecedented scale for the state — 40,000 people is still a lot of people; numerous communities have been devastated by the fires; it remains unclear how many people have been killed, and there is no evidence that misreporting the number of evacuees has had a public safety impact on the ground.
The view from space
A long overdue move to help California's inmate firefighters turn their experience into employment
Governor Gavin Newsom signed a law on Friday that, as KQED reports, "dramatically expands opportunities for members of inmate firefighting crews to be hired as professional firefighters after their release from prison":
Former prisoners who come out of the California Department of Corrections and Rehabilitation fire training program can now petition a judge to have their records more quickly expunged — setting aside their convictions — a process that would allow them to obtain EMT certification and other licenses required for employment at many municipal fire agencies in California. Newsom said the new law — Assembly Bill 2147 — will give the more than 1,000 prisoners who are currently fighting fires "opportunity and hope" of a long-term, sustainable firefighting career after their release. … The new law only applies to those who have completed the prison firefighting program and excludes anyone convicted of a sex offense or violent felony.
Two months of unwelcome history-making
Meteorologist Dakota Smith tries to put the recent wildfires in context:
The ongoing Creek Fire, which has burned nearly 176,000 acres as of Friday morning with 6 percent containment, is also in the top 20.
Meanwhile in Colorado:
And Oregon:
Updates from September 9 and 10
Early last week in California
While the massive CZU, LNU, and SCU Complex fires that struck California after an unprecedented "lightning siege" last month have since been mostly contained, other fires continue to ravage the state, where more than 2.3 million acres have already burned this season — the most in California's recorded history. Twenty-five major fires were burning as of Tuesday, exacerbated by wind, abundant fuel, and ongoing extreme heat — conditions that have all been made worse by climate change. As a result, Cal Fire's resources continued to be stretched thin, with nearly 14,000 firefighters deployed in the state to fight the wildfires.
In addition, thanks to the extreme weather and fire conditions, parts of the state have again been forced to endure power outages. Pacific Gas and Electric, the state's biggest electricity provider, has instituted the largest safety power shutoff yet this year, leaving more than 170,000 customers across 22 counties in Central and Northern California without power — potentially for days.
In Central California, the massive fast-moving Creek Fire has burned more than 163,000 acres in the Sierra Nevada Forest since it began on Friday — with 0 percent containment as of Wednesday. Nearly 400 people (and 27 animals) have been rescued from the wildfire's path, mostly hikers and backpackers trapped by the rapidly encroaching fire who pulled out with unprecedented airlift operations conducted by California Army National Guard helicopters.
Nearly 150 people were rescued via airlift on Tuesday alone. Some of the rescues pulled evacuees from mountain resorts where they had sought refuge in large numbers. The Creek Fire has already destroyed at least 65 homes.
In Monterey County south of Big Sur, the Dolan Fire has more than doubled in size since Sunday to more than 94,000 acres with 20 percent containment. Three firefighters were seriously injured when a group of 14 of them were forced to deploy emergency shelters after the fire overtook them while they were trying to save the Nacimiento Station in Los Padres National Forest.
And in the northeastern part of the state, there were ominous signs on Tuesday of the explosive potential of the Claremont-Bear Fire:
As the Bear Fire moved rapidly in a southwestern direction overnight, evacuations were ordered in Plumas, Yuba, and Butte counties, according to the Forest Service. As of Wednesday, it was just across Highway 70 from Paradise, the town in which dozens were killed in the Camp Fire in 2018. As of Wednesday afternoon, the fire had spread to over 250,000 acres, with 38 percent containment. The UC Davis Medical Center told the Sacramento Bee on Wednesday that four burn victims in critical condition were admitted to the hospital's burn unit. According to the Mercury News, three deaths have been reported in the Bear Fire, with one victim found in a car near Berry Creek, which has been largely destroyed.
National Weather Service meteorologist Craig Shoemaker told the New York Times that the smoke from the Bear Fire rose up to 40,000 feet overnight. "Without the smoke it would be a clear day," Shoekmaker said. "This is all generated from the fires."
By late Wednesday morning, another blaze, the Willow Fire, emerged north of Smartville in Yuba County, resulting in the evacuation of 3,000 residents. As of Wednesday afternoon, it had burned over 1,311 acres and destroyed 14 homes.
Wildfires are also burning in Southern California amid another historic 2020 heat wave, which led to a record-breaking high temperature of 121 degrees for Los Angeles County on Sunday. High-risk Santa Ana winds are forecast through Wednesday, leading to red-flag warnings.
About 30 miles east of San Diego, the Valley Fire has burned more than 17,000 acres in East County and was 11 percent contained as of Wednesday — having expanded nearly 70 percent on Monday. It has already forced more than 1,400 residents to evacuate, and has already destroyed more than 30 structures. Fire conditions have also prompted San Diego Gas & Electric to warn that it may institute safety power shutoffs to nearly 17,000 customers through Thursday.
The Bobcat Fire, which began Sunday near Azusa then spread rapidly due to the hot dry conditions in the area, has burned more than 11,000 acres in the Angeles National Forest as of Wednesday with 0 percent containment. It has forced the evacuation of the historic Mt. Wilson Observatory and threatens Monrovia, Arcadia, and other communities at the foot of the San Gabriel Mountains.
In San Bernardino, the El Dorado Fire — which was started on Saturday by a firework set off during a gender-reveal party in Yucaipa — has burned more than 11,000 acres with 19 percent containment as of Tuesday. It threatens thousands of homes and has prompted the mandatory evacuation of some 21,000 Californians.
Early last week in Washington State
As OPB has noted, in the Pacific Northwest, a "perfect storm of conditions" led to disaster on Monday:
First, it's been extremely dry in the past month. All those fuels have been ready to burn for weeks. Second, the recent above-average temperatures primed the pump. Then on Labor Day came strong winds out of the north that ensured any current fires or new starts would take off fast. And that is exactly what happened.
Almost 300,000 acres burned in Washington State on Monday alone amid the historic Labor Day windstorm, which packed near hurricane-strength 40-60 mph wind gusts — particularly in the eastern half of the state. The weather conditions also temporarily grounded air support for firefighters, though planes and helicopters were able to get back in the fight on Tuesday morning.
As of Wednesday, at least 480,000 acres have been consumed in the state, where nine large fires were still burning. Residents in parts of at least 10 counties have faced evacuation orders, and firefighters have often been overmatched. As one example of how fast the fires have moved, the Cold Springs Fire in Okanogan and Douglas counties was able to travel an estimated distance of about 60 miles on Monday. State officials announced on Wednesday that a child was killed in the Cold Springs Fire.
Unfortunately, most if not all of the fires appear to have been human-caused. More acres burned in 24 hours than the state had seen in 12 fire seasons combined, according to Governor Jay Inslee.
Hazardous air-quality conditions have also persisted, with a wind shift driving the smoke over the more populated western side of the state starting Monday night:
The wind conditions haven't just fueled the fires and spread the smoke, but kicked up dust so thick it shut down part of I-90 on Monday and led to multiple accidents:
About 80 percent of the structures in Malden, a small rural town of some 200 residents about 35 miles southwest of Spokane, were destroyed by a fast-moving fire on Monday. The nearby town of Pine City was also devastated.
Early last week in Oregon
The same weather and "perfect" fire conditions have wreaked similar havoc in western Oregon, where multiple wildfires continued to burn and grow on Tuesday, with the crisis intensifying so quickly that local reporters have had trouble keeping up with the evacuation orders, let alone other information about the fires and their consequences. So far, more than 300,000 acres have burned in the state as a result of the fires.
Eerie red-sky scenes like this have recently been seen all across the region:
The Oregon wildfires have endangered populated areas east of Salem and Eugene in the northwest region of the state, forcing evacuations for numerous communities along Route 122 in the Santiam Canyon, where the Beachie Creek Fire, which started on August 16, grew dramatically on Monday and Tuesday. A state of emergency was declared on Tuesday in Marion County. Roughly 1,400 inmates were evacuated from three state prisons in the county on Tuesday as well.
There were also mandatory evacuation orders on Route 126 along the Mackenzie River in Lane County — where as many as 100 structures were reportedly burned in the Holiday Farm Fire in the town of Blue River on Monday night.
Other Oregon towns undoubtedly face similar fates:
Smaller fires have also struck in Washington and Clackamas counties near Portland, as well as in Lincoln County. More than 130,000 were without power in the state as of Tuesday as a result of the fires and high winds — and some areas have had their power cut to reduce the fire risk. There have also been multiple road closures throughout the state.
"This could be the greatest loss of human lives and property due to wildfire in our state's history," Governor Kate Brown said on Wednesday. Already three people have been killed, one person in Jackson County and two in Marion County.