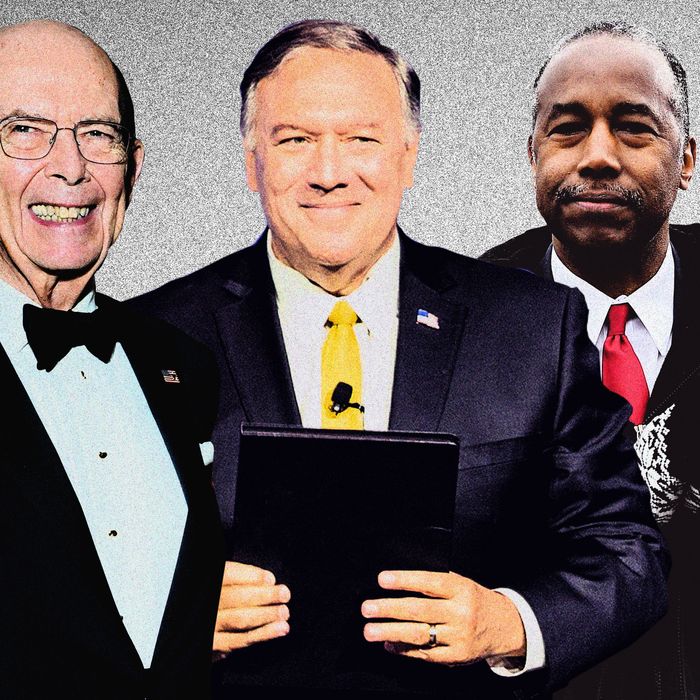 Photo-Illustration: Intelligencer; Photos: Getty Images
Does President Biden have a Commerce secretary? I am going to assume yes, but this person has yet to do something so villainous and/or astonishingly corrupt that I need to worry about them on a regular basis. (Thank you, Gina Raimondo!) The same cannot be said of former president Donald Trump's Cabinet members, who simply could not stop getting investigated for ethics violations; for literally falling asleep during meetings; and for wasting taxpayer money on private jets, lavish office furniture, and personalized commemorative coins. Now that they're gone, we can finally turn our attention to more substantive government matters.
But perhaps you are curious. If someone had to round up these folks for a Suicide Squad–style government task force (led, naturally, by Suicide Squad executive producer Steve Mnuchin), where would we find them? Here's an update on their zany and vaguely unscrupulous post–White House antics.
Ben Carson is launching a new version of the Boy Scouts
Back in February, the former Housing and Urban Development secretary founded the American Cornerstone Institute. This think tank, which Carson prefers to call a "do tank," is dedicated to finding "commonsense solutions to some of our nation's biggest problems."
Obviously, one of the biggest problems facing America is its lack of an aggressively partisan organization for kids. Thus, the Little Patriots program was born.
"It will be something like the Boy Scouts," Carson told the Washington Post. "But heavily exposed to the real history of America."
"You probably notice when ISIS goes into a place, they destroy the history, they destroy the monuments," Carson explained. "History is what gives you identity."
Perhaps someday a U.S. president will regale youngsters with inappropriate stories at a Little Patriots Jamboree. But at the moment, Little Patriots aren't doing any camping; they're just learning about America's key values — "Faith, Liberty, Community, and Life" — from a free, crudely illustrated online curriculum. Just this preview taught me a lot!
Steve Mnuchin is making the most of his extended Secret Service protection
Days before leaving office, Trump quietly issued a highly unusual order that provided an extra six months of Secret Service protection for his adult children and three administration officials. Former Treasury secretary Steven Mnuchin has racked up the biggest charges, unsurprisingly. You don't amass a fortune worth an estimated $400 million by not spotting opportunities to save on private security expenses by taking advantage of free Secret Service protection. The Washington Post reports:
The receipts showed that agents spent $114,000 over the six months to rent rooms at a W Hotel in Los Angeles, where Mnuchin has a home.

They also followed Mnuchin on three trips to the Middle East, where Mnuchin is reportedly seeking to raise money from sovereign wealth funds for a new venture called Liberty Strategic Capital …




Mnuchin's travels with the Secret Service weren't all business, however. Over the six months, the records show three separate trips to Cabo San Lucas — the Mexican resort, where Mnuchin had also vacationed during Trump's presidency.




To guard Mnuchin during those three trips, the records show, the Secret Service paid $56,000 for hotel rooms and $2,000 to rent golf carts.
Mnuchin plans to use the $2.5 billion he raised during his travels to invest in the technology sector, cybersecurity, and "new forms of content," according to The Hollywood Reporter. It's not entirely clear what the latter phrase means, but "many big tech companies are pushing virtual- and augmented-reality hardware and content products and digital gaming." Could that mean an AR version of Me You Madness, the sex-cannibal comedy Mnuchin's wife released earlier this year? Let's keep our fingers crossed!
Mike Pompeo is denying he plotted to kidnap Julian Assange
Former CIA director and secretary of State Mike Pompeo was so furious at Julian Assange for exposing U.S. national-security secrets that he spearheaded talks within the Trump administration on how to get revenge. Options discussed included kidnapping the WikiLeaks founder from the Ecuadoran embassy in London or even assassinating him — plots that make for a good spy thriller but are illegal in real life.
That is one of the key takeaways from an explosive report published by Yahoo! News in September. It is also, according to Pompeo, not true … or, well, mostly fiction.
"There's pieces of it that are true," Pompeo said during an appearance on The Megyn Kelly Show. "We tried to protect American information from Julian Assange and WikiLeaks, absolutely, yes … We're not permitted by U.S. law to conduct assassinations. We never acted in a way that was inconsistent with that."
When pressed on whether he had thought about assassinating Assange, Pompeo clarified, "We never conducted planning to violate U.S. law." But he also said the 30 sources who participated in the report "should all be prosecuted for speaking about classified activity" — which, as one of the report's authors underscored, won't work if they're lying.
Elaine Chao is inspiring calls to boycott Kroger
Prior to becoming Trump's Transportation secretary, Elaine Chao earned millions of dollars by serving on the boards of major corporations like Dole Foods, Protective Life, and Wells Fargo. But the Washington Post reported in April that she and other Trump Cabinet alums were having a hard time finding cushy landing spots after exiting the administration. "The feedback was 'It's too soon,'" said one of the headhunters involved in an unsuccessful effort to find companies willing to work with Chao.
Apparently, the sentence for serving in the Trump administration was seven months in corporate purgatory, not three. In August, Kroger named Chao to its board of directors.
But should a wholesome grocery chain really associate itself with someone who abused her position and office staff to boost her family's shipping business? (That was the conclusion of an inspector general's report on Chao, which was referred to the Justice Department for possible criminal investigation in December 2020, then promptly dropped.) Thousands of Twitter users said no. They urged their followers to #BoycottKroger, while Accountable.US, a progressive watchdog organization, erected a billboard in Cincinnati calling on the company to "Drop Elaine Chao."
As of this writing, Chao is still on the board, and Kroger is still in business.
Ryan Zinke is campaigning to represent a U.S. congressional district he may not actually live in
During his two years as Trump's Interior secretary, Ryan Zinke was the target of 18 federal investigations over alleged misconduct ranging from his personal travel to potential conflicts of interest, some of which have yet to conclude. Yet somehow, the biggest scandal plaguing Zinke's congressional campaign isn't this wild fact but allegations that he doesn't really live in Montana's Second District.
Zinke has spent the past few months traveling around Montana and waxing poetic on his campaign's Instagram account about doing yard work "on the same land in Whitefish that my family has been on for three generations."
But prior to the campaign launch, as Miranda Green reported at Politico, his wife Lolita Zinke's private Instagram featured "considerably more photos" of the couple in Santa Barbara, California, where she owns property and a 41-foot yacht. Could it be that Zinke prefers the yachting life to doing manual labor back in Montana? It's unclear, but when Green ventured out to the candidate's Whitefish residence this summer, she encountered his son's 22-year-old girlfriend, who said that "she lived in the house but that Zinke did not."
A campaign consultant said the idea that Zinke doesn't live in Montana is "absurd" and "flat-out wrong." But the campaign did not respond to Green's questions about whether he lives at the house in Whitefish full time.
Wilbur Ross is dreaming of putting "Trump condos on the moon"
If you thought that narrowly avoiding prosecution for allegedly lying to Congress about why he wanted a citizenship question on the 2020 Census might humble our former Commerce secretary, then you don't know Wilbur Ross. When Bloomberg caught up with Ross in February, he was back in Palm Beach, Florida, living — and plotting — like a James Bond villain:
On this particular afternoon, he's sitting in the living room of his 80-year-old home filled with Magrittes and Picassos, sipping a cappuccino, dressed in cashmere sweater, slacks and velvet slippers embroidered with octopuses.




Ironically, it's while ensconced in this paradise of earthly delights that Ross is gearing up to invest in space, among other possibilities. He sees opportunity in extraterrestrial tourism, manufacturing, research and habitation.




Habitation? When asked whether space would be a gold-plated real estate opportunity for Trump, Ross didn't disagree.




"Why not Trump condos on the moon?" he quipped back.
Ross's immediate plans are less grandiose — but still a tad shady! In December 2020, the Commerce Department inspector general released the findings from a probe into Ross's behavior that conveniently took 37 months to complete. It concluded that Ross had made many inaccurate statements to federal officials about his assets before taking office, though he did not willfully violate conflict-of-interest laws. Ross insisted he was committed to the "highest standard of ethics" — but as Forbes notes, just a few weeks later he incorporated a SPAC in the Cayman Islands while still in office, "a parting shot at ethics norms on his way out the door."
Rick Perry is getting into drugs
This spring, Trump's former Energy secretary successfully lobbied Texas lawmakers to pass legislation authorizing a clinical study on the use of psilocybin, the active ingredient in "magic mushrooms," to treat PTSD in veterans.
Perry stressed that he has "historically been a very anti-drug person" and still strongly opposes legalizing drugs for recreational use. So presumably he was totally sober when he proclaimed in February — as millions of people in his state were struggling to stay warm during an extended power outage caused by a polar vortex and a failure of the state's isolated, ill-equipped electricity grid — that "Texans would be without electricity for longer than three days to keep the federal government out of their business."
Alex Azar is being plotted against by former colleagues
Next time you're worried that a co-worker could be out to get you, remember it could be worse: You could be former Health and Human Services secretary Alex Azar. In March, Politico reported that several former Trump health officials — including former FDA commissioner Stephen Hahn, former CDC director Robert Redfield, former Medicare chief Seema Verma, and former White House COVID coordinator Deborah Birx — had banded together to coordinate their stories on the administration's COVID-19 response because they were worried that Azar and others might scapegoat them in interviews and memoirs:
"I know the way this goes — everyone has a different perspective," Hahn said in an interview. "I wanted to tell what it was that happened and why it happened and the perspective that we had."




In calls and text messages, members of the group have swapped notes, compared recollections and sent updates on media requests and interview opportunities, four people with knowledge of the matter said …




And in a nod to their individual battles with Azar, some have jokingly referred to the group in private as "AAA," or Alex Azar Anonymous, according to a person in direct contact with multiple members.
You can keep on reading reports about Trump officials' handling of the pandemic if you want, but the fact that this is a story about adults tells you basically everything you need to know.