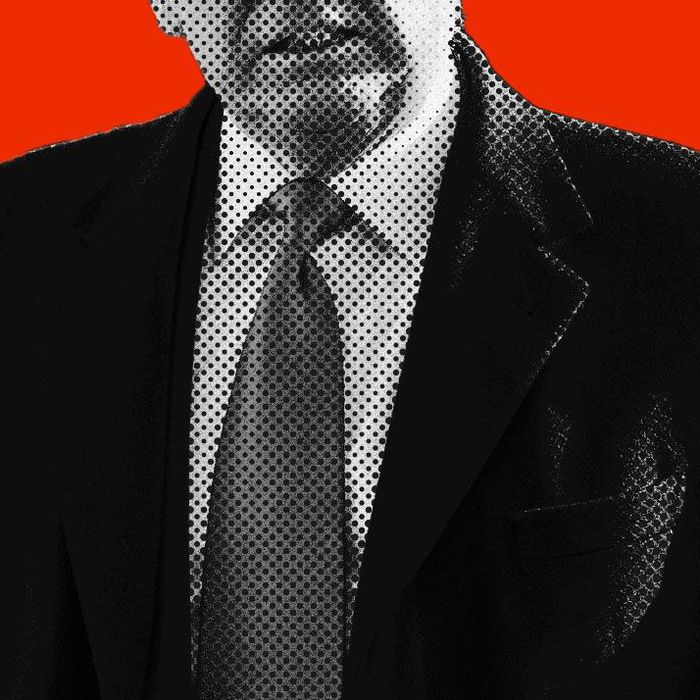 Photo-Illustration: Intelligencer; Photo: Getty Images
Donald Trump has been indicted over his attempt to hold on to power as president, which culminated in the attack on the Capitol on January 6, 2021. He has been charged with one count of conspiracy to defraud the United States, one count of conspiracy to obstruct an official proceeding, one count of obstruction of and an attempt to obstruct an official proceeding, and one count of conspiracy against rights. (We're collecting the most notable details in the indictment here.)
This is the second federal indictment of the former president this year, after special counsel Jack Smith's other criminal investigation into Trump's alleged efforts to withhold documents at Mar-a-Lago resulted in charges of violating the Espionage Act, making false statements, and conspiring to obstruct justice. Below are updates and commentary on the case against Trump as this developing story continues to unfold.
The lashing out continues
Trump lawyer calls Georgia phone call an "aspirational ask"
During a Meet the Press interview on Sunday, Trump attorney John Lauro characterized Donald Trump's post-election phone call to Georgia secretary of state Brad Raffensperger, in which he seemed to be attempting to pressure the official into helping Trump come up with the votes he needed to overtake Biden, as aspirational:
CHUCK TODD: An interesting legal place you're going to go that will also create some constitutional questions. I want to get you to respond, though, to something that seems a bit more straightforward on intent. It's the infamous phone call in Georgia. Let me play an excerpt.

            

PRESIDENT DONALD TRUMP (ARCHIVAL): The ballots are corrupt, and you're going to find that they are. Which is totally illegal. It's more illegal for you than it is for them because you know what they did and you're not reporting it. That's a criminal offense. All I want to do is this. I just want to find 11,780 votes, which is one more than we have. Because we won the state.

            

CHUCK TODD: If he had proof he won the state, why did he threaten the secretary of state with a criminal charge?

 

JOHN LAURO: That wasn't a threat at all. What he was asking for is for Raffensperger to get to the truth. He believes that there were an excess of 10,000 votes that were counted illegally. And what he was asking for is the secretary of state to act appropriately and find these votes that were counted illegally.

            

CHUCK TODD: Find.

 

JOHN LAURO: Hold on one second. That was an aspirational ask. He is entitled to petition even state government. But that doesn't involve an obstruction of federal government. 
Trump again attacks Pence
With Mike Pence now embracing his role as a "too honest" January 6 spoiler, Donald Trump went after his former VP on Saturday, writing on Truth Social that Pence "has gone to the dark side" and claiming that his account of the events leading up to January 6 was "delusional." According to the new federal indictment filed against Trump this week, Pence took contemporaneous notes about his conversations with Trump at the time.
Special counsel's office seeks protective order, citing Trump threat
Federal prosecutors have, as expected, sought a protective order over discovery evidence in the case, which would set limits on what Trump's lawyers can do with the government's evidence after its shared with them. Prosecutors also cited a threatening message Donald Trump posted on Truth Social on Friday night, which said: "IF YOU GO AFTER ME, I'M COMING AFTER YOU!" Prosecutors included a screenshot of the post in their filing with Judge Tanya S. Chutkan, while also noting that Trump "has previously issued public statements on social media regarding witnesses, judges, attorneys and others associated with legal matters pending against him."
On Saturday, Chutkan gave Trump's lawyers until 5 p.m. Monday to respond to the protective order filing, then later denied their request to delay that deadline.
On Friday, Trump's campaign claimed his Truth Social threat was for his political adversaries and "the definition of political speech." The campaign also posted an ad on social media on Friday which called prosecutors in all the cases against Trump a "fraud squad" doing the bidding of President Biden.
An inmate with Secret Service protection?
It remains an open question how the Secret Service would handle a scenario in which Donald Trump is convicted of any crimes and sentenced to serve time in state or federal prison. The Washington Post spoke with some agents about what might happen:
Former and current Secret Service agents said that while there is no precedent, they feel certain the agency would insist on providing some form of 24/7 protection to an imprisoned former president. And, they say, the agency is probably planning for that possibility, seeking to match to some degree its normal practice of rotating three daily shifts of at least one or two agents providing close proximity protection. …




Current and former agents said Trump's detail would coordinate their protection work with the Federal Bureau of Prisons to ensure there was no conflict about duties or about how they would handle emergencies, as well as the former president's routine movements in a prison — such as heading to exercise or meals. The Secret Service, they said, would maintain a bubble around Trump in any case, keeping him at a distance from other inmates.
Courtroom artist captured Trump's plea
Trump didn't enjoy his trip to our nation's capital
He briefly addressed reporters before departing from Reagan airport after his arraignment:
Movement minutia
Semafor's J.D. Capelouto notes how the reporting from inside the courtroom was heavy on the "excruciating detail":
At one point, The New York Times' Charlie Savage observed that Trump "clasped, unclasped and re-clasped his hands." A few minutes later, he reported that Trump was "conferring with John F. Lauro, his lawyer, gesturing with his hands as he says something and then clasping them again. Lauro is leaning close, resting on an elbow and covering his mouth with his hand. Trump looks left, looks right, looks forward and waits." In a later update, just before the hearing began, Savage acknowledged: "A reporter tries to come up with yet another descriptive way to convey that nothing is happening yet."




"Trump's fidgety," CBS News Congressional Correspondent Scott MacFarlane tweeted. David Smith of The Guardian noted that Trump was "folding and unfolding hands, unable to keep still." Smith added: "He picks up a document and quickly puts it down again."
The next court date is August 28
NBC News reports:
The judge set the first hearing date in the case for Aug. 28 at 10 a.m.

The judge had presented three dates to prosecutors and the defense: Aug. 21, Aug. 22 and Aug. 28. Prosecutors requested Aug. 21, while the defense requested Aug. 28.
And now that's when a trial date may be set.
United States of America v Donald J. Trump is underway
Per the New York Times:
Judge Upadhyaya asks Trump his name, and Trump stands up and starts walking toward her. She advises him that he can sit and talk into the microphone. She asks his name again, and he says, "Yes, your honor, Donald J. Trump, John." She asks his age and he says 77. She asks if he is on drugs today, and he says he is not.
The judge then read the four felony counts against Trump, to which he pleaded: "Not guilty."
Then it was on to the conditions of Trump's release:
Trump was released soon after. The arraignment hearing took about 25 minutes, ending at 4:40 p.m.
Trump is reportedly angrier than usual again
The New York Times' Maggie Haberman reports:
Privately, people who have spoken with Trump recently have described him as angrier than they recall seeing him in the past. This indictment is different than the others: a true bill stating in no uncertain terms that he lost the 2020 election.
Some courtroom stare analysis
Also watching inside the courthouse:
But unlike earlier spectacles:
"I AM BEING ARRESTED FOR YOU" — the defendant heads to court
CNN once again live-broadcasted the motorcade. Meanwhile on Fox News:
The arraignment will not be televised
Bill Barr isn't impressed
In an interview with CNN, Trump's former attorney general endorsed one of the central arguments in the case against his old boss, and joined those throwing cold water on the First Amendment defense Trump's lawyers are currently promoting:
As the indictment says, they are not attacking his First Amendment right. He can say whatever he wants, he can even lie. He can even tell people that the election was stolen when he knew better. But that does not protect you from entering into a conspiracy. At first I wasn't sure, but I have come to believe he knew well he had lost the election.
Mike Pence is selling indictment merch
Trump's legal team teases defense before arraignment
In an interview with NPR, John Lauro said that his team will consider a First Amendment defense for their client, arguing that he was exercising his right to free speech:
When you look at this indictment, it doesn't really say much other than President Trump was exercising his right to talk about the issues and advocate politically for his belief that the election was stolen and was improperly run. He got advice from counsel — very, very wise and learned counsel — on a variety of constitutional and legal issues. So, it's a very straightforward defense that he had every right to advocate for a position that he believed in and his supporters believed in. And this is the first time in the history of the United States where a sitting administration is criminalizing speech against a prior administration.
Experts who spoke with Axios weren't convinced. "There's no First Amendment right to participate in a conspiracy," said law professor and former Justice Department official Alan Rozenshtein.
One poll suggests most Republicans think Trump is the rightful president
A poll conducted by CNN in July prior to the latest indictment shows that 69 percent of Republicans believe that Joe Biden's electoral win in 2020 was not legitimate. The percentage, which has grown slightly since earlier this year, suggests that Trump could get another post-indictment polling bump — as he did after the Mar-a-Lago raid.
No mug shot for Trump
ABC News reports that Trump will not have a mug shot taken when he's arraigned in Washington, D.C., on Thursday, citing a U.S. Marshals spokesperson. The former president will have his fingerprints taken digitally and will not be handcuffed during the proceedings.
Co-conspirator 6 appears to be Boris Epshteyn
The New York Times reports that Boris Epshteyn, a former adviser to Trump, is likely the unnamed sixth co-conspirator listed in the indictment. The filing makes reference to an email exchange between co-conspirator 6 and co-conspirator 1, who has been identified as Rudy Giuliani, about lawyers in several key states in connection to the electors scheme.
The Times said that the description matches an email from December 7, 2020, between Giuliani and Epshteyn that featured the subject line "Attorneys for Electors Memo." Todd Blanche, an attorney who represents Epshteyn, declined to comment.
In addition to Giuliani and Epshteyn, the other co-conspirators have been identified as John Eastman, Sidney Powell, Jeffrey Clark, and Kenneth Chesebro, all of whom are attorneys.
Pence says Trump was surrounded by "crackpot lawyers"
Former vice-president Mike Pence reacted to Trump's indictment, telling members of the media in Indianapolis, "I had hoped it wouldn't come to this."
He reiterated that he had no right to overturn the results of the election and said that Trump's belief that he could is "completely false." And he didn't have kind words for the president's former attorneys.
Law enforcement is bracing for Trump's arrival
Washington, D.C.'s police department has already begun preparations for Trump's trip to the nation's capital for his arraignment.
"The Metropolitan Police Department is working closely with our federal law enforcement partners to monitor the situation and plan accordingly to ensure the safety of DC residents and visitors," the agency said in a statement.
Trump to be arraigned Thursday
NBC News reports that Trump will travel to Washington, D.C., on Thursday to be arraigned in U.S. District Court before Magistrate Judge Moxila A. Upadhyaya.
DeSantis fails to criticize Trump, again
Ron DeSantis, Trump's biggest rival in the 2024 election, seemed to defer to the former president in his response to the January 6 indictment.
Rather than take aim at Trump, who holds an enormous lead over him in polls, DeSantis saved his ire for federal law enforcement and the D.C. grand jury, vowing to "end the weaponization of government, replace the FBI Director, and ensure a single standard of justice for all Americans."
"While I've seen reports, I have not read the indictment. I do, though, believe we need to enact reforms so that Americans have the right to remove cases from Washington, DC to their home districts," DeSantis said on Twitter. "Washington, DC is a 'swamp' and it is unfair to have to stand trial before a jury that is reflective of the swamp mentality."
DeSantis caught flak from all sides for his milquetoast-y statement, which is in keeping with his kid-gloves treatment of Trump throughout most of his campaign. Zachery Henry, the deputy communications director for Vivek Ramaswamy, questioned why DeSantis would comment at all without reading the indictment, tweeting, "This boilerplate statement doesn't cut it."
Noah Rothman, a senior writer at the National Review, questioned how the governor could hope to defeat Trump if he's unwilling to criticize him.
"DJT's entire case for himself is that he's been done a thousand raw deals. If you think you have to ratify the argument for his re-nomination or you'll lose, you were going to lose anyway," he wrote.
How cops who were injured defending the Capitol on January 6 have responded to the charges
U.S. Capitol police officer Harry Dunn:
Former D.C. Metro police officer Michael Fanone:
Former U.S. Capitol police sergeant Aquilino Gonell:
Former U.S. Capitol police officer Winston Pingeon:
D.C. Metro police officer Daniel Hodges:
Who are the six co-conspirators?
The indictment makes reference to six co-conspirators whom prosecutors allege Trump enlisted to "assist him in his criminal efforts to overturn the legitimate results of the 2020 presidential election and retain power." All six of the individuals go unnamed. Per CNN and other reports, here's who has been identified thus far:
Co-conspirator 1: Rudy Giuliani, former Trump attorney
Co-conspirator 2: John Eastman, former Trump attorney
Co-conspirator 3: Sidney Powell, former Trump attorney
Co-conspirator 4: Jeffrey Clark, former Trump DOJ official
Co-conspirator 5: Kenneth Chesebro, pro-Trump attorney
Co-conspirator 6: Described in the indictment as a "political consultant" who "helped implement a plan to submit fraudulent slates of presidential electors to obstruct the certification proceeding." It's not yet clear who the person is.
It's also not yet clear if and when some or all of these co-conspirators will be charged.
Will a trial focused on Trump's lies help counteract their power?
Intelligencer's Ed Kilgore hopes so:
Smith's prosecution of Trump in pursuance of this indictment will force a reckoning in great detail with the fundamental character trait that underlies all the other forms of his misconduct. So in addition to stitching together a strong criminal case covering an array of unfortunate events over an extended period of time, this indictment will lay the groundwork for public acceptance of a subsequent verdict against Trump, at least at a significantly greater level than we can currently expect.




The meta-theme of Smith's indictment might be described as "Trump lied; democracy nearly died." If nothing else, the former president's power to bamboozle people could suffer a major blow as the facts of this case roll out.
Read the rest of Ed's response to the indictment here.
Trump's lawyer vows to relitigate 2020 election
The former president's attorney, John Lauro, went on Fox News following the indictment and claimed that the charges showed that public policy and free speech have been criminalized and weaponized:
[N]ow we have [the] Justice Department indicting President Trump for actions that he took as the executive, as the chief executive of the United States with respect to public policy matters. So now we have the criminalization and the weaponization of public policy and political speech by one political party over another.
He also seemed to offer a preview of Trump's defense strategy, noting that he would like prosecutors to "prove beyond a reasonable doubt that Donald Trump believed that these [election fraud] allegations were false."
And Lauro suggested the 2020 election itself would be a part of Trump's defense. "We now have the ability in this case to issue our own subpoenas," he said, "and we will relitigate every single issue in the 2020 election."
Trump campaign statement compares prosecutors to Nazis
"The lawlessness of these persecutions of President Trump and his supporters is reminiscent of Nazi Germany in the 1930s, the former Soviet Union, and other authoritarian, dictatorial regimes," the campaign said in its statement responding to the new indictment. It also claimed that "President Trump has always followed the law and the Constitution, with advice from many highly accomplished attorneys."
Trump and his co-conspirators were still trying to stop the certification after the attack on the Capitol
According to the indictment, at 7:01 p.m. on January 6, 2021, White House counsel Pat Cipollone called Trump "to ask him to withdraw any objections and allow the certification," but "the defendant refused." The indictment also alleges that Trump, Rudy Giuliani (co-conspirator 2), and an unnamed political consultant (co-conspirator 6) all worked that evening to convince U.S. senators to delay the certification. And former Trump attorney John Eastman (co-conspirator 2) tried to pressure Pence at 11:44 p.m.
Read more new and notable specifics from the indictment here.
Pence calls the indictment "an important reminder"
The former vice-president, who plays a major role in the case, has responded:
Jeffrey Clark suggested using the Insurrection Act to quell protests
Clark is co-conspirator 4 in the indictment:
The craziest details of the indictment
Intelligencer's Matt Stieb has collected them here, including how "Even Trump's campaign knew they were trafficking in 'conspiracy sh*t.'"
Joe Biden might be eating popcorn right now
Indictenheimer?
Pence's role is a significant part of the indictment
The indictment features a lot of information that likely came from Vice-President Mike Pence himself. The filing recounts several private phone calls between Pence and Trump that show the president continuing to pressure his running mate to halt the certification of the 2020 election results. In one particular exchange on New Year's Day, Pence said he didn't believe he had the authority to reject the certification, to which Trump told him, "You're too honest."
The indictment also revealed that Pence took contemporaneous notes that are referenced throughout the document.
Smith: January 6 was "fueled by lies"
Special counsel Jack Smith gave a brief statement after the indictment was unsealed on Tuesday evening, officially announcing the charges against Trump.
"The attack on our nation's capital on January 6, 2021, was an unprecedented assault on the seat of American democracy," he said. "As described in the indictment, it was fueled by lies. Lies by the defendant targeted at obstructing a bedrock function of the U.S. government: the nation's process of collecting, counting, and certifying the results of the presidential election."
Smith said that his team is seeking a "speedy trial" and that their investigation into individuals continues.
Case has been assigned to an Obama appointee
MSNBC is reporting that Trump's case has been assigned to U.S. District Judge Tanya S. Chutkan. She was nominated by then-President Barack Obama and has served in that role since 2014. Reuters reports that Chutkan has dealt harsher sentences to defendants in January 6 riot cases compared with some of her colleagues.
Indictment says Trump knowingly lied
A key part of the case Smith will have to make to a jury hinges on whether Trump knew his lies about winning the 2020 election were indeed lies or whether he believed them to be true. The indictment states that he knew the claims were false. "The Defendant widely disseminated his false claims of election fraud for months despite the fact that he knew, and in many cases had been informed directly, that they were not true," it reads. "The Defendant's knowingly false statements were integral to his criminal plans to defeat the federal government function, obstruct the certification, and interfere with others' right to vote and have their votes counted."
Trump faces four counts in January 6 investigation
In the 45-page filing, prosecutors allege that Trump "knowingly made false claims of election fraud to get state legislators and elected officials to subvert the legitimate election results." The former president is charged with conspiracy to defraud the United States, conspiracy to obstruct an official proceeding, obstruction of that proceeding, and conspiracy to violate rights. The indictment states that Trump conspired with six unnamed co-conspirators.
Look who's back
A day earlier on Truth Social, Trump said he expected his third indictment to be "coming out any day now."
Fani Willis is ready to go
While everyone is left guessing as to when Smith might charge Trump over January 6 and the like, Atlanta's prosecutor could beat him to the punch.
Monday marks the opening of a three-week window during which the Fulton County district attorney, Fani Willis, has said she will decide whether to bring charges in her probe of Trump and his associates over their efforts to overturn his 2020 loss in Georgia, which was focused on Atlanta. "The work is accomplished," she said on Saturday, according to the Washington Post. "We've been working for two and a half years. We're ready to go."
Trump may not be alone if charges are brought: As the Post notes, 18 people were targeted by investigators, including Rudy Giuliani, who was acting as Trump's personal attorney. Last week, Giuliani admitted in a civil lawsuit that he had made false statements about two Georgia election workers who were subsequently harassed by Trump supporters.
More charges in the documents case — and a new defendant
Smith's other investigation into Trump, over his alleged efforts to obstruct the government's attempt to get back classified documents, saw another development. A superseding indictment returned last Thursday saw Trump, his aide Walt Nauta, and a Mar-a-Lago employee named Carlos De Oliveira all charged with conspiring to destroy security-camera footage after investigators issued a subpoena for it last year. De Oliveira was quoted telling the head of the resort's IT department that "the boss" wanted the footage deleted, but the tech specialist refused. Trump was also hit with a charge regarding the alleged willful retention of a document said to outline U.S. plans to attack Iran — the paper he was caught blabbing about on tape, which he then claimed didn't exist.
Poll shows slight shift among Republicans regarding Trump's legal baggage
NPR reports:
The pile-on effect of mounting legal charges against former President Trump may be starting to take a toll, according to the latest NPR/PBS NewsHour/Marist poll. Republicans and Republican-leaning independents saying they believe Trump has done "nothing wrong" dropped 9 points in the last month, from 50% to 41%. Trump also dropped 6 points in support with that same group when asked whether they were more likely to support Trump or another candidate, if he continues to run for president.




Still, a solid majority — 58% — continue to say they would support Trump as their standard-bearer, so more polling and time would be necessary to see if this is a trend, if it continues and if it has a real effect on his chances in the GOP primary. He continues to lead the field by wide margins.
Trump's lawyers reportedly told to expect indictment, but Trump denies that
NBC News reports that attorneys Todd Blanche and John Lauro met with the special counsel's office on Thursday morning — at which point they were told to expect an indictment, according to two people "with direct knowledge of the matter."
In a post on Truth Social, Trump later denied that an indictment was expected, describing it as a "productive meeting" and insisting that "no indication of notice was given" during it. A Trump spokesperson also said that the report that the attorneys were told to expect an indictment was "incorrect."
While the meeting was still underway, the New York Times noted:
It was not immediately clear what subjects would be discussed at the meeting or if Mr. Smith would take part. But similar gatherings are often used by defense lawyers as a last-ditch effort to argue against charges being filed or to convey their version of events in a criminal investigation …




Another team of lawyers working at the time for Mr. Trump had a similar meeting with officials at the Justice Department last month, days before prosecutors led by Mr. Smith filed an indictment in Florida charging the former president with illegally holding onto 31 highly sensitive classified documents after leaving the White House.
Whatever went down at the meeting, no indictments were returned at Washington's Prettyman Federal Courthouse, where the grand jury investigating the case met on Thursday. U.S. Marshals reportedly met with members of the U.S. Park Police and D.C. Metro Police Department outside the Prettyman Federal Courthouse on Thursday as well.
When will Trump be charged?
That's not clear. If it's going to happen, and most legal experts agree it probably will, it could be within days or weeks. When Trump was last informed he was the target of a federal grand-jury investigation — over the mishandling of classified documents — he was charged three weeks later. In this case, Trump's lawyers reportedly received the target letter on July 16.
What might the charges be?
Special counsel Jack Smith's target letter to Trump has not been made public, but it reportedly cites three statutes that could be used to prosecute the former president — though there has been no official confirmation on which ones.
The charges could stem from a number of things Trump and his associates allegedly did in an effort to undo his defeat in the 2020 presidential election, including pressuring leaders in critical states Trump lost, fake-elector schemes in those same states, fundraising off false claims of election fraud, pressuring Vice-President Mike Pence not to certify Biden's victory on January 6, and rallying supporters to come to Washington, D.C., that same day to "Stop the Steal" and march on the U.S. Capitol.
Based on reporting from the New York Times, Bloomberg News, and others, the target letter to Trump listed three charges:
Obstruction of an Official Proceeding, which in this case would likely be Congress's lawful certification of Joe Biden's election victory on January 6, 2021.
Conspiracy to Defraud the United States, would likely relate to schemes like the false-elector plots.
Conspiracy to deprive people of their rights — or more specifically to "injure, oppress, threaten, or intimidate any person" in the "free exercise or enjoyment of any right or privilege secured to him by the Constitution or laws of the United States" — which is based on a federal civil-rights statue, Deprivation of Rights Under Color of Law. It was passed during the Reconstruction era to protect the voting rights of formerly enslaved Black people in the South.
Reporting on the investigation suggests additional charges against Trump could include:
Wire and mail fraud, related to Trump's Save America PAC raising money off false claims of election fraud, if Trump and his associates misled donors and/or used their funds for other purposes.
Tampering with a witness, victim, or informant — though the context is not yet clear.
Conspiring to make a false statement — which is one of the four charges the congressional January 6 committee referred Trump to the Justice Department for, alleging that the former president "conspired with others to submit slates of fake electors to Congress and the National Archives."
What has the federal grand jury been hearing?
Since he was appointed to run the Trump probes late last year, special counsel Jack Smith has conducted a wide-ranging investigation in the varied efforts to overturn the 2020 presidential election. He has brought dozens of witnesses before a federal grand jury in Washington, D.C., including Trump's advisers, lawyers, and allies as well as former White House officials, Republican Party officials, and state election officials.
The Washington Post reports that the closed-door sessions "have often served as a way to get Trump's own people to dispute his claims about the 2020 vote":
The grand jury has been presented with unsupported conspiracy theories that were promoted by Trump, as well as reports commissioned by his team that dispute those claims. One person with direct knowledge of the grand jury's activities, who spoke on the condition of anonymity to discuss an ongoing investigation, said some of the sessions seem intended to disprove Trump's election falsehoods once and for all.



CBS News adds, "Sources close to witnesses in the grand jury's probe have [said] that Smith is building a case focused on how Trump acted after he was informed that claiming the 2020 election had been rigged could put him at legal risk."
And the Associated Press notes some other specific areas that Smith and his investigators have focused on, including the fake-elector schemes perpetrated by Trump associates in battleground states as well as an alleged plan to deploy the U.S. military to seize voting machines:
Smith's team appears to be interested in a late night Dec. 18, 2020, White House meeting one aide has called "unhinged" in which Trump's private lawyers suggested he order the U.S. military to seize state voting machines in an unprecedented effort to pursue his false claims of voter fraud. In videos shown by the U.S. House Committee that investigated the Jan. 6 attack, one White House lawyer said he thought the idea was "nuts." Judges — including some appointed by Trump — uniformly rejected his claims of voter fraud …




Smith's team has also shown interest in the story of a Georgia election worker, Ruby Freeman, who along with her daughter has recounted living in fear following death threats after Trump and his allies falsely accused them of pulling fraudulent ballots from a suitcase in Georgia. That interest is according to a person familiar with the investigation who spoke on condition of anonymity to discuss an ongoing criminal probe.
This post will be updated throughout.
More on the Trump January 6 indictment
See All