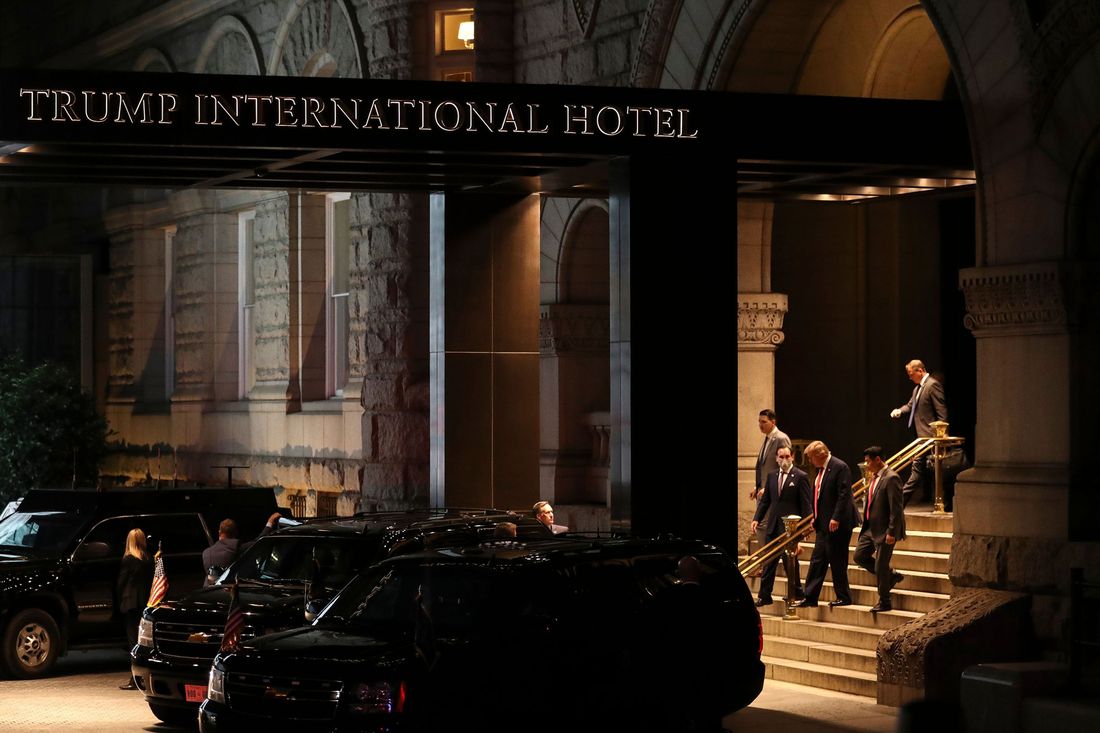 The president and his entourage leaving the Trump International Hotel in Washington, D.C., in July. During his presidency, the hotel hosted foreign dignitaries and CEOs seeking to curry favor.
Photo: Oliver Contreras/EPA-EFE/Shutterstock/Copyright (c) 2020 Shutterstock. No use without permission.
This article was featured in One Great Story, New York's reading recommendation newsletter. Sign up here to get it nightly.
A collaboration with WNYC's Trump, Inc. podcast.
On April 30, 2018, nine top executives from T-Mobile checked in to the Trump International Hotel in Washington, D.C., with their names on a list of VIP arrivals. They landed in Washington at a critical moment: Just the day before, T-Mobile had announced plans for a merger with Sprint. To complete the deal, the company needed approval from the Justice Department, one block away on Pennsylvania Avenue. Hanging out in the lobby in his trademark hot-pink-and-black T-Mobile hoodie, then CEO John Legere was instantly recognizable to hotel guests. His company wasn't just patronizing the president's hotel. It was advertising that it was doing so.
That evening, in a closed-door suite just off the hotel lobby, a small group of political donors got to have dinner with the president of the United States. The guests included a steel magnate, who complained to the president about rules limiting the number of hours a trucker could be on the road, and a property developer, who suggested holding the next summit with Kim Jong-un at a site he had built near Seoul.
Also in the mix were two then-obscure businessmen, Lev Parnas and Igor Fruman. They had secured an invite to the dinner after promising a $325,000 donation to a Trump-aligned super-PAC. Like the other guests, they came with an agenda. Parnas and Fruman wanted to build an energy business in Ukraine but felt the U.S. ambassador in Kiev, Marie Yovanovitch, stood in their way. Parnas fed the president a fabrication that was sure to get his attention: that Yovanovitch was an anti-Trumper. "She's basically walking around telling everybody, 'Wait, he's going to get impeached,' " Parnas told the president. Trump was enraged.
Parnas and Fruman and the T-Mobile executives were pulling the same lever that night. And they all got results. T-Mobile's merger was later approved, and Ambassador Yovanovitch was abruptly removed from the U.S. Embassy in Kiev. Later, Parnas and Fruman were indicted on a campaign-finance-violations charge (they had concealed the origins of their super-PAC donation) and were arrested with one-way tickets to Vienna in hand. (They have pleaded not guilty and face trial in 2021.) Trump claimed he did not know them.
This is the Washington Trump has built these past four years, where people who patronize Trump businesses can expect preferential treatment, where a deputy secretary can oversee a bailout that benefits his family's company, where administration officials fly in private jets paid for by the public — and where top government officials don't bother to divest from industries whose policies they oversee.
It started at the top, of course. Just nine days before his inauguration, Trump held his first news conference as president-elect. Presiding over a table with towering stacks of folders, Trump's lawyer suggested there would be a "wall" between Trump's business and his presidency, even though Trump himself made it quite clear that he would not be divesting. "I have a no-conflict situation because I'm president," Trump said. "I could run the Trump Organization, great, great company, and I could run the company — the country," he added. "I'd do a very, very good job, but I don't want to do that."
Trump never separated himself from his company in any meaningful way. Trump's daughter Ivanka Trump and her husband, Jared Kushner, also didn't fully divest from their business interests. The couple made tens of millions of dollars from an array of limited-liability companies while also serving in the White House. Trump's Commerce secretary, Wilbur Ross, pledged to Congress that he would largely sell off his assets, then took dozens of meetings with executives to whose companies he had personal financial ties. Others did divest, but then proceeded to use their agency budgets as their personal piggy banks.
Friends, donors, and hangers-on also thrived. Top GOP financier Elliott Broidy leveraged his fundraising into access, including a meeting in the Oval Office. Broidy attempted to use that access as a calling card with foreign officials from whom he sought security contracts.
Like several other beneficiaries of Trump's generosity, Broidy eventually found himself in legal trouble, pleading guilty to violating foreign-lobbying laws on behalf of Malaysian and Chinese clients. But many Trump affiliates benefited in ways that are perfectly legal. Attorney William S. Consovoy, who argued before an appeals court last fall that Trump could shoot someone on Fifth Avenue and be shielded from all consequences (the judges were unpersuaded), brought in $2 million from the RNC and Trump-campaign committees. Others sought the ultimate benefit: freedom. Roger Stone, who would not turn on Trump despite the threat of jail time, was one of many Trump loyalists and allies to receive clemency from the president.
To be sure, a lot of people found ways to benefit from Trump's time in office: journalists, progressive nonprofits, high earners — Trump donors or not. But Trump profiteers went far beyond what used to count as standard-issue Washington swampiness. New York partnered with WNYC's Trump, Inc. podcast to identify 51 such insiders, whose unprecedented ability to gain from the Trump presidency will go down in history. Their schemes became ever more brazen these past four years, even as their goals shifted. The initial grifts tended to be strictly transactional on the model of the Trump Organization itself, through which the Trump name could be had by nearly anyone for the right price. Later on, not just money but power became the president's currency. The quids became subtler: shielding Trump from legal consequences, investigating a political opponent, providing an intellectual rationale for understanding the presidency as Trump sees it — not as a civic duty but as a business.
—Andrea Bernstein and Ilya Marritz
*This article appears in the October 26, 2020, issue of New York Magazine. Subscribe Now!