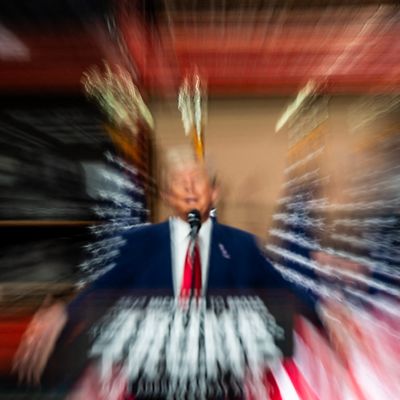 Photo: MATTHEW HATCHER/AFP via Getty Images
Perhaps, like me, every time you see a poll showing Donald Trump winning the 2024 presidential race you comfort yourself with the thought that you already survived his first administration. How bad could a second Trump term really be?
As it turns out, pretty bad! He has been releasing policy papers and videos on what he calls "Agenda 47" for months, and he and his advisers are openly bragging about their radical plans for a second term. Some of the worst elements of Trump's first-term agenda were thwarted by scrupulous government officials, legal challenges, and the Trump team's general ineptitude. But the former president and his well-funded allies in the conservative movement are already working to make sure they'll be more successful if he winds up back in the White House.
Many of Trump's proposals for his second term are surprisingly extreme, draconian, and weird, even for him. Here's a running list of his most unhinged plans.