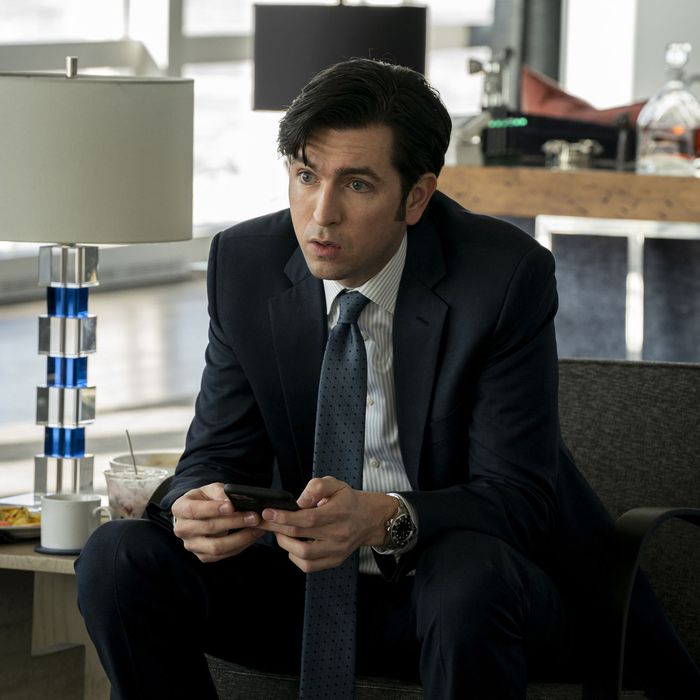 Photo: Macall B. Polay/HBO
The news that Tucker Carlson had been fired from Fox News brought up a lot of feelings. And for a certain segment of the population, these feelings could only be expressed via Succession memes. Fans of the show have been especially obsessive as the series finale approaches, and suddenly it felt like the drama at Rupert Murdoch's Fox News was mirroring the high jinks at the Roy family's fictional ATN (even more than usual).
Unfortunately, it seems there are only like three or four Succession moments that perfectly encapsulate the Fox News prime-time meltdown, so there was quite a bit of social-media repetition on Monday. But failing to signal to fellow Succession fans that you're in on the joke is simply not an option, so here's a guide to which meme you should go with.
A joke about Kerry replacing Tucker Carlson
This may be the right meme for you if:
• You have a ludicrously capacious bag to carry your flat shoes for the subway.
• You're still grieving for Logan Roy like you lost a family member.
• You have a bangs fetish.
A joke about people posting too many Kerry jokes
This may be the right meme for you if:
• You hate fun.
• You thought the Hundred was a legitimately great idea.
• Every time you tweet you're worried you'll come across as too cool and likable.
A joke about how Tucker is Mark Ravenhead
This may be the right meme for you if:
• You keep rewatching Succession because there are Easter eggs you didn't get the first three times.
• You can't fully explain it, but your sexual orientation is now "Tom and Shiv bullying each other."
• You have a dog who answers to "Mondale" … but you spell it different.
A joke about Tucker tanking Fox's stock, Logan Roy style
This may be the right meme for you if:
• Your company secretly took out a massive loan, and your greatest fear is the banks demanding repayment due to a sudden stock drop.
• You learned everything you know about business from Succession.
• You're excited to finally use the stocks app that came pre-installed on your iPhone.
A unique Tucker-Succession meme
These may be the right memes for you if:
• You were interested in making memes from a very young age.
• You're competing with your siblings to win a kiss from Daddy.
• You just want to make your own pile.