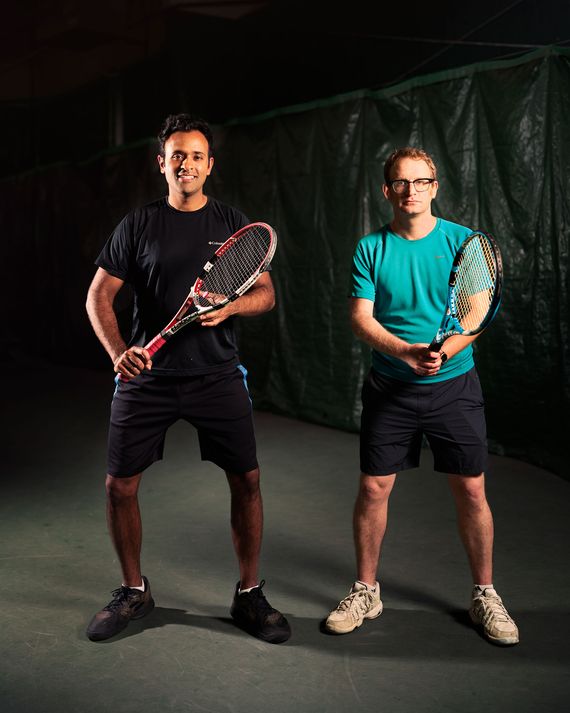 Vivek Ramaswamy and his opponent, the author.
Photo: Greg Miller
The culture warrior and long-shot presidential contender Vivek Ramaswamy, 37, was once a nationally ranked junior tennis player. He now carves out time from his campaign to play with promising high-schoolers and other worthy challengers. ("Any top junior or college tennis players down for a hitting session in Key Biscayne tomorrow?" he recently tweeted.) This is how I found myself across the net from Ramaswamy on a sweltering June day in New Hampshire, where I asked about his strategy in the Granite State. "We're gonna win it," he told me despite polling in the one to 7 percent range there. (His campaign later amended that prediction to assert that he'll finish in the top two.)
Ramaswamy plays like a club pro with fluid ground strokes and an impressively speedy serve. He wanted to end the session with some volleys, then call it a day. But after I got the better of what I thought we'd agreed would be our last exchange, he wordlessly aimed an additional volley my way and we started up once more. As soon as he forced me into a lunging backhand error, our time was officially up — Ramaswamy had won the final point, so it was now permissible to stop. He greeted me warmly at the net with a bro hug and "That was fun."
But the candidate still wasn't done. "Wanna do some sprints?" he suggested, informing me, to my horror, that this is how he usually concludes his workouts. For the first time since high school, I found myself running full speed toward the net, tapping it half-heartedly with my racket, running full speed back toward the baseline, then doing it all again until I was wheezing like a chain-smoker. "Let's do one more," Ramaswamy said in an apparent attempt to murder me before I could interview him.
He has always been driven. The son of Indian parents who emigrated to Ohio, he's a Harvard College and Yale Law graduate who spent several years in the hedge-fund trenches, making partner at investment manager QVT Financial by age 28 before founding the successful biotech company Roivant Sciences in 2014. By the time Ramaswamy stepped down in 2020, to spread the anti-woke gospel on Fox News and Wall Street (last year, he co-founded Strive Asset Management, which positions itself as focused solely on profit in a rebuke to companies that push social-justice agendas), he was a very wealthy man: Forbes pegs his current net worth at $630 million. Although Ramaswamy is a political neophyte, his unyielding confidence and largely self-funded campaign have helped him on the trail. His intense schedule has already made him a familiar presence in Iowa and New Hampshire, even if that confidence can sometimes slip into Connor Roy territory. "I'm running for president," he announced to a couple on the street in Iowa. "Like, what do you mean by president?" the man responded. "President of the United States," Ramaswamy said, delivering a cheerful slap on the shoulder.
After our hit-around, I asked why he's doing this. "To make the next generation of Americans actually proud to be American," he said. Pointing to statistics showing that young people are ashamed of this country, he lamented that the U.S. keeps "apologizing for success." He cited Ludwig von Mises — an economist of the so-called Austrian School beloved by libertarians like Ron Paul — and gave the example of a son of a great man who can surpass his father either "on his own terms, which is by definition hard to do," or "through moral superiority, which is easier to achieve, because it's subjectively defined." Ramaswamy's heady, sometimes bombastic rhetorical style is typical of big tech's pseudo-philosophical bent, combining a Musk-like antipathy toward liberal pieties with a red-meat Republican message: He announced his candidacy in February on Tucker Carlson's erstwhile show, and a list of "Ten Truths" on his campaign website features debatable points like "The nuclear family is the greatest form of governance known to mankind."
When I joked that you don't hear Trump quoting von Mises, Ramaswamy chuckled and responded, "Not in my dinners with him, no." Ramaswamy often plays up his connection to the GOP front-runner. He fulminated on Twitter when Trump was indicted over hoarding classified documents ("This is the defining civil rights struggle of our era"), and on June 13, the day of Trump's arrest in Miami, he pledged to pardon the ex-president if he wins the White House next year, then challenged his fellow Republicans to make the same commitment. His ostentatious devotion has led to speculation that he's really running for Trump's veep spot; for his part, Trump has had nothing but good things to say about Ramaswamy.
He mentioned multiple times throughout the day that he's the first millennial candidate to run for president as a Republican. But Ramaswamy's pitch appears aimed more at the geriatric crowd than the youth of America. He believes the minimum voting age should be 25 with certain exceptions. And he has positioned himself in opposition to just about every major priority of most young people in the U.S., including the social-justice movements of the past decade, which he described as a quick fix that didn't address the country's real woes: "The initial hit from the fast food to satisfy the moral hunger is fading, and there's an opportunity to fill that moral hunger with more substantial fare."
And on climate, excessive guilt is the real problem, according to Ramaswamy, which explains the rise of "ESG" (environmental, social, and corporate governance) in the U.S. business community. While basically conceding that man-made warming is indeed happening, Ramaswamy said that, as president, he would ban the measurement of carbon-dioxide emissions altogether.
In the evening, Ramaswamy gave his first major foreign-policy address during a three-hour cruise on Lake Winnipesaukee attended by 300 opinionated Belknap County Republicans who feasted on a hearty dinner of steak, Caesar salad, and strawberry shortcake. He claimed the war in Ukraine posed "a nonexistent threat to the United States" — unlike "communist China," the real menace. He said the U.S. should stop giving money to Ukraine, guarantee the country will never join NATO, and freeze the current lines of combat so Russia retains the Donbas and Crimea — all in exchange for Russia backing away from its informal partnership with China. One small problem with this arrangement: It would completely screw over Ukraine. But the cruise attendees didn't seem to mind and applauded enthusiastically.
The Republicans I spoke with were receptive, if skeptical about the candidate's chances. "He's a very intelligent guy, and I like a lot of what he says," Kyle Sanborn, a New Hampshire state committee member, told me, while admitting that he didn't see a path for Ramaswamy to win the state. That's not necessarily such a bad harbinger for him. Even, say, a strong fourth-place showing in New Hampshire could be a springboard to something bigger: if not a spot on Trump's ticket, perhaps a future senatorial run in Ohio or just a firmer foothold in the right-wing-media ecosystem.
After a long day, Ramaswamy boarded a private plane back to Columbus full of optimism. Just after we spoke, he announced on Twitter that, with his 40,000-plus individual donors, he had already qualified for the first national GOP debate in August — a threshold that household names like Mike Pence and Chris Christie hadn't yet reached and evidence that Ramaswamy can notch small victories on the campaign as well as the tennis court.