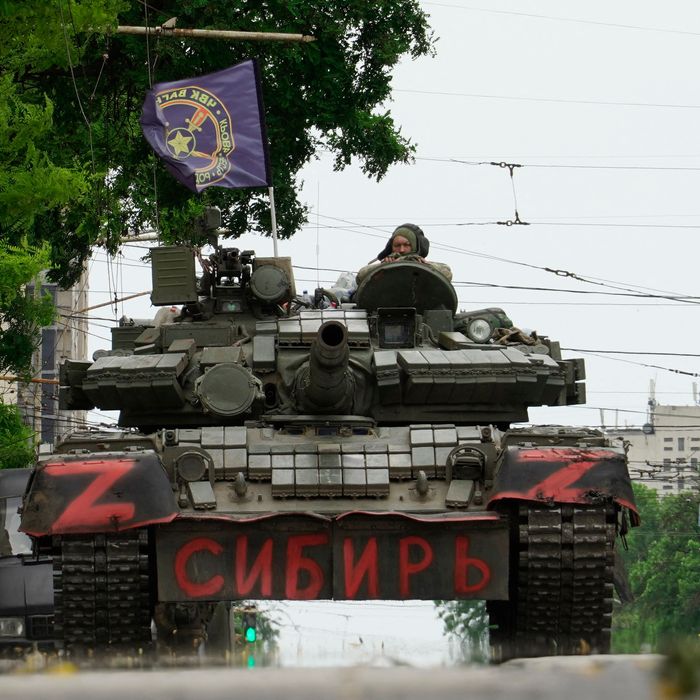 Members of the Wagner Group sit atop a tank in the city of Rostov-on-Don on June 24.
Photo: Stringer/AFP via Getty Images
An unprecedented uprising took place over the weekend in Russia, where the leader of the mercenary Wagner Group, Yevgeny Prigozhin, briefly led a mutiny against the Russian military and seemingly brought the country to the brink of civil war. Wagner forces seized military facilities in the southern city of Rostov-on-Don and advanced to within 120 miles of Moscow on Saturday before Prigozhin — who had apparently been planning the offensive for some time — abruptly backed down after cutting a deal with the Kremlin, which included him accepting exile to Belarus. The Russian military seemed unwilling or unable to stop the Wagner forces, and Vladimir Putin, who publicly vowed to crush the rebellion in a national address, ultimately backed down as well. The dramatic crisis has called into question the strength of Putin's grip on power as well as the stability of the Russian state, and it's not clear what will happen next. Below are updates and commentary on this still-developing situation.
Putin claims that those responsible 'will be brought to justice'
Around 10 p.m. in Moscow, Vladimir Putin addressed the nation for the first time since Saturday, when he called the Wagner Group's action "treason." In the statement, he said that the "organizers of this rebellion cannot but understand that they will be brought to justice." He did not address Yevgeny Prigozhin by name. In an attempt to shore up domestic support in a pivotal moment, the Russian president described the Wagner action as "criminal activity which is weakening the country" from the outside and was not a threat to his control of government. He thanked Belarusian president Aleksandr Lukashenko for brokering the deal that stopped the mercenary offensive and made an offer of absolution to Wagner troops involved in the march who joined the Russian military. "This promise will be fulfilled," he said.
Prigozhin says his march was a "master class"
On Monday, the Wagner Group head made his first public comments in an audio recording on Telegram, claiming that the March was an attempt to keep the mercenary force together. Prigozhin claimed that the Ministry of Defense had made "enormous mistakes" and was attempting to dissolve his forces and after an alleged attack that left around 30 Wagner fighters dead, he initiated the march to "prevent the destruction" of his unit. He claimed that he did not want to shed "Russian blood" and claimed that he "did not have the goal of overthrowing the existing regime and the legally elected government." Prigozhin did not comment on his future plans. And while the tone of the message was mostly conciliatory, he did call his march to Moscow a "master class" while criticizing the initial invasion of Ukraine.
Russia's Defense Minister still appears to have his job
As the whereabouts of Prigozhin remain unclear and Putin keeps a low profile, Russian state media released a video of Defense Minister Sergei Shoigu in an attempt to show that the top brass remains in place after the chaotic weekend. (Prigozhin's main complaints over the conduct of the war had to do with Shoigu.) Russian officials also claimed that the M-4 highway damaged during the offensive has been repaired.
What the pundits and Russia experts are saying
Tatiana Stanovaya, senior fellow at the Carnegie Russia Eurasia Centre, argues on Twitter that Prigozhin got in over his head:
Prigozhin's rebellion wasn't a bid for power or an attempt to overtake the Kremlin. It arose from a sense of desperation; Prigozhin was forced out of Ukraine and found himself unable to sustain Wagner the way he did before, while the state machinery was turning against him. To top it off, Putin was ignoring him and publicly supporting his most dangerous adversaries.




Prigozhin's objective was to draw Putin's attention and to impose a discussion about conditions to preserve his activities — a defined role, security, and funding. These weren't demands for a governmental overthrow; they were a desperate bid to save the enterprise, hoping that Prigozhin's merits in taking Bakhmut (that's why he needed it!) would be taken into account and the concerns would catch Putin's serious attention. Now it appears that these merits helped Prigozhin to get out of this crisis alive, but without a political future in Russia (at least while Putin is in power).
She adds that Prigozhin "was caught off-guard by Putin's reaction and found himself unprepared to assume the role of a revolutionary," thus necessitating the sudden about-face on Saturday. And while the events struck a "severe blow" to Putin and his regime, it's not the end of their world, either:
Putin and the state have been dealt a severe blow (which will have significant repercussions for the regime). However, I want to emphasize that image has always been a secondary concern for Putin. Setting optics aside, Putin objectively resolved the Wagner and Prigozhin problem by dissolving the former and expelling the latter. The situation would have been far worse if it had culminated in a bloody mess in the outskirts of Moscow. And no, Putin doesn't need Wagner or Prigozhin. He can manage with his own forces. He's now certainly convinced of that.
Analysts at the Institute for the Study of War stressed multiple major takeaways in their assessment following the end of the offensive, and none of them reflected well on Russia's government and military:
The Kremlin now faces a deeply unstable equilibrium. The Lukashenko-negotiated deal is a short-term fix, not a long-term solution, and Prigozhin's rebellion exposed severe weaknesses in the Kremlin and Russian MoD. Suggestions that Prigozhin's rebellion, the Kremlin's response, and Lukashenko's mediation were all staged by the Kremlin are absurd. The imagery of Putin appearing on national television to call for the end of an armed rebellion and warning of a repeat of the 1917 revolution — and then requiring mediation from a foreign leader to resolve the rebellion — will have a lasting impact.




The rebellion exposed the weakness of the Russian security forces and demonstrated Putin's inability to use his forces in a timely manner to repel an internal threat and further eroded his monopoly on force. Prigozhin's rapid drive towards Moscow ridiculed much of the Russian regular forces — and highlighted to any and all security figures, state-owned enterprises, and other key figures in the Russian government that private military forces separate from the central state can achieve impressive results. Wagner's drive also showcased the degradation of Russia's military reserves, which are almost entirely committed to fighting in Ukraine, as well as the dangers of reliance on inexperienced conscripts to defend Russia's borders.




The Kremlin struggled to respond quickly in the information space and residents in Rostov-on-Don residents did not oppose Wagner and in some cases greeted them warmly — not inherently demonstrating opposition to Putin but at minimum acceptance of Prigozhin's actions. Finally, the Kremlin's apparent surprise at Prigozhin's move does not reflect well on Russia's domestic intelligence service, the FSB. Prigozhin consistently escalated his rhetoric against the Russian MoD prior to his armed rebellion and Putin failed to mitigate this risk. We cannot and will not speculate on the concrete impacts of Prigozhin's rebellion and the Kremlin's weak response and are not forecasting an imminent collapse of the Russian government, as some have done. Nonetheless, Prigozhin's rebellion and the resolution of the events of June 23 and 24 — though not necessarily the Prigozhin/Kremlin struggle writ large — will likely substantially damage Putin's government and the Russian war effort in Ukraine.
At The Atlantic, Anne Applebaum argues that Putin's encouragement of political apathy in Russia is backfiring and "the flimsiness of this regime's ideology and the softness of its support have been suddenly laid bare":
In the evening, after Prigozhin had decided to stand down and go home (wherever home turns out to be), he drove away in an SUV with crowds filming him on their cellphones and cheering him on, as if he were a celebrity leaving a movie premiere or a gallery opening. Some chanted "Wagner! Wagner!" as the troops emerged into the street. This was the most remarkable aspect of the whole day: Nobody seemed to mind, particularly, that a brutal new warlord had arrived to replace the existing regime—not the security services, not the army, and not the general public. On the contrary, many seemed sorry to see him go. …




[N]obody tried to stop the Wagner group in Rostov-on-Don, and hardly anybody blocked the Wagner convoy on its way to Moscow. The security services melted away, made no move and no comment. The military dug some trenches around Moscow and sent some helicopters; somebody appears to have sent bulldozers to dig up the highways, but that was all we could see. Who will respond if a more serious challenge to Putin ever emerges? 
Financial Times columnist Gideon Rachman writes that Putin is clearly losing a "two-front struggle":
The Prigozhin rebellion is over for now. But it would be futile to believe that things can go back to normal in Russia. The reality is that there is no normal to go back to. The uprising happened because the Putin project is falling apart. That process is likely to accelerate after the events of this weekend. It is now clear that Putin faces a two-front struggle for survival. There is the war in Ukraine. And there is the internal stability of his regime. The two fronts are connected. Further setbacks in Ukraine will inevitably worsen his situation at home — and vice versa. The events of the past weekend cannot be unsaid or unseen.
The New Yorker's David Remnick spoke with longtime Russian journalist and former TV Rain editor-in-chief Mikhail Zygar:
When I asked Zygar what was the most striking aspect of the uprising, he said, "Putin is weaker. I have the feeling he is not really running the country. Certainly, not the way he once did. He is still President, but all the different clans"—the factions within the government, the military, and, most important, the security services—"now have the feeling that 'Russia after Putin' is getting closer. Putin is still alive. He is still there in his bunker. But there is the growing feeling that he is a lame duck, and they have to prepare for Russia after Putin."
A coup, a rebellion, an uprising — or a mutiny?
Some analysts are calling it a mutiny.
In a Twitter thread on Saturday, Foreign Policy Research Institute senior fellow Rob Lee agreed it was a mutiny "designed to get Putin's attention," not overthrow him. "I think the main goal was to prevent Wagner from losing its independence and keeping the status quo," Lee wrote. "It was coercive."
The view from Russian state television
There was some confusion on Saturday:
And again on Sunday:
The Daily Beast's Julia Davis watched the coverage on Sunday and writes that "Russian state TV propagandists were left grasping at straws—desperately trying to temper their outrage at what had happened in order to justify the Kremlin's decision to allow the Wagner boss and his mercenaries to escape accountability":
Decorated state TV host Vladimir Solovyov was shocked and dismayed at the dismal state of the country's preparedness that allowed Prigozhin's forces to roll through the land unimpeded. Solovyov seemed caught between a rock and a hard place, having to justify Russian President Vladimir Putin's decision to let Prigozhin and Wagner walk free, despite having advocated for the death penalty for less grievous offenses.




During the first post-mutiny broadcast of Sunday Evening With Vladimir Solovyov, propagandists focused on praising Putin's infinite wisdom for ending the revolt in a speedy manner. The head of RT, Margarita Simonyan, asserted: "There is nothing more frightening in the world than civil war." This outlook unwittingly highlighted frequent discussions on Russian state media hoping for a civil war in other countries—namely the United States. imonyan expressed her relief at the quick resolution of the ordeal and added: "There are many discussions right now: how can this be? They opened a criminal case and then let them go! [Prigozhin] left for Belarus. This is a mockery of legal norms! "
The U.S. knew Prigozhin was up to something, but not exactly what
U.S. spy agencies reportedly had intelligence that Prigozhin was preparing to take armed action against Russian military leaders and last week informed top Pentagon brass and Biden administration officials about the potential conflict. Congressional leaders were also reportedly briefed on the intelligence. Although U.S. intel agencies have long been tracking Prigozhin's feud with Russian military leaders, they apparently weren't able to learn precisely what Prigozhin planned to do until Thursday.
One U.S. official told the Washington Post that there had been "high concern" over the past two weeks over what Prigozhin might do and the instability it could trigger in Russia. A senior Ukrainian official told the Post that Ukrainian military leaders also suspected Prigozhin might rebel. And the U.S. thinks Putin knew, too:
U.S. intelligence agencies believe that Putin also was informed that Prigozhin was plotting something. And though it is not clear precisely when he was told, it was "definitely more than 24 hours ago," the first U.S. official said.




It remains unclear why Putin did not take action to thwart Prigozhin's takeover of the military command or his move on Moscow. … Putin's inaction reflected a lack of high-level coordination in the Russian government and likely internal rivalries, U.S. officials surmise.
What deal did they make?
The Kremlin says it agreed to drop the charges against Prigozhin, who will move to Belarus — which sounds a lot like exile. Any Wagner Group fighters who took part in the rebellion will not be charged either. The ones who did not take part will sign contracts with the Russian military. It's not clear whether there will be any changes at the Russian defense ministry as a result of the events.
Other questions remain:
Crews were apparently working to repair the damage done to highways leading to Moscow in an attempt to slow the Wagner forces' advance.
And don't forget:
This was not a peaceful protest
As The Wall Street Journal notes, Russia's military seems to have suffered real losses during the conflict — at least when it actually tried to intervene:
The specter of all-out war between rival Russian forces had grown during the day as columns of Wagner tanks, artillery and personnel carriers were spotted crossing the Voronezh and Lipetsk regions, coming closer and closer to Moscow. There were no major attempts to stop them on the M-4 highway by Russian ground forces, though the column was occasionally attacked by Russian combat aircraft.




Video footage showed the main Voronezh fuel depot ablaze after an airstrike, the wreckage of several helicopters, and one warplane being shot out of the sky. Fighterbomber, a Russian military aviation Telegram channel that is well connected with the Russian Air Force, said that Wagner Saturday downed six Russian helicopters, including a Ka-52 gunship, and an IL-18 or IL-22 airborne command center plane. A total of 12 Air Force crew died, according to Fighterbomber.
Now Prigozhin is turning his forces around — so it's over?
The Wagner Group leader announced on Telegram that he ordered his troops to halt their advance on Moscow and return to their basecamps in order to avoid Russian bloodshed. Russian state media claims that Belarusian president Alexander Lukashenko convinced Prigozhin to stand down. Prigozhin said his mercenaries got within 124 miles of Moscow.
It's not clear what Prigozhin was told he would get in return — or whether he'll be around much longer, or if Russian forces will pursue the mercenaries, or if Wagner forces will give up Rostov-on-Don.
Meanwhile in Ukraine
A Ukrainian military spokesperson said Saturday that Ukrainian forces had advanced and liberated "several positions" in Donetsk. Overnight, Russian forces launched 51 cruise missiles at cities in Ukraine, according to the Ukrainian air force.
Moscow prepares
Security forces are purportedly setting up defenses around Moscow, including roadblocks and other obstacles on the main highways leading into the city, and the mayor has asked residents to limit their travel and told them not to go to work on Monday. Northeast of Moscow, the governor of the Russian province of Kaluga announced travel restrictions and asked residents to avoid driving.
The column continues to advance
Per the Financial Times, the rebels have been making steady progress north toward Moscow but have been subject to Russian airstrikes:
Russian military helicopters fired on a convoy of Wagner troops and armoured vehicles, including tanks, rumbling north along a highway towards the capital, according to unverified videos published on social media. The convoy, which also appears to contain mobile air defence systems, advanced steadily from Rostov towards Moscow despite "combat operations" by regular armed forces, and in the early evening of Saturday was about 350km from the capital's outer ring road, where Russian troops have set up checkpoints.




If the convoy is able to advance without hindrance, it could reach Moscow before midnight local time. Local residents of cities along the route reported that some roads and bridges had been closed. Diggers were spotted excavating holes in the middle of several motorways in a bid to slow the convoy's advance, according to footage on social media.
It's not at all clear what Prigozhin is really up to
The mercenary tycoon says he is trying to "save" Russia and has called on ordinary Russians to join up with his forces. Prior to the mutiny, Prigozhin had repeatedly criticized the Russian defense ministry, claiming they have failed to support his troops fighting in Ukraine, and he has accused them of thwarting the Russian invasion. But what, exactly, he expects to happen or to achieve after marching his forces into Moscow, assuming they are able to get that far, is still difficult to determine.
It all happened overnight
The Washington Post offers a summary:
Prigozhin claimed on Friday evening that the Russian military had carried out a strike on a Wagner camp and said he would lead a "march of justice" against his enemies among the leadership of the Russian Defense Ministry, while denying allegations from at least one top general that he was attempting a coup.




By Saturday morning Prigozhin and his fighters were able to enter Rostov-on-Don, crossing a heavily fortified region of southern Russia with apparent ease — despite an arrest warrant against Prigozhin from Russia's main security agency, the Federal Security Service, or FSB, which late on Friday accused Prigozhin of "incitement to armed rebellion" and said it had opened a criminal case.




Prigozhin said he had taken control of the main Russian military command base in Rostov and told the country's military commanders that he would march on Moscow and blockade Rostov unless he could confront his enemies: Defense Minister Sergei Shoigu and Gen. Valery Gerasimov, chief of the General Staff of the Russian Armed Forces.
Prigozhin also claimed Wagner forces had shot down Russian helicopters that had attacked their column and that Wagner forces had assumed control of Rostov-on-Don's major military facilities without any interruption on the operations against Ukrainian forces.
This post has been updated.