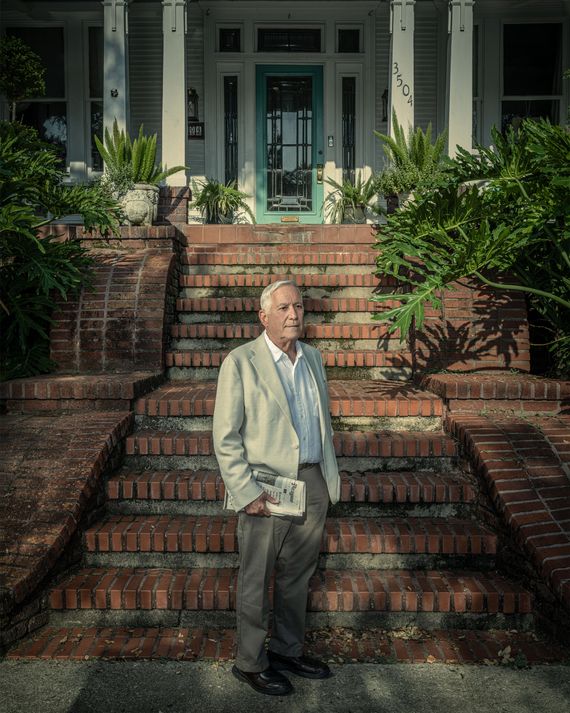 Walter Isaacson.
Photo: Dan Winters
It's a Saturday night in August, and Walter Isaacson is sitting in the back of Lilette, a restaurant on Magazine Street in his hometown of New Orleans, swizzling a Sazerac. "The question for a biographer," he tells me, holding forth a little, "is to show how the demons of a person are totally connected to the drive that gets their rockets to orbit. People who are driven by demons get shit done."
Isaacson was the editor of Time magazine in the 1990s, a decade or so before the internet wrecked the print party. He was running CNN when 9/11 happened and then landed in 2003 at the Aspen Institute, where, for 14 years, he was the impresario of its thought-leader confabs. But he's long had a side hustle writing biographies of Great Men: Henry Kissinger, Benjamin Franklin, Albert Einstein, Leonardo da Vinci, Steve Jobs — as well as one Great Woman, biochemist Jennifer Doudna.
On September 12, Isaacson's latest will be published, about Elon Musk, a man many take to be something of a demon himself — erratic, vindictive, and exhibiting little impulse control. His moods can have far-reaching implications for, say, the Ukrainian army, which depends on his Starlink satellites to fight Russia. Many others hail him as a hero trying to get humanity to Mars while battling evil AI and dating many hot babes in the process. But if you're somewhere in between, trying to figure out if he is becoming a Bond villain or still that Tony Stark–like figure many people assume him to be, Isaacson's book is not designed to help you sort it out.
It is written in Time-magazine style — restrained, middlebrow, and without an obvious agenda. Its author is just there to give you, the reader, the facts of Musk's life as he was able to observe and report them. Isaacson spent more than two years hanging around with the guy in his factories and at his rocket-launch sites, interviewing 128 people in his orbit and fielding many surreal late-night phone calls and text messages. But unlike his previous subjects, Musk was tweeting the entire time Isaacson was reporting, making news constantly with his megalomaniacal maneuvering. Sometimes this was alarming, as when the richest man in the world tweeted, as he did in April, "Between Tesla, Starlink & Twitter, I may have more real-time global economic data in one head than anyone ever."
Isaacson, who at 71 still retains a touch of his genteel Louisiana drawl, is the ultimate Old Establishment man — Harvard, Rhodes scholar, approached to join the CIA (but declined) — so much so that his first book, The Wise Men, co-written with Evan Thomas in 1986, was literally about the old Establishment Isaacson had been groomed to join. He has a golden Rolodex and is utterly at ease at a cocktail party. Richard Stengel, who is Isaacson's friend and was one of his successors running Time, says that when Isaacson was at Aspen, he was "the most intellectual maître d' in the history of the world."
And Musk? He has total contempt for the stodgy elites and their status anxiety — he wouldn't even let the media keep their little blue check marks after he took over Twitter. And while he loves a party and hanging out with celebrities and his fellow billionaires, he can be a goofy social presence, like a too-smart kid not quite grown up. As Isaacson writes in the book, sounding a little stodgy himself, Musk's humor tends "to be filled with smirking references to 69, other sex acts, body fluids, pooping, farts, dope smoking, and topics that would crack up a dorm room of stoned freshmen."
They may be the unlikeliest writer-subject pairing since Bob Woodward and John Belushi. Except that for Isaacson, Musk is irresistible. Both as a journalist and "intellectual maître d'," Isaacson has always made it his business to get to know, and win over, everyone worth knowing. If that compulsion counts as a demon driving him, well, perhaps that is how he has gotten so much shit done.
His courtship of Musk began in August 2021. Isaacson was in Sag Harbor, staying at the home of his high-powered lawyer friends Joel Klein and Nicole Seligman, when Musk called. Antonio Gracias, who sat on the boards of both Aspen and Tesla, had set it up.
At the time, Musk was more an engineer with a halo than the controversialist he has since become. Thanks to the success of Tesla and SpaceX, he was the richest person in the world, and Time magazine — now something of a hobby project owned by a software billionaire — picked him as its 2021 Person of the Year. ("This is the man who aspires to save our planet and get us a new one to inhabit.")
Musk thought it might be a good moment to do a book and wondered if Isaacson would want to write it. Notably, on Amazon, four of Isaacson's works — Franklin, Einstein, Jobs and da Vinci — are packaged and sold as a set: "The Genius Biographies." Why wouldn't Musk want to join the others on that shelf?
Isaacson and Musk discussed the possibility for over an hour. The journalist laid out his ground rules: He'd want to shadow Musk in meetings and on assembly lines and interview ex-wives, lovers, children, enemies, and employees. No topic could be off limits. Musk said he was game, and they hung up. Twenty minutes later, Isaacson's phone started blowing up. He picked it up to discover that Musk had tweeted, "If you're curious about Tesla, SpaceX & my general goings on, @WalterIsaacson is writing a biography."
Look," Isaacson tells me in New Orleans. "He and I are very different. I came from a charmed childhood and became very much a part of the media Establishment. He came from a brutal childhood and resents the established elites. It means I have to work to understand his mindset. And he has to get his head around that somebody like me is writing the book."
At the restaurant, he drops a couple of ice cubes into his drink and says, "I put ice in it 'cause I've been across the lake and it's 99 degrees." People keep coming up to the table to shake his hand. First, a boisterous bald man whom Isaacson introduces as his haberdasher, "the other David Rubenstein" (not to be confused with the billionaire David Rubenstein of the Carlyle Group, who will be giving Isaacson's book party in Washington, D.C., on September 17; the New York book party is being thrown by Michael Bloomberg at his place on East 78th Street). The chef comes out of the kitchen to say "hello," followed by a local politician named Helena Moreno, who could very well be the city's next mayor, Isaacson assures me.
Also at our table is a prim, polite, and politically connected uptown New Orleans woman in a floral dress whose name is Anne Milling. "A real steel magnolia," Isaacson calls her. She tells him she's not so sure about his latest subject. "I just don't like his values," she says with exquisite disdain.
"You may not like certain aspects of what he tweets," Isaacson tells her, "but he has sent up this year so far more mass to orbit than all countries and all companies combined. He has created a car company that's worth as much as all nine other car companies combined."
"That's great," she shoots back. "I admire that, Walter, but now I'll teyyeh what! His values are not my values, so theyyeh go!"
"But have you gotten a rocket to Mars?" he asks.
"I don't give a hoot about a rocket tah' Mahhs!"
Isaacson smiles and sips his rye. Ever since he started this book, he has heard the same sorts of complaints from many in his circle: that Musk's jokes and conspiracy mongering are in fact malignant. That he might actually be a homophobe or an antisemite. But Isaacson is guessing there are more people who haven't made up their minds about Musk, and are simply fascinated by him and want to understand more. There is, of course, also a built-in fanboy audience for the book, assuming Musk himself doesn't disavow it.
The next morning, Isaacson scoops me up in his gray Volvo — he keeps his Tesla in New York, where he still has a place on Central Park West — to show me his New Orleans. He grew up "well enough off," the son of an electrical engineer and a real-estate agent. We stop by his childhood home, a rambling white pile encircled by lush palms on a corner of Napoleon Avenue in Broadmoor. His only sibling, a brother named Lee who owns an IT business, lives here now.
It was clear from the beginning that Walter was a little different. "He just sort of came out as Walter," says The New Yorker's Nicholas Lemann, who grew up in New Orleans and has known Isaacson since they were children. "His parents were a little mystified by the whole thing, but he just always was recognizably the person he is now." Isaacson attended the elite Isidore Newman School, where his classmates voted him Most Likely to Succeed.
The writer Michael Lewis was a few grades behind him. "This is my first impression of Walter Isaacson," he says. "I was in like fifth or sixth grade. They hauled us into the auditorium, where we were supposed to just watch Walter onstage so we would be like him one day. It was like the headmaster thought Walter was the example of what a Newman student should be. He was like a senior, maybe. We all found it rather nauseating." A few years after that, Lewis says, "we're all ushered back into the auditorium, where Walter is once again onstage. At this point, I think, he had just gotten the Rhodes scholarship." Incredibly, Lewis says, it then happened again. "This time, he is, like, the youngest person ever to whatever at Time magazine or something. By now, there's, like, vomit running down the aisles."
I recount this to Isaacson as we pass the school. "I love Michael," he says carefully, "but I think that he makes all narratives more beautiful. I've heard his story about them parading me out at some assembly." (This conversation is occurring the same weekend Lewis is embroiled in a controversy over whether he made some aspects of the narrative of his best-selling book The Blind Side a little too … beautiful.)
There is a story that Isaacson likes to tell about how he became the kind of journalist — and ultimately, biographer — that he has become. His childhood friend was the nephew of the novelist Walker Percy, who told Isaacson that there are "two types of people who come out of Louisiana: preachers and storytellers. It was better to be a storyteller."
Isaacson's parents subscribed to Time and Saturday Review and were members of the Book of the Month Club. In high school, he got a summer job at the States-Item, where, as he wrote in the introduction to his 2009 book of short profiles, American Sketches, he realized that "the key to journalism is that people like to talk."
"In the world we grew up in, to leave New Orleans was considered a sort of mystery and tragedy," explains Lemann. "So the idea that Walter would go off and become a super-achiever on a global scale, that was just not something that people thought about as a possibility." He adds, "I've never completely gotten over my inner Quentin Compson," referring to the William Faulkner character who leaves Mississippi for Harvard but can never let go of the South and kills himself by jumping off a bridge into the Charles River. "But I think Walter has completely triumphed over his."
Isaacson practically gags at this. "What the fuck," he says. "Nick ran the Columbia School of Journalism in New York City! Give me a break. He's not only a success but a Yankee. At least I've moved back home. He hasn't yet!"
He does cop to having had a bit of a Compson phase when he first arrived at Harvard in 1970, though. There's a memorial plaque on a bridge there dedicated to the character, and Isaacson would visit it with a fellow Southerner classmate. There, they would recite passages from Faulkner novels. "I think I snapped out of that by sophomore or junior year," he says, "but freshman year, when you're trying to figure out your identity at college …" And yet he still can and does recite his favorite Faulkner passage from memory when I ask about it. (It's an exchange from Absalom, Absalom! between Compson and his roommate about the fall of the South.)
He once wrote a review of a Faulkner biography in what he thought was the style of Faulkner for the Harvard Crimson, which never invited him to be on its staff. Instead, Isaacson joined the Lampoon, despite the fact that he doesn't seem like a born satirist, really. He's funnier in person than on the page.
One year, Sunday Times of London editor Harold Evans came to speak. Afterward, Isaacson mailed his States-Item clips to Evans, who was impressed. It was the summer of 1973, the era of Watergate, and Isaacson thinks perhaps Evans figured he might be the next Woodward or Bernstein, so he put him on the investigative team. But Isaacson soon realized that wasn't for him. "I tended to like people too much to relish investigating them," he wrote in American Sketches. He did learn something else from watching Evans work, which came in handy later at Time and in writing his biographies: "It was possible to be crusading and investigative while also retaining access to the people you cover."
After his Rhodes scholarship at Oxford, he returned, at 24, to New Orleans and the States-Item (which later merged with the Times-Picayune). There, he befriended a 19-year-old reporter named Dean Baquet. "Walter stood out," remembers Baquet. "He was so clearly an ambitious guy in a city that, frankly, sees really ambitious people as a little bit awkward." (Baquet could probably relate, as he did become the executive editor of the New York Times.) The two cub reporters teamed up for a story about a corrupt businessman who then threatened to sue them. Isaacson panicked, but, he recalls, "Dean said, 'Don't worry, we got it nailed.' His source was the U.S. Attorney, who was leaking to him. He said, 'He's going to be indicted for this in a few weeks.' Indeed, he was."
Isaacson began getting noticed as a reporter and one week received two fateful phone calls. "Somebody calls and says, 'I'm a friend of Cord Meyer. Can we meet you?'" Back at Oxford, Isaacson had encountered the tony and mysterious Meyer, who would visit campus to speak to promising students, claiming to be the cultural attaché to the U.S. Embassy. It turned out he was CIA. "They asked, 'Would you ever think of joining the CIA?'" says Isaacson. "I said, 'Yes, I guess so.' Then they said something that totally screwed it up. They said, 'But we never want you to be undercover or a secret agent. We want you to be an analyst because you've studied economics. Come be an analyst at Langley.' I did want to say, 'Hey, how come I can't be cloak and dagger?' But that was the offer they gave me. That very same week, an editor at Time called." And so he picked New York over Langley. (But would he have made a good spy? "No," he says. "I would've fucked it up totally.")
The Time magazine to which Isaacson arrived in 1978 was an organ of the Wasp Establishment, peddling a sensible and optimistic Middle American worldview. It was the flagship title of a fleet of other money-printing magazines — People, Sports Illustrated, Fortune — which gave Time Inc. a glossy sheen of prosperity and power. This was another era entirely, when a magazine that came out on Monday (there were editions in other parts of the world, too) could set the agenda for the week. The office culture at Time was also, among other things, more than a bit sexist. The writers and editors were still mostly white Ivy League boys in crisp white shirts.
Isaacson was a confident, clever Ivy League boy, and he did well there. "He was a fine writer and editor," remembers one of his former bosses, Stephen G. Smith. "But what struck me about him was that he was a prototype of a Rhodes scholar. Big brain. Great emotional intelligence, even in his 20s. He just had that gift of appreciating — it sounds like 'sucking up' — but it was a gift of connecting with people."
"He had no problem finding mentors," remembers one old work friend from back then. There were lots of determined young journalists at Time then. Isaacson worked there with Graydon Carter (who co-founded Spy, then ran Vanity Fair), Kurt Andersen (another Spy co-founder; he later ran this magazine), and Jim Kelly (managing editor of Time after Isaacson). There was also Maureen Dowd, Alessandra Stanley, Michiko Kakutani, and Frank Rich, all of whom would become columnists or critics at the Times. (Rich now writes for New York.) "Even among that group, you sort of knew that Walter and Frank were in a slightly different category," recalls Carter. "They got along better with older people, knew more what they were doing and were going to do."
"Walter was uncommonly ambitious in a place that was relatively kind of relaxed and not cutthroat," remembers Kelly. "Not that he made it cutthroat." Isaacson covered Ronald Reagan's 1980 presidential campaign and chronicled the fall of Communism as a foreign correspondent and then worked his way up, eventually becoming managing editor of the magazine.
"You had to kind of respect his absolute grit," says Stanley. "And I would say, of all of us, I would vote him most improved, not only because he's gotten smarter, but he's a much nicer person now than he was then. Success doesn't always do that."
Isaacson's
Well-Connected
Life
He's known everyone.

Isaacson takes me back to his condo, where he lives with his wife, Cathy, a lawyer from Washington whom he met in his early 20s. It's airy and spacious, in a newish building that was designed to fit in with the look of the Garden District with its columns and porches. A balcony overlooks St. Charles Avenue, lined with big Southern Gothic oaks, emerald Mardi Gras beads still festooning their branches. Isaacson acts a bit sheepish about all that talk of youthful ambition. "There was always part of me like, Okay, what am I really doing? When am I going to go back home to New Orleans? I do not remember a burning desire to run Time," he says while standing by his stove cooking red beans and rice. I almost believe him. He holds up a knife and asks, "Do you like garlic, by the way?"
When he was appointed editor of Time in 1996, the internet was not yet a threat. He knew something of what was coming, though: He had spearheaded Time Inc.'s boondoggle of an early web portal called Pathfinder (which he tells me was a childhood nickname) before pivoting back to the weekly. He created a new section in the mag covering technology and science and made early relationships in Silicon Valley.
At the end of the decade, Time Warner merged with America Online, and corporate synergy was the name of the game. Isaacson was tapped to run CNN. He had never worked in TV and hardly even watched it. But it was a promotion, the next stage of his media career. "I get to CNN," he says, "it's like, 'We need a donut with an uplink and a wraparound.' I'm like, What the fuck are you talking about?" It was a culture clash in other ways, too. "All they care about is having their mug on TV," says Isaacson. Suddenly, he was spending inordinate amounts of time dealing with people like Lou Dobbs and Greta Van Susteren. "I'm thinking, How do I get out of this movie?" he says. "I visit Ken Auletta. I remember being in the guest room in a fetal position. I hate this job, I hate this job, I hate this job. Then 9/11 happens. Then for a year or so, at least I knew what we were doing."
He lasted until 2003, when he left to be CEO of the Aspen Institute. There was, at the time, a little bit of Schadenfreude: Michael Wolff wrote a column for this magazine expressing shock that one of the "greatest careerists of our time" could have had what seemed like this comeuppance.
Isaacson, Cathy, and their daughter, Betsy (then a teenager), moved to Georgetown, where they lived down the street from Sally Quinn and Ben Bradlee and next door to George Stephanopoulos. He set about transforming the sleepy think tank, starting the Ideas Festival and using his contacts to make it something like Davos in the Rockies mixed with TED Talks. "His capacity for that was beyond belief," remembers the historian and journalist Evan Thomas, who has known Isaacson since they worked together at Time. "Walter started at breakfast and would still be going at 11 p.m., just as happy as a clam. He's chatting up the Dalai Lama, Larry Summers, Gloria Steinem, whoever happened to be famous and hot, from any walk of life — they were either at Walter's house, on Walter's stage, in Walter's tent."
Isaacson says he loved Aspen, but his pals tell me they had a suspicion their friend wasn't feeling totally fulfilled by it. "I think the job that he's had that he loves the most is being editor of Time," says Stengel. "I think he feels the most nostalgia about that. I think if he could, in a fantasy way, go back and do anything, that's what he would do."
But that world — the world that Isaacson was formed by and helped form — was fast collapsing. "Thirty years ago," says Kelly, "there was a powerful room of magazine editors and network anchors, and that's Walter. He is one of the emperors in that room. That room is destroyed. A new room was built, and it has the Steve Jobses and Elon Musks of the world. Walter knows he is not one of them, but he wants to be in the room. So now he's the scribe to the new emperors, and that makes him very happy."
One Friday night last September, Isaacson was back at his high school in New Orleans, watching a football game when he received a text from Musk: "This could be a giant disaster."
Months earlier, the Ukraine War had broken out; the Russians' opening salvo had been a malware attack that cut off the Ukrainians' communications and internet access. Musk jumped to help them get back online, sending 500 Starlink terminals to Ukraine just two days later and thousands more after that. Suddenly, the war effort was heavily dependent on Musk, who was giving away his technology largely for free. That September, the Ukrainians planned a sneak attack on the Russian fleet at Sevastopol in Crimea using explosive-packed drones that relied on Starlink to guide them. But it wasn't until their drone subs lost connectivity that they learned that Musk had disabled coverage within 100 kilometers of the Crimean coast, fearing such an attack could lead to World War III. As this was unfolding, Musk called Isaacson.
"I finally went under the bleachers, and he told me about stopping Starlink service in Crimea because they were doing the sneak attack," says Isaacson. What, in such a scenario, is the responsibility of the biographer? "I didn't tell him what to do," he says. "I said, 'What's happening?' He didn't ask advice, and so my questions were simply things like, 'Have you talked to Jake Sullivan or General Milley?' He said 'yes,' and I said, 'Oh, okay. What did they say?' He told me." It seems as though Isaacson came to be a kind of Dr. Melfi to Musk's Tony Soprano at a time when Musk was exercising a terrifying amount of power. "At one point," says Isaacson, "I almost said to him, 'Why are you telling me all this?' But I didn't. He was talking and telling me. I don't think it was like a therapist. I think he wanted it to be in the book." (Musk did not respond to requests for comment for this article.)
On Sept. 7, the Washington Post published an excerpt from the book about Starlink. It read like Musk had switched off the coverage as the attack was underway — the suddenly unguided drones washing dramatically up on the shore — which apparently was not the case, exactly. An uproar ensued and Musk posted to X: "The Starlink regions in question were not activated. SpaceX did not deactivate anything." He also texted Isaacson about the excerpt. Isaacson then posted to X that he wished to "clarify" that "the Ukrainians THOUGHT coverage was enabled all the way to Crimea, but it was not. They asked Musk to enable it for their drone sub attack on the Russian fleet. Musk did not enable it, because he thought, probably correctly, that would cause a major war." When I followed up on this, Isaacson texted me, "I realized that I misinterpreted him that night when he told me he was not allowing Starlink to be used during the attack. I thought he had just made that decision. In fact, he was simply adhering to a policy he had previously implemented. So I posted a correction." (Musk reposted it and wrote, "Much appreciated, Walter.")
As all of this came out, a Ukrainian official posted to X Sept. 7 that Musk's decision meant that the unsunk Russian ships continued to "fire Kalibr missiles at Ukrainian cities. As a result, civilians, and children are being killed. This is the price of a cocktail of ignorance and big ego."
The book recounts Musk calling Isaacson late at night on another occasion, racked with anxiety, asking, "How am I in this war? Starlink was not meant to be involved in wars. It was so people can watch Netflix and chill and get online for school and do good peaceful things, not drone strikes." It includes eye-popping text-message exchanges between Musk and Mykhailo Fedorov, Ukraine's then-vice-prime minister, who begs Musk to turn Starlink on in the country's eastern territories. (Musk: "Russia will stop at nothing, nothing, to hold Crimea. This poses catastrophic risk to the world … seek peace while you have the upper hand.")
"He has an epic superhero-savior complex," says Isaacson. "He told me that he loved reading comics as a kid. He said, 'Heroes were weird because they were trying to save the world while wearing their underpants on the outside, but at least they were trying to save the world.'"
There are moments in the book when Musk is caught with his pants down, mostly around his various baby mamas. He donated his sperm to Shivon Zilis, an executive at one of his other companies, Neuralink (which is developing implantable "brain-computer interfaces"), so that she could have two of his children without telling Grimes, with whom he had also had children. Isaacson reports that while Zilis was in an Austin hospital with pregnancy complications, so too, in a nearby room, was a woman who happened to be a surrogate mother carrying another of Musk's babies with Grimes. Despite the fact that Zilis and Grimes were acquainted, Grimes had no clue that Zilis was carrying Musk's kid or that she was down the hall. Isaacson writes that Grimes was furious when she found out later and wasn't at all sure whether she would ever allow her Musk babies (a boy named X and a girl named Y and a new baby boy named Techno Mechanicus) to hang out with Zilis's Musk babies (a boy named Strider Sekhar Sirius and a girl named Azure Astra Alice).
Isaacson also wades into Musk's fiery relationship with Amber Heard. "She was just so toxic," Musk's brother, Kimbal, tells Isaacson, "a nightmare." In the book, Musk's chief of staff, Sam Teller, compares her to the Joker and says "she didn't have a goal or aim other than chaos. She thrives on destabilizing everything." Grimes says, "My Dungeon and Dragons alignment would be chaotic good, whereas Amber's is probably chaotic evil." As for Heard herself? She tells Isaacson that "Elon loves fire and sometimes it burns him."
Musk is a volatile, moving target. Isaacson would spend a week or so at a time with him each month, traveling to L.A. to meet him at the SpaceX factory, then up to Fremont to the Tesla factory, then to Boca Chica, Texas, for the Starship launch. "The way I did it was to avoid trying to pepper him with questions and just observe," says Isaacson. "Secondly, don't fill the silences. There'd be times when it would just be him and me sitting in a conference room between meetings, sometimes 45 minutes. Occasionally, he'd start talking and reminisce. Then he'd go quiet or he'd read his mail or just stare into space. My way of operating was, Don't fill the silences. If I'm quiet, they'll eventually start talking again."
Isaacson tells me he didn't party with the playboy mogul. "I saw people cross the line sometimes," he says, "people who worked for him or with him or who suddenly thought that they were party friends." So he never saw him doing ketamine in a hot tub or anything? "I have never had him and a hot tub in the same field of vision," he says. After having spent so much time with the man, I wondered, quite simply and perhaps naïvely — did Isaacson end up liking Musk, like, as a person? "Well, first of all, there's seven or eight Elons," says Isaacson. "There's Elon firing off memes, there's Elon being an asshole, there's Elon in engineering mode. I was totally fascinated by him. Really repelled at times, when he was being brutal to people around him, but also astonished when he would change a design of a valve on the fly and they would test it and it worked. It's not like there was one simple emotion. This is a guy who has multiple personalities and, as Grimes said, 'It's really great and fun to be around Elon when you've got the right Elon.'" Isaacson says Musk's neurodivergence plays "a very large part" in his makeup and concedes that "I think his lack of empathy is a deeply unattractive trait. I also think that he would not be who he was in terms of the enterprises if he hadn't had the deficit of the empathy gene."
Isaacson is a particular type of biographer. His book is driven by listen-to-everyone-he-can access. It is not the Robert Caro approach with granular, yearslong reportage on the nature and implications of Musk's power. Washington Post's Will Oremus wrote in his September 10 review that "the larger concern is whether Isaacson's heavy reliance on Musk as a primary source throughout his reporting kept him too close to his subject. Swaths of the book are told largely through Musk's eyes and those of his confidants." The book is scrupulously unsnarky — don't expect the tone of the book Joe Hagan wrote on Jann Wenner. "It is pure narrative storytelling; there's not preaching in there," says Isaacson. "People will come away from this book, if they admire Musk, with more evidence that they would like. If they hate Musk, they'll come away with more evidence to reinforce their dislike of him. Hopefully, there will be a large group of readers who'll say, 'Wow, I get it, it's more complex, and there's not simply one way to look at it.'"
What is the inherent value of reporting the words that come out of Musk's mouth for two years straight when he just tweets with abandon anyhow, often contradicting himself? Musk is a contemporary celebrity, which means he keeps the stunts coming so that his audience doesn't look away. He's performing. At some point, you just want to look away to preserve room in your consciousness for less crazy-making things.
When The Wall Street Journal excerpted the part of Isaacson's book about the purchase of Twitter, the reaction, at least among those who followed the Musk-Twitter saga very closely, was some measure of Elon fatigue. Is that all he got? But the Musk fanboys ate it up. When the second excerpt came out, in Time, Musk himself tweeted: "Not quite how I would tell the story, but very accurate for an observer who only saw part of the puzzle."
But can the puzzle pieces of Musk ever really be fit together by a biographer?
When Isaacson wrote about Steve Jobs, he was a largely beloved figure at the end of his life. He wasn't influencing wars and foreign policy, pimping for Tucker Carlson, fulminating against something called the "woke mind virus," or beefing with the Anti-Defamation League. He was making really cool consumer technology. There is risk for Isaacson in applying his Time Man of the Year approach to Musk, to cover him as he did Jobs — He can be a real prick, but check out all these neat toys he's made! — since Musk is probably going to be around for decades more. Who knows what his ultimate legacy will be?
On St. Charles Avenue, just outside Isaacson's apartment, is what's said to be the oldest continually operating streetcar in the world. He rides it for just 40 cents (senior-citizen discount) to and from Tulane University, where he is a professor and something of a celebrity on campus. (His classes are very difficult to get into.)
The boy who used to recite Faulkner on a bridge at Harvard was happy to return to his hometown. "When you've been at Time magazine," he says, "half the publicists who act like they're your friends are just doing it because you're at Time or CNN, whereas when I came back home, everybody had known me when I had really big ears in kindergarten."
His office is stuffed with bric-a-brac from his big life among the muckety-mucks; a photograph of him sitting with George W. Bush during the time Isaacson was vice-chair of the Louisiana Recovery Authority after Hurricane Katrina; a picture of Isaacson flying on Air Force One with President Obama; a few of Isaacson's favorite Time covers. There is also a 1984 Apple Macintosh.
Jobs approached Isaacson in 2009 after realizing he might not have much time left. The book was a balanced and unvarnished look at Jobs's legacy and the darker sides of his personality; reviewing it for the Times, Janet Maslin observed that the book "greatly admires its subject." Still, Jobs's widow, Laurene Powell Jobs, and some members of Jobs's inner circle, such as Apple's chief designer, Jony Ive, loathed the book and, by extension, its author. Ever the deadline reporter, Isaacson rushed out the book the month of Jobs's death, which upset them. But mostly they felt the book painted Jobs as too much of an asshole and deadbeat dad.
It's hardly unusual for the family of a subject to hate a biography. What is more unusual is the line Isaacson included in his acknowledgments in later versions of the book: "I am grateful to those who have been forgiving of my lapses and misperceptions and who have helped me make corrections or clear a few things up."
Certain things in the original version of the book were excised. Andy Hertzfeld, an original Apple employee, had speculated that Powell Jobs had been "scheming" to meet Jobs. Gone is this quote from Hertzfeld: "Laurene is nice, but she can be calculating and I think she targeted him from the beginning … Her college roommate told me that Laurene had magazine covers of Steve and vowed she was going to meet him. If it's true that Steve was manipulated, there is a fair amount of irony there." (Isaacson included her denial in all versions of the book.) Elsewhere, a nine-sentence paragraph about Jobs being a neglectful father to some of his children simply disappeared.
It goes to an interesting tension between biographer and subject. Jobs wasn't alive to react negatively to Isaacson's book, assuming he would have. Musk, who can be wrathful, childishly mocking, and unrelenting, will be. "I'm brutally honest about everything about Musk," says Isaacson. "It's just that sometimes people who are — especially children who didn't ask to be part of the story — you have to balance how hurtful it will be to a person who's not central to the story and is young versus how necessary it is for the reader. Maybe that was the case back with the parts I revised out of Jobs."
As for Musk, Isaacson says it was necessary to include his falling out with his oldest child. "Some of the politics are driven by his own personal things in his own life," says Isaacson. "Like Xavier, the eldest, named after his favorite X-Man person, becoming Jenna, transitioning, and becoming a Marxist and rejecting him. It helps inflame his fears that wokeness has infected everything from Los Angeles high schools to Twitter. He's become in the past four years obsessed by the need to fight what he has decided is the 'woke mind virus.'"
To many observers, it seems as though Musk is falling down a rabbit hole, growing more conspiratorial and mean-spirited — an alarming trend line when crossed with his growing power. But Isaacson doesn't think so. "He hasn't changed," he says, "because in 2017, 2018, he was doing dark human shit as much as he is doing now. Pedophile tweets and things like that. He's not that different. One difference, especially among the formerly blue-checked elite, is that his politics has shifted to the populist anti-woke side." But that is definitely a difference now that he actually owns Twitter and has renamed it X.
The book begins with Musk's hard-core childhood in South Africa, where he was beaten up at school, attended a "paramilitary Lord of the Flies" summer camp, and was terrorized and belittled by his father. Bringing it back to X, Isaacson says, "He got brutalized on the playground. Now he gets to be king of the playground."
I ask what Musk will hate most about the book, and Isaacson pauses for a moment. "I think some of the complexities of his father and childhood influence on him," he says.
On Saturday, Sept. 9, after the excerpts had been published, Musk posted about the book: "I have a copy, but Walter recommended that I not read it," adding a laughter emoji. So far, the billionaire seems pleased with the journalist. The two men had dinner in Austin, Texas, last week — the moment was, as with everything with Musk, publicized on X — and Musk promoted an interview Isaacson did with podcaster Lex Fridman, writing that "Any conversation with Walter & Lex will be great."
And what if Musk changes his mind and goes on the offensive, starts tweeting that Isaacson is a "pedo guy" or sics his rabid fanboys on him? "I will depend on you and many others to say, 'We've never noticed him to practice pedophilia,'" says Isaacson with a laugh. "While I'm here in New Orleans, I'm not too worried what people say about me."