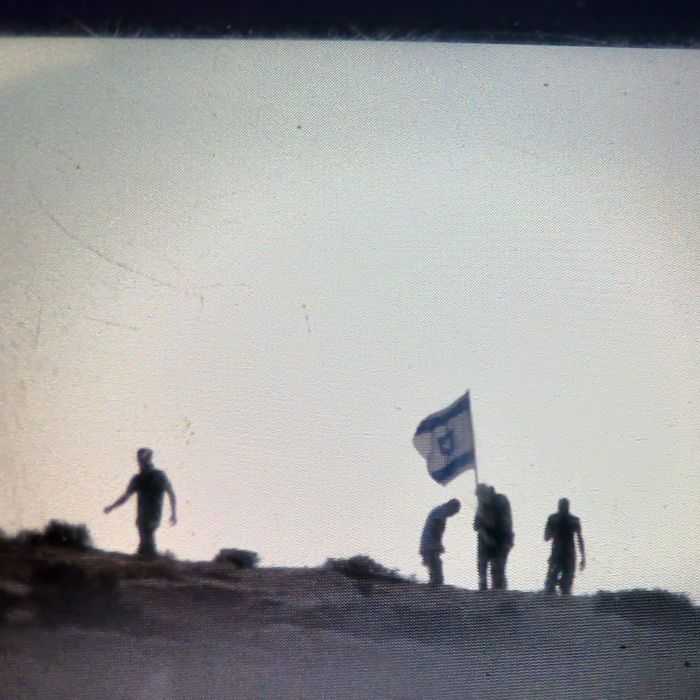 Israeli settlers occupy a hill overlooking the village of Umm al Khair in the West Bank.
Photo: Eid
Over the last month, Israel launched an assault across the Gaza Strip in response to Hamas's October 7 attack, in which 1,400 people in Southern Israel were killed. So far, over 10,000 Palestinians in Gaza have been killed. Meanwhile, Palestinians in the West Bank have been living their own nightmare. Israel's military has imposed strict curfews, bringing life to a standstill for the nearly 3 million Palestinians who call the territory home. Around 1,000 people have fled their homes due to armed attacks by Jewish settlers, 700,000 of whom live scattered among Palestinian towns. And nearly 200 Palestinians have been killed amid an increase in Israeli military raids.
Those who live in the West Bank, which, like Gaza, was occupied by Israel in 1967, have already been feeling increased tension in recent years. Settler violence has risen, empowered by Israeli leader Benjamin Netanyahu's coalition with far-right politicians who have denied the existence of Palestinians and promised record expansion of settlements in the West Bank. In February and again in June, hundreds of settlers mobbed Palestinian villages, burning down houses while Israeli soldiers fired tear gas at villagers. These attacks received official sanction, with one minister calling for an attacked Palestinian village to be "erased." Now, Israel's leaders have asked the U.S. for thousands of rifles to distribute to settlers and the police force in the area. With international attention focused on Gaza, Israeli military and settler violence against civilians has increased dramatically.
We spoke to Palestinians across the territory, from Nablus in the north to the villages of the South Hebron Hills, about how the war has affected their daily lives. They spoke openly about the realities of living under constant military rule. Their feelings were complex. They opposed violence against Israeli civilians, but some also resent the frequent calls to condemn the Hamas attacks, when they feel they are living the conditions that, in part, led to them. "Settlers attack the villages, over and over, and people flee," said Eid, a photographer from Umm al Khair. "It is systematic and preplanned."
Eid, Umm al Khair, Photographer, 40
After October 7, everything changed in the West Bank, especially in the South Hebron Hills where I live. In this region, there are many small Palestinian villages with Israeli settlements and outposts all around us. The settlers have always come and attacked our people, trying to drive them out of the area. But in the last few weeks, it has become totally lawless. Settlers are raiding our villages day and night, attacking houses, beating people up, and shooting at them when they try to work their lands.
All roads have been shut down by the Israeli army. Our children can't go to school. People who work outside the village can't go to work. Israeli settlers move freely, but if they see cars or vans with Palestinian license plates near the settler roads, whose usage is forbidden by Palestinians, they shoot at them or detain them under the sun for a long time. It's nearly impossible to see a doctor or reach a medical clinic; ambulances can't come to our villages either. They have to walk on foot and carry people to get past the roadblocks. People can't use cars to go anywhere; we are forced to use carts and donkeys. At night, all movement is forbidden.
When the war started, many of the Israeli soldiers in our area were moved to Gaza. They distributed their weapons to the settlers here, and the settlers put on army uniforms. It used to be that the army helped the settlers or made excuses for them; we would file complaints against them, but they would be ignored or dismissed. Settlers live under Israeli civil law, but as Palestinians, we live under Israeli military law. Our complaints were never taken seriously.
Now, the settlers are the army, and they've taken the law into their own hands. Whenever you try to stop them, they say they can do whatever they want. One night, they came and burned my neighbors' house down. Luckily no one was sleeping in it at the time, or they would have all died. Settlers have cut the electricity in my village and destroyed our solar panels. They've cut off water pipes so people can't drink water. They've cut down our trees and killed our animals.
Around 20 villages in the West Bank have emptied because of the attacks, and at least four villages in my area are now empty. The settler's goal is clear: Empty the area of Palestinians.
Issa, Hebron, Activist, 43
On October 7, Israeli soldiers arrested me and held me for ten hours. They tied me up so hard I lost feeling in my arms and fainted twice. I was dragged by the neck, and they shut my mouth while threatening to shoot and rape me. They put me in a room with air conditioning blasting so high I thought I would die from the cold.
They gave no reason for the arrest. But I know it was revenge against me because I give tours and lectures about the displacement Palestinians are facing in Hebron. I talk about how we use nonviolent resistance to oppose it. Many Palestinians believe in nonviolent resistance to end the Israeli apartheid system. But Israel doesn't want this voice to reach the international community. They don't want people to know we exist. So they took advantage of what was happening in Gaza to come after me.
After the soldiers let me go, they told me I was forbidden from leaving my house. I didn't even have any food to eat at home. A week after they let me go, soldiers raided my home again. They told me I was not supposed to allow any journalists into my home, but they saw that I had let in a news crew. They had come to record my account of my arrest for a story about increased Israeli violence in the West Bank. While they were filming, soldiers came in and expelled me from my house. I'm homeless now. All I took from my home was a small bag with a toothbrush. I stay with friends, going from one house to another.
I live near the Old City of Hebron, in an area where Israeli settlers have taken over many homes and soldiers are everywhere. People here are scared to death. Israeli settlers have come and threatened to kill them in the night if they don't leave their homes. Others have been stuck in their homes for almost a month because all checkpoints have been closed to Palestinians. The Israeli right-wing government's mandate is to expand Israel while including the least number of Palestinians. We feel there is war on us as civilians in the West Bank.
Elias, Bethlehem, Tour Guide, 42
I woke up on October 7 to the sound of sirens. We could hear alarms going off in Jerusalem due to the rockets from Gaza. In Bethlehem, everything changed overnight. We depend on tourism for income. People come to see the grotto where Jesus was born. Before the war started, everything was booked solid for months to come; not a single room was empty. But then everything was canceled. People evacuated and hotels closed. I had a travel agency, but I had to shut it down when I realized how serious the situation was. It was clear it wouldn't end soon.
Two days after the war started, the Israeli military closed all the main entrances to Bethlehem. They put up roadblocks and shut the roads. They've shut down all movement between different cities. People who work in Jerusalem or in Israel couldn't go anymore because Israel didn't renew their work permits. There was no gas anywhere because Israel wouldn't allow petrol to enter. Transportation shut down. The last time I went to fill up gas, I waited in line for four hours because Israel is still restricting the supply. It's the same with food; in the supermarkets, there are few products.
Many Palestinians from Bethlehem used to work in the settlements nearby but they are too terrified to go anymore. A young guy from Battir, a village not far from here, was called by a settler and told there was work for him in the settlement. When he got there, a settler shot him. People are afraid to go anywhere.
Some nights, the Israeli army opens fire at Bethlehem and Palestinian people shoot back at the Israeli settlement across the valley. Their goal is to control the West Bank. They're afraid there will be an intifada (uprising) again. Every day, people protest next to the Israeli wall against the occupation and against what Israel is doing in Gaza. And every day, the Israeli military fires tear gas and shoots at them. There's a lot of frustration and disappointment — at the Israelis, but also at the Palestinian Authority leadership here that collaborates with Israel. People are full of anger. They want to do something, but can't; they're locked in.
I've worked for 16 years in peacebuilding between Palestinians and Israelis. As a Palestinian Christian, I've been a part of interfaith and justice work with people of different religions and backgrounds. I used to believe there were voices in Israel fighting for peace and pushing back against their government. But now I see so many of the Israelis I used to work with supporting their army as it kills people in Gaza. I realize they only supported peace before because they were afraid. It wasn't genuine. Now, because of their fear, they support killing people. They're in denial; they don't want to understand that behind what happened on October 7 was occupation, oppression, and injustice. They just want Palestinians to be friendly and pretend like everything is okay so they can preserve their own interests.
Children are watching their families killed before their eyes. Even if there is a peace treaty and a two-state solution, these kids will never forget what they saw. A new generation will grow up full of hate. In Israel, they talk a lot about ancestral trauma — how what happened to Jews in Europe in the past is part of their fear in the present. But what do Israelis think Palestinian children living today's horrors will feel in 20 years? What about the ancestral trauma of Palestinians?
Janna, Nabi Saleh, Student, 17
I live in Nabi Saleh but go to school in Ramallah. It's about a 30-minute drive if there are no Israeli checkpoints. Since October 7, Israeli occupation forces have kept the main entrance to our village shut. It can now take up to three or four hours for me to get to school. That's if there's no other blockades. Most days I'm late to school; some days, I don't make it at all. My school is next to an Israeli settlement. A lot of protests against the occupation take place there. When people protest there during the day, Israeli forces shoot at them and fire tear gas. When that happens, we can't leave school because it's unsafe. My grandma needs to get kidney dialysis three times a week at a hospital in Ramallah. For a couple of days, she couldn't get to the hospital. It was very scary. We're worried about her health.
Our village is surrounded by olive groves and, right now, it's olive harvest season. The settlers keep shooting at people who are trying to harvest their crops. A few days ago, a guy in his 30s was shot dead while he was picking olives. A few days before that, another guy in a village down the road was killed. A lot of my friends and family have been arrested. The occupation forces raid our village every night and take people. They don't tell us why they've been arrested or until when they'll be held. We don't even know where they are. They're held under administrative detention, which means the military doesn't need a reason to hold them as long as they want. I've heard that many people are being arrested for pro-Palestinian social-media posts, or even just for liking pro-Palestinian posts. The goal is to silence us. To make us unable to do anything. They are trying to divide our villages, just like they've divided Palestinians between the West Bank, Gaza, Jerusalem, and inside '48. This is a colonial strategy to separate us and ethnically cleanse us. They want to restrict and confine us.
But the feeling of unity we have revives us. Palestinians can get hope from anything; we've been raised on finding reasons for hope in our lives. Every day, people keep protesting. A couple of days ago at my school, all the students refused to go to classes. We went on strike. We won't pretend to have a normal life when everything around us is so abnormal.
Lena, Jerusalem, Human-Rights Lawyer, 29
On October 7, I was in Europe. I changed my flight to come back earlier. I had to take El Al, the Israeli airline, which I would never normally take because I know they treat Palestinians badly. But I had no choice. At the airport, they put me through several rounds of questioning. My line of work is problematic to them. The security person asked me directly: "What side are you on?" I froze because I knew what she wanted to hear. I told her I'm a human-rights lawyer; I don't take sides. That wasn't what she wanted to hear. They put me through an inappropriate physical security check all over my body. It was a brutal experience. But I made it home.
Here in Jerusalem, there are Israeli forces all over the Old City. Whenever they see young men who look Arab, they call them to the side and conduct strip searches. They ask boys to open their social-media accounts to see if they're sharing posts or using language that could be considered incitement. If they find something supporting the Palestinian cause, they take them to jail then and there and physically assault them. Freedom of expression never existed for Palestinians in Jerusalem. But the invasion of privacy that is happening now is on another level. You can feel that the soldiers are angry, looking for reasons to get mad. But you can't avoid them. It's not like you can stay at home all day long and not go outside.
It's tough for me as a Palestinian to say I wasn't expecting what happened on October 7. We were surprised by the magnitude. But it wasn't a shock that something happened. There have been signs for a long time. We don't even have to go back to 1948. Let's go back one year. A new Israeli governing coalition came into power with a clear racist agenda that strengthened the apartheid nature of Israel's authority. The number of Palestinians being held in Israeli prison without cause or trial doubled to numbers we haven't seen since the first intifada. In Jerusalem, Palestinian families have been kicked out of their homes by Israeli settlers; the army has attacked Muslim and Christian worshippers in the Old City and carried out raids on the Al-Aqsa Mosque compound. So people reached a boiling point. In the last few years, there have been small groups, not affiliated with any political party, carrying out attacks on Israel from the West Bank. How much oppression can they stand while the international community is doing nothing?
Tamara, Dheisheh Refugee Camp, Filmmaker and Professor, 35
I teach at Bethlehem University. Because the Israeli military has closed most roads and many of our students live in other cities, these days we give lectures online.
In Gaza, they are under real war. Not just war, genocide. But the situation in the West Bank is also crazy. They are not waiting for you to resist so they can kill you. In and around Bethlehem, people have been killed just walking through the streets. My husband just called me and told me not to leave because there are Israeli soldiers all over town, in the middle of the afternoon. They can do anything they want.
The Israeli army invades Dheisheh Camp multiple times a week. During the raids, they shoot into people's houses and fire tear gas in the streets. They have been arresting a lot of young people; they chase and arrest young men who throw stones at them. They take them to prison for long periods of time. I used to wonder why the army spent so much energy going after boys who throw stones. Now I understand — they want us to be afraid so that we don't confront them.
But the result has been the opposite. We are not in fear anymore. We want to be free. We are weak and they are strong. We know that. And we are against killing innocent people. But what we saw on October 7 made us feel that we can also be strong, despite years of occupation and siege. I know around the world they keep asking: "Do you condemn Hamas?" But for us looking at things from the inside, what happened was due to the violence the Israeli occupation put us through. When you live in a situation where there is no justice, you have to take your rights with your own hands. There is now a great hope that we are strong enough to free Palestine.
Jamal, Balata Refugee Camp (Nablus), Journalist, 52
Over the last few months, I've covered repeated Israeli raids all over Nablus. I've gone out to photograph wearing my press vest, and even though they can see that it says "Press" in big letters, they've shot at me. A few months ago, I was covering a raid when I saw them open fire and kill two uninvolved people who were walking by. Killed in cold blood. I described what I had seen on local and regional TV news. Afterward, I got a call from Israeli intelligence. They threatened me and told me to stop talking about the killings and to stop covering the raids. Two weeks later, I was covering another army raid while wearing my press vest. Israeli soldiers saw me and shot me in the leg. Incidents like this are happening across the country in every city, town, and refugee camp.
This all happened before October 7. In the last month, the situation has gotten much worse: daily attacks, nightly raids. Soldiers come into town secretly and then suddenly open fire from every side, shooting into people's houses. They raid homes without any permission or warrants to arrest people. Sometimes they put explosives on the entrances of homes and enter by blowing up the walls.
Israel's occupation is based on destroying the Palestinian people, their homes, and their land. The occupation tries to tell a story about us as terrorists to the rest of the world, but no one would allow their rights to be trampled on and their home invaded. We don't love violence or destruction. We are just trying to defend ourselves and our rights.
Beginning in the early 2000s, Israel built a separation barrier that cuts through the West Bank. In cities like Bethlehem, the barrier is a 30-foot-high concrete wall with armed guard towers. The wall has become a flashpoint for protests.
A term that refers to Palestinians who managed to stay inside what became Israel during the 1948 displacement.
The first of two popular uprisings of Palestinians aimed at ending Israeli occupation, beginning in 1987.
Most notable among them has been the Lions' Den group in the northern West Bank, which carried out several attacks targeting Israeli military and settlers beginning in 2022.