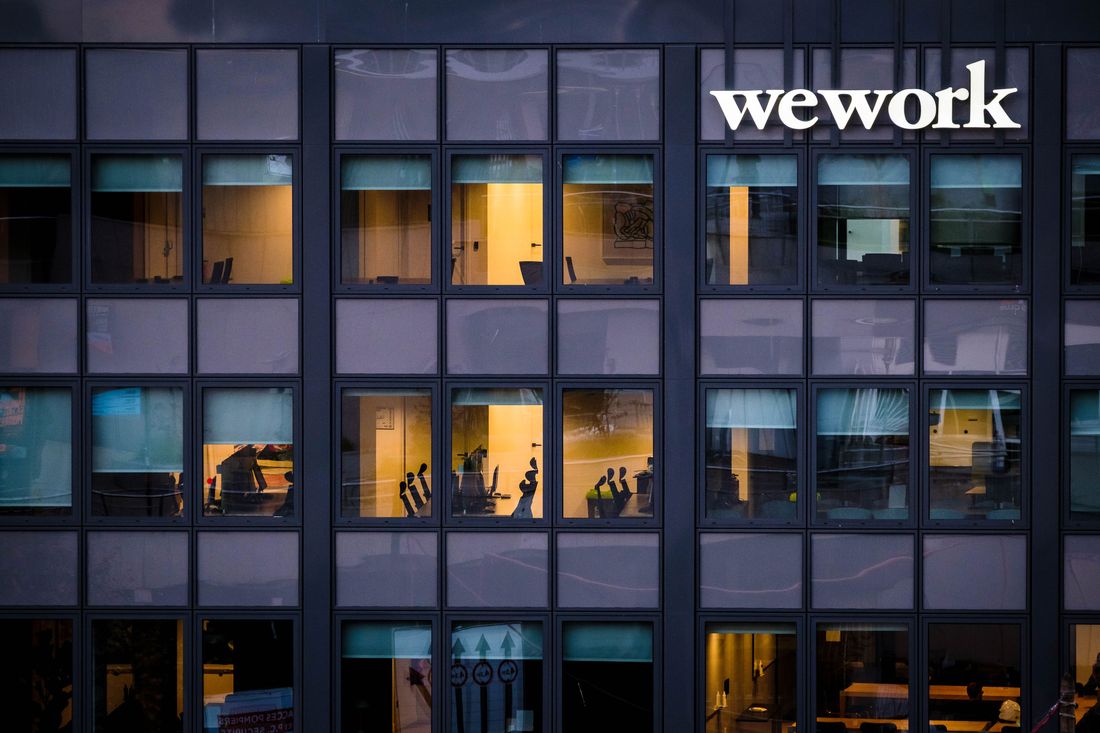 Photo: Simon LAMBERT/HAYTHAM-REA/Redux
WeWork, which made office space cool enough to earn a fictional $47 billion valuation, died last night. It was 13.
The company's death, which is officially a bankruptcy filing, and which WeWork itself is describing as a "Strategic Action to Significantly Strengthen Balance Sheet and Further Streamline Real Estate Footprint," had a number of causes: hubris, bloat, tequila, COVID. In a statement, company co-founder Adam Neumann said, "It has been challenging for me to watch from the sidelines since 2019 as WeWork has failed to take advantage of a product that is more relevant today than ever before." In other words: Not my fault.
The filing comes four years and five weeks after Adam Neumann resigned as the company's CEO in the most spectacular business flameout of the pre–Sam Bankman-Fried era. In retrospect, it's surprising that it took this long. What exactly was WeWork? For a while, it was a pretty good idea, executed at the right time, delivering something that people wanted: a fun place to go to work. It eventually became a vessel for venture capital with an ambition to funnel cash into world-spanning ambitions to disrupt the real-estate market. It also became a bit of a cult with a mission to "elevate the world's consciousness." Finally, it became the ultimate cautionary tale.
There has been almost nothing but bad news since WeWork's attempt to go public in 2019 ended in failure and Neumann's departure from the company. In the immediate aftermath, WeWork laid off thousands of employees. A few months later, it started phasing out free beer. In 2020, when the pandemic hit, WeWork vacated 66 locations, and its revenue started to shrink while its losses only grew. WeWork had signed the overwhelming majority of its leases in 2018 and 2019, which was the worst possible time to lock in a long-term deal, especially at the exorbitant rates that Neumann was paying to heed his benefactor Masayoshi Son's edict to be crazy as often as he was smart. When vaccines emerged, the company's new CEO Sandeep Mathrani relentlessly projected a return to office that never quite came to be. Mathrani projected profitability in 2021 (WeWork lost $4.4 billion) and then again 2022 (it lost $2.3 billion.) The company went public through a SPAC — RIP to that, too — at a valuation of around $9 billion, but by this spring, the stock had fallen so far that it was almost delisted on the New York Stock Exchange. Mathrani resigned, and the company stopped paying some of its landlords and bondholders. Its stock has now fallen by 99.79 percent, and its market capitalization is currently $44 million — a tiny fraction of what Neumann took out of the business when he departed.
Unlike Neumann's downfall in 2019, this blow comes with little Schadenfreude from the real-estate barons who questioned its rise (while taking SoftBank's money.) As recently as this summer, WeWork was renting more office space than any other company in America. It has 47 different locations in New York City alone. WeWork says it intends to close as many as a hundred locations and ask for rent reductions on almost all of the ones it chooses to keep. If those WeWorks go away, it isn't obvious how landlords are going to go to fill even more empty office space than they already have.
So is Neumann — and Son — to blame for WeWork's descent into bankruptcy, or is COVID? Both are the answers, of course. Neumann and Son grew the company too quickly and widely on a set of presumptions that had no basis in reality. There was always going to be a fall. But COVID dealt a death blow, and despite Neumann's suggestion that if the coach had simply put him back in, everything would have been fine, Neumann's skill was never strategic rethinking. He was there to provide ostentatious vision and charismatic fundraising. The only thing Neumann could probably say is that he wouldn't have done any worse than the executives who followed him. Now, while his old colleagues in the commercial real-estate world deal with the fallout, Neumann has pivoted. Late last month, he was at Saudi Arabia's Future Investment Initiative conference, pitching Flow, a mysterious venture he promises is going to revolutionize a new industry — this time, residential real estate.