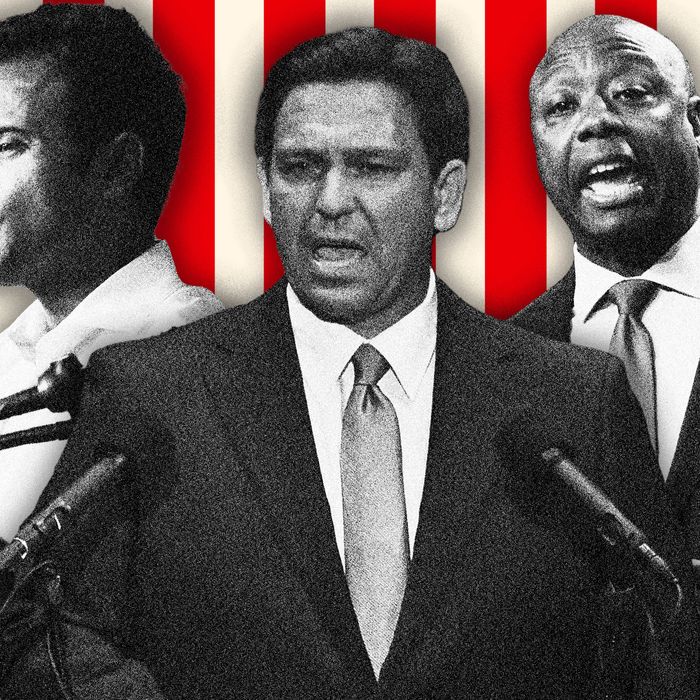 Photo-Illustration: Intelligencer; Photos: Getty
While Donald Trump will skip the first Republican presidential-primary debate on August 23 in Milwaukee, his shadow looms large over the event. He's dominating in the polls, holding 55 percent of the national vote and a 40-point lead on his top opponent in the RealClearPolitics polling averages. His ongoing legal saga — including his pending Georgia arraignment — is absorbing a huge amount of media coverage. And the public guessing game over Trump's debate participation has also kept the attention on him.
All of this has made debate preparation complicated for the rest of the 2024 field, and none of them can really afford a fumble. The event is a crucial opportunity for the eight other candidates who will be onstage at the Fiserv Forum. Here's what each of the 2024 hopefuls needs to accomplish on Wednesday night.
.

Donald Trump: Stay above the fray but still be the center of attention.
Trump announced that he won't be at the debate, posting on Truth Social:
While Trump may actually be skipping the debate due to his ongoing vendetta against Fox News, which is hosting the event, he'd rather tell people he simply has nothing left to prove.
Adding insult to injury, Trump has arranged some counterprogramming on August 27 to reinforce the idea that he's the main attraction no matter what is going on in Milwaukee. He has already recorded an interview with former Fox News host Tucker Carlson — who has his own reasons for wanting to mess up his former employer's plans — which will apparently appear on Carlson's social media platform during the debate.
Trump is running some risk that both moderators and rivals will depict him as a coward for skipping the debate; he is also perhaps passing up an opportunity to dominate the field in person via the sheer force of his personality. But he will never for a moment be completely absent from the consciousness of anyone on the stage or watching from home, and that's a powerful asset.
.

Ron DeSantis: Reset a sagging campaign.
Ron DeSantis needs to make a big impression, as he's barely hanging on to his status as Trump's most formidable opponent. According to the RCP polling averages, he's lost more than half the support he enjoyed at the end of March. And the overall landscape of the race has undoubtedly changed from two big dogs being chased by yapping puppies to every candidate not named Trump auditioning to become the chief alternative to the former president.
Trump's absence could be a heaven-sent opportunity for DeSantis to stand out in the field. But as media leaks show, it seems DeSantis's debate strategy will closely track his campaign's determination to out-Trump Trump ideologically while defending him against his Democratic and Republicans tormentors. He will apparently concentrate his fire on Vivek Ramaswamy, the rival most conspicuously nipping at his heels, and on Chris Christie, who in turn is expected to go after Trump even in his absence. And the Florida governor will, of course, try to come across as "likable," which has been a problem for him.
It's anyone's guess as to whether this low-risk approach to the debate will arrest DeSantis's slide toward irrelevance and defeat.
.

Vivek Ramaswamy: Turn a "moment" into a trend.
Biotech entrepreneur and "anti-woke" crusader Vivek Ramaswamy has become a flavor-of-the-month "rising star" in recent weeks with some heavy self-financed campaigning, a couple of effective cattle-call appearances, and a talent for making glib sound bites and even rapping. He's currently in third place in national polls and throwing a real scare into Team DeSantis in New Hampshire. He's also made himself something of a wingman for Trump, which has earned him positive feelings if not actual support from MAGA-land.
His verbal skills, and his ability to dispense fresh red meat to GOP audiences, should make debating a strength for him. But his tendency to make unorthodox policy proposals (e.g., offering big chunks of Ukraine to Russia in exchange for Russia breaking up with China) could expose him to risks in the competitive atmosphere of a debate. He is in some danger of looking too smart for his own good.
.

Tim Scott: Create a breakout moment.
Like Ramaswamy, Tim Scott has been showing some upward movement in the polls recently, especially in Iowa, where he's the current threat to DeSantis's status as the sole viable rival to Trump. Unlike Ramaswamy, Scott has a lot of Republican Establishment street cred. He's not rich, but he does have an impressive war chest. And he has the enviable combination of a rigidly conservative platform married to a style that is invariably described as "sunny" and "optimistic." In other words, if anyone is poised to displace DeSantis as a serious alternative to Trump, it's probably the South Carolinian. But he really does need a breakout event, and a debate could serve him well, particularly if DeSantis has a poor or mediocre performance.
.

Nikki Haley: Remind people she's running.
Nikki Haley has run a rather quiet campaign that has left her in the low single digits in national polling (she's now at 3.6 percent in the RealClearPolitics averages) despite a very regular personal presence in the early states. She appears to be positioning herself as a compromise candidate should things get weird down the road, but she needs to get a move on, particularly if her fellow South Carolinian Tim Scott begins to gain altitude. The debates could give her a chance. She will naturally draw the eyes of viewers as the only woman on the stage, and she has a pleasant and occasionally even humorous manner of speaking. It shouldn't be that hard for her to make a favorable impression, and an impression is what she most needs right now.
.

Mike Pence and Chris Christie: Go after Trump.
These candidates are very different in many respect, but they share a problem and an opportunity: They need to distinguish themselves from other candidates by displaying the courage to criticize Trump, and now they must do so without Trump's actual presence. Chris Christie has made his willingness to savage the former president in a debate the chief rationale for his candidacy, so he has no choice but to call out Trump now that he has the chance. He needs at least one big zinger that will be featured in news coverage of the debate.
Mike Pence's struggling campaign has recently gotten fresh legs from the notoriety he regained via the two Trump indictments that featured his refusal to swipe electoral voters for the Trump-Pence ticket on January 6, 2021. He needs to take partial credit for the policy results the former president is running on while making sure the world knows Trump called him "too honest."
.

Asa Hutchinson and Doug Burgum: Get noticed!
The former Arkansas governor and the current North Dakota governor barely met the polling criterial for making the debate stage. Burgum may struggle to cash in on that success thanks to an injury playing pick-up basketball that landed him in the hospital the night before the debate. But neither candidate is likely to stick around for the second debate in September without some further traction in the polls, which makes being visible in the Milwaukee debate crucial. The bottom-feeders need to get noticed in a debate environment where the moderators and better-know rivals may not give them much opportunity to talk.
This post has been updated throughout.