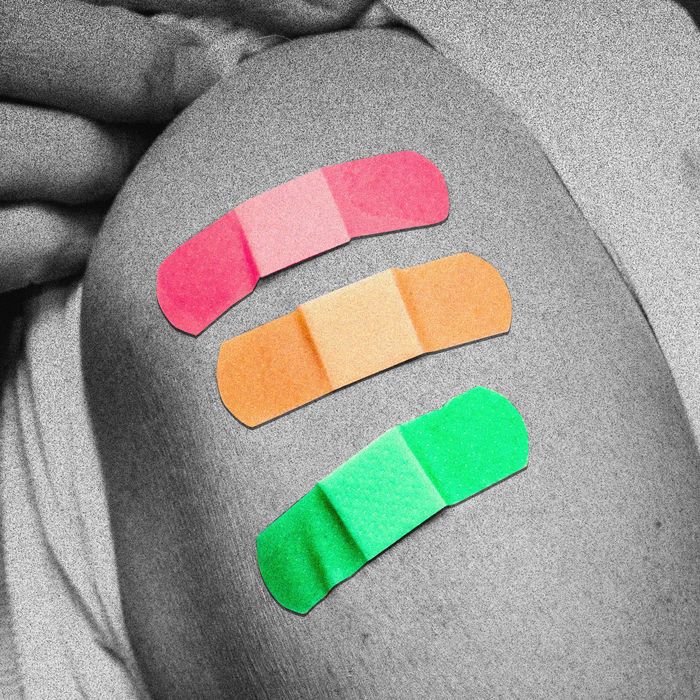 Photo-Illustration: Intelligencer; Photo: Getty Images
It's that time of year again. The U.S. is rolling out newly reformulated COVID booster shots, just as it did last fall. Several things have changed in the past year, including the official end of the country's pandemic emergency and some expected evolution of the coronavirus itself. And though the numbers of COVID hospitalizations and deaths remain near historic lows in the U.S, we are in the midst of a mini COVID wave and, as always, the coronavirus will likely be able to spread more easily as Americans spend more time indoors in the cooler coming months. Below is an overview of the latest information regarding the updated 2023 booster shots, including when they'll be available and who should get them.
.

How are the new booster shots different?
Pfizer, Moderna, and Novavax have all made updated booster shots which have been reformulated to target the XBB.1.5 Omicron subvariant, which was the predominant new strain when the reformulation decisions were made by U.S. public-health officials earlier this year. Last fall, the U.S. rolled out reformulated bivalent COVID boosters from Pfizer and Moderna that targeted the BA.4 and BA.5 Omicron lineages, which had become dominant in 2022. This year's updated single-strain, single-shot boosters target XBB.1.5.
XBB.1.5 is no longer the dominant COVID variant in the U.S., but the ones that have since taken over — including the still-rising EG.5 subvariant — are in the same family tree, and the updated boosters are expected to offer increased protection against them as well.
.

When are they going to be available?
The updated mRNA shots from Pfizer and Moderna both got the green light from the FDA and the CDC this week. The FDA approved the Pfizer and Moderna formulas on Monday, and a CDC advisory panel voted Tuesday to recommend the shots as well. That means the Pfizer and Moderna boosters should start to be available by the end of this week, though how widely is not yet clear. It's also unclear when the FDA and CDC will weigh in on the updated Novavax booster.
.

Where can you get them?
As in the past, the new boosters will be available at health-care centers, retail pharmacies, health clinics, and community centers. Anyone who wants the new shot can search for locations at the federal Vaccines.gov site. Albertsons, CVS, Kroger, and Walgreens told CNBC they will begin offering booster-shot appointments soon as well.
.

Who can and should get the new booster shots?
The new Pfizer and Moderna boosters were approved by the FDA for use by anyone aged 12 or older and authorized for emergency use for children aged 6 months to 11 years. The CDC then cleared the shots, recommending them for anyone 6 months or older.
There is widespread agreement among infectious-disease doctors and public-health experts that people most vulnerable to severe outcomes from a COVID-19 infection, including seniors, people with compromised immune systems, and pregnant women, should get an updated booster as soon as they can. For everyone else, the vast majority of Americans are well protected against severe disease from COVID thanks to immunity from previous vaccination and/or prior infection.
It's also possible that the FDA may again allow a second dose of the new boosters to vulnerable groups several months after the first — i.e., a biannual COVID shot for those people instead of just an annual one.
.

How much will the new boosters cost?
The new boosters from Moderna and Pfizer should not cost anything for people with private health insurance, Medicare, and Medicaid — but they are not universally free as COVID vaccines and boosters were during the U.S. pandemic emergency. The Biden administration plans to still offer free boosters for people without health insurance through the Bridge Access Program, but that program runs only through the end of this year.
For anyone paying out of pocket, Moderna is selling its booster for $129 per dose, while Pfizer's costs $120 per dose.
.

Will the boosters work against the newly arrived BA.2.86 variant?
BA.2.86 is a recently detected COVID variant that quickly drew attention from infectious-disease experts due to its unusually high number of mutations compared with other strains and the possibility that those mutations would give it a significant new advantage when it comes to evading prior immunity. Since then, further research on BA.2.86 suggests its mutations have not conferred that advantage and that it's unlikely the variant will drive a surge of cases as some had worried. In addition, Moderna and Pfizer have both announced that according to their initial research, their 2023 reformulated boosters both generate a strong immune response against BA.2.86.
.

Can you get a COVID booster and your annual flu shot at the same time?
Yes. And that will surely be recommended by U.S. public-health officials, just as it was last year.
This post will be updated throughout as new information becomes available.