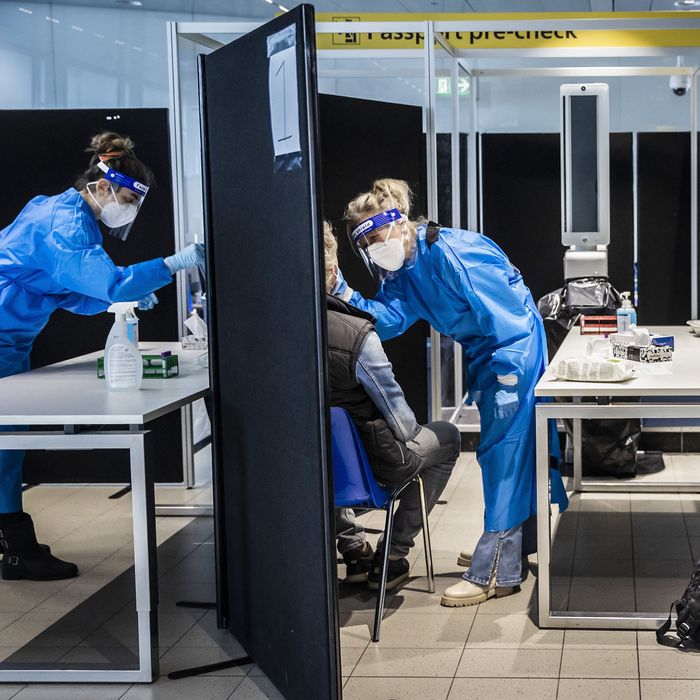 Travelers from South Africa are tested for the coronavirus in a specially designed testing area at Schiphol airport on November 30 in the Netherlands.
Photo: Remko De Waal/ANP/AFP via Getty Images
The new Omicron COVID variant is now spreading across the U.S. and seems all but certain to drive a big wave of new cases in the coming weeks and may also result in an overwhelming wave of hospitalizations. Scientists around the world are working as fast as they can to learn more about the variant. So far, early data has shown that the new strain has produced milder illness than other variants, but it remains unclear if that will be the case in every country, or in the U.S. What does seem clear, however, is that Omicron — which has an unusually high number of mutations — is far more transmissible than the Delta variant, and is much better equipped with immune escape, making vaccines and natural immunity less effective protection against it. Below is what we do and don't know about the new variant.
.

Where has Omicron been detected?
As of mid-December, less than one month after Omicron was reported by scientists in South Africa, the new variant had been detected in at least 77 countries, but has likely spread further undetected. "The reality is that Omicron is probably in most countries, even if it hasn't been detected yet," said World Health Organization director-general Tedros Adhanom Ghebreyesus at a briefing this week.
In the U.S., the Centers for Disease Control has determined that Omicron is now the dominant strain in the country, responsible for 73 percent of new cases as of December 18.
Hans Kluge, the WHO regional director for Europe, told Reuters that Omicron will likely be the dominant strain in Europe by the beginning of next year. Currently, it is already the leading cause of cases in Britain, Portugal and Denmark.
.

How is Omicron different from other variants, and why is it causing alarm?
Transmissibility: Research is still underway to determine the real-world differences between Omicron and other variants, but there it now seems clear that Omicron is the most transmissible COVID variant yet. One study from Hong Kong, released on Wednesday, suggests that Omicron infects and multiplies in cells there 70 times faster than the Delta variant now dominant worldwide. As WHO's director-general Tedros Adhanom Ghebreyesus noted on December 14, "Omicron is spreading at a rate we have not seen with any previous variant." The variant's rapid doubling rate indicates it is likely to become the dominant strain of the coronavirus in most countries relatively soon, and could even produce the largest-ever surges in new COVID infections in many of them.
Immune Escape: There is also growing evidence that the Omicron variant is able to evade some of the protection from vaccination and natural infection better than any previous variant. That does not necessarily mean that protection is lost against Omicron — particularly when it comes to severe illness and death — but it does appear to mean, based on early data, that it is producing a lot of reinfections and breakthrough infections wherever it spreads.
Virulence: The other important factor with any variant is its virulence, or how severe an illness it produces. Omicron cases, so far, have mostly appeared to produce milder illness than cases from earlier variants. Many scientists continue to stress, however, that it's still too soon after Omicron's emergence to draw definitive conclusions about its virulence. CDC director Rochelle Walensky, for example, said milder disease might be because people already have vaccine-induced immunity over the virus: "We've seen cases of Omicron among those who are both vaccinated and boosted, and we believe these cases are milder or asymptomatic because of vaccine protection," she said. More data is needed, from more countries. In addition, even if Omicron produces milder illness, the incredible speed with which it can spread could lead to surges of cases that would still overwhelm health-care systems. On December 22, a study from South Africa's National Institute for Communicable Diseases provided some potential good news, finding that patients with Omicron are 80 percent less likely to be hospitalized than those who have been infected with another strain.
Mutations: Omicron has a "very unusual constellation of mutations," according to Tulio de Oliveira, the director of South Africa's Centre for Epidemic Response and Innovation. Those roughly 50 mutations of note include over 30 on the virus's spike protein, including ten mutations on a key protein (the ACE2 receptor) that helps the virus infect humans — whereas the Delta variant has two mutations on the ACE2 receptor, and the Beta variant has three.
.

Can current COVID tests detect Omicron, too?
According to both the FDA and test manufacturers, the most widely used PCR and antigen COVID tests in the U.S. should detect infections from the Omicron variant, just like they can COVID-19 from other strains.
.

Will COVID vaccines still be effective against Omicron?
Coronavirus vaccines, particularly the ones available in the U.S., like Pfizer and Moderna's mRNA vaccines, have all remained highly effective against all other known variants thus far in the pandemic, particularly when it comes to preventing serious illness and death. However, it does appear that COVID vaccines are going to be somewhat less effective against the Omicron variant: According to Dr. Anthony Fauci, President Joe Biden's chief medical adviser, vaccine-induced protection from the widely used Pfizer jabs fell from 70 percent against infection from older variants to 33 percent against infection from Omicron. That may mean they are mostly just less effective at preventing infections from the variant, and/or it could mean vaccines are also less effective at preventing severe outcomes from the variant. More research is needed.
Breakthrough infections (among vaccinated people) and reinfections (among people who have had from previous COVID infections) have made up a significant portion of Omicron cases recorded in multiple countries.
Early research indicates that Omicron is somewhat resistant to vaccines, but can't get around them completely. There are also early indications that when it comes to the mRNA vaccines from Pfizer and Moderna, receiving a booster shot can restore some or all of the protection that has been lost to Omicron. Fauci said that booster shots likely won't need to be reformulated to target the Omicron variant. "Our booster vaccine regimens work against omicron," he said. Again, more research is needed, but full vaccination and a booster shot remain the best available protection against Omicron.
.

When and where was Omicron first discovered?
The first known case of the Omicron variant was detected in a COVID test specimen collected on November 9 in South Africa. That does not necessarily mean the variant originated in South Africa, however. Scientists in South Africa reported the variant to the World Health Organization (and the world) on November 24. The WHO designated Omicron a "variant of concern" on November 26.
Omicron has also been detected in test samples taken in multiple countries, including the U.S., before the variant was reported to the WHO — indicating it was already spreading by that time.
This post has been updated throughout.