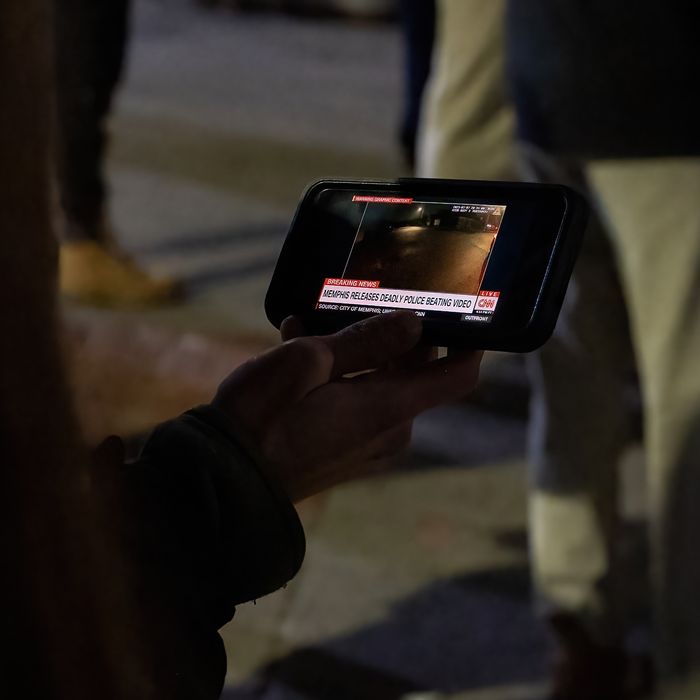 People gather to watch the recording of Memphis police officers beating Tyre Nichols on CNN during a demonstration in Boston on Friday night.
Photo: Vincent Ricci/SOPA Images/LightRocket via Getty Images
The national fallout is continuing following the release of video footage showing the brutal beating Tyre Nichols received at the hands of five Memphis police officers in early January. The 29-year-old died three days later, and the five cops have since been fired and charged with murder. Three days after the footage of the beating was released, a seventh police officer was suspended over the arrest. Below are updates and what we know about this still-developing story.
A seventh police officer and members of the Fire Department face repercussions
The Memphis Police Department announced late Monday that a seventh unnamed officer was also relieved of duty alongside Preston Hemphill, the sixth officer to be implicated in Nichols' death. In a statement, MPD said Hemphill and the other officer's "actions and inactions have been and continue to be the subject of this investigation."
That same day, the fire department announced that it had fired three employees following an investigation into their actions on the scene that day. Lt. Michelle Whitaker as well as EMTs JaMicheal Sandridge and Robert Long were fired after the department's inquiry determined that all three "violated numerous MFD policies and protocols." The fire chief said in a statement the two EMTs "failed to conduct an adequate patient assessment of Mr. Nichols" after arriving on scene.
A sixth officer was suspended following the arrest.
On January 30, the Memphis Police Department announced that a sixth officer, Preston Hemphill, had been placed on administrative leave on the same day that the officers at the scene were fired. Body camera footage shows that Hemphill fired a stun gun at Nichols at the initial stop. "I hope they stomp his ass," he says on camera. His attorney claims Hemphill was "never present at the second scene" where police beat Nichols, though body camera footage shows Hemphill chasing Nichols on foot. Hemphill, who was hired in 2018, is white; the five officers charged with murder in the incident are Black.
Nichols's family will attend the State of the Union.
Congressional Black Caucus chair Steve Horsford invited Nichols's family to President Joe Biden's address next Tuesday. "Earlier today, I spoke to the family of Tyre Nichols on behalf of the Congressional Black Caucus to first extend our condolences to them, to let them know that we stand with them, to ask them what they want from us in this moment, to honor the legacy of their son, and to extend an invitation to them to be our guest at the State of the Union on February 7 so that we can make sure that this issue of police culture, culture of policing, which, unfortunately, in this country has now contributed to countless deaths," he said on MSNBC on Sunday.
Nichols's family has raised over $1.1 million since Friday to cover financial costs and to build a memorial skate park.
The five officers made it impossible for Nichols to comply.
An analysis from the New York Times shows that the five officers who stopped and beat Nichols gave him 71 directives in 13 minutes, often with contradictory orders — like telling him to put his hands behind his back while they were restraining his wrists.
In police stops, cops are trained to have one officer provide clear orders. In Nichols's arrest, multiple officers shouted confusing and contradictory directives, essentially making it impossible for Nichols to cooperate. Criminology professor Geoffrey Alpert told the Times that the brutal arrest was an example of a practice called "contempt of cop," in which police punish a civilian for refusing to obey their orders — even as some of the orders were impossible to obey.
The officers' arraignment is scheduled for February 17.
Court records show that the five police officers who were charged with second-degree murder will be arraigned on February 17. The five officers who beat Nichols have been fired and are currently out on bond. Attorneys for two of the officers stated last week that they intend to plead not guilty.
Memphis police disband SCORPION unit.
Memphis police chief Cerelyn Davis announced Saturday that she had disbanded the controversial SCORPION police unit, which some of the officers who beat Nichols belonged to. About 30 Memphis police officers were in the unit, which was created in late 2021 to target violent offenders in high-crime neighborhoods. "SCORPION" is an acronym for "Street Crimes Operations to Restore Peace in our Neighborhoods."
Davis had, up until Friday, defended the unit — which she and Memphis Mayor Jim Strickland have in the past championed as a solution to rising crime in Memphis. Davis has insisted that SCORPION shouldn't be judged by the actions of a few of its members, but on Saturday she said that Nichols's family members and others had convinced her the unit had to go and that other officers in SCORPION agreed with the decision.
Nichols's family attorney Ben Crump has accused the unit of repeatedly using excessive force, arguing that its conduct "was a pattern and practice and that Tyre is dead because this pattern and practice went unchecked."
Who was Tyre Nichols?
According to friends and family, Nichols was an avid skateboarder and photographer who was outgoing, reflective, and deeply spiritual. Nichols, who had a 4-year-old son, grew up in Sacramento and came to Memphis just before the pandemic, moving in with his mother, RowVaughn Wells — with whom he was very close — and his stepfather, Rodney Wells. RowVaughn Wells has proudly pointed out that Nichols had tattooed her name on his arm. "Most kids don't put their mom's name," she told the New York Times. "My son was a beautiful soul."
For much of last year, the 29-year-old had been working the second shift at FedEx with his stepfather, and both would return home for their evening-meal break. On the night of January 7, Nichols was reportedly returning home from a park where he had been taking photographs of the sunset, as he often liked to do. The Associated Press reports that he spent a lot of his free time at the park, skateboarding and shooting photos:
His website, called This California Kid, starts with an invitation: "Welcome to the world through my eyes." He included a gallery of what he considered his masterpieces: bridges and railroad tracks rendered in black and white, the neon lights of Beale Street at night. He took pictures of pink flowers, sunsets over the Mississippi River, fields of grass, statues of Elvis. He highlights a quote from another photographer: "A good photographer must love life," it begins.
"He was one of those people who made everyone around them happy," his step-grandmother, Lucille Washington, said at Nichols's memorial service. "This man walked into a room, and everyone loved him, said Angelina Paxton, a longtime friend who flew in from California for the service. "There are thousands of people that loved this man."
"Nobody's perfect, nobody," his mother said a news conference Monday. "But he was damn near, he was damn near perfect."
There were protests in numerous cities Friday night.
People took to the streets in Memphis and a number of other major American cities Friday night to call for justice for Nichols and to demonstrate against police aggression. Protesters in Memphis briefly shut down Interstate 55.
The protests were mostly small and peaceful apart from scattered confrontations between protesters and police in some cities including New York and Los Angeles. Across the country, city police departments had ample time to prepare ahead of the release of the footage in Memphis.
More protests continued around the country over the weekend.
Video footage of Nichols's arrest shows officers repeatedly striking him in the head.
In all, the city released more than an hour of footage captured that night from four cameras, three worn by police and one attached to a street pole.
The series of four videos begins withthe initial traffic stop on a main road when one officer pulls Nichols out of the driver's seat and at least two others join in tackling him to the ground. It's not clear what precipitated the confrontation, but at no point did the unarmed Nichols fight back. Nichols appears confused as to why he's been pulled over and can be heard at times pleading with the officers, insisting, "I didn't do anything," as they command him to lay down and put his hands behind his back. "You guys are really doing a lot right now … I'm just trying to go home," he says. As the officers continue to shout and curse at Nichols, threaten to tase him, and work to restrain him, he repeatedly asks them to stop. They also kick him several times. At one point, as officers are yelling at him to lie on the ground, he shouts back, "I am on the ground!"
An officer eventually pepper-sprays Nichols in the face, but Nichols breaks free and runs away. As officers give chase, one who stops and remains behind can be heard saying, "I hope they stomp his ass. I hope they stomp his ass."
Minutes later, officers are seen finding Nichols in a residential neighborhood, where they wrestle him to the ground again, this time striking him with a baton and their feet and fists — and the beating continued even after Nichols appeared to be immobilized. At one point during the struggle, Nichols can be heard repeatedly screaming "Mom!" at the top of his lungs. According to his family's lawyers, he was less than 100 yards from his mother's home.
Starting at about three minutes into the pole-camera footage, which has no audio, five officers have Nichols on the ground. As he appears to try to stand, they deliver numerous blows to Nichols's head, and an officer appears to wind up to punch him in the head at least twice, as another officer does the same with a baton. Some of the officers eventually drag Nichols, who is handcuffed and writhing on the ground, over to a police vehicle and lean him up against it, where he repeatedly slumps over.
Two medics arrive minutes after Nichols is leaned up against the car and examine him but appear to do nothing but watch as he groans and continues to repeatedly slump over onto his side. More than 20 minutes elapse between when officers can be heard saying they have Nichols in custody and the arrival of an ambulance.
In the body-camera footage following the struggle, a few of the officers say Nichols attempted to grab their guns, but there's no evidence of that in any of the four videos.
The Washington Post has put together a video that combines the footage synced by time stamp. The original videos are embedded below; please be warned that the footage is graphic and disturbing.
The first video is body-camera footage from an officer responding to the traffic stop of Nichols, joining other officers already on the scene.
The next three videos show what happened at the second location. The first is the pole-camera footage. The second and third are officers' body-camera footage.
Nichols's family, Biden, and others call for peaceful protests ahead of release of arrest footage.
With Memphis police expected to release on Friday night what will certainly be horrifying video footage of the arrest and beating of Tyre Nichols, the city is bracing for possible unrest, and Nichols's family members and public officials, including Biden, made pleas for the protests to remain peaceful.
"We want peace. We do not want any type of uproar. We do not want any type of disturbance. Please, please, protest, but protest safely," emphasized Nichols's stepfather, Rodney Wells, at a press conference on Friday morning.
Biden, who spoke with Nichols's family members by phone Friday, added in a statement:
I join Tyre's family in calling for peaceful protest. Outrage is understandable, but violence is never acceptable. Violence is destructive and against the law. It has no place in peaceful protests seeking justice.
Nichols's family members and their attorneys were shown footage of his arrest Monday. Afterward, the attorneys said Nichols was tased, pepper-sprayed, restrained, and kicked. "He was defenseless the entire time. He was a human piñata for those police officers. It was an unadulterated, unabashed, nonstop beating of this young boy for three minutes," Romanucci said. Civil-rights attorney Crump compared the video to the home-video recording of Rodney King being savagely beaten by Los Angeles cops in 1991. Crump said Friday that Nichols's last words were "gut-wrenching screams for his mom."
Nichols's mother, RowVaughn Wells, told reporters Monday that she wasn't able to watch the full video of what happened to her son. "Once the video started and I heard my son's voice, I lost it. I couldn't stay in the room. All I heard him say was, 'What did I do?' And once I heard that, I lost it," she said. On Friday, she asked other parents not to show the footage to their children. "I've never seen the video, but what I've heard it's very horrific, very horrific," Wells said. "And any of you who have children, please don't let them see it."
Shelby County district attorney Steve Mulroy said Thursday that the footage, which is a mix of body-camera and pole-camera video, would be made public at 6 p.m. CT on Friday.
The cops were fired, arrested, and charged with murder.
Following an investigation into the traffic stop, the five Memphis police officers — Tadarrius Bean, Demetrius Haley, Emmitt Martin III, Desmond Mills Jr., and Justin Smith — were fired January 20 for violating police policies regarding the use of excessive force, duty to intervene, and duty to render aid. On January 26, the officers, all of whom are Black, were subsequently arrested and charged with one count of second-degree murder, aggravated assault — acting in concert, and aggravated kidnapping, two counts of official misconduct, and one count of official oppression, according to Shelby County Jail booking records.
At a press conference Thursday afternoon, Shelby County district attorney general Steve Mulroy said he and the Tennessee Bureau of Investigation had worked "swiftly but also fairly" to indict the officers. "While each of the five individuals played a different role in the incident in question, the actions of all of them resulted in the death of Tyre Nichols, and they are all responsible," Mulroy explained. Tennessee Bureau of Investigation director David Rausch called the footage of the event "absolutely appalling." Rausch added that "I've been policing for more than 30 years. I've devoted my life to this profession and I'm grieved. Frankly, I'm shocked. I'm sickened by what I saw and through our extensive and thorough investigation."
Neither of the officials offered much more detail about what happened on January 7, however. Mulroy said that Nichols's most serious injuries were sustained in the second confrontation with officers and that there was "some period of time of waiting around" before Nichols was taken to the hospital by ambulance.
Mulroy also said Thursday that "it's my hope that if there is any silver lining to be drawn from this very dark cloud, it's that perhaps this incident can open a broader conversation about the need for police reform."
On Wednesday night, Memphis police chief Cerelyn Davis released a video statement in which she called what happened to Nichols "heinous, reckless, and inhumane," adding, "This is not just a professional failing. This is a failing of basic humanity toward another individual." She also called for protests over Nichols's death to remain peaceful, per CNN:
"I expect our citizens to exercise their First Amendment right to protest to demand action and results. But we need to ensure our community is safe in this process," said Davis, the first Black woman to serve as Memphis police chief. "None of this is a calling card for inciting violence or destruction on our community or against our citizens."
She also said other Memphis Police officers are still under investigation for policy violations linked to event. Additionally, two members of the Memphis Fire Department who were "involved in the initial patient care" of Nichols have been relieved of duty. It's not yet clear if anyone else will face criminal charges in the case.
CNN reports that in June 2020, amid the nationwide unrest following the police killing of George Floyd in Missouri, the Memphis Police Department updated its duty-to-intervene policy to state that "any member who directly observes another member engaged in dangerous or criminal conduct or abuse of a subject shall take reasonable action to intervene" and that they should also "immediately report" any policy violations or misconduct they see other officers commit.
What else do we know about what happened to Nichols?
Nichols was pulled over around 8:30 p.m. on January 7. The initial police report claimed that the stop was for suspicion of reckless driving and that there was a "confrontation" with Nichols, who then fled before there was a second "confrontation." After he was apprehended and taken into custody, the initial report said, Nichols "complained of shortness of breath" and he was soon admitted to a local hospital in critical condition. He then died January 10.
Davis said Friday that the department has been unable to find any evidence that Nichols should have been pulled over for reckless driving, telling CNN:
Where were the cameras? Was there some evidence on the body camera, on other cameras along those thoroughfares and we've taken a pretty extensive look to determine, you know, what that probable cause was, and we have not been able to substantiate that — it doesn't mean that something didn't happen, but there's no proof.
Nichols reportedly suffered from Crohn's disease and severe weight loss. His family has hired a forensic pathologist to independently determine how he died. The family's attorneys, Benjamin Crump and Antonio Romanucci, say that, according to a preliminary review, Nichols "suffered extensive bleeding caused by a severe beating." The Shelby County Medical Examiner's Office has not yet confirmed Nichols's cause of death.
RowVaughn Wells and her husband were finally able to see Nichols in the hospital after his encounter with the police, she said in a CNN interview on Friday, "he was already gone. They had beat him to a pulp":
He had bruises all over him. His head was swollen like a watermelon. His neck was busting because of the swelling. They broke his neck. My son's nose look like a S. They actually just beat the crap out of him. And so when I saw that I knew my son was gone, the end. Even if he did live, he would have been a vegetable.
Both the Tennessee Bureau of Investigation and the U.S. Department of Justice are conducting investigations into Nichols's arrest and death. Kevin G. Ritz, U.S. Attorney for the Western District of Tennessee, said Wednesday that the federal investigation will be "thorough and methodical" and that justice would be served.
This post has been updated throughout.