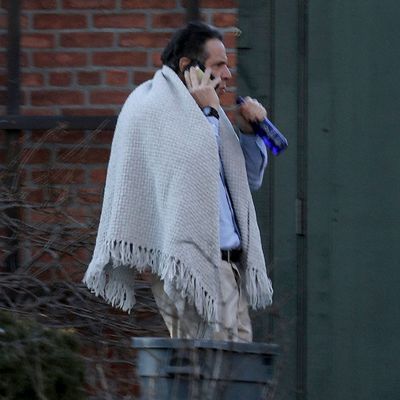 Fair warning to potential roommates: This is what it looks like when you tell Cuomo, "Make yourself at home."
Photo: Angus Mordant/REUTERS
Getting to live in the governor's residence is a double-edged sword: You reside in an actual mansion rent free, but if you do something terrible — like, let's say, sexually harassing nearly a dozen women — you may suddenly find yourself homeless. It's a problem New York governor Andrew Cuomo is currently grappling with following his announcement that he will resign on August 24. Cuomo has no home other than the Executive Mansion, and he'll soon be living off the $2 million he is still owed for his ill-advised COVID book and a $50,000-a-year pension (which the state legislature could potentially revoke).
"Uh, I don't know what I'm gonna do," Cuomo said when New York inquired about his future plans. "I'm not disappearing. I have a voice, I have a perspective, and that's not gonna change. And the details aren't really that important to me, to tell you the truth, you know? I'm a New Yorker, I've lived here, I've lived in Queens, I've lived in the city, I've lived upstate, I've lived everywhere, I came to Washington, so that's … I don't really care about that. I'll figure that out. And I think I did the right thing."
That's the spirit! Things may look a bit grim right now, but there are still plenty of affordable housing options available for a creative guy with a deep love for New York and a demonstrated talent for nepotism. Here are some places where he could crash while he plots his next move.
In Chris Cuomo's basement
When CNN anchor Chris Cuomo was diagnosed with COVID-19 in March 2020, he isolated from his family by moving into the basement of their Southampton home. It seems pretty swanky for a basement.
While the sight of his ex-governor brother sitting around in his basement would undoubtedly delight Chris, there are upsides for Andrew, too. Being hired as a cable-news commentator seems like one of his likeliest job prospects, and CNN already knows how to broadcast from the space.
In Gracie Mansion
Picture it: Neurotic, disgraced former New York governor Andrew Cuomo and fun-loving New York City mayor Bill de Blasio decide to live together. Sure, the two politicians have made it quite clear that they hate each other, but isn't this the Odd Couple remake New Yorkers deserve?
De Blasio will be moving out at the end of the year, but that shouldn't be a problem. Cuomo could either hole up in Eric Adams's rarely used basement apartment in Bed-Stuy or help Curtis Sliwa turn Gracie into an animal sanctuary. Captain could be one of these 12 lucky dogs!
In a van down by the Hudson River
Much like a character in the Fast & Furious franchise, Andrew Cuomo likes cars and is all about family. So what better way to combine these interests than to take up residence under the Tappan Zee Bridge, which the governor (sort of?) fixed up and renamed for his father in 2018. There are plenty of affordable camper vans for sale these days, and perhaps Cuomo could even get away with dipping into his $18 million war chest if he pretends it's a campaign bus. Then he'd just need to pick a spot under the Governor Mario M. Cuomo Bridge and enjoy the nightly light display (which isn't a light show choreographed to music because the younger Cuomo never executed his grand vision for a "Harbor of Lights" despite spending $106 million in taxpayer money on the project).
In a Taste NY Store
There are more than 72 Taste NY stores across the state. Surely one location could find some space for the guy who ushered these showcases for local food and beverages into existence? This could also solve Cuomo's employment problem. What's better than Cagey Moon Company wine-slushie mix? Cagey Moon Company wine-slushie mix sold to you by the former governor of New York.
In COVID mountain
Why does this physical manifestation of the metaphorical mountain that New Yorkers climbed while battling COVID exist? We may finally have an answer.