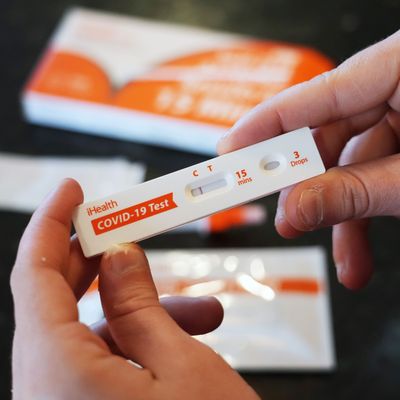 Photo: George Frey/Getty Images
Americans who want to get free COVID-19 tests mailed to them by the federal government are once again able to request them as of Monday, after the White House restocked the program for the holiday travel season and an expected seasonal rise in coronavirus cases.
At covidtests.gov, each residential household can order four free rapid antigen COVID tests, which will begin shipping on November 27. Those who did not order tests during the last round in September are allowed to order a total of eight tests.
When the demand for home COVID tests shot up during the Omicron surge, the federal government responded to criticism that it had not adequately prepared for the moment by making hundreds of millions of tests available to U.S. residents for free. Three additional rounds of free tests were later offered before the program was discontinued in May; a later round was provided to Americans in September as well.
Where can you order free COVID tests from the government?
You can order free COVID tests online at covidtests.gov. Just enter your first name, last name, and shipping address, then click "Check Out Now." You do not need to enter any payment information, proof of identity, or health-insurance information. There's an option to enter your email address if you want shipping updates. For this latest round of free tests, they'll begin shipping on October 2. In the past, tests have typically shipped within 7-12 days of ordering. They will be delivered by the U.S. Postal Service.
Tests can also be ordered via phone at 1-800-232-0233. The line is open 8 a.m. to midnight ET, seven days a week. It offers help in English, Spanish, and more than 150 other languages.
People with disabilities can call the Disability Information and Access Line at 1-888-677-1199 for help placing their orders.
Who is eligible to order free tests?
The tests are available for every residential address in the United States. You do not need to submit proof of citizenship or disclose your immigration status. Ordering free COVID tests does not make you a public charge and will not affect green-card applications, according to U.S. Citizenship and Immigration Services.
How many tests can you order?
Each U.S. household can place an order for a total of four individual tests. You do not get to choose which brand of rapid antigen test you receive.
If you have issues with your order or any other questions about shipping or eligibility, you can contact the USPS Help Desk at 1-800-275-8777.
What is the deadline for requesting more tests?
The Department of Health and Human Services says that the free tests will be available at least through the holidays, and longer if necessary.
Do the free tests still detect the newest COVID variants?
Yes, they should.
Where else can you get free COVID tests?
In addition to the four free home COVID tests that will once again be provided by the federal government, free COVID testing continues to be available through the CDC's Increasing Community Access to Testing program. A list of locations participating in that program can be found here.
This post has been updated throughout.