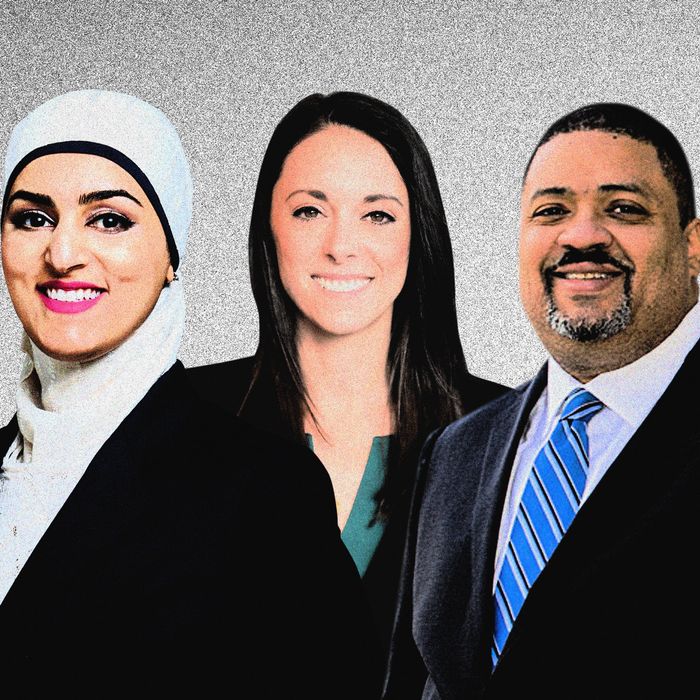 Dan Quart, Tahanie Aboushi, Eliza Orlins, and Alvin Bragg.
Photo-Illustration: Intelligencer. Photos: Courtesy of the Campaigns
Manhattan district attorney Cyrus Vance Jr. will leave office at the end of the year, and, for the first time in more than a decade, a new chief prosecutor will oversee the second-largest district attorney's office in the country. While political observers chew on every move the mayoral candidates make in the run up to the primary on June 22, the Manhattan district attorney's race has received considerably less attention, despite the fact that it could be just as consequential. Vance's replacement will be only the third New York County DA to occupy the office since Vance's predecessor, Robert Morgenthau, was first elected in 1975. Whoever wins will be responsible for a $169 million budget, 500 prosecutors, and will inherit some of the most high-profile cases in the country, including a criminal investigation into Donald Trump's finances.
For progressive activists, the prospect of electing a Manhattan district attorney in the mold of Philadelphia's Larry Krasner or Travis County's José Garza is the biggest opportunity for local criminal-justice reform in decades. It is entirely plausible that the next DA to occupy One Hogan Place will be someone who commits to "decarceral" practices like reducing the use of cash bail (or eliminating it altogether), decriminalizing sex work, and bulking up diversion programs. In fact, the only thing that may stop a criminal-justice reformer from locking up the district attorney race may be other progressives.
Criminal-justice-reform advocates generally agree that of the the eight Democratic candidates, four of them — Tahanie Aboushi, Alvin Bragg, Eliza Orlins, and Dan Quart — are the most likely to enact progressive agendas. As Gothamist noted, that agenda is defined more by what they won't prosecute (like sex work, drug offenses, and disorderly conduct) than what they will. Bragg, 47, is a lifelong prosecutor who most recently headed up the state attorney general's Office of Special Investigation, which prosecutes police misconduct. A Harlem native, Bragg has invoked his personal history, including an instance in which a police officer held a gun to his head, throughout the campaign to show his personal investment in criminal-justice reform. Bragg is the only Black candidate running, and, if elected, he would be the first Black Manhattan district attorney. He's gotten endorsements from Preet Bharara, his former boss at the Southern District of New York, and Gwen Carr, the mother of Eric Garner. Last Monday, Color of Change PAC, a group that has backed the campaigns of some of the most progressive prosecutors in the country, committed $1 million to Bragg's campaign. While other progressive candidates have backgrounds as defense attorneys, Bragg's experience managing teams of prosecutors was the key to winning an endorsement from Color of Change.
"We have to have someone with both the right lived experience and the right set of policies, but also experience in actually leading one of these offices and dealing with the tremendous pushback and challenges they will be getting from multiple sides," said Rashad Robinson, spokesperson for the Color of Change PAC. Robinson cited the experience of Wesley Bell, the prosecutor for St. Louis County, whom Color of Change helped get elected in 2018, as an example of the pushback a DA with no experience as a prosecutor might receive. After he was elected, Bell faced backlash from career assistant prosecutors and investigators, who voted to join the St. Louis County police union, before his first day on the job. The move sent a message to their new boss: They were not onboard with the reform agenda on which Bell had campaigned.
Of the candidates who have won major endorsements from progressives, Bragg is the only one with experience as a prosecutor. Aboushi, Orlins, and Quart have backgrounds in civil-rights and public-interest law. Aboushi, 35, runs her own practice. She represented Dounya Zayer, the woman shoved to the ground by an NYPD officer during the protests that followed George Floyd's murder last summer. The Working Families Party has endorsed Aboushi, which is a key advantage because voters will be able to vote for her on either the Democratic line or the Working Families Party line. She has also received endorsements from public advocate Jumaane Williams, and Representatives Jamaal Bowman and Rashida Tlaib. Aboushi, who is Muslim and whose father served a 20-year federal sentence for his involvement in the sale of untaxed cigarettes, recently told Intelligencer that she believed "it's not enough to be progressive anymore. You have to have been there and walked in the shoes of those impacted by this office."
Five Boro Defenders, a group of public defenders and civil-rights attorneys, ranked Quart and Orlins above Aboushi and Bragg as candidates who "would do the least amount of harm." Orlins has spent more than a decade as a public defender for the Legal Aid Society, and, though it may not help her on primary day, she has a bit of name recognition among fans of Survivor and The Amazing Race. According to her campaign, Orlins has now raised over $1 million from 9,500 individual contributions. Like Aboushi, Orlins is a strong proponent of decarceration, elimination of cash bail, and decriminalizing sex work.
Quart, 48, is a six-term state assemblymember representing the East Side of Manhattan who previously worked as a court-appointed criminal defense attorney and as a pro bono attorney defending tenants' rights and public lands. Quart's time in office has helped him build broad support — he received endorsements from major unions like the Communications Workers of America and the International Alliance of Theatrical Stage Employees, as well as nods from State Senator John Liu, Assemblyman John Kim, and Representative Carolyn Maloney.
Bragg, Aboushi, Orlins, and Quart would all represent a dramatic shift to the left of Vance. But the gift of plenty could also spell disappointment for progressives. The Manhattan district attorney is technically a state-run office. As such, voters will not rank their preferred candidates the way they will in the mayoral race, and many on the left fear the four will split the progressive vote.
"I was personally hoping that the organizations that were endorsing candidates would have a come-to-Jesus moment with all four of them and make a plan to back one candidate," one progressive organizer recently told me. "We thought we had learned a lesson from Tiffany Cabán's race." In 2019, Cabán, a public defender, lost the Democratic primary for Queens district attorney to Melinda Katz by just 60 votes.
In the event that progressive voters don't rally around a single candidate, it's likely that Tali Farhadian Weinstein would reap the benefits. Though Farhadian Weinstein, 45, recently spent two years serving as general counsel to Brooklyn district attorney Eric Gonzalez, a reform-minded prosecutor, she is considered by some to be one of the most conservative Democrats in the field. She has touted her work as the head of the Brooklyn DA's "post-conviction justice" unit, but that record has been questioned by civil-rights attorneys. She overlaps with the progressive candidates on issues like the elimination of cash bail, but she refuses to commit to not seek sentences over 20 years, and she claims she is the only candidate who will not fully decriminalize sex work, saying her office would lead a "victim-centered, offender-focused" approach.
Much of the criticism aimed at Farhadian Weinstein has come from her ties to the financial industry. As of January, the last filing deadline, Farhadian Weinstein had raised $2.2 million, far more than any other candidate. Much of that money was provided by donors on Wall Street, where Farhadian Weinstein's husband runs the hedge fund Saba Capital Management. (Her critics like to point out that she and her husband bought their Fifth Avenue penthouse for $25.5 million in 2012.) Farhadian Weinstein's connection to the finance world is especially concerning among those who saw a connection between Vance declining to prosecute Ivanka Trump, Donald Trump Jr., and Harvey Weinstein and the DA's willingness to take substantial contributions from the defense attorneys who represented them. For her part, Farhadian Weinstein has capped donations from defense attorneys at $1, and she insists that the money she has taken from the likes of Pershing Square's Bill Ackman ($70,000) or Citadel's Ken Griffin ($10,000) will not influence how she investigates Wall Street.
"I'm not the first person to have a spouse with interests and concerns of his own," Farhadian Weinstein said. "You cannot predict in advance who is going to be a defendant or a victim or a witness in a case, but it is predictable that the defense bar is going to appear in front of the district attorney's office."
The remaining three Democratic candidates who have experience as prosecutors — Lucy Lang, Diana Florence, and Liz Crotty — have all worked in the Manhattan DA's office. Lang, who placed second, behind Farhadian Weinstein, in a recent poll, is currently the director of the Institute for Innovation in Prosecution at CUNY's John Jay College. Florence previously oversaw the Construction Fraud Task Force under Vance, but left the job after accusations that she had withheld evidence. Crotty worked under Morgenthau before opening her own criminal defense practice. A self-described "centrist," she received endorsements from four police unions last week.
Polling in DA races is generally unreliable, and, with just one month until the primary, it's hard to say who is leading the field. Manhattanites may ultimately choose from a pool of attorneys whose names they've probably never heard before.
"A concern of mine is going to be a busy ballot, in a six-point font, on which almost all of the races will be ranked-choice except this one. You could have an error," said Christina Greer, professor of political science at Fordham University and host of the podcast FAQ NYC. The candidates have already squared off in one publicly televised debate and are now relying on mailers and door-to-door campaigning to establish name recognition, which is expensive. Indeed, the limited polling that does exist has Farhadian Weinstein, the candidate with the biggest war chest, on top.
"From my individual conversations with each of the progressive candidates, they all recognize what a threat Tali is," said Janos Marton, an attorney and criminal-justice-reform campaigner who dropped out of the race in December. "If we get polling down the stretch that shows her ahead, there may be a need to coalesce around the most viable candidate." Though that may be wishful thinking — in interviews, neither Orlins nor Quart said they expected any candidate to drop out or endorse someone else.
"I don't see anyone dropping out at this point," Greer said. "There are a lot of different shades of blue in New York City."