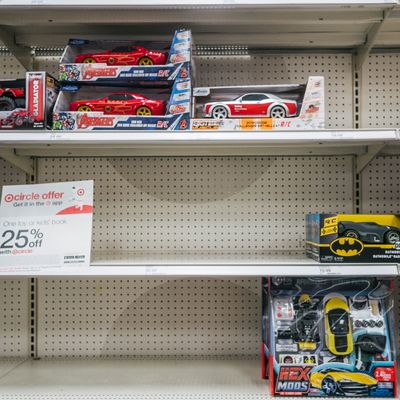 Photo: Brandon Bell/Getty Images
This year, two classic laments — "The holiday season keeps starting earlier and earlier!" and "Liberals are waging a war on Christmas!" — have partnered up and given birth to a new bundle of holiday hysteria. The result: Christmas 2021 is already ruined.
Ruined by what, exactly? Well, that's the fun part: You get to pick! At this early date, news headlines and TV chyrons are already offering plenty of reasons to believe that all our troubles will be far from out of sight come late December. The options below should satisfy all your holiday grumbling needs.
Supply-chain problems are ruining Christmas
Here's one way to look at our current predicament: We're still in the midst of a pandemic, which is causing nationwide supply-chain disruptions. This is a real problem with many serious implications. Still, while holiday shoppers may find that certain items are out of stock, American stores continue to sell a mind-boggling array of goods, and our toilet-paper supply is plentiful once again.
Here's another way to look at things, as reflected by this sampling of headlines from Wirecutter, BGR, and Bloomberg: The success or failure of Christmas 2021 hinges on your ability to obtain very specific items from your loved ones' wish lists by December 25.
Maybe the big guy has realized that those "Keep Christ in Christmas" bumper magnets aren't doing the trick, so he's trying to send us a sign about our profligate holiday habits? Nah, Fox News is pretty sure consumerism is the real reason for the season:
Joe Biden is ruining Christmas
So what exactly is causing the supply-chain issues? According to Recode, "these shortages and delays are the product of many crosscutting problems that have existed for years, including the COVID-19 pandemic, rising consumer demand, and a global and highly optimized manufacturing network that doesn't adapt to change quickly."
Sorting out what all that means seems hard and potentially boring. But you know what seems easy and potentially fun? Blaming Joe Biden. The House GOP tried it out on October 13:
But it's a bit hard to make a villain of "the guys" stealing Christmas when you don't name him or post a photo of his face.
So Republicans puzzled and puzzled 'til their puzzler was sore. Then they thought of something they hadn't before. What if Christmas, they thought, comes from a store? What if Christmas, perhaps, means little more?
A few days later, the Republican Study Committee, the biggest GOP caucus on Capitol Hill, sent lawmakers a memo advising that they blame "grinches" in the White House for spoiling everyone's fun.
Vaccine mandates are ruining Christmas
While many on the right have taken up the #EmptyShelvesJoe narrative, the Washington Times found a more creative way to blame Biden for the impending mega-crisis. An opinion piece by Kelly Sadler argued that Biden-supported vaccine mandates "have the potential to cripple our travel and health-care industries, increase crime rates in our cities, and weaken our educational system." While the headline warns that "Biden's mandatory vaccinations will ruin Christmas," only one line — "Good luck flying home for Christmas" — explains how these predicted consequences will directly affect the holidays, and the guy in the illustration isn't even wearing a Santa hat.
Dr. Anthony Fauci is ruining Christmas
Even Dr. Anthony Fauci, director of the National Institute for Party Pooping, says that vaccinated Americans can expect a relatively normal holiday season this year. After some initial confusion regarding his stance on December gatherings, Fauci told CNN on October 4, "I encourage people, particularly the vaccinated people who are protected, to have a good, normal Christmas with your family."
Nevertheless, in mid-October Donald Trump's Save America PAC announced that a donation of at least $25 would be rewarded with a pair of "How Fauci Stole Christmas" stickers.
"Friend, FAUCI IS A GRINCH. He is trying to CANCEL Christmas. He is trying to CONTROL your life, Friend," read the letter announcing the promotion, per 1010WINS.
Friend, this doesn't make a lot of sense.
Climate change is ruining Christmas
All this worrying about what gifts will or will not appear under the tree may be moot come December. This summer, Vice began sounding the alarm on how extreme weather is threatening Oregon's pine-tree crop this year:
If you're thinking, "fine, I'll just go buy a fake tree then," it seems you've already forgotten about the No. 1 thing ruining Christmas this year:
December 25, 2021 is shaping up to be a day when we all just spend time with our loved ones, playing with the stuff we already own. Bah humbug.