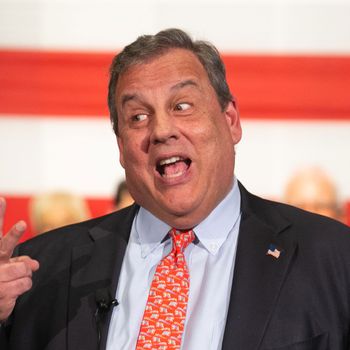 Photo: Aristide Economopoulos/Bloomberg via Getty Images
Chris Christie, the former governor of New Jersey, officially launched his 2024 presidential campaign on Tuesday night. This raised a lot of questions, like "What is Christie thinking?" and "Who asked for this?" While I can't speak to the former question, the answer to the second is it's me, Margaret. As one of the dozens of Americans who's pumped for the Christie 2024 campaign, allow me to explain my reasons for supporting him (in spirit — I can't actually vote in a GOP primary).
.

I have a soft spot for tough-talking tristate Republicans.
As a child growing up on Long Island in the '90s, then-Mayor Rudy Giuliani was a comforting presence on the local TV news. In light of recent events, this seems insane. But "America's Mayor" primed me to feel a swell of relief and regional pride anytime a moderate tristate Republican pops on a windbreaker and takes charge of a crisis, or rudely dresses down a constituent in the name of keeping it real.
Chris Christie was the platonic ideal of this sort of politician. He didn't just politely implore his constituents to follow evacuation orders before Hurricane Irene, he told them to "get the hell off the beach." He regularly berated hecklers without spilling whatever foodstuff he was holding at the time.
And after Superstorm Sandy, he staged a bipartisan windbreaker moment so powerful that it got Barack Obama reelected (allegedly).
Should I be impressed by all this amusing bluster? Probably not. But hey, I tell it like it is.
.

Christie's campaign makes me feel nostalgic.
Speaking of the phrase "Tell it like it is," Christie is reusing that theme from his failed 2016 campaign. While the 2024 campaign's official slogan is "Because Truth Matters," the super-PAC supporting his new bid is called Tell It Like It Is, and his campaign website prominently features this line: "The Truth Matters. Chris Christie believes in it, champions it, and isn't afraid to tell it like it is."
Christie isn't just recycling rhetoric from his last campaign. In the 2016 race, he went all-in on New Hampshire, only to drop out after finishing sixth in the first-in-the-nation primary. As CNN put it at the time, "wounding" Marco Rubio during a debate at Saint Anselm College "would be the extent of his accomplishments in New Hampshire."
Christie clearly wants to remind people of his 2016 campaign's sole high point; he announced his 2024 bid at the same college where he trounced Rubio. But as the Florida senator himself reminded everyone on Twitter last night, he flopped hard in 2016 for reasons that had nothing to do with Christie:
I don't think any of us want to relive the 2016 election, but I'm happy that Christie is giving me an opportunity to revisit some of its more hilarious feuds and petty insults.
.

He's bringing back the Mooch.
This Christie-led romp through the lighter moments of our nightmarish recent political past actually started last month, when Semafor reported this "SCOOP": "Hedge fund founder Anthony Scaramucci plans to back former New Jersey Gov. Chris Christie in the Republican presidential primary."
You know the old saying: As the guy who served as White House communications director for 11 days goes, so goes the nation.
.

I can reuse my old Bridgegate jokes.
While writing about politics is a dream job for me, there are some difficult aspects, like having to learn the origin stories of various candidates who definitely aren't going to be president. (Did you know that Vivek Ramaswamy is only 37? Unfortunately, I did.)
Christie 2024 makes things easy for me. After covering the 2016 campaign, I already have his spiel about growing up with an Irish father and a Sicilian mother memorized. I know all about his mostly unreciprocated love for Bruce Springsteen and why it was "time for some traffic problems in Fort Lee." I even remember that time he bragged about Donald Trump forcing him to eat meatloaf at the White House.
And Christie has promised that his 2024 campaign will give me plenty of new material to work with. "If I get into the race, I'll make it interesting," he said this spring.
.

I appreciate Christie's commitment to his Kushner beef.
People who live in glass houses shouldn't throw stones. The same is true of politicians who were embroiled in multiple scandals, including one that generated incredible photos of them lounging on a shut-down public beach.
Nevertheless, during his Tuesday night town hall, Christie tore into Trump and his family members for their scandal-plagued White House tenure and perpetuated his long-simmering feud with Jared Kushner. (Christie prosecuted Kushner's father in 2005, while serving as U.S. attorney; Charles Kushner served more than 16 months in federal prison and Trump pardoned him in 2020.)
"The grift from this family is breathtaking," Christie said in New Hampshire. "It's breathtaking. Jared Kushner and Ivanka Kushner walk out of the White House and months later get $2 billion from the Saudis."
"That's your money he stole," Christie continued. "That makes us a banana republic."
Christie has a point, though the fact that he put a fellow presidential candidate's family member in prison also feels a little banana republic–y.
.

Christie doesn't like Donald Trump (anymore).
Chris Christie and I agree on one major point: Donald Trump should not be president. The difference between us is that I have always known this, while Christie came to his realization a little later. No, not when Trump trounced him in the 2016 race. Or when Trump fired Christie as head of his White House transition team, possibly over cell-phone germs. Or even after Trump failed to tell Christie he had COVID during their 2020 debate-prep sessions, and the former governor landed in the ICU. Christie only turned on Trump when he refused to concede the 2020 election to Joe Biden.
So I'm not that impressed by Christie's judgement skills. But it's nice to have another explicitly anti-Trump candidate running for the Republican nomination, especially because Asa Hutchinson can't serve up insults like this:
.

There's no chance he'll actually be president.
Aside from being vociferously anti-Trump, I don't know where Christie stands on any of the issues. And it doesn't really matter. That one point makes Christie my favorite GOP candidate, and ensures he won't win the Republican nomination.
And what if the 11 other Republican candidates fall victim to 11 separate misfortunes and are unable to stay in the race? Well, I'm not that worried about President Biden's ability to beat the former governor. In 2017 Christie's approval rating among New Jersey residents hit 15 percent, making him the least popular governor of the last 20 years, in any state, as measured by Quinnipiac. And all Christie has done since then to bolster his resume is enable Trump from the sidelines.
So much like Chris Christie during New Jersey's 2017 shutdown crisis, I plan to spend the next few months lying back in my chair and basking in the warm rays of this entertaining-yet-doomed 2024 bid.