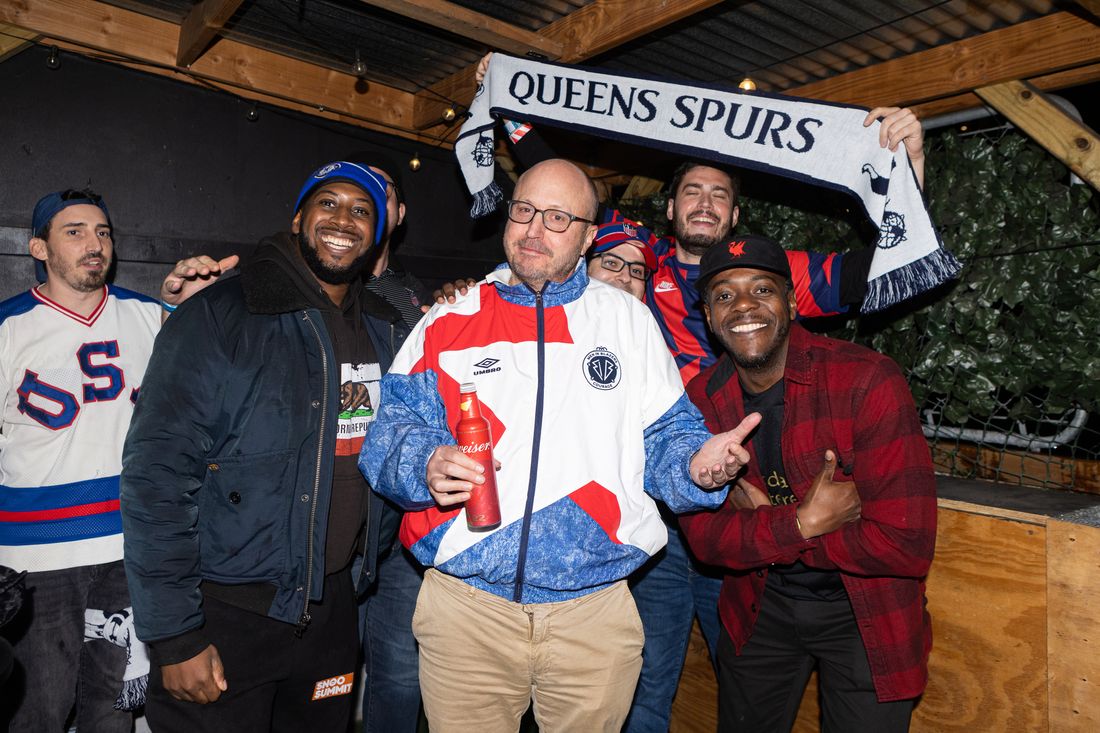 Photo: Courtesy of Roger Bennett
I'm humanly falling apart," says Roger Bennett, co-host of the soccer podcast Men in Blazers, who is sitting in a red leather banquette in a train station turned pizza bar next to the Metro-North stop in Mount Kisco. He's back for a 36-hour window between stops on the show's tour for the World Cup, rejoicing with fans across the country over the U.S. men's team's breaking into the elimination stage for the first time in eight years. He was hoping to get some rest at his home in Westchester, but upon arrival from Austin late the previous night, his dog, a Lagotto Romagnolo named Martin Scorsese, took a dump in its crate. Between the cleanup, the bath, and preparation for the three episodes he needed to record that day, Bennett managed just a couple hours of sleep. "A hero's welcome," he says in a flourish of British self-effacement.
For 12 years now, Bennett and his co-host, Michael Davies, two bald guys in their 50s, have been the poster children for soccer's growing popularity in the States, English-splaining the extremely lucrative Premier League to American audiences while evangelizing for the U.S. soccer team. "It's a Star Wars cantina, football," says Bennett, who even in person is a font of pop-cultural references that attempt to close the gap between the sport and entertainment-addled Americans. "If you just wander in, you won't last very long. But if you have someone guiding you, it's so illuminating and life-affirming and innovative and all that crap."
They've got fans in high places: If you're a famous American and you want to show off your love of the game, you go on Men in Blazers. For the U.S.-versus-England stream, Matthew McConaughey, the co-owner of the MLS team Austin FC, signed on to push the guys to "find their frequency." Power brokers stop by, too. "When historians look back to see how soccer went from being a 'foreign' sport in the U.S. to become a mainstay in this country, Roger will be a big part of the reason," says Ron Klain, the White House chief of staff and a guest at a recent live show in Washington, D.C.
It's a mistake of history that such a champion of U.S. soccer was born in Liverpool. According to Bennett-family lore, his great-grandfather was a kosher butcher in central Ukraine who boarded an ocean liner thinking he was headed for New York, only to disembark in the sooty heart of England. In his best-selling memoir, (Re)born in the U.S.A., Bennett recalls an '80s childhood during which he was so obsessed with American pop culture that he had the Stars and Stripes painted on the wall of his bedroom, an unusual choice for a middle-class Jew growing up with a conservative father in Thatcherite England.
In 1993, Bennett flew to Chicago without any objective other than to make it in America. "I've never been a very good long-term planner," he says. Still, he did all right, working his way up to a position as vice-president for Andrea and Charles Bronfman Philanthropies, the charity wing of Charles Bronfman's business empire, which once included ownership of Seagram and the Montreal Expos. The billionaire also co-founded Birthright, the Zionist organization that pays for members of the Diaspora to visit Israel. When asked about the years he spent working with Bronfman, Bennett demurs. "It took me a long time to work out what I wanted to do and where I wanted to be," he says, switching from black coffee to a glass of Chianti. "When I was working — that was all just trying to find the thing."
At a bar in Washington, he met his wife, Vanessa Kroll, the sister of the comedian Nick Kroll and daughter of the corporate-intelligence billionaire Jules Kroll. (His firms have been hired for jobs ranging from chasing down the riches of Saddam Hussein to digging up dirt on a Harvey Weinstein accuser.) "Have you ever seen Hart to Hart?" he asks, referring to a detective-romance show from the early '80s. "It was just like that. 'When they met, it was murder.' I met her at a bar, and that was it. Very, very quick." They've got four kids now, all effortlessly American. "When I hear my kids' accents, I never get tired of that," says Bennett, who officially became an American citizen in 2018.
He got a foot into the soccer world blogging the 2006 World Cup for The New Republic. But his career in sports talk didn't begin in earnest until the day of the final between Italy and France, when he was forced by his wife to abandon the match for a wedding on a boat in New York Harbor. "How many World Cup finals will we have in our life?" he asks, getting emotional. "I feel this very strongly." It was there that he met Davies, a fellow British expat torn between duty and international soccer. "Rog was dressed, if I remember right, in winter clothes," Davies says. "Summer is not really a Rog season. He was wearing a very thick winter suit. Potentially a trilby or some form of hat as well."
The pair hit it off, which was good news for Bennett. Davies is a television producer — you can thank him for bringing Who Wants to Be a Millionaire to this side of the pond. (Between live shows and tapings for Men in Blazers, he is serving as the executive producer of Jeopardy! and is about to launch Amazon's Sports Talk programming.) When he met Bennett, Davies was running a World Cup blog on ESPN. In 2010, he called up Bennett to see if he'd tag-team the South Africa World Cup coverage. From there, the two haven't stopped talking.
"The timing was pretty wicked," Bennett says. "We started talking about football just when football was really about to take off. We got on the medium of podcasts just when podcasts were really about to take off."
With a young and talented U.S. men's team, Bennett hopes the 2026 World Cup — held in Mexico, Canada, and the States — is an opportunity for the team to find a place in the heart of his new home nation. (The women are already thriving, having won four World Cup titles.) "The U.S. right now, we have unbelievably good individual players for the first time ever," he says. "Like, they are really young, peerless, fearless."
If ratings this year are an indicator, the sport still has a long way to go. The second-largest American audience for a men's soccer game was recorded when 15.38 million viewers tuned in to the 0-0 draw between England and the U.S. in the group stage — an impressive number, though it falls short of a regular old NFL game by about 8 million. Soccer already has a thriving audience among communities with roots in Latin America that prefer to watch leagues like Mexico's Liga MX, but Bennett caters to a different sort of viewer, one who likes his football served with a genuine Liverpudlian cadence and who is increasingly associated with the sport as a whole: white, urban, affluent. The podcast is called Men in Blazers, after all.
That audience, for better or worse, is the promised land for advertisers, and Bennett thinks he can get there. "The American football story has been like the biblical story of Genesis," he says, mimicking a conversation between Moses and Aaron: 'Hit that rock.' 'Why would I hit that rock?' 'Trust me, water will come out.'" The passage he's referring to is from Numbers, but who cares? The point is that we have to believe.