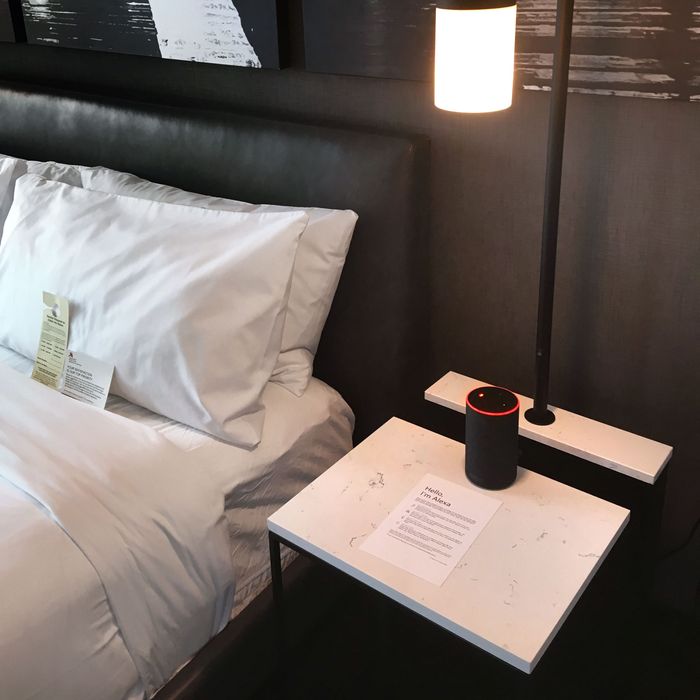 Amazon has partnered with Marriott to build hotel-specific devices.
Photo: Mack DeGeurin
This morning, Amazon announced a partnership with Marriott International to make its Echo devices standard across many of their rooms. Marriott is the world's largest hotel company and now a major player in Amazon's quest to dominate the smart-home market.
The service, called Alexa for Hospitality, lets hotel guests use Amazon's virtual assistant to control their hotel room and provides conciergelike services. Each room has its own Echo device that connects to the hotel's Wi-Fi network and can control hotel room settings like turning on the lights, adjusting room temperature, watching TV, or playing music. Alexa can also connect guests to hotel front offices to order room service, check facility hours of operation, and extend travel stays. The service will launch this summer in select locations.
Guests cannot currently log in to their own Amazon accounts when using Alexa for Hospitality, but the company says that it's working on a version that would allow Amazon customers to log in to their own accounts to access their music, movies, podcasts, and other personalized digital media.
This is not the first time hotels have flirted with the idea of smart-room integration. Hotels like the Aloft boutique chain started using Apple's Siri in 2016. Meanwhile, Google is actively working with start-ups to integrate Google Assistant into concierge services. Hotels have also experimented with Amazon's echo device. Since Amazon first announced its plans to pursue hotel markets last November, several hotels, like the Wynn in Las Vegas, and some Best Westerns in Texas, have experimented with Alexa incorporation.
This most recent partnership, however, marks a potential turning point for Amazon's smart hotel ambitions. According to previous reports, Marriott International was torn between Amazon's Echo and Apple's HomePod. The Amazon win gives Alexa a sizable lead over Siri as the two virtual assistants fight to expand their reach.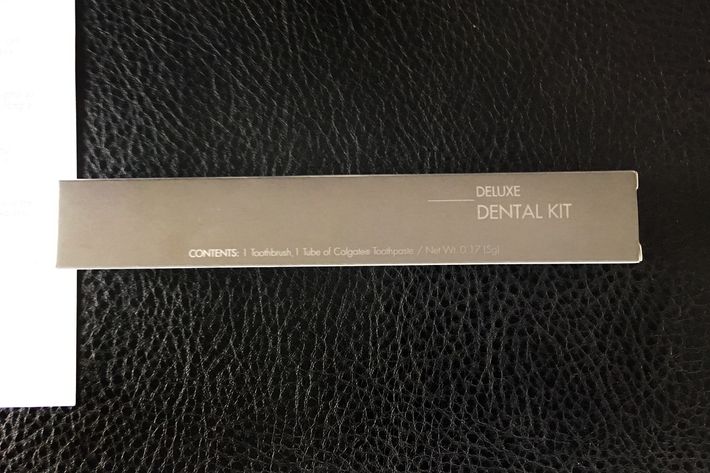 The integration of virtual assistants into hotels is just one branch of an ever-expanding tree of new industries for Amazon. In the past year, the company also beat Apple to partnerships with home developers to install Alexa as early as the construction process.
"One of the main veins of feedback that we are hearing over and over is that customers want Alexa in more contexts," said Daniel Rausch, Amazon's vice-president of smart home.
Amazon has already reported some early success with its Amazon for Business venture released earlier this year. Amazon did not respond when asked what other industries they hope to expand Alexa to next .
Navigating Privacy Concerns
According to Rausch, hotels using Alexa for Hospitality will "have access to anonymized and aggregated data about how guests are using Alexa in the hotel room." Access to this data could help hotels see what their guests are searching for most (like restaurants or activities), and use that data to allocate more resources to improving their services.
When explaining how hotels can monetize Alexa searches, Amazon appeared acutely aware of a post–Cambridge Analytica anxiety over privacy concerns and data collection. On June 15, Amazon was itself pressed on privacy issues from members of the U.S. Senate after an Echo device reportedly recorded an Oregon couple's private conversation and sent it to one of their contacts without their permission.
Amazon stressed that hotels using the Alexa for Hospitality service do not have access to an individual's voice data from any specific room, and said that all voice recordings are deleted daily. For added security, Amazon said Alexa for Hospitality devices will notify staff anytime Alexa goes offline, will only work on the hotel's Wi-Fi network, and cannot be factory reset.
While a growing number of consumers are becoming accustomed to voice-assistant technologies, the thought of an eavesdropping hunk of plastic still leaves many with a sense of unease. To this end, an Amazon spokesperson said Alexa for Hospitality devices are muted by default and required guest consent before use. The spokesperson categorized Alexa for Hospitality as an "opt in" experience.