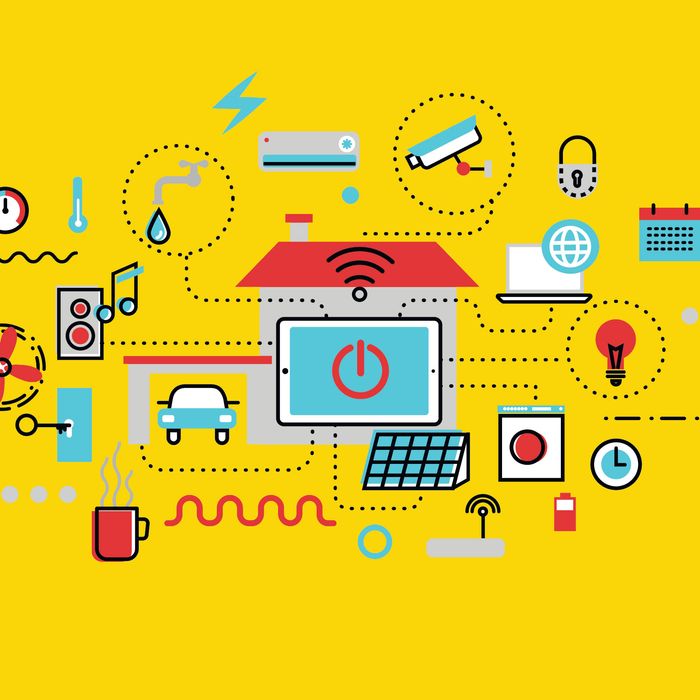 Illustration: Art Rose Studio/Getty Images
Smart homes, like people, come on a spectrum of intelligence. Some homes are smart like that kid in your high school who threw a house party without his parents finding out — and some of them are smart like Stephen Hawking.
Setting up a decently clever home isn't difficult these days, if you have the money. A little online shopping and a few hundred dollars will bring a delivery truck to your door laden with components that work out of the box: connected thermostats, light bulbs, vacuum cleaners, door locks — the works. If you buy the right combination of things, they'll play nice with one another, and maybe even your smart speaker of choice.
But some smart homes take things way further. Their creators have spent months or years (and some more than a decade) fine-tuning custom automations that adjust every aspect of their homes, often without so much as a tap or a voice command.
"Most people are just trying to turn on kitchen lights from their iPad," said Jason Langone, a marketing executive at a technology company called Nutanix. "Yawn."
I spoke with Langone and two other automation enthusiasts about the homes into which they've poured their time, energy, and more than a little savings. Using open-source software and technical skills, they've personalized their smart homes far beyond what would be possible with an Amazon Echo, a few Nest thermostats, and smart lights. But getting to their level requires an appetite for tinkering — it's not for everyone.
The homes profiled below might be among the more sophisticated, tailored smart homes out there — but these homemakers' hobbies are growing steadily less niche. More and more connected devices are entering the market, and their prices are quickly decreasing.
Jason Langone — Alexandria, Virginia, and Eastern Shore, Maryland
Having a second home on Maryland's beautiful Eastern Shore is no hardship, but getting there from the D.C. area can be a headache: In traffic, the drive can take as long as three-and-a-half hours. But to ease the trip, Langone's home-automation systems prepare his vacation house for arrival, like house-elves setting everything in order before disappearing underground.
Without even a text or a call ahead — Langone's location, tracked on his phone's GPS, is enough — the home will adjust its temperature and begin releasing a relaxing scent of cedarwood and cinnamon. As Langone pulls into the driveway, the garage door opens automatically. If it's daytime, the espresso machine will be ready to pull invigorating shots; if he arrives after dark, chill music will be playing, and the pier lights will be on.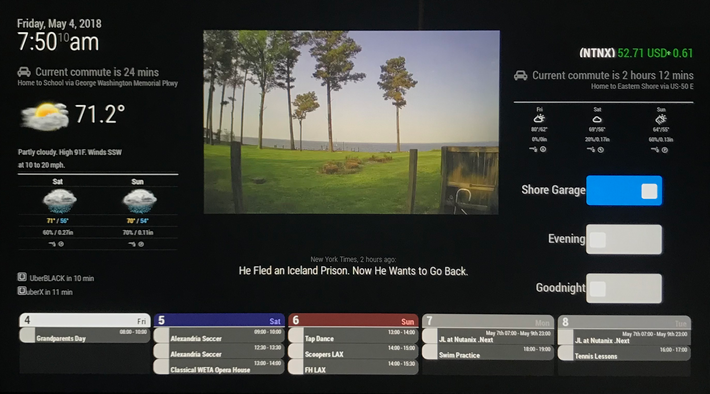 The centerpieces of Langone's setup are a pair of large touchscreens he calls "family boards." On the screen in the main house in Alexandria, a slideshow of video feeds from the vacation property flips through enticing scenes. Down the left, commute times to the kids' school and the vacation house update according to traffic conditions. The bottom of the panel is populated with Uber wait times. "In case I have friends over, they know how much time they have for another drink," Langone said.
Langone's smart homes are the result of months of work, mostly in the productive hours after his family has gone to bed. But you won't be able to just raid Best Buy for parts and set up the same thing at your place: A lot of customization went into Langone's automations. He's selected only "open" parts and software — that is, components that can easily be controlled by open-source software, unlike proprietary devices from big players like Google's Nest thermostat and Amazon's Ring doorbell. "The recipe of openness also allows for easy portability, or to swap in new components as technology emerges," Langone said.
The most important thing to Langone is ease of use. "To me, [home automation] that requires you to push a dozen virtual buttons, tweak a dozen virtual knobs, and open a dozen different apps to make anything happen becomes a burden," he told me. The hard work went into designing the systems, stitching together open-source software packages to create the routines that now fire without his having to do anything at all.
James Music — Spring Hill, Florida
When Music walks into his home office, motion sensors tip off receivers in the room to his presence, and the lights, a fan, and his stereo flip on in quick succession. When he walks out of the office, it all goes dormant once again. (As a proof-of-concept, he created a similar system that detected his presence based on a Bluetooth beacon he slipped into the stitching of his house slippers.)
"There really isn't any need for the physical switches in my home anymore," Music said. "They rarely get any actual use." If he wants to wreak havoc in other parts of the house from inside his office, Music can just pull up a 3-D scale model of his home on his enormous TV that doubles as a computer monitor. There, he can zoom in to any individual room in the house and click around, turning lights, TVs, and fans on and off like a crazed kid playing The Sims.
Music, a security officer who lives with his wife and four kids, started automating his home years before the first Nest thermostat or Amazon Echo hit shelves. Rather than stitching together components over the internet, as many commercial smart-home systems do now, he started out more than a decade ago using technology that was then state-of-the-art: a system called X10 that first came into use in the 1970s. X10 allows electronic devices to communicate with one another through the wires that connect a home's electrical outlets, sending and receiving short bursts of data over power lines. Despite being an old system, it's still got a dedicated fan base (Music still uses it to control desk fans).
He built a dashboard to keep an eye on every facet of the home and the people in it. It can tell when each of the members of Music's family are home or away, show the battery status of his family members' phones, play feeds from security cameras, and count the number of deliveries on the way or waiting in the mailbox. (Music complains that he'd never be able to create personalized alerts like these on popular home speaker platforms: "Why are these smart speakers so dumb?")
But Music's favorite automation isn't a flashy routine that sets mood lighting or puts the house into party mode; it's one that keeps his energy bills low. His kids like to blast the AC on warm days. (Summer in Spring Hill, Florida, where the Music family lives, can easily climb into the '90s.) But like Hal in 2001: A Space Odyssey, the house won't let the kids get away with just anything.
"My son could go turn the AC to 65, but as soon as he walks away from the thermostat, it will change it right back up to 73 again," Music told me. "No need for a thermostat lock box. Just give the user the illusion that they can change it to what they want."
Vivek Bhargava — San Francisco Bay Area, California
When I climb into the driver's seat of a car, it takes me a little while to start it. There's some futzing about to be done first, and it's mostly phone-related: I start up navigation on Google Maps, queue up some music on Spotify, plug the thing into a charger, get it connected to the Bluetooth stereo …
When Vivek Bhargava climbs into the driver's seat, there's very little futzing at all. He places his phone into a holder in his Nissan and plugs in the power and aux cables, and a custom automation he designed takes over from there. When his phone sees those two cables plugged in and knows it's in his car's phone dock — there's a small sticker on the dock with an NFC chip that can communicate with the phone — it launches a routine that turns up the volume, activates an app that reads out caller IDs and texts as they come in, starts logging his car's fuel levels, and plays a Spotify playlist. (The playlist is called "Vivek Toe Tapping," and it kicks off with some Zeppelin.)
There are two NFC stickers on his house, too: one on either side of the front door. When he gets home, he taps his phone to the outside sticker, kicking off the arrival workflow he's set up in a program called Tasker. That turns his phone's Wi-Fi radio on, turns on some entry lights, and tells Bhargava's Nest thermostat that he's home.
When he's leaving on his own, he taps the NFC tag on the inside of the door, alerting his home-automation system that he's heading out — but the dog isn't. The system checks to make sure the doggy door is open and the bathroom and bedroom doors aren't, and warns Bhargava (who asked to be identified only by his first and middle names) over the in-ceiling speakers if something's wrong. The system leaves a few lights on for the dog, and arms the security system — but not the motion detectors.
"The whole house is controlled either via automated rules or by voice," Bhargava said. "We rarely use our hands to turn things on or off." In the winter, when Bhargava is a few miles away from home, his GPS location will prompt the thermostat to start heating up the house and the outside lights to flick on. In the morning, when Bhargava turns off his alarm, he's automatically treated to a readout of the weather forecast and the state of his car's gas tank. His bathroom lights turn on, and music starts playing.
He's gotten his family on board, too. "They cannot live without it," he said. "At least without massive complaints."