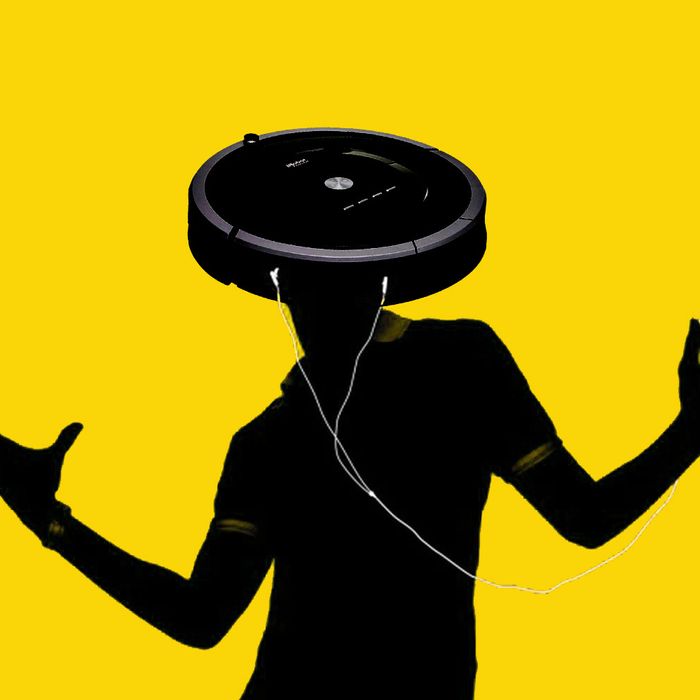 Photo-Illustration: Select All; Photos: iRobot; Apple
What's hot, DJ Roomba?
Such iconic lexicon was birthed from the geniuses writing for Parks and Recreation in its second season, where one of the show's lead characters, Pawnee government employee Tom Haverford — a man whose delightful frivolity fueled many episodes' exploits — straps an MP3 player to "one of those floor cleaning robots." Hell, Tom's not even sure if the robot actually does anything, cleaning-wise. He just wants it to "cruise around and play music" in his closet for the sake of showmanship, crumbs and dust be damned.
DJ Roomba, tearin' it up!
I've thought a lot about DJ Roomba in the subsequent years following that episode, mostly because (1) it's very silly and (2) I've always believed, in the back of my mind, that I could build one myself and have some fun doing it. But my colleagues at Vulture, ever so rudely, never gave me the opportunity to let my inner Haverford flag fly and test it out for myself. (Also, fully building a DJ Roomba costs around $700. Maybe that's why they didn't let me do it. Who can say for sure.) Thanks to relentlessly pestering the editor of this pop-up blog since his recent arrival two cubicles down from me, though, the dream was soon going to become a reality. He liked the idea! [Editor's note: It's fine.] Test products would be sent! DJ Roomba would be tearin' it up around NYMag HQ!
Or would it? Let me tell you, readers, this isn't some "technology is fun!" giggle fest that's going to shower the autonomous vacuum industry and/or NBC with praise. As someone who considers herself to be adequate at handling tech, perfecting the optimal DJ Roomba took about a week of blood, sweat, and occasional dirty looks from colleagues, many of whom were close to going to HR when the fourth "Moving in Stereo" song loop kicked in to measure sound quality. I deemed the task impossible on a few occasions. I kicked the Roomba once.
And yet, here we are. If Tom Haverford could build one, so could I. My journey to create a DJ Roomba both genuinely useful in cleaning and playing some sweet, sweet tunes — Tom's soundtrack of Snoop Dogg was mostly replaced by the aforementioned Cars — was a success, with the end result being a remarkable feat of what one can accomplish in this era of burgeoning smart technology. From start to finish, I've detailed my process below. Whether it reads as a warning or an inspiration is up to you.
If I'm going to build an iconic DJ Roomba, it needs a speaker that stays upright without falling or wobbling. Plus, it has to maintain excellent sound quality and structural integrity with the Roomba throughout its entire office voyage. (I'm not going to prop it up with tape if need be. How passé.) Another thing to note: Would my colleagues respond to their new office BFF (or enemy) like an overjoyed Donna Meagle or a royally pissed off Mark Brendanawicz?
First
Things
First:
The
Roomba
I must hand it to the Roomba — I didn't have too much difficulty with this fella, despite its penchant for nibbling at power cords a little too much for my liking. The Roomba's spherical shape can comfortably hold any small- to medium-size speaker, so the diameter was never a problem with the devices to come. The setup, too, was easy, and I was able to get it up, running, and docked next to my cubicle in about 20 minutes. The sole quibble comes down to the sound it generates. This isn't a silent vacuum, nor is it incredibly loud — but its constant sonic sweeping purr is enough to raise the eyebrows of even the chillest colleagues, and distort even the gnarliest of Greg Hawkes's keyboard solos. It soon became clear that the winning speaker would not only have to emote crisp sound, but powerful sound as well. Oh, also, Parks and Rec definitely utilized some editing magic to get a more desirable sound in DJ Roomba's intro scene. I call bullshit, Mike Schur!
Second
Things
Second:
The
Speakers
Since I'm technically writing for a technology vertical, all of the chosen speakers had to fit two criteria: They're "smart" and can be controlled without stopping the Roomba, and they could be reasonably found in someone's home if you were to visit. (Sorry Tom, we love your iPod and portable plastic charging station, but 2010 called and it wants to warn you about streaming services.) The following devices were deemed worthy enough for our experiment: Echo Dot, Google Home, and the JBL Link 10. The HomePod, Sonos One, and Google Max were also considered — and while they sound great, they're far too heavy for the Roomba, and we couldn't find a good enough portable battery pack for them that didn't break our other methodologies. Also, the Roomba would've likely been crushed to death. Think of the machine!
Due to song licensing, we can't show you any videos of DJ Roomba grooving between my colleagues' desks. However, we have embedded the playlist below. If you start listening right now, it'll sync up perfectly with the rest of the article.
Here's a fun fact. Did you know that Echo products have to always be plugged into a power source to perform their Echo duties? In the year 2018, where automatic cars are killing people and Echos themselves are potentially gaining sentience? I sure as hell didn't. I thought, ever so foolishly, that I could still make it work and create the coolest device this side of the Mississippi — cords be damned! — but it was a slow spiral into the sonic abyss from minute one. The cord doesn't extend more than a few feet, making itself prime Roomba bait for munching. And if the Roomba doesn't want to munch, it wants to wrap the cord around its metal exterior and turn it into a necklace. (At least, I hope it was a necklace and not a noose.) But worst of all, the sound quality is terrible for Echo Dots. Even at the highest volume, the virtuosic "You're All I've Got Tonight" sounded like a live bootleg version and could barely permeate above the sound of the Roomba. It didn't take more than two rounds of Ric Ocasek crooning "Well you can mock me and I don't care" to deem this a failure, irony of the song choice be damned.
Colleague annoyance level: None detected yet in the immediate cubicle area. They just couldn't resist the novelty factor of our new little robot pal! That, or they really like Ric Ocasek's voice.
"Smart" thoughts: In order to operate an Echo product, you have to download the official Amazon Alexa app on your smartphone. I have limited data and space on my iPhone as it is. But from start to finish, it took about 15 minutes from download to Spotify-playing, and I was soon screaming fun phrases like, "Alexa, play DJ Roomba playlist!!!" (As with virtually all smart devices, you can connect to any music subscription you subscribe to. I just happen to use Spotify Premium.) A savvy user can also control their Roomba via Alexa. There were no inherent difficulties. Shame about the cord, though.
Final rating: 1/5 Soulja Boy Tell 'Ems
🍅⚪️⚪️⚪️⚪️
Attempt
No.
2:
Echo
Dot
With
Portable
Battery
All right, you live and you learn. Three days pass. Realizing that reliving the cord nightmare with a regular Echo would again be futile, a docking station was instead ordered to transform the Static Echo Dot into a Portable Echo Dot, using the VAUX cordless speaker serving as our sonic chariot. As the Dot was already set up thanks to our previous attempt, attaching it to its new hub was the sole task at hand — and it was easy. The Echo plops on the top, you connect it to some wires, yada yada yada. Who cares, Devon, did it work or not?!
It did! And lucky for me, the sound quality was fantastic. But unlucky for my colleagues, this meant jam-session time. (A loud, curated selection of new-wave tracks included "Run Like Hell" and "Good Times Roll.") Now that the Roomba had free will to move beyond the constraints of a power cord, it went nuts with its new pal sitting on its back, a symbiotic relationship that rivaled the beauty of the shark and the remora fish. The VAUX was sturdy enough to stay on the Roomba with limited wiggling — a.k.a. it can hit a wall and be fine — and simply, just sounded really damn good. I might've muttered "Who's a good boy!" a few times.
Colleague annoyance level: Within a minute, I received two separate Slacks from colleagues inquiring about "that fucking noise," unaware that I was the culprit. (I should note that New York has a notoriously quiet office.) A few people in the immediate area looked displeased, but didn't vocalize their annoyance beyond bulging eye sockets. Later that evening, another work friend — also unaware of my deviancy — complained about the afternoon disruption, and when I told him it was me, he just responded, "WHY!!!"
"Smart" thoughts: The VAUX lasts about six hours before it needs to be charged, which was more than enough for the purposes of this experiment. However, I do secretly wish, for the sake of ease, that the fundamental tenets of a DJ Roomba were two devices as opposed to three — but with results like these, I can't really complain.
Final rating: 4/5 Diddies
🌼🌼🌼🌼⚪️
Attempt
No.
3:
JBL
Link
10
Still high from the raging success of the previous DJ Roomba iteration, I, ever the fool, believed nothing could possibly go wrong with future devices. My fall from grace was swift and demoralizing. Desperate to have the speaker as a one-step setup, the JBL Link 10 was chosen because it sounds good, it doesn't need to be plugged in, and it's really, really damn smart: It's voice-controlled through Google Assistant, and we've sung the praises of JBL speakers in the past. But boy was it ill-suited for such a task or what — owing to its cylindrical and thin shape, it would topple over on the Roomba's back even in the smoothest of terrains. (Read: a straight hallway with zero obstacles.) We were also going to test the JBL Link 20 ($150), which is taller and even more cylindrical, but soon realized that Li'l Sebastian rising from the dead was more probable than getting it to stand upright for more than three seconds. The question soon became less how we would get it to stand upright, and more how long it would last before falling again. What a Jerry move.
Colleague annoyance level: An interesting shift occurred between testing out the Echo-VAUX hybrid and the Link 10 — it could have been the fact that the speaker kept slipping off of the Roomba, or the fact that it was in a near-constant state of vibrating panic on the Roomba, but people started to have an awwww realization with it. It was humanized! What was first perceived as a robotic terror spewing out Benjamin Orr couplets to unsuspecting writers soon transformed into a cute and cuddly robotic delight spewing out Benjamin Orr couplets to unsuspecting writers, who were more than happy to go up to DJ Roomba and give it a pet, canine style, after its tenth fall. When would it collapse next?! How far away would it roll when it hit the ground?! Now, instead of threatening HR action, everyone was sad to see it drive away.
"Smart" thoughts: Great speaker. Abysmal design for Roomba-ing. As it's powered by Google Home technology, you have to download the official app to your smartphone to set the speaker up, which is quick and easy. Like the VAUX, battery isn't much of an issue: The Link 10 lasts about five hours on a single charge. I'd use this for future picnics, and future picnics only. And even then, wisps of grass might cause it to fall.
Final rating: 2/5 Bone Thugs N' Harmoniums
🌺🌺⚪️⚪️⚪️
Attempt
No.
4:
Google
Home
With
Portable
Battery
With office morale back in our favor, the final DJ Roomba was conveniently paired with some technology we were already privy to — the Google Home, à la the Echo, had to have a portable speaker to render it mobile. But I had street smarts now! I knew what to do! So the LOFT portable battery from Ninety7 was ordered, and thanks to previously setting up the Link, setting up a chic Google Home took less than five minutes with that smartphone app. All the LOFT had to do was sit pretty and snap into place. The resulting aesthetic reminded me of Kubrick's 2001: A Space Odyssey.
And what a victory lap it had. It ebbed. It flowed. Starstruck fans watched it for minutes before having the nerve to approach it and express admiration. This is what Ric Ocasek must have felt like in 1978.
But it was when a colleague, deep in thought while parsing through a magazine proof, walked by with an unperturbed "Hey, DJ Roomba" greeting, that I knew we'd struck gold.
Colleague annoyance level: DJ Roomba has been voted the official mascot of New York.
"Smart" thoughts: Like the previous Dot-Speaker combination, I didn't initially love the idea of adding an additional step to the setup process. (Wow, I guess I'm a DJ Roomba purist.) But the design had no noticeable flaws, the sound was impeccable, and it just looked gorgeous as it Noo-Noo-ed between cubicles. This was our 2018 DJ Roomba, without a doubt.
Final rating: 5/5 Ludacrises
💐💐💐💐💐
Check back with us again next month, when we inevitably fulfill our other destiny by re-creating the ghost of DJ Roomba. It's gonna haunt you, readers, and play the Black Eyed Peas on a nonstop loooooop.
GIFs by Jared T. Miller.