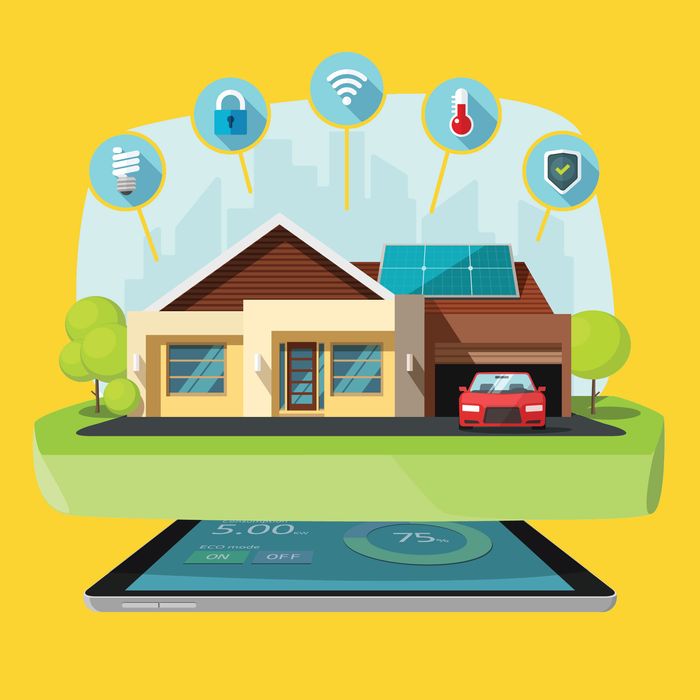 Photo: vladwel/iStock/Getty Images Plus
As technology advances, it's impossible to buy the latest and best of the best devices or gadgets. But, as times change, so does the marketplace. These days, consumers tend to favor flexibility over high fidelity, convenience over features, quick and dirty over slow and polished. This is good news for companies that are developing smart-home technology that may not have all of the features or options of the tech-giant gadgets, but they are just good enough for everyday use.
So, good news for people who love smart homes: They're not nearly as expensive as they used to be. But, they can still cost you up to two grand (or more), if you go all-out. To save money, most smart products require little-to-no home improvement skills to install. Meaning, you can easily upgrade smart thermostats, smart hubs, smart doorbells, and security systems yourself to save some cash. But is that frugal enough?
Smart-home devices are so popular right now so, companies have stocked shelves with a variety of smart products for all types of home categories. If you'd rather not drop a lot of cash on the latest accessories without building your own smart home gadgets (which is totally possible), there's another way to create a smart home in way less time: Welcome to the "good-enough" smart home.
Smart-home accessories can connect to the internet easily, but if you want them to talk with each other, they'll need a hub. Smart-home hubs act as a connector to all individual smart-home products to allow a user to control their home from one place instead of individually. The problem with popular smart-home hubs is getting locked into expensive hardware ecosystems that limit the accessories that you can buy.
Solution: It's a bit older, but the original Wink Hub still has a strong set of features for a smart hub. If you have a lot of devices, the Wink supports all of the common smart-home wireless standards like Z-Wave, Zigbee, Clear Connect, and Kidde. The newer Wink Hub 2 has its share of valuable upgrades — increased memory provides a major speed boost and it supports Bluetooth low energy (which will probably be the standard in the next few years) — but for new smart homeowners, the original Wink Hub still will manage most smart home devices, and save you about $65.
While a lot of smart-home electronics have seen price drops thanks to increased competition, home hardware accessories generally haven't experienced the same dip in costs. You'll generally pay more for peace of mind, but now, some smart lock manufacturers have hit a better balance between security and cost.
Solution: The third-generation August Smart Lock adds a lot of functionality for homeowners in need of a smart-home lock. Like with past Smart Lock models, the third-generation and most recent iteration August can easily get added to your existing deadbolt, so you don't need to replace your keys. The smart lock also relies on your smartphone and the August app to access the door.
As the entry-level August smart lock, it's not without its limitations, as August has kept its most valuable smart-home features like Z-Wave and HomeKit support restricted to the $279 dollar Smart Lock Pro (the Smart Lock only connects via Wi-Fi and Bluetooth). Still, the Smart Lock remains an affordable way to add connected functionality to your door lock.
As the gateway for most smart-home builders, smart lights are an easy way to get into smart-home gear. With most smart-bulb setups, you can do things like adjust their color and schedule when they turn on or off. But a lot of the time, they're either only available in pricey bundles or have limited features that handicap their usefulness.
Solution: Ikea's Tradfri lineup didn't have the smoothest launch, but thanks to several updates, it's now in line with other competing bulbs. Like most smart bulbs, it has standard color and timer controls through a remote. The Tradfri app has the smart-home standards as Apple HomeKit, Amazon Alexa, and Google Assistant. One downside for the Tradfri is that it needs its own wireless control (starting at $9.99) in order for you to get the most out of the bulbs. Most competitors can pair with an existing smart hub — but the minor accessory clutter can be good enough because Tradfri is cost-effective at first purchase and for replacement bulbs. (Bulbs start at $6.99.)
Compared to larger names in the smart-lighting market, Ikea's Tradfri lacks some features like integrating with other smart hubs and the ability for geofencing. But it does offer many of the same capabilities at a much more affordable cost.
Smart TVs have been around for a while, but TVs with smart-home controls are a relatively newer trend. These features have typically been limited to dedicated set-top boxes, but they've started to make their way to streaming sticks.
Solution: Like most all-in-one units, the Roku Streaming Stick features your standard suite of streaming services like Netflix, YouTube, and Hulu. But with Roku's voice-powered remote, you can also search for shows and programming without having to manually type in requests. As one of Roku's entry-level streaming sticks, it lacks higher-end features like 4K streaming, but with its low price tag, the Roku still provides strong value.
Nest has been a market leader in smart thermostats for a while, but as the field for smart thermostats has grown, companies have been able to launch reliable products at lower price points.
Solution: The Honeywell T5 is a budget-friendly way to add smart-home control to your thermostat. You can remotely control your home's temperature through its paired mobile app, and location support can detect when you're out of the house or coming back. HomeKit and Alexa support also adds voice control to your thermostat.
Competing models do offer more options — Nest includes intelligent scheduling, room sensor features, simple smart-home integration, and easy installation into their smart thermostats. The Honeywell T5 lacks these Nest features; however, its low price tag (nearly $100 cheaper) makes the T5 a great entry-level option for smart thermostats.
Nest has also been a major player in video doorbells, but competitors have been able to broaden the space for budget-minded buyers.
Solution: For smart doorbell buyers, the Ring Video Doorbell offers a lot of the major features of video doorbells in a low-cost package. The Ring instantly streams video when people ring the doorbell or are detected by its motion sensors at any time. With Ring's app, you can also see and respond to guests from the doorbell via your mobile device or computer.
Compared to higher-end smart doorbells, you'll miss out on features like higher-quality video and audio, smart-home support for standards like Alexa or SmartThings, and the ability to log video, which often requires a subscription plan. But thanks to its affordability, the Ring still has a lot to offer to smart-home buyers.
With all the competing product standards and new updates reaching stores, it's easy to get gadget fatigue when figuring out what you need or what you can live without in your smart-home setup. But with all of these budget options, you'll still get the upsides of a smart home — have a talking robot assistant control your home for you! — at a fraction of the cost.
Heads-up: If you buy stuff through our links, New York may earn a commission. That said, we don't recommend anything we wouldn't buy for ourselves.