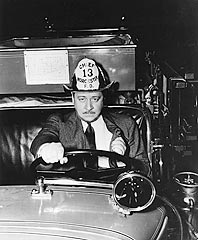 The Cary Grant Box Set
New editions of Only Angels Have Wings, The Talk of the Town, The Awful Truth, His Girl Friday, and the DVD debut of Holiday: a terrific Fifth Avenue comedy of manners (and more), starring Katharine Hepburn and a surprisingly gymnastic Grant. Who knew he could do a backflip? NR; $59.95.
Rent
The sunny, stagey adaptation stars a cast that's way too old for their parts. PG-13; $28.96.
Domino
So bad, Keira Knightley's Best Actress competitors should mail copies to Oscar voters. R; $27.95.
The Weather Man
Yes, it flopped, but Nicolas Cage delivers a strong performance here in a surprisingly perceptive film about American manhood. R; $29.95.
Network and Dog Day Afternoon
New two-disc, feature-packed editions of Sidney Lumet's New York classics. R; $26.98 each.
Gimme a Break! and Charles in Charge
Definitive proof that anything, no matter how bad, can be reissued on DVD. NR; $34.98 each.
Pulse
We'll see, but it's doubtful the American remake will be as terrifying as Kiyoshi Kurosawa's J-horror film, which exploits the panoptic terror of surveillance. NR; $26.98.
OUR PICK: Modern-day mythmaking about the Algonquin Round Table tends to depict the twenties literary wits—including Harold Ross and Dorothy Parker, George S. Kaufman and Edna Ferber—as a debauched and vicious circle. But watch The Paramount Comedy Shorts 1928–1941: Robert Benchley and the Knights of the Algonquin and you get an altogether sillier vision that's so sweet it makes you wonder if all the contemporary scandalmongering says more about us than them. This set collects a batch of apt comic shorts by Benchley—a co-founder of the Table, drama critic, and contributor to Vanity Fair and The New Yorker—plus a few by Donald Ogden Stewart and a marvelously snide Alexander Woollcott. The best are comedy sketches that Benchley narrates in the tongue-in-cheek persona of domestic scientist Joe Doakes, poking wry fun at husbands, wives, and sundry household annoyances—including, worst of all, an item that was once the bane of every author: the tangled typewriter ribbon. NR; $29.95.