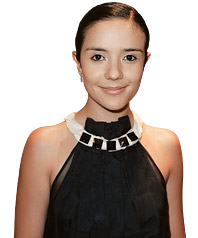 In Ethan Hawke's film of his novel The Hottest State, Catalina Sandino Moreno finally plays a woman who doesn't have to sneak into the country, as she did in Maria Full of Grace and Fast Food Nation—here she's a New York singer who falls for a scruffy white guy (Mark Webber). She spoke with Logan Hill.
So, this is something of a change for you.
It was a break from being a drug mule, or working in a slaughterhouse. It's actually the closest thing to who I am. Scripts I've been getting were for the part of some typical black-hair, black-eyes, brown-skin Latina. I didn't see that girl here.
Guess your Oscar nomination hasn't changed the roles you get offered.
I thought it might, but I was very wrong.
Were you looking to do a romance?
I don't go to see romantic movies. People kissing, I don't like that.
The Hottest State is more about falling out of love, anyway.
Yes, she's just a kid, realizing that she can be fine in New York without anyone. I wouldn't want to play the girlfriend-of, that would be boring. If anything, [Webber] is the boyfriend-of.
How do you try to avoid being typecast?
I'm very patient. I haven't worked in six months, since I finished Love in the Time of Cholera [opening this fall]. I passed on some things. Then I got Che [she plays his wife] with Steven Soderbergh.
As a Colombian, were you particularly excited about the Márquez movie?
When I was in high school, the book made me cry. When I read it again, it made me cry. And to shoot it in Colombia? That's the advertising we need.
The country does get a pretty bad rap.
You know, we were going to Bosnia for Maria Full of Grace, and I was thinking, There are gonna be Serbs and they're gonna kill me! But I found a beautiful, peaceful country. Then I told a Bosnian girl that I was from Colombia, and she said, "Oh my God! How scary to be in Colombia! As soon as I get off the plane, they're going to kidnap me!" So, my hand on my heart: Go to Colombia—nothing's going to happen to you.
The Hottest State
ThinkFilm, August 24