James Franco has been in Freaks & Geeks—and Spider-Man. But the truly star-making role has eluded him thus far, until Pineapple Express, in which he steals the show as Saul Silver, the amiable pot dealer. Franco's not the first actor to invigorate his career by playing a stoner.
JACK NICHOLSON IN EASY RIDER (1969)
Before: An accused burglar on The Andy Griffith Show.
After: An Oscar nom (first of many) for playing an alcoholic lawyer who smokes his first joint. Also, he's allegedly had sex with 2,000 women.
SEAN PENN IN FAST TIMES AT RIDGEMONT HIGH (1982)
Before: One of the cadets in Taps.
After: He rides some tasty waves with a cool buzz as Jeff Spicoli and—poof!—actor's actor–citizen journalist.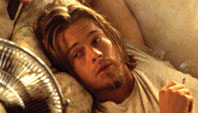 BRAD PITT IN TRUE ROMANCE (1993)
Before: The dude with the abs in Thelma & Louise.
After: Launched Pitt from near-comatose heartthrob Floyd to edgy heartthrob of Seven and Fight Club.
CHRIS TUCKER IN FRIDAY (1995)
Before: Johnny Booze in House Party 3.
After: Tucker's performance as a motormouthed dealer blazed on his own supply has led to the sweetest reward: Brett Ratner's go-to muse.
TOWELIE IN SOUTH PARK (2001)
Before: A humble extra in dish-soap commercials.
After: Thanks to his star turn as a bong-sucking square of terry cloth, now the most powerful towel in Hollywood.