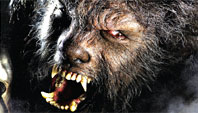 1. THE WOLFMAN (Universal)
Tagline: "You've done terrible things."
Translation: That's why your fur is all matted with viscera.
The Verdict: With all the artful shots of moonlight and fog, the trailer could double as a tourism ad for Victorian England. Brooding and bloody, The Wolfman looks to be a downer classic in the vein of From Hell, with a predictably intense performance from Benicio Del Toro and a predictably overripe one from Sir Anthony Hopkins.
2. THE SPIRIT (Lionsgate)
Tagline: "My city screams."
Translation: As does the ghost of Will Eisner.
The Verdict: Frank Miller, writer of 300 and Sin City, got his first solo directing gig with The Spirit, the landmark creation of Eisner, legendary comics artist and inventor of the graphic novel. And from the campy set-pieces, overheated dialogue, lack of action, and overreliance on femme fatales, it's hard not to think that it won't be his last— or the last superhero movie, period.
3. TR2N (Disney)
Tagline: "It's just a game!" "Not anymore."
Translation: Who would've thought we'd ever be looking forward to this?
The Verdict: The best surprise to come out of Comic-Con was the teaser for TR2N, the sequel no one thought was necessary. But instead of Tron's video-game-style action, we get a thrilling light-cycle race that ends in death, and a cameo from the original's Jeff Bridges—now apparently the villain in a darker, more brutal computer world.
4. X-MEN ORIGINS: WOLVERINE (Fox)
Tagline: "I'm gonna cut your goddamn head off!"
Translation: Welcome to the post–Dark Knight superhero trailer!
The Verdict: Hugh Jackman squares off against Liev Schreiber's Sabretooth in this X-Men prequel, the origin story of the hirsute, razor-clawed menace—the series' toughest, most badass character. Brutal and exciting, with plenty of shots of a strutting Jackman framed against exploding vehicles.