Nobody pigeonholes Barney Rosset—longtime owner of Grove Press, anti-censorship crusader, countercultural icon. Not Screw founder Al Goldstein, who in a 1989 interview addressed him as "the worst, most fucked-up businessman in America." Not the CIA, whose voluminous case file calls him left-handed (which, he points out, is only partly accurate). Not the publisher friends who made the new bio-documentary Obscene (displeased with the movie at first, he's coming around). Not the National Book Foundation, whose Literarian Award this fall threatens to domesticate him.
And not his fifth wife, Astrid Myers, who tends to the 86-year-old Rosset in an airy apartment on the fourth floor of an otherwise grim walk-up near Astor Place. (His last business venture went bankrupt a decade ago.) Rosset, small and somewhat frail, sinks into a plush sofa with his signature rum-and-Coke and argues with Myers about what kind of organism best describes him. "He's like an amoeba," she says. "No," Rosset retorts, "a many-legged animal. A spider." "No, an amoeba," she says. "A spider's web," he counters. Myers relents. "You have to be good at picking where you put the web," Rosset adds.
Rosset had the usual bad habits in the sixties, but publishing was his most debilitating compulsion. "A word has never been written or uttered which should not be published," he'd said, and like any decent addict, he was canny about feeding his habit. Winning a court battle to sell an uncensored version of Lady Chatterley's Lover in 1959 (eight years after buying fledgling Grove) was only an opening gambit in Rosset's Great Game. "I didn't do that to save humanity," he says in Obscene. "I did it to save Tropic of Cancer." Henry Miller's novel was the next one he forced past the censors. William Burroughs and Malcolm X followed. (Less contentious were Pinter, Ionesco, and his good friend Samuel Beckett.) Then came Evergreen Review, a seminal radical magazine that combined stunning Pop Art, groundbreaking writing, and soft-core photography. The Che Guevara T-shirt image began as an Evergreen cover for a chapter from Che's diaries. Controversy boosted sales just enough to cover the lawyers' fees.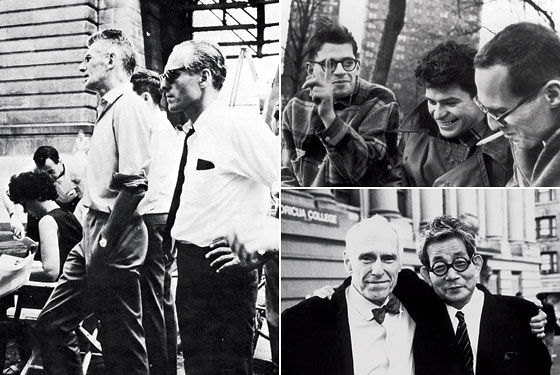 Rosset became a film distributor, screening the explicit Swedish flick I Am Curious (Yellow) across the country before the Supreme Court banned it in a landmark case. But his decision to publish a trove of Victorian erotica under the Black Cat imprint made him feminist enemies, and the business couldn't sustain his ambitions. Anti-Castro activists firebombed Grove's offices. A union fight further damaged Grove. Rosset suspected the CIA was behind both.
But by the time Rosset sold Grove to heiress Ann Getty in 1985—he was fired shortly thereafter—most people were blaming Rosset. Neil Ortenberg, co-director of Obscene and founder of the now-defunct Thunder's Mouth Press, was among a group of publishers who tried and failed to buy back Grove with Rosset a few years later. One of his first meetings with his publishing idol—"my shining example"—was in a place Rosset calls "a small-town bar" and which Ortenberg names as the dearly departed strip club Billy's Topless on Sixth Avenue. Ortenberg later took him to a swankier "gentlemen's club," but Rosset found it too fancy.
Ortenberg thinks Goldstein was only half-right about Rosset's downfall. "Being a self-destructive person is somewhat different from being a bad businessman," says Ortenberg, who can easily envision a world where Rosset wouldn't have receded into the nostalgic haze. "He was a major cultural impresario, and that's an amazing legacy," he says. "People know about Hugh Hefner … but to me [Barney's] the much more significant cultural figure."