Photographs Courtesy of Bill Cunningham and First Thought Films.
When people ask me how long it took to make my documentary, Bill Cunningham New York, I say ten years: eight to persuade Bill to do it and two to shoot and edit the film. Had it taken any less time, it would not have been true to Bill.
He is a reluctant fashion deity, riding around town on his worn-out bicycle, dressed in the blue jacket of workmen in Paris. My fascination with him has always gone beyond the photographs that have made him famous. Who he is as a person, how he's chosen to live his life, and his almost religious dedication to his work—that was what inspired me to make the movie. Bill has been documenting street fashion for over half a century (for ­Women's Wear Daily, then the Soho News, Details, and finally the New York Times), and it's fitting that his first "On the Street" column for the Times included a photo of Greta Garbo because he is as elusive as she was—a Garboesque shadow on the run with a camera. A journalist, he believes, should always be invisible and anonymous. (Garbo, incidentally, was accidental: Bill has said that all he noticed was her nutria coat, and the beautiful cut of its shoulder.)
Bill tells everyone that he's not a photographer. He just loves clothes. "Any real photographer would say, 'He's a fraud!' " says Bill. "Well, they're right. I'm just about capturing what I see." Which is actually quite astute. "It's more than mere picture taking; it's cultural anthropology—the ­intersection of fashion and society in New York City," says Philip Gefter, the documentary's producer. In Bill's hands, this meeting of high and low, uptown and downtown, is not just a mirror of our times, it's a celebration of self-invention and expression.
What most people don't know is that Bill himself created fashion. During the fifties, he worked at the exclusive dress shop Chez Ninon, which attracted the most fashionable society women, including Jackie Kennedy. "She had been coming into the shop since she was a young woman," Bill said. When President Kennedy was assassinated, she didn't have time to buy a dress for the funeral, so she turned to someone she trusted. She'd bought a Dior suit at Chez Ninon, and asked Bill to dye it black. "This was a terrible time for her," he says. "You call on friends at a time like that, you know, to help out."
Between 1949 and 1960—just after he dropped out of Harvard, up until women stopped wearing hats—Bill was also a milliner. His label, William J., was popular enough that he eventually opened a hat salon on West 54th Street. During Fashion Week in 1956, he hosted a late-night show that was attended by most of the cast of My Fair Lady. Bill's sense of whimsy is apparent in many of the hats presented that night, particularly his ­Cabana hat, with fringe down to the ground (close the fringe and you can change your bathing suit!) and a giant clamshell. He later moved his salon to his then-apartment above Carnegie Hall, on the same floor as the Actors Studio. Ginger Rogers, Joan Crawford, and Marilyn Monroe would come in to buy hats, but "I wasn't interested in them," Bill told me. "They weren't stylish."
Bill Cunningham New York
Zeitgeist Films.
Opens March 16 at Film Forum.
Cunningham making a hat in 1954. Photo: Courtesy of Bill Cunningham and First Thought Films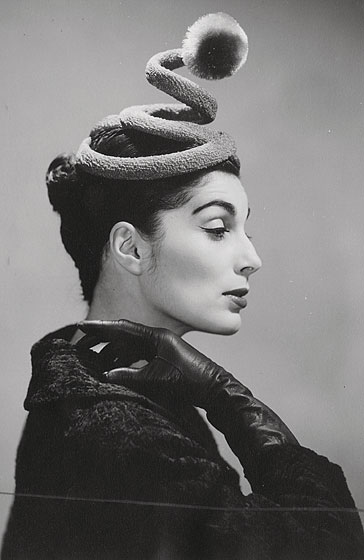 One of Cunningham's creations. Photo: Courtesy of Bill Cunningham and First Thought Films
The Cabana hat. Photo: Courtesy of Bill Cunningham and First Thought Films
The Clamshell hat. Photo: Courtesy of Bill Cunningham and First Thought Films