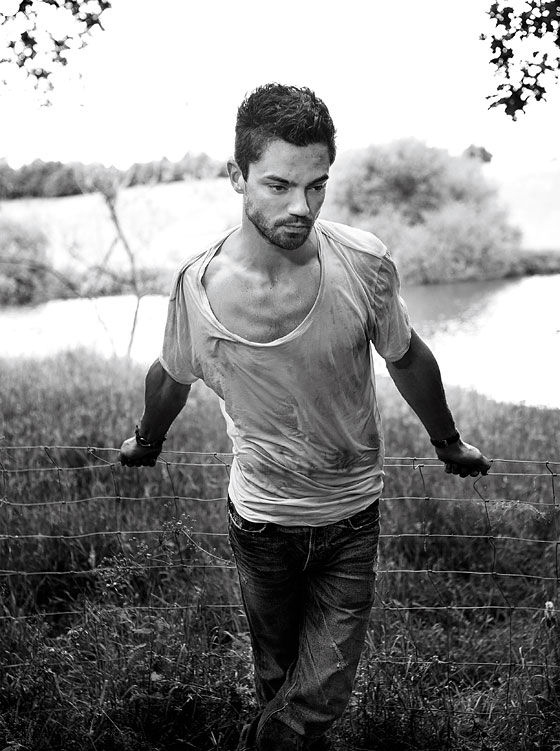 'Let's pretend to be doing something," proposes Dominic Cooper. "Let's make ourselves seem like good people." This isn't an acting exercise, though maybe it's a moral one. Or maybe it's just his wry comment on doing just what we're doing: ­having lunch under an olive tree in a private indoor forest on the penthouse floor of Soho House West Hollywood and talking about his two new films, which are opening within a week of each other. In Captain America, he appears as the Howard Hughes–inspired comic-book character Howard Stark, and in The Devil's Double, his first lead role, he plays Saddam Hussein's son Uday and Uday's body double. He's also met with Tony Gilroy to talk about starring in the fourth film of the Bourne series. In other words, Cooper, 33, is about to be incredibly famous. Perhaps to atone for this, he suggests we do an act of charity: "Let's say I've gone off to help an old man."
He even has a specific old man in mind, and a particular act of service: washing his convertible. They met recently while Cooper was doing a photo shoot at the man's house in the hills of Los Angeles. "In the garage there was this wonderful sixties Lincoln, in beautiful condition but covered in dust and dirt," he recalls. "And you could immediately picture his whole life and his enjoyment of that car with his partner"—who passed away—"and the roof down. I just want to go clean it."
Worthy as this idea is, it's just a fantasy; there's no time in his busy movie-star schedule. Besides, Cooper hasn't washed a car in years. But since he doesn't really seem to want to talk about his movies either, he switches to another playacting scenario. "We're having fun! It's our first date!" Each time the waitress comes around, he gives her progress updates on our budding relationship—sometimes, for no reason, in a Cockney accent.
"She's good, this one. Right up my street," he tells the waitress. "Although, I'm making all the decisions … Do you think that's good?" The waitress gives him affirmation, as waitresses do. He asks if I like octopus and crab. I do not. He orders them anyway. We're both really excited about the beetroot salad, though. Says Cooper: "I need a nice red poo."
Up till now, Cooper is probably best known for playing the (memorably shirtless) boyfriend from Mamma Mia! and for getting together with his co-star Amanda Seyfried when they both may or may not have been in other relationships. Beyond that, he was the guy who wasn't Peter Sarsgaard in An Education and the bad boy Dakin in The History Boys—a role he played for three years, from London through its Broadway transfer and its film adaptation. He played Willoughby in 2008's BBC mini-series of Sense and Sensibility and, the next year, Hippolytus in Phèdre at the Royal National Theatre, opposite Helen Mirren. He says he's enjoyed doing theater and small film roles rather than mucking around in action epics full of "greasy robots and flying men." Not that he'd been offered one of those parts before. "Not even nearly," he admits, laughing.
Cooper grew up in the London suburbs; Jude Law was a family friend. A few weeks ago, he went home (he lives in a "really tiny" flat in London's Primrose Hill) after having spent four months in New Orleans shooting the role of Benjamin Walker's vampire mentor in Abraham Lincoln: Vampire Hunter. His whole family got together to watch his niece play the teacher in Annie. At a garden party later, a food fight broke out between him and his two older brothers. One produces commercials and helped Cooper get an early gig in a Durex-condom commercial, running through the streets of Prague with a crowd of men in sperm suits. The other is a synth-pop artist who goes by the stage name Kid Kasio; Cooper directed one of his videos in the ruins of a Katrina-ravaged Six Flags. (He also has a grown half-sister who surfaced a few years ago. When I ask about it, he changes the subject: "Do you like my new shoes?")
And now he's in L.A. for a few days, where he keeps winding up at Soho House to "drink vast amounts, dance on my own, and go home and feel depressed about my life." He's been working off his jet lag by playing tennis with a ball machine at "my very sad hotel," which nonetheless has a tennis court on the roof.
Before The Devil's Double, Cooper says, "I've never felt that challenged by film work." The movie is loosely based on the life of Latif Yahia, who was unlucky enough to look so much like Saddam Hussein's unhinged-sadist son Uday that he was forced to become his fiday, or body double (direct translation: "bullet catcher"). He plays both roles: a psychopath and his borderline slave. Make that three: Latif, Uday, and Latif playing Uday. He's riveting.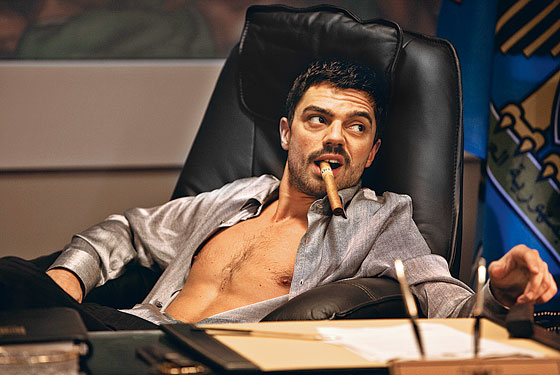 It's set in decadent eighties Baghdad, where the corruption and violence was so over-the-top—there's a scene, which really happened, where Uday disembowels his father's food taster and best friend at a lavish party—that director Lee Tama­hori (Once Were Warriors, Die Another Day) actually toned down some of the grisly nihilism to make it seem believable. Tamahori used cameras programmed to shoot the same shot again and again; Cooper was acting opposite a stand-in, often improvising dialogue, memorizing what he'd done as one character and then switching to the other. It's often upsetting to watch, and he's a bit worried about how his mother will react to his beating himself bloody. (When she saw Law getting beaten in the boat in The Talented Mr. Ripley, she leaped up and screamed, "No! Not poor Jude! Not poor little Jude!")
Both Cooper and Tamahori think of The Devil's Double as more of a gangster flick than a reprise of the tales of brutality we all became familiar with in the lead-up to the invasion of Iraq. Distributor Lionsgate is marketing it as the second coming of Scarface, with a poster of a gilded Cooper holding gilded machine guns atop a throne.
Back amid the more mundane decadence of Soho House, our pretend date continues. He has the waitress take the octopus away, lying to her that he liked it but that I was "very fussy." The crab remains on the table, and as soon as the waitress leaves, Cooper starts poking it with a fork. "I think this scares me even more" than the octopus, he says, warily trying a nibble. "Ugh, this is really strange. That's not nice at all. Did you try it? I've got a feeling that's going to make me ill. All we really wanted was a big thing of beetroot, and that never really came; it was just four slices of orange stuff"—golden beets—"and you didn't like that. The snapper's no good either, is it?"
We are having fun, but our fantasy date, or his fantasy of our date, isn't going that well. So we figure we might as well talk about our exes. He was 30 and on a break from his live-in girlfriend of more than a decade, non-celeb Joanna Carolan—they met in drama school, and she went on to be Harold Pinter's personal assistant for a time—when he and Seyfried, then 23, began their on-set romance. Carolan detailed the breakup to the gossip magazine Grazia, saying Cooper begged her to take him back, but she ended it because she was convinced he was double-timing her with Seyfried. Seyfried, too, weighed in to the press. So what's his side of it? "It's like a marriage ending … We were so young when we got together. From the age of 17."
Seyfried and he ultimately dated for over two years, but their breakup was dogged by tabloid rumors that Cooper had cheated on her with both Lindsay Lohan and his Phèdre co-star Ruth Negga. Nonetheless, he and Seyfried were recently paparazzi'd shopping together in L.A. Are they a couple or not? "Yeah, I don't talk about current status anymore," he demurs, pretending to have found something sticky on the elbow of his jacket. "Because what's the point? What, so people can write about it, and you can find out more on the Internet about my life that I don't want people to know about, and make assumptions about it all?"
Still, he can't resist some damage control. "I got accused of doing something which I didn't do, and I wasn't in a relationship anyway," he says of Carolan's version of events—then reconsiders revealing more. "I'm so kind of furious about it that the best thing to do is just not talk about it ever again, because I only ever come out looking like an absolute cockhead."
He pauses, wondering if that's what I think he comes off as in the gossip press. "Tell me. I'm really interested to know. What does your opinion lead to? 'That guy's a cock'?"
I tell him maybe a bit, but it also sounded like his relationship with Carolan had been petering out for a while. As for Seyfried, he finally answers, "She's a good friend. Are we back together? No."
We repeat the scene about the food not being good again with the waitress, with a busboy, and with the manager, who by now has heard we didn't like our dishes. "We did like them! They were fine!" he says, before turning to me and saying, "I ordered badly. I fucked up." He asks, referring to the possibly bad crab, "Have I got boils round my neck?"
By this point, his braggadocio is gone. Or at least he's pretending it's gone—it's difficult to say. But it's charming. "What did you think of the film, please?" he asks. "You think people will go and see it? You think it will do well?" He shrugs. "For once, I'm very proud. I can't really see what else I could have done. It's a nice feeling. Whether people respond to it or not, I'm not kicking myself about how I should have worked harder." He sounds relaxed, excited, and sincere. "I'm so relieved that I have something now to say 'I'm not really a Jet Skiing, top-off, covered-in-oil, Abba-singing sausage.'  "