REVIEW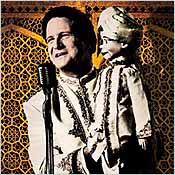 Take My Wives, Please
By David Edelstein
Albert Brooks can't shake off his own persona in Looking for Comedy in the Muslim World.
OPENING THIS WEEK
Annapolis
James Franco stars in this drama as a would-be military man who struggles with his feelings of inadequacy once he finally enters the Navy.
Nanny McPhee
A new nanny (Emma Thompson) takes over the household of a recent widower (Colin Firth) and uses supernatural powers to get his kids under control.
Roving Mars
An Imax film exploring the possibility of the existence of life on Mars.
Bubble
Steven Soderbergh's convincing low-budget HD drama follows a young man and an older woman who work together in a small midwestern doll factory—until their subdued friendship is wrecked when the man's girlfriend is found dead.
NEW IN THEATERS

Why We Fight
Eugene Jarecki's Iraq-war documentary is one of the more cogent and sound-minded films about the rush to war.

Looking for Comedy in the Muslim World
Comedian Albert Brooks sets out on a journey to India and Pakistan in an effort to find out what makes Muslims laugh.

Underworld: Evolution
Kate Beckinsale and Scott Speedman return for the sequel to their 2003 vampires-and-werewolves thriller.
SUNDANCE FILM FESTIVAL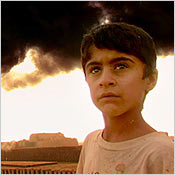 Sundance Standout: Iraq In Fragments
By Logan Hill
James Longley filmed an Iraq that you likely haven't seen before.
Sundance Porn
By Logan Hill
Every year, there's at least one racy sex film. This year, you get seven for the price of one in Destricted.
INDIE ART HOUSES
Tristram Shandy: A Cock & Bull Story
Michael Winterbottom's hilarious, twisted adaptation of the Laurence Sterne novel.
The Year of Living Vicariously
Malaysian director Amir Muhammad presents a split-screen look at the production of an Indonesian epic about political dissent that took place amid the country's first direct presidential elections.
La Mujer De Mi Hermano
A long-married woman's trangressions have dire consequences for her relationship with her husband and his family.
Breaking News
Johnnie To's elaborate gangster film, in which cops, robbers, robbers' victims, other cops, and the media all get wrapped up in a great big standoff.
Imagine Me & You
A young couple (Matthew Goode and Piper Perabo) doubts the wisdom of having married each other.
La Petite Jerusalem
An 18-year-old girl and her Jewish family, living in an ethnically mixed apartment complex on the outskirts of Paris, find themselves searching for ways to reconcile their experiences and desires with their belief systems.
SPOTLIGHT

Now Out in Theaters—And on Your TV!
A guide to the same-day-release movement.
Advertiser
CRITIC'S PICKS
LOGAN HILL RECOMMENDS
• Fun With Dick & Jane
Jim Carrey channels yuppie rage to hilarious effect.
• Match Point
Not one of his best—but finally, a Woody film we can enjoy.
• Down to the Bone
Remember Vera Farmiga's name: She's brilliant in Debra Granik's gritty upstate drama.