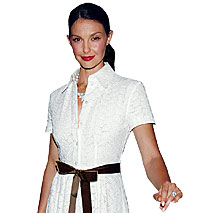 A shley Judd delivers the most convincing performance of her career as a hard-drinking, unstable southern woman in Come Early Morning, Joey Lauren Adams's directorial debut. But when she spoke with Logan Hill, she was more interested in talking about Indian brothels, activism, and murderous rage.
You and Joey Lauren Adams are both actresses from the South who moved to Hollywood and became dissatisfied with it.
I certainly identify with her in a special way … [Pause] Sorry, I'm going over to the fire to get a piece of wood … I just—I'm in a different place right now. This week, I'm presenting the [Paul G.] Blazer Lecture at the University of Kentucky, and that's heavily on my mind.
What are you lecturing about?
The title is "At the Root of My Longing: Social Justice, Feminism, and Spirituality." I will spend some time talking about how women's reproductive health is the nexus of eradicating a lot of inequality.
You recently told Glamour about a 47-day stint in a recovery center [related to emotional co-dependence and depression]. How has your activist work changed since then?
I'm able to maintain healthy boundaries, to hold space with exploited people with more integrity. I don't have to try to take it on myself, to make it my suffering as well as theirs. For example, the first time I went to a brothel in southern India, I was puking and shitting for days. I was so devastated. I mean, I defy any human being to walk into that situation and not be devastated. But me? I was incapacitated. Now I can do things like that in a way that's healthier for me.
Is it awkward doing activist work when there's so much cynicism about Madonna, or Bono, or Angelina Jolie?
I don't fucking care what people think. You know, usually when celebrities are asked, "Why do you give back?" their answers are quite general: "We can all do our part, I've been given so much." Well, I do it because I have feelings: I feel pain about poverty. Did you know there are 1.6 million deaths from simple diarrheal disease every year? I'm taking care of my own goddamned feelings. When I go to a brothel, I feel complete and sometimes homicidal rage. And I am frankly going to die if I am not a part of the solution. I will take in all of those feelings, and they will eat me alive.
Come Early Morning, Roadside Attractions, November 10.