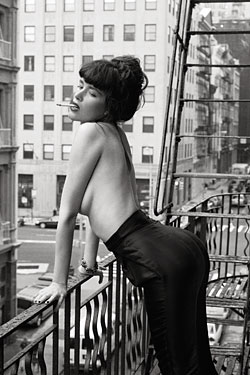 The hairy bulldog ladles the coals, and Paz de la Huerta's body disappears behind a wall of asphyxiating 120-degree steam. It's a Sunday afternoon, and Paz, exhausted from filming the upcoming HBO series Boardwalk Empire, has decided to spend a few hours at a bathhouse on Fulton Street. "I needed this," she says, exhaling a deep whistle, expelling the weight of the world from her lungs. "This construction worker I've been fucking has really been keeping me up late."
As the steam clears, Paz begins to rub her breasts with raw honey and salt while twenty dumbfounded overweight men stare down at her from the bleacher seats, their guts hanging over their trousers. Paz forgot to bring a bathing suit and borrowed a "granny bikini" from the lost and found; unsatisfied with its loose fit, she opted for a towel that has now disappeared. As the only nude bather in the entire facility, Paz is remarkably comfortable among the ravenous, Wile E. Coyote eyeballs. Our neighbors look in my direction with "get a hold of your girl or we're going to take her from you" glances. Having known Paz for a few years, I would warn them to proceed with caution, because Paz would like nothing more than to start a riot. With deep, tenderizing motions, she continues to knead her breasts while loudly discussing her most recent romance. "I think I'm attracted to outlaws because they make me feel safe inside, like a little child." She drifts into Carmen—"L'amour est un oiseau rebelle, que nul ne peut apprivoiser"—and then translates for her audience, "Love is a wild bird that doesn't obey the law."
Paz fills a plastic bucket and pours it over her head, the ice-cold water splashing a woman nearby. She fixates on the bulldog's transparent trunks and begins to laugh hysterically. "Why does cold water always do that!" she shouts to no one in particular, pointing to the bulge in his shorts. The bulldog, who is covered from head to toe in tattoos, looks at her sheepishly as his comrades laugh. "What are you, crazy?"
Paz becomes very serious. "No," she says. "I'm Paz. It means peace. Get it, got it, good."
Paz de la Huerta, 25, is a master of social manipulation and a very fine actor, by which I mean she excels at creating, and causing, drama. In 2003, she shared the cover of The New York Times Magazine, which, in a feature on downtown artists, called her a "model and muse" and noted that she had already made a name for herself as an indie-film actress. She has spent much of the last decade a fixture of the downtown creative scene, modeling (and musing) for her high-school friend Zac Posen and playing some version of the same character—often sex-starved and/or deranged, and sometimes naked—in more than twenty feature films, including, last year, Jim Jarmusch's The Limits of Control. Still, she's remained mostly unknown to the wider world, her career stuck in a holding pattern reminiscent of Chloë Sevigny's, post-Kids, pre–Boys Don't Cry.
Quite possibly, however, 2010 will be Paz's year. Boardwalk Empire has all the makings of a very big deal: Produced by Martin Scorsese and co-starring Steve Buscemi and Michael Pitt, the highly stylized series about Prohibition-era Atlantic City is HBO's big gamble for a Sopranos-size hit. Paz plays Lucy, the girlfriend of Steve Buscemi's character, head gangster Nucky Thompson. At the same time, Paz's most recent film, Enter the Void, left Sundance one of the most talked-about screenings at the festival. Directed by Gaspar Noé, the movie takes the viewer on an acid trip through the Tokyo underworld as Paz's character goes to Japan to reunite with her drug-dealer brother, only to become a stripper. Noé's previous feature, Irreversible, caused a stir at Cannes and subjected Monica Bellucci's character to a graphic nine-minute rape scene. Enter the Void is equally controversial: "virtually unwatchable," in the words of a Hollywood Reporter critic; "exceptional," according to the Times' Manohla Dargis. Both Boardwalk Empire and Enter the Void are set to be released this fall.
The thing about Paz is that there's not much difference between her onscreen intensity and her daily life. "Paz is Genghis Khan meets Marie Antoinette," says her mother, Judith Bruce. "She is tempestuous and provocative. She wants a big life, and like all great people, it's going to take a little experimentation before she can get all of the keys together." Experimentation is one word for it. Paz lives hard. Many of her long-term friends are approaching her segue from downtown darling to Hollywood actress with pride—and a slight edge of concern. "Paz is finally entering the diva stage of her career," says Posen. "But she is a one-of-a-kind goddess. Her breasts fell out of her dress at my first-ever fashion show, and she just kept walking down the runway. She'll never play a Jennifer Aniston role, but what would Jennifer Aniston have done in that situation? As a friend, of course I worry about her; but as an artist, she just keeps getting better."
Here at the bathhouse, Paz spends the afternoon flirting and flaunting her way through the saunas and hammams. At one point, a group of bankers enters the room. When they begin singing a rap song, Paz is quick to tell them to be quiet, reminding them not to give Americans a bad name with their "rude behavior." In need of a massage and out of money, Paz proceeds to persuade an employee to give her a free treatment; the masseuse picks up a bushel of oak branches and whacks Paz's backside as she gives out a yelp: "Harder!"
María de la Paz Elizabeth Sofía Adriana de la Huerta was born in New York City in 1984. Her father, Iñigo de la Huerta, is the Spanish Duke of Mandas and Villanueva; her mother, Judith Bruce, works as an authority on women's issues in Third World countries. They were early Soho pioneers, moving to 421 West Broadway in 1980, when the neighborhood was the heart of the city's arts scene. Mary Boone's gallery had recently opened downstairs, and Larry Gagosian lived above them on the fifth floor. They vacationed in the Hamptons and the De la Huerta family ranch near Toledo, Spain.
Paz's childhood was spent visiting art galleries in a baby stroller and dancing to classical music in the family's living room. At 5, she painted a book entitled "The American Mansion," a fantastical collection of buildings, houses, and furniture. She insisted on wearing only silk underwear, and had a preference for antique lingerie. Her father bought her a $200 French bed for her dollhouse and elaborate flamenco costumes, though throughout much of her childhood—especially during a protracted dispute with his relatives in Europe—he couldn't support the family. Abusive and often drunk, he would disappear for days on end.
Paz's parents split when she was 12, and Iñigo returned to Spain. Judith increased her workload to support her family, consulting with the U.N. and traveling internationally. Paz's older sister ran with a crowd of drug addicts, and Paz would come home to see people nodding off in the living room. She shaved her head, became a punk rocker, and struck up a friendship with a homeless family living in a squat on the Lower East Side. One day in 1999, when the family—Michael, his wife, Uh-Oh, their daughter, Elu, and a pit bull—were forced to leave the squat, Paz invited them home. They stayed for two years.
"She was just so different from any girl that age," says the photographer Tina Barney. "I was just dazzled by her punk clothes. They were as cool and rebellious as you can be." When Paz was 14, Barney photographed her doing her makeup in the mirror of her bedroom, Paz's mother looking on in horror in the background. The photo, a reverse Norman Rockwell portrait of a very downtown New York family, was published in W magazine and later exhibited at MoMA. At the end of 1999, Paz appeared in the role of Tobey Maguire's young crush in The Cider House Rules. (Judith had hidden the shooting locations from Iñigo, fearing that he would pull Paz from the production out of spite.)
Paz attended Saint Ann's in Brooklyn, where she met Zac Posen. "We were taking a costume class where I first began making dresses," he remembers. "She was this little precocious pixie; all the girls were jealous of her because she had been in The Cider House Rules. We were freaks, but we became corset-making freaks together." With the help of an acting coach, she honed her craft, and by 20, she had appeared in Ethan Hawke's Chelsea Walls, Riding in Cars With Boys, and A Walk to Remember.
Paz has spent her twenties continuing to work in feature films, as well as acting in over a dozen short films and DIY student-run creative ventures, two of which she has directed herself. "Actually, it wasn't her acting that initially attracted me to her at all," says Gaspar Noé about casting her in Enter the Void. "Her short films are incredible personal excavations, and as much as I love working with her, I think she is her own best director." Still, paying gigs have been touch and go. At one point last year, desperate for work, Paz got a job serving lawsuits to older men, approaching them in nightclubs to hand them legal documents. Nightclubs are venues she knows well. She's been clubbing since she was a teenager, and in the days of the Beatrice Inn, it was almost impossible to enter the cavernous den without running into Paz, rock-star boyfriend du jour in tow. She's dated Orlando Bloom, Jack Nicholson, and a slew of other celebrities. One night in 2007, the New York Post reported that Paz was "dancing wildly, careening all over the place, crashing into people and tables," and "doing a striptease during that song 'I Touch Myself,' pulling down her top, pulling up her dress, making a real gruesome spectacle."
I elbow my way through an art show at Collective Hardware, an art co-op on Bowery that is teeming one Wednesday night with socialities, hipsters, and trust-fund shamans. There is a private party in the fourth-floor bedroom. Near the entrance, a disheveled older woman is playing YouTube videos of herself onstage twenty years ago, claiming that Lady Gaga "hijacked" her style. Knocking over ashtrays, stepping over surviving members of Warhol's Factory, I pass through the Chinese partition where Paz is holding court over a group of aspiring actors, a black druid robe covering her face.
She shoots me a sharp glance from beneath her hood, then returns to the crowd, continuing a monologue about her performance in Enter the Void. "It was a twenty-minute, one-take scene. My character is having sex with the strip-club manager and then answers the phone to hear that her brother's dead," Paz says. "It was pretty intense." Then she clenches her lip, looks in my direction, and says, swaying from side to side, "I'm hungry, but I'm broke."
Paz is perpetually broke. Always in search of a bargain, she will sweet-talk the juice-blender at the health-food store into giving her a free sample, whisper into the ear of the maître d' at Gusto for a plate of free ravioli, and compliment the Mexican worker at Ray's Pizza on his smile, winning a slice in return. When she has money, she loses it on clothes or lampshades or curtains. She never pays for dinner: She will book dining companions months ahead of time—her family friend Jane Fonda, say, or Salman Rushdie, whom she met recently and who she thinks would be the perfect writer to adapt Nabokov's Laughter in the Dark, which she is hoping to make into a film. Tonight, we stumble out of Collective Hardware and into a noodle house off Bayard Street, where for five bucks you get a big bowl of ramen and green tea served in a Styrofoam cup.
We start to talk about her recent career success. Earlier that day she had done a photo shoot for L'Uomo Vogue, and she is still riding high from her reception at Sundance, where Enter the Void received a standing ovation. "I quit drinking—for vanity purposes," she says, taking off her robe and tossing it onto the wooden stool. "And I changed my name."
I'm confused. To what?
"Paz," she says, "with a z."
What did it used to be?
"Poth," she says, exaggerating the lisp.
"Paz is Genghis Khan meets Marie Antoinette," says her mother.
She tests a cup of boiling tea, her lipstick leaving a kiss mark on the edge. "It's called Rus-si-an Red," she says, smacking her lips like a goldfish, mouthing every syllable with a deep, Nico-ish delivery. ("When Paz says something, you can taste it in your mouth," says director Nemo Librizzi, a longtime friend. "When I'm hungry, I just ask her to say strawberry shortcake.") Paz tries slurping the noodles, juice dribbling down her chin. They are too long to manage, so she rubs the chopsticks together, sawing them until a long noodle falls from her mouth onto her lap. Filming for Boardwalk Empire has been grueling, she says. "I've been crying for two days straight doing this very emotional scene. But it's getting easier for me. I have a lot to source from."
Inspired by her idol, the actress Anna Magnani, Paz has always retained an enormous amount of confidence in her ability to become a leading lady of film, and is expecting that this fall, Hollywood will finally pay attention. We start talking about her appearance, and I ask her how she would describe her lips.
"Pillowy."
And your face?
"Heart-shaped."
Who would you say you look like?
"Brigitte Bardot," she says without hesitating.
Paz was born with a cystic hygroma, a lump between her right armpit and her rib cage that had to be removed surgically soon after she was born. Her parents took her on a Catholic pilgrimage to Lourdes, where she was dipped into holy water in hopes of preventing a recurrence. But soon after turning 3, she started wearing extra layers and pinning her arms to her side, and her mother knew the lump had returned. As much as Paz tried to hide it, the lump would continue to return, every so often, throughout her life, requiring seven operations and many hospital visits.
I first learned about Paz's lump three years ago, when I was recovering from a skin-cancer operation at the NYU Langone Medical Center, and Paz, who had been admitted for yet another cyst-related surgery, stumbled into my room. She walked up to my bed and traced her fingers along the 150 stitches on my face. "You used to be handsome," she said, though we had never met. "Now you're something else." Then she unzipped her hospital gown and showed me her wound. We were a match made in Cronenberg heaven, and for three months we hid at her apartment on Gay Street, watching Melville, Hitchcock, and Almodóvar on a mattress on the floor. We separated soon after we recovered, and she very quickly met an ex-convict tattoo artist.
"Gay Street and Wave-uh-lee," Paz says to the cabdriver after we're finished with dinner. Though Paz and I have remained friendly over the past few years, this is the first time I've been back to her apartment. It is consumed by an eighteenth-century gilded bed frame, which I remember having watched her convince the salesman at ABC Carpet she would pay for in full when she became a successful artist. Antonioni movies are stacked next to cereal boxes and Criterion Collection DVDs. A painting by Jack Nicholson, whom Paz accompanied to the Departed premiere and with whom she has remained close, perches next to a portrait of Paz by her good friend and "spiritual adviser" Francesco Clemente. There are vintage posters of Marcello Mastroianni, Brigitte Bardot, and Isabelle Adjani on the wall. Paz puts Paris, Texas into the DVD player as I walk into the bathroom.
I remark on her shower curtain, with the oversize red G embroidered in its center, and she says that she recently "liberated" it from the Gramercy Park Hotel. The bathroom mirror is cluttered with postcards, Scorsese letterhead, and a nude photo of Paz bent over a couch. When I return from the bathroom, Paz is standing completely naked, twirling her hair, an icy draft gusting from the window. "You don't mind, do you?" she murmurs. Her hips wave back and forth, toes curling on the carpet. "It's a period bush," she says. "The HBO series takes place in the 1920s. I'm trying to get into character."
Paz is a creature of fearful symmetry—it's obvious why, earlier this year, Milk Gallery dedicated an entire exhibit to James Macari's nude photographs of her, or why Jim Jarmusch had her naked in every scene she shot in The Limits of Control. "Paz is completely aware of that contradiction of vulnerability and strength," Jarmusch says. "Nudity is her favorite wardrobe, her way of confronting her own fears head-on. And that's what makes her a great actor."
Paz gets naked whenever possible: in front of her mother, walking down Greenwich Street in her short film Pupa Papa Puta, or in front of anyone with a camera. "Paz exudes sex," says her friend Ellen von Unwerth, another photographer, who has shot her on over a dozen occasions. "She needs people to feel as though they're stepping out on that edge with her where she is most comfortable." And Paz is very vocal about her need for affection. "I need to touch, to be touched, to feel safe inside," she explains. "I want to be made love to all the time. Eat, sleep, act, make love."
Some of her relationships have been disastrous. She is still recovering from a yearlong love affair with Scott Weiland, the Stone Temple Pilots junkie. He drifted in and out of rehab as Paz tried her best to help him. ("At least I know what that's like," she now says.) But it would be a mistake to assume that Paz's insatiable appetites indicate a lack of control. "Paz treats relationships like a short film that she is directing," says Donald Cumming, her first boyfriend and the lead singer of the Virgins. "She was 17, and we had this amazing night together. For two weeks, I couldn't stop thinking about her. She wouldn't return my calls, and I was just heartbroken. Finally, I ran into her at a house party. She spotted me from across the room and then she took the longest possible route, saying hello to everyone along the way. When she finally reached me, she asked me, 'Are you in love with me yet?' 'Yes.' 'Good. You can be my boyfriend then.' "
As we are talking, Paz dives headfirst onto the bed to answer the phone and whispers to one of her many suitors. "I'm in bed, and I've said my prayers. Un beso." In the background, Paris, Texas is entering the monumental scene when Harry Dean Stanton's character describes why he left his wife and child. On cue, Paz plays the scene, her face buried deep into the pillow, her lips folded like a rolled-up sardine can.
"Then he ran. He never looked back at the fire. He just ran. He ran until the sun came up and he couldn't run any further. And when the sun went down, he ran again. For five days he ran like this until every sign of man had disappeared."
Paz lifts her arm up and begins to massage her scar tissue.
"Are you okay?" I ask her.
"I still cry about it."
"Why?"
"Because I feel like no one will love me," she says matter-of-factly, and then she falls asleep.
The following morning, I meet Paz at Golden Bridge Yoga on Centre Street. Her druid robe hangs dangerously close to a burning candle near the entrance. When class is over, she struts out of the studio in leopard-print spandex. "I had an orgasm! My hands are still shaking," she says, just loud enough for everyone in the room to hear. "It was like the time I went to Graceland. Elvis's ghost gave me an orgasm in his recording studio."
We leave the studio and walk north. "We're going shopping today, but don't tell my mother," she says. We enter Space NK Apothecary, where Paz calls the production office of Boardwalk Empire and charges $180 worth of facial products to the show. "It's my job to look good, so why should I pay for it?" she says. Paz asks the store clerk if she can charge her BlackBerry behind the counter, opens her shopping bag, and walks in front of the mirror, applying the facial lotions. "When I was a child, my father cleaned my face with Kiehl's facial toner every night!" The thought of her father makes her light up. Despite his absence, Paz proudly claims to have inherited his gift for acting (though he is not an actor), his looks, and most other traits. But when I ask what her father thinks of her movies, Paz deflates. "I invited him to Cannes," she says. "I even offered to fly him there. But he heard the movies were boring."
We make it halfway across the street before she realizes she left her BlackBerry.
We enter Jill Stuart. "How would you describe your style?" I ask her. "Like Sharon Stone in Casino," she says, emerging from the fitting room in a suctioned neoprene jacket. The salesman runs to her side, arms flailing. "Oh. My. God. This should be illegal!" he says, approvingly. "I'm only 15," Paz says in a virginal flirt, pointing at me. "But laws were made to be broken." A scruffy ex-boyfriend Paz had previously lent $750, bailing him out of a precarious situation, stalks the front of the store, envelope in hand. Paz goes out and kisses him on the cheek, tells him that she loves him, and clutches the envelope full of twenties; his eyes squinting as if he's trying not to look at the sun, he skips away. Paz skims the cash and then watches him turn the corner. Then, without hesitation: "I need a new dress!"
"Why don't you save the money, if you're so broke?" I ask Paz as we cross Broadway.
"Because I deserve it."
"Do you have your phone?"
"You were definitely Marilyn Monroe in a past life," says her astrologer.
After retrieving her phone again, this time from Jill Stuart, we head to Resurrection on Mott Street, where Paz proceeds to walk around the store in her bra and panties, attracting glares from the older women. "What do you think of this?" she says, walking out of the dressing room with a leather corset that pushes her breasts up to the throat. I say it looks too biker chick.
"I love biker chicks!" she says. After trying on several other dresses, Paz settles on a $700 Margiela Salem-witch-trial dress that closely resembles the dress she is already wearing. Paz only wears black, so as not to distract from her personality.
"Let's go to Lovely Day," she suggests, walking down the street in her new dress and a scarf I have let her borrow. "I'm hungry. Do you have any money?" At Lovely Day, Paz explains to the waiter that she wants her eggs "crispy on the edges, but not to the point that they become brown." The waiter shakes his head and explains that "the chef just won't understand that." Paz grabs the waiter's pen from his shirt and draws a detailed outline of a sunnyside egg, lightly shaded around the edges. "That's how crispy," Paz says, handing him the napkin.
We proceed to her astrologer. She is a svelte six-foot-tall woman who operates out of a musty room at the corner of Bowery and Delancey. "You were definitely Marilyn Monroe in a past life," she tells Paz. "You have a Venus in Libra. I wish I had a Venus in Libra. The best thing is to have a Venus in Libra. Second best is Venus in Taurus."
"What does that mean, again?" Paz asks.
"You are totally capable of creating your entire reality, but you are also capable of destroying everything. It's a very vulnerable position, but all the greatest actors have it."
Paz stares off. "I can feel her in my body," Paz says, referring to Marilyn Monroe. "I just read that Norman Mailer book about her. She was a lot smarter than everyone thought."
The day is getting exhausting, but Paz has an appointment with her psychiatrist, so I swipe my MetroCard twice and we head uptown. We pass a panhandler in the subway, and this seems to put Paz in an introspective mood. "It's amazing that no matter how much money you have, you can make some bad decisions, and in five months you're on the street, begging," she says.
"If you made a lot of money, would you know what to do with it?" I ask her. The train jolts us back and forth, Paz clutching my waist for support. Seedy men shoot gazes in her direction.
"I would buy a brownstone and fill it with tall plants and Persian rugs up to the ceilings." She pauses. "Or I might just go to Graceland!"
Later that night, I join Paz and her mother for dinner at Trattoria Cinque on Greenwich Street. As I walk into the restaurant, Paz is antagonizing Judith, still punishing her for all her years spent working abroad, Paz left with her nanny and sister. Judith is slender, a beautiful, blonde, Waspier version of Paz. Her hair resembles The Great Wave at Kanagawa as sculpted by John Waters. It is difficult to picture her exiting a helicopter in a Third World war zone.
Their argument returns to the subject of Paz's upcoming move from her Gay Street apartment into the Tribeca apartment adjacent to her mother's.
"I'm not moving unless I can bring my bed! I'll knock down the wall if I have to!" Paz pouts.
"Pothy, stop it. You were raised as someone with a little more dignity than this!" Judith looks slightly embarrassed.
"And I'm going to paint the walls black!" Paz adds. She continues to needle her mother for another few minutes, then storms off to the bar.
In Paz's absence, I ask Judith whether she's concerned about her daughter's future.
"Paz's strength is in her naturalness and her innocence," Judith says. "I worry about her soul. She's always searching for fodder for her roles, but I wonder what will be lost."
"What are you guys talking about?" Paz says, deciding to sit back down.
"Your innocence," I respond.
"Don't listen to her. She wants me to be a prude."
"What do you expect me to say, Pothy," Judith says as they enter into another quarrel. "I was in London and I open the paper, and you're going to a movie premiere with Jack Nicholson. It was not only a mother's worst nightmare. It was a grandmother's worst nightmare!"
"See!" Paz says.
"Pothy, remember when you were 6 years old, and your sister was stung by a wasp?" Judith says, changing the subject. "Your sister was crying, in hysterics. So what did you do?"
"I hate this story," Paz interrupts, facing away from the table as if to block her ears.
"You took the dead wasp and sat on it, stinging yourself so that you could divert the attention back to Paz. You're a born Method actor."
"Talk to my father!" Paz tells me. "He'll have better things to say about me." She passes me her cell phone. A raspy voice answers. It's three in the morning in Spain. "Hello?"
Paz whispers into my ear that I should ask him what type of animal she is. "What kind of an animal is Paz?" I ask Iñigo de la Huerta.
"A female Jack Russell terrier," he snaps.
"Why?"
"Because I have twelve of them already, and she makes thirteen!"
"What did he say?" Paz pleads.
"I couldn't hear him."
Paz decides to end the conversation. "I'm going to walk home."
"That's a great idea," Judith replies.
"No, that's a terrible idea," Paz says, putting on her coat.
"Paz y amor," she says to me, kissing my eyelid, barreling out of the restaurant and into a windy spring evening in New York City, my scarf wrapped around her face.