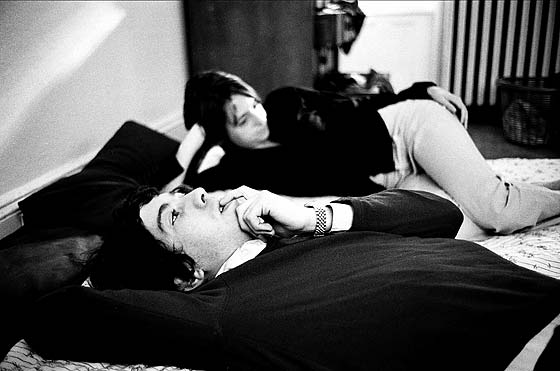 Is any label more slippery than "realism"? The theater-poets Chekhov and Beckett were once dubbed realists; and the other day on Elvis Mitchell's enlightening radio show, "The Treatment," William H. Macy marveled that critics first thought David Mamet's incantatory cuss-fests had been transcribed, word for word, from the conversations of ordinary people. Andrew Bujalski's micro-budget features, Funny Ha Ha and Mutual Appreciation (which opens on September 1), will inspire similar misapprehension. Loosely scripted and cast with amateur actors whom you never catch acting, Bujalski's films can seem, early on, like slices of life that haven't been sliced thinly enough. But their artless realism is illusory. These free-­floating comedies of manners—of rudderless young people who can't articulate their feelings to themselves, let alone others—turn out to be shapely, cunning, and indelibly strange.
Lacking the director's mastery of the amorphous, I am forced to lay out the premise with a concision that entirely misrepresents it. The protagonist of Mutual Appreciation, Alan (Justin Rice), is a singer-­songwriter from Boston who has just arrived in New York with no job, no band, and no visible source of income. He spends much of his time hanging out and drinking with his old friend Lawrence (Bujalski) and Lawrence's girlfriend, Ellie (Rachel Clift), who seem grateful to have him around for company. They ply one another with beer—lots and lots of beer—and chat idly about Alan's need to hook up with a drummer. They even lie together on the bed, Alan in the middle, the threesome somehow looking both comfortable and anxious—what with all the mutual appreciation in the air.
As Alan, Rice is a mouth-breather with big teeth and a dazed affect; he might be Jerry Seinfeld's less-finicky kid brother. He's attractive, though, in his annoyingly rumpled-passive way: You can see why a cute, lively D.J. (Seung-Min Lee) who interviews him wants to take him home, even though he doesn't give her any signals. He doesn't give anyone any signals, which makes him kin to the boneless Alex in Funny Ha Ha, a Mr. Adorable whose diffidence comes to seem increasingly self-serving. In life, Rice is a lead singer of the agreeable pop-rock band Bishop Allen (the other lead singer is Christian Rudder, who played Alex in Funny Ha Ha), and it's a shock when Alan plays and sings at a sparsely attended show with passionate intensity (and oddly Billy Bragg–like British inflections): We've had no indication until now that Alan is anything but a dilettante with a sense of entitlement.
That's a knock on ­Bujalski—that his characters exist in a vacuum, with few references to popular culture or politics or much of anything, really. Of course, one artist's vacuum is ­another's poetic distillation, and there's something about Mutual Appreciation (which is shot in an unassuming black and white) that spoke more directly to my inner slacker than any film since, well, Funny Ha Ha. By slacker I don't mean idler: I mean the part that's avoidant, overdependent on alcohol (or any drug), arrested between the fear of being tied down and the fear of drifting off into the ether. Watching the movie, I had two irreconcilable urges: to get blotto and to clean my apartment.
With its halfhearted breakups of halfhearted relationships and fumbling declarations of attraction, Mutual Appreciation is a tapestry of indecision. It's full of "random" encounters that resonate like crazy, like the one in a bar with an acquaintance of Ellie's who says, "I'm finding all this plant stuff, so I think it means I should start a garden." The movie's pièce de résistance is a scene in which an extremely drunk Alan, in search of a late-night party, stumbles into an apartment where three young women (among them Kate Dollenmayer, the irresistible heroine of Funny Ha Ha) sit chatting in dime-store wigs. They fall on the helpless Alan like nymphs out of Greek myth: They put a girlish wig on him, they coerce him into a dress, they make it impossible for him to ignore his own emasculation. But he has no idea what to do with that knowledge. In that, Bujalski is a brilliant realist.
Each film in Nicolas Winding Refn's mesmerizingly brutal Pusher trilogy can stand on its own, but it's fun to see all three and observe the way the bad guys in one become the sympathetic heroes (or anti-heroes) in another. It was 1996 when the Danish director made the first, punk-infused Pusher—the story of a drug dealer, Frank (Kim Bodnia), who finds himself catastrophically in debt to a Balkan kingpin, Milo (Zlatko Buric), after he's betrayed (he believes) by his pal Tonny (Mads Mikkelsen, who has one of those freaky skull-heads that's all sharp planes). Refn made the follow-ups to pay off his own catastrophic debt, incurred from the flop of his 1999 English-language Fear X, and maybe his desperate straits give the sequels their charge: Like Frank, Tonny in Pusher II, and Milo in Pusher III, Refn's back is against the wall.
Even at five hours, the Pusher trilogy isn't a major epic. It's more like a collection of first-person short stories, with each protagonist on a long (I mean long) downward spiral. But they're fascinatingly different kinds of desperadoes, each entangled by a way of life that leaves few men standing. Tonny has respect tattooed on the back of his shaved head, but with a crime-boss dad who publicly brands him a loser and an accidental—and defenseless—baby son, he's a study in powerlessness. And the deadly Milo stands revealed as an almost lovable stumblebum: an enthusiastically terrible cook who gives his goons food poisoning and finds himself with two dead rivals and no one to help cut them up.
Edward Norton has the perfect smirky elegance to play a turn-of-the-century magician in the seductive melodrama The ­Illusionist, set in Vienna in that marvelous era when electricity was newly harnessed and stage machinery had a whiff of the supernatural. Is the title a fake-out? Can this showman actually commune with the dead? The ending dispels a lot of the magic, but the silent-movie palette is gorgeous, and the film is worth seeing for the inspired hamming of Paul Giamatti as Vienna's chief inspector, whose plummy tones made me sure I could hear the ghost of James Mason cackling.
BACKSTORY
Magic aficionados may be familiar with the orange-tree illusion performed by Edward Norton's Eisenheim in The Illusionist. Ricky Jay, the famous magician and sometime actor (Deadwood), served as magic adviser to the film and used the blossoming orange tree in his 2002 Off Broadway show, Ricky Jay: On the Stem. The trick was originated by nineteenth-century Parisian magician Jean Eugène Robert-Houdin, known as "the father of modern magic," who created an elaborate tree-shaped automata out of springs and cogs. It's safe to say that Illusionist viewers won't spot any cogs. According to writer-director Neil Burger, "There are ways to do those tricks now much better with technology."

Mutual Appreciation
Directed by Andrew Bujalski. Goodbye Cruel Releasing. Not Rated.

The Pusher Trilogy
Directed by Nicolas Winding Refn. Magnolia Pictures. Not rated.

The Illusionist
Directed by Neil Burger. Yari Film Group. PG-13.

E-mail: filmcritic@newyorkmag.com.