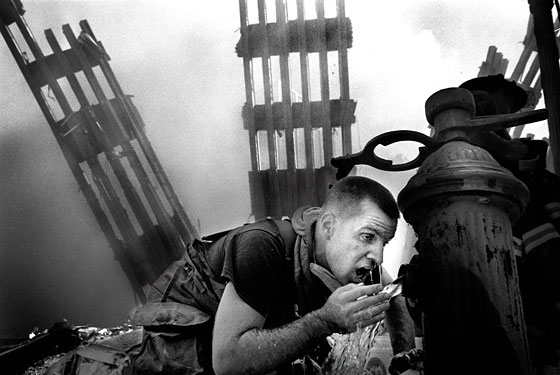 John Ceriello (then, firefighter, Squad 18, West Village, which lost seven members; now, lieutenant, Squad 252, Bushwick): I can't stand hearing the pipes now. It's a great sound, the bagpipes, that's why I tried to learn how to play them. But now, it takes me right back to the funerals. It's not just the sadness of remembering those days, though. It's that so many people now see firefighters as the center of grief over 9/11. And the bagpipes are a symbol of us as a symbol of that grief. I understand why. And I mourn, too. But firefighters are not about grief.
Sal Cassano (then, FDNY assistant chief; now, fire commissioner): Unfortunately for the department, we really got good at this business of doing funerals. We devised a book on what to do if there is a line-of-duty death in your firehouse. It talks about getting the bunting, hanging the bunting, going with the family to the funeral parlor, step by step, 40 pages. It even describes what we're going to do a year later at the plaque dedication. But I don't think people look at us as a department of mourning. I think they look at us as a department that, that day, displayed strength and courage like they've never seen before.
Adrienne Walsh (then, firefighter, Ladder 20, Soho, which lost seven members; now, lieutenant, Squad 18, West Village): The thing I have a problem with is when it became a myth, the whole event, the fire department and what we did. I understand why that happened, but when you make it a myth, you take the human aspect out of it. The important thing was that when people were scared—not scared, terrified, crapping their pants—they still did their jobs.
Paul Hyland (then, firefighter, Ladder 110, Downtown Brooklyn; retired March 2010): I don't consider them nightmares, but you'd wake up just thinking about everything that happened. When we walked into the building, a woman in the lobby was severely mutilated. No legs, her arm was ripped off; her face, it looked like someone took it off with a saw. She had to be one of the jumpers.
Malachy Corrigan (then and now, director of FDNY counseling-services unit): The No. 1 illness is anxiety. No. 2 is depression. We're seeing about 2,800 new cases a year now. That's a lot of clients [F1]. "Why did I survive?" is still a big question.
Ceriello: Howie Scott and I had hooked up with a unit, Rescue 4, and Squad 288 in a staging area but left for a few minutes to get masks and air cylinders. While we were gone, Rescue 4 and 288 went into the South Tower. We were walking down West Street toward the Towers when it came down. Everything went to hell, went to darkness. All of those guys died, and I'm here ten years later. Why? I don't know.
Hyland: The chief said, "Let's go," and we went up to the 23rd floor of the North Tower. To tell you the truth, I was kind of pissed off: The fire's on the 90th floor, and we're going to the 23rd? We're doing nothing! Engine 207 from our firehouse, I was talking to them in the lobby, and then I believe they went into the Marriott. None of 'em were ever found. Not even a tool. If God had a plan, I don't know what it was.
Artie Riccio (then, firefighter, Ladder 110, Downtown Brooklyn; now, lieutenant, Engine 311, Springfield Gardens, Queens): I wished I would have died there instead of my friends with young kids. I lived with survivor's guilt for a long time. I finally went to counseling for it. I thought there was something wrong with me.
Walsh: I'm surprised more of us aren't crazy. I didn't see victims. They were dust. And I was inhaling them. So … you're literally taking these people in. And there's no one for us to help. When the wind blew, you couldn't grab them. They were gone.
Hyland: We were on the 23rd floor, searching for people, and I was standing near a window when I saw the South Tower coming down. I thought it was a partial collapse. It must have taken us twenty minutes to walk down, and when we got to the lobby, it was completely destroyed. I remember these long spears of glass hanging above us. Huge panels turned into shards. If one of these releases, you'll be killed. I have a piece of a window, glass from the World Trade Center, a small piece. I keep it above my desk. It's right here in my hands now.
Cassano: The one thing I hold on to is a memory from that day, of meeting Father Judge on West Street. I says, "Father, you better get some help, you're gonna need it, we're gonna have a bad day here." He gave me this smile and said, "It's gonna be OK." I hold on to that memory, for sure.
Riccio: Every year a bunch of us get together for dinner a week or so after September 11. It's weird, but it's good for us to get together and talk. I still can't look at a plane landing, though. Ten years later.
Walsh: It's always important to remember the 343, but more than 1,000 people have given their lives for the city over the years. All those deaths should be revered instead of focusing on this event as the be-all and end-all. That's why I think the tenth anniversary is going to be huge. An end point of sorts. We'll always remember. But the city can't stop.
Hyland: There's more attention now, ten years. For me, there's no difference—seventh, eighth, eleventh. It's every day you think about it. But even the bad days—I'm thankful for those.
From the archives
• The Smoldering Fires of 9/11 (New York Magazine, March 18, 2002)
• Heroes: Ladder 105, Engine 219 (New York Magazine, December 21, 2001)
• The Firemen's Friar (New York Magazine, November 12, 2001)
• Braving The Heat (New York Magazine, October 1, 2001)
F1: Long Recoveries Since 9/11, 15,700 FDNY firefighters have enrolled in mental-health services through the FDNY Medical Monitoring and Treatment Program, established in the wake of the attacks.

As of today, 11,000 of those have been actively treated in the program.

Of those, 7 percent (770 firefighters) have probable post‑traumatic stress disorder.

And 19 percent (2,090 firefighters) have probable depression.