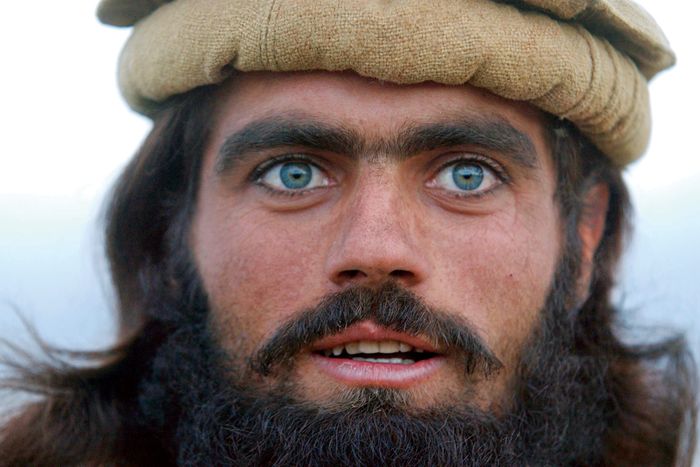 A former Taliban fighter who joined the Northern Alliance, near the Tora Bora front lines, in December 2001.
Photo: Alain Buu/Gamma-Rapho/Getty Images
The first time I went to Tora Bora, in a motley convoy of three dozen or so pickup trucks complete with gun-wielding rent-a-mujaheddin in the back, for whom we journalists were forced to pay $200 a day whether we wanted them or not, nothing much happened. It's true that B-52s soared menacingly overhead on that day in December 2001, but on the ground, there wasn't anything particularly menacing. The fighting, we were told, was going on up in the snow-covered peaks in the White Mountains connecting Afghanistan and Pakistan. A few meager truckloads of Afghan militia fighters, rattling up the road to Al Qaeda's hideout, wearing plastic flip-flops in the December chill and clutching their worn Kalashnikovs, were the only signs of the war we had come to cover.
The assault on Tora Bora was supposed to be a textbook example of Donald Rumsfeld's new way of war—American brainpower and airpower, multiplying exponentially the force of our local allies. But that's not exactly how it transpired. B-52s started pummeling Tora Bora on November 30. But not until December 2 did a small team of U.S. Special Forces arrive in the nearby city of Jalalabad, hooking up with a local warlord, Hazrat Ali, and urging him to launch the attack on Osama bin Laden's stronghold. When I went to the front that week with Engineer Ghafar, a famous commander from the eighties war against the Soviets, we found one of the warlords leading the fight standing alone and exposed to Al Qaeda fire on a ridgeline, which we were all forced to abandon minutes later when bin Laden's fighters started shooting at us from just a few hundred yards away. "This is a war?" Ghafar fumed to me. "There is no food supply, no water. There are no shovels to dig a hole. This is not like a war; it's like a picnic."
By December 14, Ali was telling us reporters—as Al Qaeda bullets whizzed past his head—that bin Laden and his fighters "cannot escape; the mujaheddin have blocked the road." All reports indicate that that is almost certainly the day bin Laden made his exit for Pakistan.
And then, just as quickly as it began, the battle was over: By December 17, Ali declared victory and his fellow warlords paraded in front of reporters nineteen haggard prisoners, some soon headed for long internments at Guantánamo Bay.
A month later, I returned to Tora Bora and found Ali, one of the three feuding warlords on the mountain, now ascendant in Jalalabad, flush with American money and wielding three U.S.-issued satellite phones and a brand-new Toyota Land Cruiser with creamy, tan-leather seats. He and his men spoke openly of their own—and others'—double-dealing during the battle, when they fought Al Qaeda by day and traded cash in secret negotiations by night. "We had a lot of hunters there, and the bird escaped," Ali told me, not at all ruefully.
Susan Glasser, editor-in-chief of Foreign Policy, covered the battle of Tora Bora for the Washington Post.