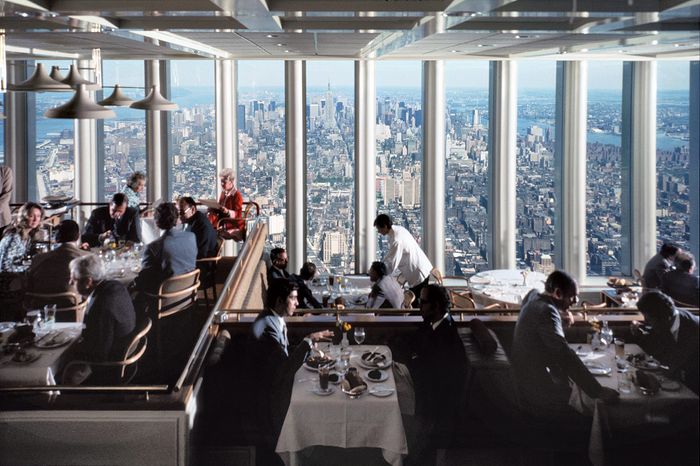 The Windows on the World dining room, on the 107th floor of the North Tower.
Photo: Ezra Stoller/Esto
As you rode up in the elevator, your ears popped, and the journey took an eerily long time. Strangers would look at one another, a little frightened, as the big box ascended. When the doors finally opened, they'd spill into the restaurant, giddy with relief. Safe!
How long did it take? A minute, maybe longer, but in that time you left Manhattan, and every familiar thing, behind. Windows on the World was the ultimate destination restaurant, and Joe Baum, the consummate host, played it for all it was worth.
You walked from darkness into light, toward floor-to-ceiling windows beckoning from the end of the corridor. When you reached them, it was almost impossible to resist the urge to press yourself against the glass and look down at the microscopic people on the sidewalk below. From up here it was a toy village, cars nosing silently down crowded streets while, off in the distance, planes took off and landed at distant airports. The restaurant's name was not lightly chosen.
As the mâitre d' led you across the vast expanse of restaurant, the city winked up from all sides. Then the fireworks began. James Beard himself helped create the original menu, but over the years chefs came and went, tinkering with the food. Critics carped, but we all knew that it didn't really matter who was at the helm. You ordered like a Master of the Universe: oysters heaped with pearls of caviar, whole lobes of foie gras in Sauternes, burnished ducks and butter-braised lobsters. And you took your time with Kevin Zraly's wine list, which was, of course, one of the largest in the world, offering everything from rare Napa Valley Chardonnays to the magnificent Bordeaux of 1982. A soufflé was the only way to end. Or you could opt for the dacquoise, all crunch and crackle. Then you pushed your plate away and, in the early years, at least, settled back with a cigar to watch night capture the city.
The ride down seemed faster. But even when you were finally on the ground, your head stayed up there. It's been said we've romanticized the place after the horror of what happened there. I'd say we romanticized it all along. It was never about the food. It was about ambition and dreams. It was a temple of New York magic.
Ruth Reichl, the former editor of Gourmet magazine, was the New York Times' restaurant critic for six years.